Democrats must shame Republicans into ending the separation of migrants and their children at the border, Connecticut Sen. Richard Blumenthal says.
"We should be very blunt: The biggest tool we have is shame," the Senator said at a press conference on Capitol Hill.
We need to shame this administration into changing an inhumane, un-American policy because it is totally unprecedented … It is not required by law, it is unprecedented in recent history — it was not done under the previous administration —  [and] it is creating thousands of detainees.
Blumenthal and other Democratic legislators at the press event cited their own children, and the impending Fathers' Day celebrations, to guilt GOP leaders and blue-collar voters to reopen the migration into the voters' neighborhoods and schools.
"I'm hoping on Fathers Day that Donald Trump will think about what it means to be a dad and to care about a young child who is ripped away from his parents, who has no ideas where he is going," Blumenthal said. "Ripping apart families, separating kids from parents … is un-American because we will reap the whirlwind of the damage we are creating," he said. 
Blumenthal is an Ivy League graduate with an estimated net worth of $85 million. He has an expensive home in Greenwich, Connecticut. 
Blumenthal's statement came as he and other Democratic legislators declined to answer a question from Breitbart News about the economic impact of migrant workers on Americans' salaries.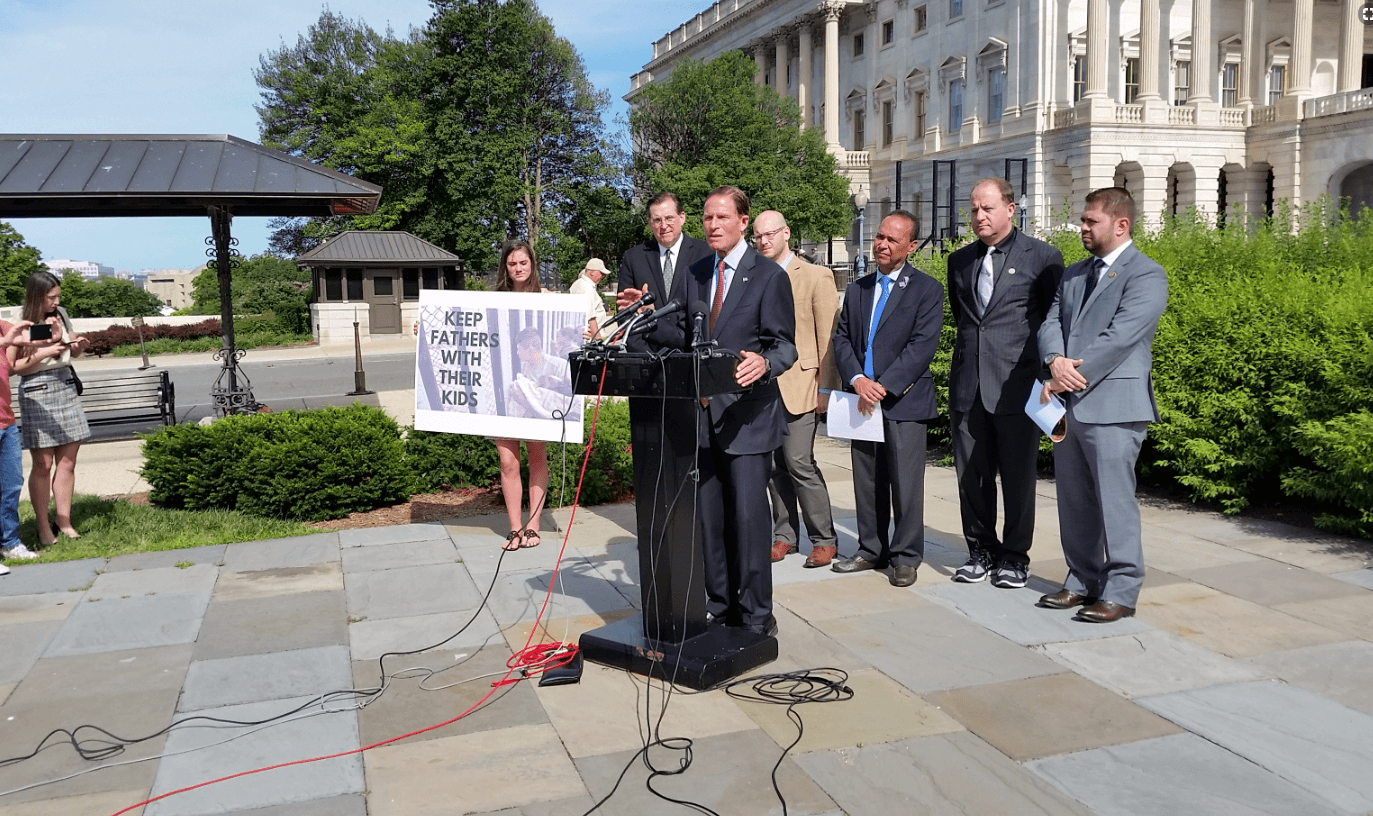 Blumenthal's goal of ending the administration's detention-and-housing policy would reopen the catch-and-release pathways which have been used by a huge number of migrants to get into Americans' cities and workplaces. That extra supply of cheap manual-labor cuts Americans' wages — but is an economic boon for cheap-labor employers in the Democratic-dominated cities, such as restaurants in New York and retail stores in Oakland. 
Blumenthal and at least 30 Democratic Senators have backed a draft law that would reopen loopholes and free hundreds of thousands of laborers to enter the U.S. job market. 
In 2017, federal officials provided two-year work permits to 400,000 of the migrants who were released into the United States under pro-migration "catch and release" policies set by President Barack Obama. Those migrants are allowed to work because their court cases have been delayed in the clogged asylum courts. The migrants arrived in 2013 and later, in a huge wave of migration that smashed Obama's polls and helped an outsider sweep away the establishment in 2016. 
President Donald Trump and Attorney General Jeff Sessions are now trying to deter migrants by prosecuting all illegal immigrants. That policy forces officials to detain the migrants before their trials while any children that the migrants bring are housed in government-contracted centers.
The new zero-tolerance policy of prosecuting migrants and housing children trumps the migrants' tactic of bringing children to the border to trigger a 1997 catch-and-release loophole. The Flores loophole requires officials to release migrants within 20 days if they bring children. 
Under Obama, that Flores loophole was used by officials to justify releasing a huge number of economic migrants into the U.S. job market.
Once released, the migrants usually work long hours to pay the debts they owe to the cartels for crossing the cartel-controlled border. 
The migrants' children are placed in Americans schools, regardless of the impact on American children in blue-collar neighborhoods. Few migrants can afford to live in upper-income neighborhoods, ensuring that few of their underprepared children are placed in upper-income schools.
Many progressives, progressive groups, and immigration lawyers are trying to shame the administration —and ordinary Americans — into ending the detention-and-housing policy, despite the impact on those Americans' neighborhoods and jobs.
The shaming efforts include a wide variety of tactics — media rants at officials, use of Father's Day references, plus myriad tweets which smear administration officials and ordinary Americans as racists and even Nazis.
For example:
.@Acosta: "Where does it say in the Bible that it's moral to take children away from their mothers?"@PressSec: "I'm not aware of the Attorney General's comments or what he would be referencing…It is very biblical to enforce the law."

Full video: https://t.co/RyfJMOSPzV pic.twitter.com/1613PfeYcE

— CSPAN (@cspan) June 14, 2018
You want to end these #TrumpCamps where children of color are held against their will? Tie the camps around the president's neck. https://t.co/VopFY9AXCf

— John Weaver (@jwgop) June 14, 2018
Your daily reminder that Trump's @DHSgov henchmen are separating babies from their parents at the border.

Everyday it gets worse.

Now they're detaining the children in camps. https://t.co/9VFN8go3TL

— David Leopold (@DavidLeopold) June 14, 2018
1. So many of us have been looking on with horror as a drama unprecedented since the days of Japanese internment has been unfolding in our nation. I've put together some ways we can stand up for American values. #FamiliesBelongTogetherhttps://t.co/K2fG3HUg10

— Laura Moser (@lcmoser) June 14, 2018
Damn right. "It's a serious question. You're a parent. Don't you have any empathy for what they go through??

I'm with him. https://t.co/unpj1lhydj

— Frank Sharry (@FrankSharry) June 14, 2018
Undocumented/unauthorized immigrants have, of course, as I pointed out this morning, been getting taken from their children for a long time now.https://t.co/cs2qDe54EP

— Dara Lind (@DLind) June 14, 2018
I don't understand why every tv networks and newspaper doesn't have cameras on our southern border capturing what is happening to migrant children split from their parents. This is a human atrocity of historical nature. Should be front page, top of the hour every day!!

— Amy Siskind 🏳️‍🌈 (@Amy_Siskind) June 14, 2018
This is a fundamental issue for everything we stand for as a country. How can we do this? We have a bill. The Senate should be allowed to debate it and express its view on this inhumane practice of separating immigrant families at the border. We can put an end to this right now. pic.twitter.com/qY4zwmQtFK

— Sen Dianne Feinstein (@SenFeinstein) June 14, 2018
Outraged about the Trump administration's efforts to take children from their parents at the border? Here's what you can do to help. https://t.co/3O0tEomSNh

— NYT Opinion (@nytopinion) June 15, 2018
Hey hon, how was your day today? Did you and your fellow Border Patrol agents catch some bad guys?

Um, not really. Truth is I took a baby away from her mother while she was breastfeeding. We separated the mom and baby, maybe forever.

You did what?

Just following orders. https://t.co/7qC10Dmw6J

— Frank Sharry (@FrankSharry) June 13, 2018
When they came for the immigrants I was silent because I was as citizen. When they came for the citizens….https://t.co/NIi365AlUz

— David Leopold (@DavidLeopold) June 12, 2018
We're now officially international pariahs. And don't bother giving whataboutisms regarding UN failings elsewhere. We're supposed to set the example for the world. Separating young kids from their parents and locking them up in cages gets you fast-tracked to hell. https://t.co/L9LsccLuVy

— (((Greg Siskind))) (@gsiskind) June 9, 2018
We #immigration lawyers will keep fighting until the inhumane, illegal, unconstitutional practice of taking kids from their parents is no more. https://t.co/a8gySYS99W

— Joshua L. Goldstein (@AttyImmigration) June 10, 2018
Children's prisons. America in 2018. https://t.co/SfnBC1YwGf

— (((Greg Siskind))) (@gsiskind) June 13, 2018
No Asylum For Migrants Fleeing Domestic Violence Or Gangs, Because We're Literally In Hell Now
https://t.co/7iBlalelIs by @DoktorZoom

— Wonkette (@Wonkette) June 13, 2018
An American concentration camp for 1000s of children. In tents on old military bases in Texas. Now under consideration by our government. While Trump praises Kim Jon-Un.
If you've been waiting for the flashing warning light that signals US neofascism, here it is. https://t.co/L0VlEBDEE6

— Nina Bernstein (@NinaBernstein1) June 13, 2018
And this is Auschwitz pic.twitter.com/FhYFiR440Z

— jamesmpope (@jamesmpope) June 14, 2018