Immigration is now the top political issue in the nation, exceeding concerns about the state of government, according to Gallup.
The July poll of 1,033 adults showed that:
The 22% of Americans in July who say immigration is the top problem is up from 14% in June and is the highest percentage naming that issue in Gallup's history of asking the "most important problem" question. The previous high had been 19%.
Just 19 percent of Americans say "government" is the most important problem, said Gallup.
Democrats put a higher priority on "government" over immigration by 27 percent to 18 percent. Thirty-five percent of Republicans prioritize immigration, while just 15 percent are more concerned about government. Independents split evenly, 17 percent to 17 percent, said Gallup.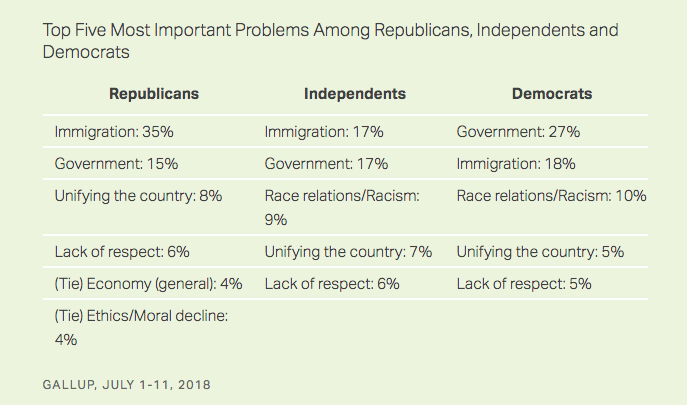 The good economy has minimized voters' routine concerns about the "economy in general" to just 4 percent.
The poll was taken amid much media coverage of the Democrats' "Abolish ICE!" and "family unification" campaigns to block President Donald Trump's zero-tolerance policy for family migrants.
A July 5 to 8 poll by YouGov for HuffPost revealed some details about what the record public concern about immigration implies for voters' preferences.
The YouGov poll shows that registered votes prefer stricter immigration policies by roughly two-to-one.  Forty-seven percent of the registered voters in the poll of 1,000 adults said they want stricter policies, while only 25 percent said they want less strict policies.
Seventy-three percent of GOP-identified adults want stricter policies, as do 45 percent of independents, and 19 percent of Democrats. Thirty-one percent of Hispanics want stricter policies, while 30 percent want looser policies, said the poll.

The YouGov and Gallup data show one side of the public's long-standing ambivalence over immigration policy. Most voters prefer less immigration and stricter policies, but also want to show sympathy for migrants, would-be migrants, and even illegal migrants.
This ambivalence helps the various pro-migration groups — business interests, progressives, and Democrats — to distract and divide the swing-voting public from demanding politicians deliver the reduced immigration that they prefer. For example, business groups and Democrats tout polls which prod Americans to declare support for migrants or the claim that the United States is a "Nation of Immigrants."
The alternative "priority or fairness" polls — plus the 2016 election — show that voters in the polling booth put a much higher priority on helping their families, neighbors, and fellow nationals get decent jobs in a high-tech, high-immigration, low-wage economy.
However, the public's ambivalence may be trumped in November if President Donald Trump can make the 2018 election about immigration, jobs, and wages.
"If the general immigration focus continues through the fall, GOP candidates may be able to fire up the enthusiasm of the part of their base highly concerned about immigration and that in turn favors the Republican approach to this issue," said Gallup's editor, Frank Newport. "It's likely that it will remain an important campaign theme no matter what events occur between now and Election Day in November."