CEOs and investors need the government to import more H-1B visa-workers for U.S. jobs because "a sustained reduction in immigration could dampen growth," says a report in the New York Times.
While touting the need for more "economic growth," the article hides the huge scale of the H-1B program and it dismisses the evidence that hundreds of billions of dollars have been transferred from graduates' per-capita salaries over to the investors on Wall Street.
The two authors, Nelson D. Schwartz and Steve Lohr, repeatedly put Wall Street's priority of economic growth ahead of Americans' desire to grow their own wages and salaries: 
The Business Roundtable, a group of corporate leaders, recently challenged the Trump administration over changes that it says threaten the livelihoods of thousands of skilled foreign workers, and economic growth and competitiveness.
The article repeatedly complains that agency officials working for President Donald Trump are making it difficult for companies to import replacement visa-workers. For example, the headline declared that "Companies Say Trump Is Hurting Business by Limiting Legal Immigration."
The headline mistakenly suggested that visa workers are immigrants. They are not immigrants. They are visa workers hired under a temporary contract to work for companies in the United States. Some classes of visa workers can apply for immigrant status.
Overall,  the U.S. government helps companies keep a population of roughly 1.5 million white-collar visa-workers in American jobs. The various visa programs — H-1B, L-1, J-1, H4 EAD, OPT, TN — allow employers to hire cheap foreign doctors, therapists, programmers, engineers, accountants, designers, architects, managers, recruitment specialists, P.R. experts and many other professionals.
Most of the foreign professionals will work for lower wages for many years in exchange for the ability to live in the United States and the opportunity to win the deferred bonus of a green card for themselves and their families. Moreover, the huge quantity of visa-workers ensures that employers do not have to compete for new hires by offering higher wages to young American graduates. These extra workers expand the national economic growth sought by Wall Street, but they also retard the per-capita growth of Americans wages and salaries.
For example, the New York Times authors explained the business needs of a New York-based company which has asked for almost 300 visas since 2016 to import lower-wage foreign college-graduates for the healthcare jobs desired by many young American college-graduates:
At Northwell Health's pathology lab on Long Island, a new doctor's cubicle stands empty, her computer and microscope untouched. Other residents started on July 1, but she is stuck in India's Punjab State, held up by unexplained delays in her visa.
"There have been delays in processing that we have not felt before," said Dr. Andrew C. Yacht, chief academic officer at Northwell, which includes Lenox Hill Hospital in Manhattan and North Shore University Hospital in Manhasset, N.Y. …

Hospitals in particular argue that they need foreign doctors who are more willing than native-born Americans to take jobs in less glamorous and lower-paying fields, like internal and family medicine. Of Northwell's 1,826 resident doctors, 165 came in under H1-B or J-1 student visas.
The company's requests for H-1B healthcare visa-workers is outlined at the MyVisaJobs.com site: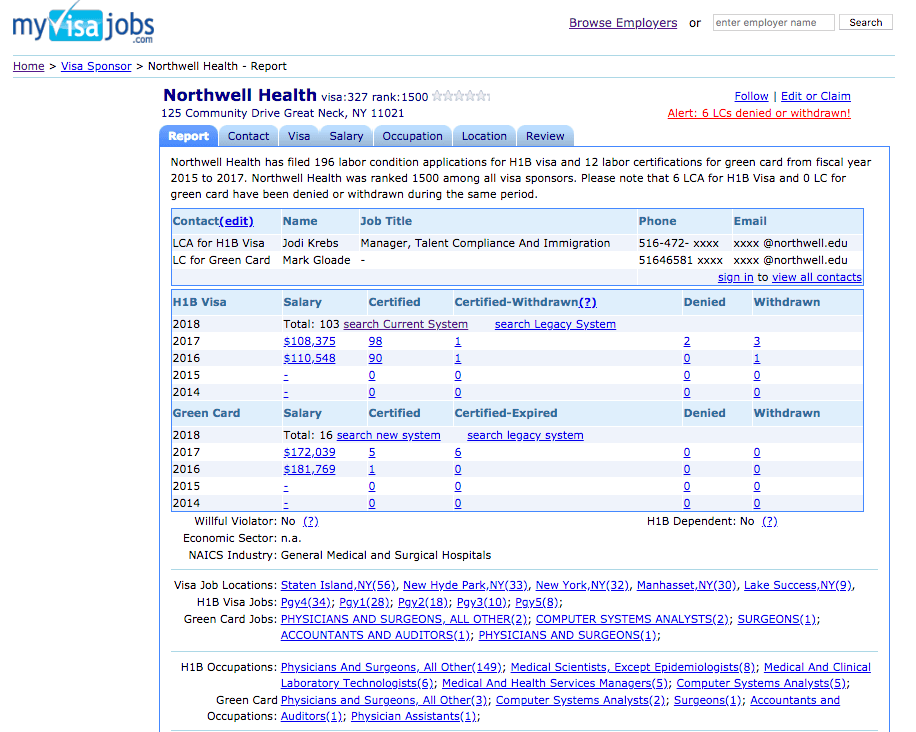 The salaries promised by Northwell to the visa-workers seem to be far lower than salaries paid to Americans physicians in New York.
The New York Times company, like many media groups, also asks the government for H-1B visa-workers to replace Americans: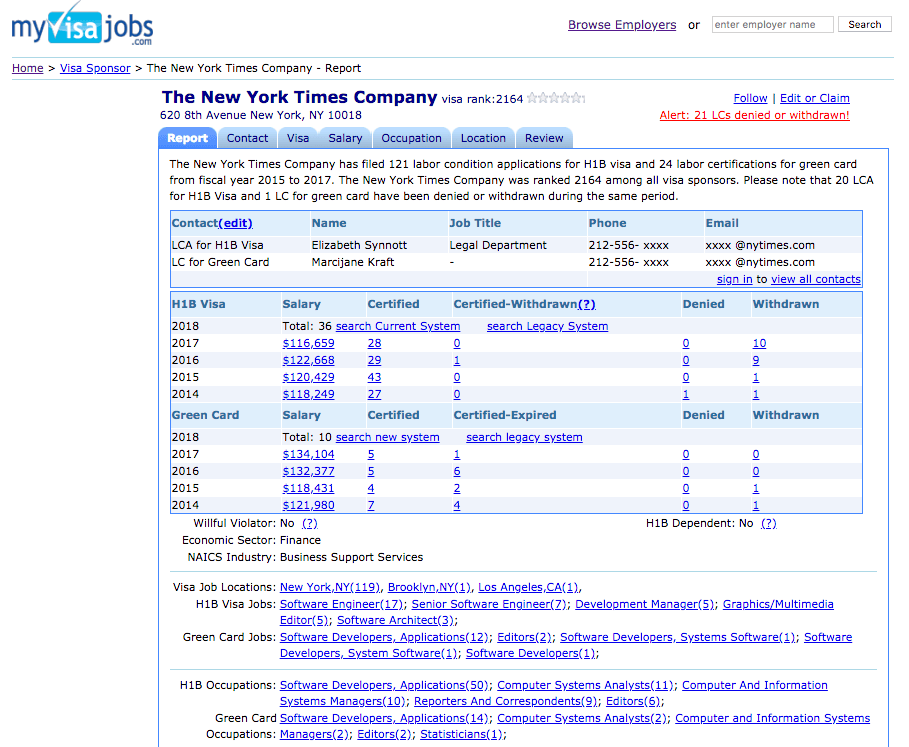 The H-1B visa program was created to allow companies to import temporary workers until Americans could be trained for the jobs. But lobbyists persuaded Congress to gradually convert the program into an outsourcing program that imports roughly 100,000 low-wage foreign college-graduates per year.  The estimated number of H-1B workers in the United States ranges from 450,000 up to 900,000, partly because many H-1B workers will extend their work visas — even when they are working for lower wages — because they hope to get the huge bonus of green cards.
The number of former H-1B workers who now have green cards or citizenship is also very large, and it includes the current CEOs of Google and Microsoft.
The cheap-labor program is widely used and strongly defended by many companies, including Amazon and Microsoft, by many universities and hospitals, and by investors'  lobby groups, such as FWD.us. These CEOs and investors can use the visa programs to spike their stock prices by outsourcing the jobs held by many mid-career Americans to the Indian companies, which then use their U.S.-based visa-workers to outsource the work to even cheaper workers living in India.
Anti-American discrimination and corruption seem to be endemic and long-standing in the Indian-dominated H-1B visa-worker program. The fraud allegedly includes many H-1B workers repaying a part of their salary back to the managers who hired them.
On August 29, the Department of Justice revealed one of the largest fraud cases yet. "The criminal complaint describes how two companies incorporated by [CEO Pradyumna Kumar Samal]  in 2010 and 2011, engaged in a scheme sometimes referred to as a 'bench-and-switch' scheme, to exploit foreign-national workers, compete unlawfully in the market, and defraud the U.S. government," said the statement from the Department of Justice.
Many GOP and some Democratic legislators support the outsourcing programs, including Kansas GOP Rep. Kevin Yoder.
Yoder is pushing his HR 392 legislation into the 2019 spending bill that would put roughly 400,000 Indian and Chinese H-1B visa-workers — plus their families and relatives — on a fast-track to green-cards. If passed, the Yoder legislation would further increase the supply of white-collar workers competing for jobs in the United States.