When two half-naked female protesters from the radical anarchist organization "Femen" disrupted Paris Fashion Week on Thursday by invading the catwalk with slogans painted on their bare chests, an 18-year old supermodel punched one of them squarely in the nose. 
Hollie-May Saker, an 18-year old supermodel whom many say may be the next Kate Moss, saw the screaming protesters just as she was about to go on stage. 
According to the Daily Mail, a woman from the "radical feminist group" grabbed Saker's arm and tried to lift up her skirt, at which point the model punched her on the nose. She then "continued her run" on the catwalk "as if nothing had happened."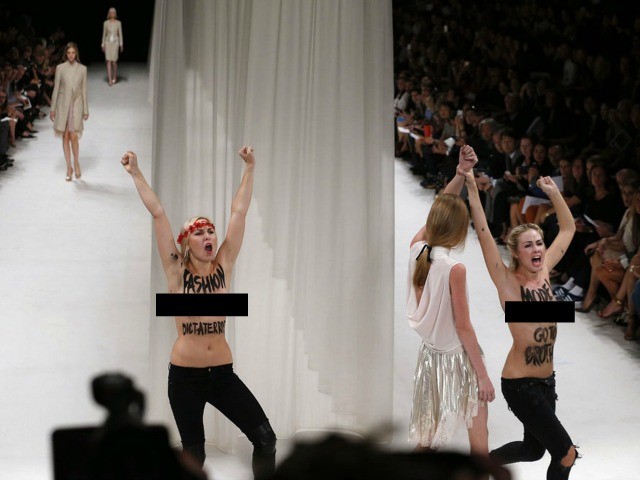 Femen has sent naked women to protest Russian President Vladimir Putin and German Chancellor Angela Merkel in the past. The group also protested Russia's anti-gay laws leading up to the 2014 Sochi Winter Olympics and protested against Islamic Sharia Law. 
"I was so angry but I knew I had to be professional so I carried on walking with a bit of sassiness," Saker said. 
She said she could "hear screaming behind me," and, "the next thing I just saw half-naked women with black marker pen scrawled across their bare chests and that's when she came at me."
Security eventually removed the two women, who had "model don't go to brothel" and "fashion dicterror' [sic]" painted on their bare chests.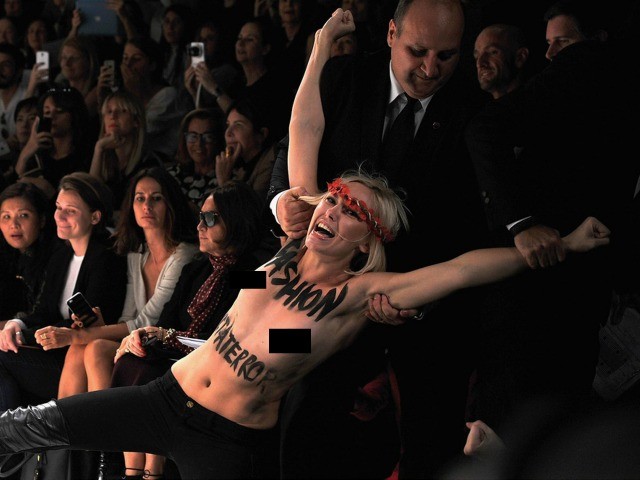 "I punched her – I didn't mean to but she grabbed my arm and I just wanted to get her off me," Saker, who is from Liverpool, said. "My Scouseness came out a bit but I wish it had come out a bit more. Thinking about it now I wish I'd pushed them both off the stage because they ruined my favorite show."
After the show, Saker was a bit less calm and expressed her outrage on Twitter. She tweeted, "FEEEEEEUUUUMIN. THAT B**** RUINED AND HAD HER SAGGY T*** IN MY FACE." From her @HollieMaySaker account, she also simply tweeted, "That b**** ruined my walk."