John Cantlie, the British hostage of the Islamic State (ISIS/ISIL), appears in a new video on YouTube published by the terrorist group's al-Hayat Media Center. He was kidnapped along with American journalist James Foley, who was beheaded in August.
There is no date on the video, but Cantlie said he is looking at Mosul, which has been in the hands of the Islamic State for five months. If his statement is true that means the video was developed in November since they captured Iraq's second largest town in June.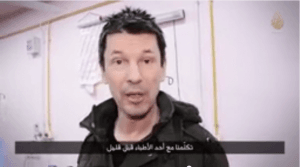 The video, titled "Inside Mosul," portrays life in Mosul "as business as usual." He said that Muslims can finally walk the streets without fear of oppression, even though Muslims and Christians lived peacefully among each other for over 2,000 years.
"It's not a city living in fear as Western media would have you believe," he said. "It's just a normal city going about it's daily business."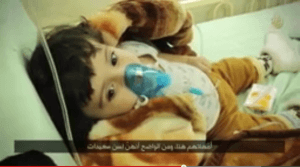 Twitter accounts associated with the Islamic State tweeted out screen shots of the documentary. While he appears to be on the side of the terrorist group, most of these accounts poke fun at him.
This first account says he is "almost sure Kintela [sic] may safest! Shows of his actions and laughing and fun, like one of us."
#كانتلي_في_الموصل اكاد اجزم ان كانتلي قد اسلم ! يظهر من تصرفاته وضحكه ومرحه وكانه واحد منا ! pic.twitter.com/2t8c69wQXp

— ابو طوى#باقية © (@abu_taha2) January 3, 2015
He again assures the world Cantlie is safe.
#مساحة ضخمة لل #الدولة_الإسلامية جون كانتلي ! هل اسلم ! pic.twitter.com/FuF3otXSc7 — ابو طوى#باقية © (@abu_taha2) January 3, 2015
Drones fly above him as he looks to the sky. Accounts mocked his expression. The first account says, "Try to save me again….Ante useless! Yes, God useless…in front of the power and the might of is the highest."
"حاولي انقاذي مرة ثانية .. انتي عديمة الجدوى!" بلى والله عديمة الجدوى.. أمام قوة وجبروت من هو اعلى #كانتلي_في_الموصل pic.twitter.com/wV1vm6aP7G

— فآرِسَه*روحُ مُهآجرة (@fawars_khilafa) January 3, 2015
Another person said his face shows "mad disbelief…God willing, will be useless."
#كانتلي_في_الموصل #الحلفاء جنون الكفر …،، بإذن الله ستكون عديمة الجدوى pic.twitter.com/pfEalL27hb

— سـ لــاــ م (@1_malat_1) January 3, 2015
This account said, "Try to save me once again..You are useless."
حاولي إنقاذي مره ثانية .. أنت عديمة الفائدة