Yazidi activists released a video that shows the Islamic State (ISIS/ISIL) tearing apart families and abducting the girls and women to be their sex slaves.
WARNING. VERY GRAPHIC CONTENT.
The Yazidis huddle together before the terrorists rip them apart. Women and girls scream at the top of their lungs while the males attempt to hold onto the women.
A militant holds the black ISIS flag above them from a balcony.
Sky News recently published a video of the underground dungeons ISIS used to keeps its slaves, most of them Yazidis.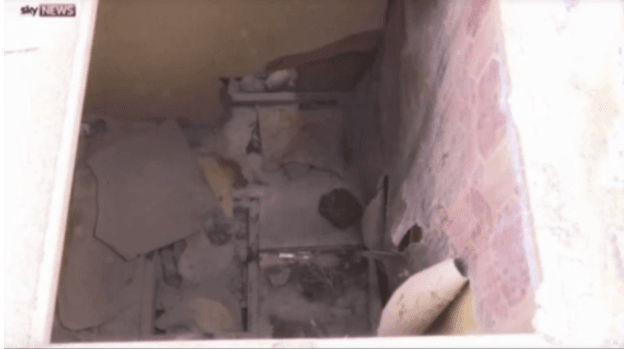 No one knows exactly how long ISIS kept the women in the cells or where they fled.
The Yazidi women who do escape tell their stories to the world.
"They took young girls, seven, nine and 10 years old," explained Aveen, 23, to NBC News in early December. ISIS held her for almost a year before she escaped.
The guards held the women and children at a school, separate from the men. At night, those same guards raped the women.
"Some [females] are sold for weapons, or for just $10, or 10 cigarettes," said activist Khider Domle, who interviewed numerous Yazidis.
In October, a young Yazidi woman, known only as Noor, told CNN that the militants justified raping her because the action would make her Muslim.
"He showed me a letter and said, 'This shows any captured women will become Muslim if 10 ISIS fighters rape her.' There was a flag of ISIS and a picture of [ISIS leader] Abu Bakr Al Baghdadi," she explained.
The terrorist's 11 friends raped her, as well.
Bushra, 21, spoke about how ISIS brought in their own OB-GYNs to determine if the females were still virgins. She saw "two doctors invasively examine girls to find out if they were already pregnant." If the testing was positive, they forced the women to have abortions.
Last month, Kurdish forces discovered a mass grave in Sinjar filled with at least 80 Yazidi women too old to be sex slaves for ISIS. Experts believe the women in the graves are "between 40 and 80 years old." Another mass grave contained bodies of men, women, and children.
In May, Zainab Bangura, the United Nations special representative of the secretary-general on Sexual Violence in Conflict, interviewed numerous Yazidi females whom ISIS kidnapped and forced to be sex slaves. She found what others have previously discovered: rape, slavery, slave markets, and women undergoing surgery to restore their virginity.
"Women and girls are at risk and under assault at every point of their lives," she explained, adding that the threats lurk behind them "every step of the way … in the midst of active conflict, in areas under control of armed actors, at check-points and border crossings, and in detention facilities."