Yazidi survivor Nadia Murad Basee Taha described to the United Nations Security Council the horrific ordeal she endured while the Islamic State (ISIS/ISIL) used her as a sex slave.
"Rape was used to destroy women and girls and to guarantee that these women could never lead a normal life again," she declared.
WARNING! VERY GRAPHIC CONTENT.
The terrorists raped Taha until she passed out.
The sadistic terrorist group captured Taha in August 2014 as they expanded their caliphate across Iraq and Syria. They consider Yazidis "devil-worshippers" and wish to wipe the minority religion sect off the planet.
Taha explained:
Along the way, they humiliated us. They touched us and violated us. They took us to Mosul with more than 150 other Yazidi families. In a building, there were thousands of Yazidi families and children who were exchanged as gifts. One of these people came up to me. He wanted to take me. I looked down at the floor. I was absolutely petrified. When I looked up, I saw a huge man. He looked like a monster.

I cried. I cried out, I said "I'm too young and you're huge". He hit me. He kicked me and beat me. And a few minutes later, another man came up to me. I still was looking at the floor. I saw that he was a little bit smaller. I begged him. I implored him for him to take me. I was incredibly scared of the first man.

The man who took me asked me to change religion. I refused. Then, he asked for my hand in marriage, so to speak. That night he beat me. He asked me to take my clothes off. He put me in a room with the guards and then they proceeded to commit their crime until I fainted.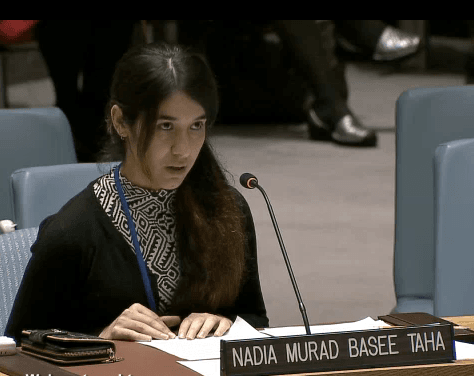 "I implore you, get rid of Daesh [ISIS] completely," she begged the council when she finished her speech.
The council erupted in applause for the young woman as Taha buried her head in her hands.
On Friday, Yazidi activists released a video that shows ISIS tearing apart families and abducting the females to be their sex slaves.
The Yazidis huddle together before the terrorists rip them apart. Women and girls scream at the top of their lungs while the males attempt to hold onto the women.
Sky News recently published a video of the underground dungeons ISIS used to keeps its slaves, most of them Yazidis.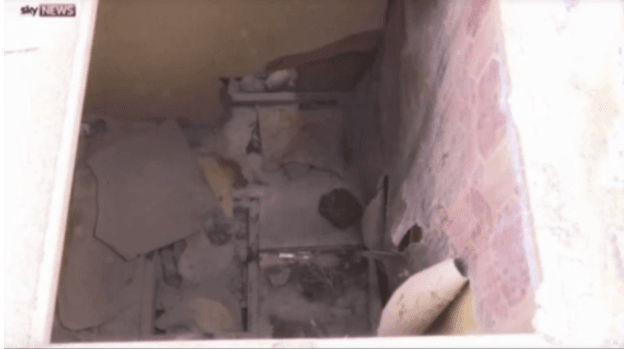 "They took young girls, seven, nine and 10 years old," explained Aveen, 23, to NBC News in early December. ISIS held her for almost a year before she escaped.
The guards held the women and children at a school, separate from the men. At night, those same guards raped the women.
"Some [females] are sold for weapons, or for just $10, or 10 cigarettes," said activist Khider Domle, who interviewed numerous Yazidis.
In October, a young Yazidi woman, known only as Noor, told CNN that the militants justified raping her because the action would make her Muslim.
"He showed me a letter and said, 'This shows any captured women will become Muslim if 10 ISIS fighters rape her.' There was a flag of ISIS and a picture of [ISIS leader] Abu Bakr Al Baghdadi," she explained.
The terrorist's 11 friends raped her, as well.
Bushra, 21, spoke about how ISIS brought in their own OB-GYNs to determine if the females were still virgins. She saw "two doctors invasively examine girls to find out if they were already pregnant." If the testing was positive, they forced the women to have abortions.