A Sierra Leonean journalist is confirming that presidential advisor Alhaji Kargbo independently signed an agreement to take in potentially hundreds of thousands of tons of garbage from Lebanon, currently struggling to meet its people's waste management needs.
Beirut, Lebanon, has been submerged in waste for the past six months after the government closed the main landfill. Mountains of garbage and waste line the streets of the capital, which led to numerous demonstrations in 2015. A campaign called "You Stink" held a protest in late August, which turned violent and caused the government to deploy army units. The Red Cross reported that 49 people and police officers received injuries.
The waste supposedly weighs more than 100,000 tons. Officials admit it will be hard to convince anyone to take the waste since "it is infectious and compacted."
The Sierra Leone government has vehemently denied they agreed to accept Lebanon's trash.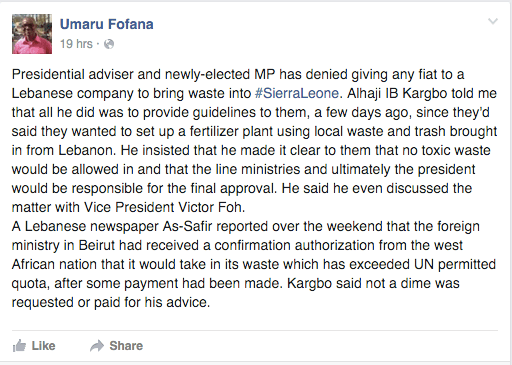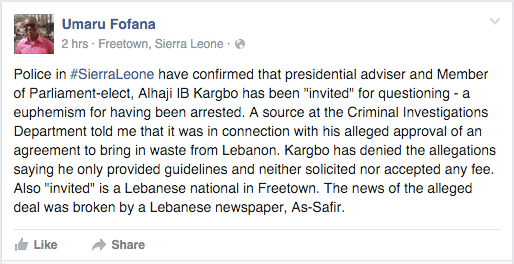 However, the police set him free after questioning.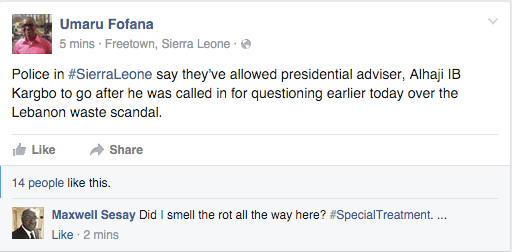 "Sierra Leonean authorities warn against circulating such news and they will exercise their right to resort to the judiciary and file a lawsuit before the State Prosecutor's Office against all who took part in fabricating such news," stated Sierra Leonean General Honorary Consul in Lebanon Donald Roy Joseph Abed to The Daily Star.
On Saturday, the Lebanese Foreign Ministry received a letter from Sierra Leone that confirmed the African nation would take the trash, signed by an advisor to President Ernest Bai Koroma. The African nation supposedly said it would only take rubbish that is free of toxins.
Sierra Leone published the letter from Kargbo.
In addition to this deal, the Lebanese government is attempting to finalize contracts with waste-to-energy firms. From The Daily Star:
The two firms, Britain's Chinook Urban Mining International and Dutch Howa BV, have drawn considerable media attention for being selected at a closed-door Cabinet meeting in December, but there is evidence that they have directed multimillion-dollar waste projects in Europe.

Agriculture Minister Akram Chehayeb, who has been overseeing solutions to resolve the country's waste crisis, told As-Safir that the Council of Development and Reconstruction finalized the translation of contracts from Arabic to English.

He pointed out that the initial signing of the contracts has been carried out by the government and the two companies after the firms paid the required assurance of $2.5 million (LL3,779,550,000) for each.
"We are seeking to prepare 2,000 containers in order to load the waste, get the docks at the port ready for them and lift them to the ships, in addition to preparing the cycling plants in Karantina and Amrousieh," he explained. "Exporting trash is a crazy decision. But it's a must."