U.S. officials believe North Korea might launch a rocket soon due to increased activity at the missile site Sohae Satellite Launching Station.
"The indications are that they are preparing for some kind of launch," an anonymous official told AFP. "Could be for a satellite or a space vehicle — there are a lot of guesses. North Korea does this periodically — they move things back and forth."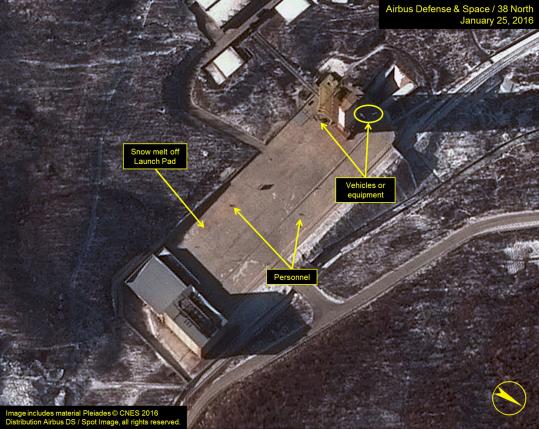 Another official claimed the "movement of components and propellant" worried the government because "it's the same technology to develop ICBMs (inter-continental ballistic missiles)."
AllSource Analysis chief analytics officer Joe Bermudez explained the movement shows "test preparations for a rocket engine test soon." Satellites picked up movement at a launch pad, but officials did not see a rocket. Construction of new buildings and covers also raised concern since the objects "obscure satellite views."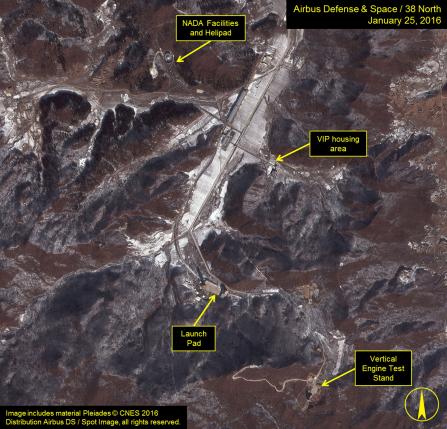 United Nations sanctions forbid "any launch using ballistic missile technology" in the hermit communist kingdom.
In early January, the regime bragged they successfully detonated a hydrogen bomb. The officials stated in a press release, titled "U.S. Should Be Accustomed to Status of DPRK as Nuclear Weapons State," that they conducted the test as a "measure for self-defense to defend the sovereignty of the country" and it is not meant "to provoke anyone."
But the statement included accusations of the U.S., claiming "hostile acts" toward North Korea occur on a regular basis.
Other scientists suspected North Korea never performed an H-bomb test. U.S. scientists said the evidence "'is not consistent' with a successful hydrogen bomb test." A South Korean lawmaker claimed the country's spy agency did not believe North Korea due to the seismic wave. The Associated Press reported:
An estimated explosive yield of 6.0 kilotons and a quake with a magnitude of 4.8 (the U.S. reported 5.1) were detected, lawmaker Lee Cheol Woo said the National Intelligence Service told him. That's smaller than the estimated explosive yield of 7.9 kilotons and 4.9-magnitude quake reported after the 2013 nuclear test, he said, and only a fraction of the hundreds of kilotons that a successful H-bomb test's explosion would usually yield. Even a failed H-bomb detonation typically yields tens of kilotons, the NIS told Lee, who sits on the parliament's intelligence committee.
Small H-bombs could cause small earthquakes, but only the U.S. and Russia possess those bombs.
A week later, the country's scientists gloated about the ability to destroy the U.S. "all at once."
In the article "KCNA Commentary Lauds H-Bomb Test," state media reported:
The scientists and technicians of the DPRK are in high spirit to detonate H-bombs of hundreds of Kt and Mt level capable of wiping out the whole territory of the U.S. all at once as it persistently moves to stifle the DPRK, cradle of life and happiness of its people, if only there are no geographical restrictions and provided the territory is vast.