Brazilians danced in the streets, chanting and even burning their president in effigy on Sunday to celebrate the House of Representatives' vote to impeach leftist head of state Dilma Rousseff.
Rousseff is facing impeachment for what Brazil's O Globo newspaper is calling "tax-pedaling;" she stands accused of passing executive orders to hide the government's massive budget deficit, artificially making the decline of the nation's economy under her rule appear significantly more manageable. 362 of the nation's 513 lower house deputies voted for impeachment; the anti-Rousseff group needed 342 votes to pass the impeachment motion.
The 342nd vote was cast by Rep. Bruno Araujo, a long-time anti-Rousseff legislator made world-famous after comedian John Oliver celebrated his pot-banging protest against Rousseff on the House floor in March 2015. "What an honor destiny has given me, to use my voice to give a shout of hope to millions of Brazilians," he said, shedding tears during his speech. He was later cheered and carried by his colleagues around the House floor in celebration.
Photo: Iano Andrade, EPA
Photos of the House of Representatives following the vote appeared to show an atmosphere of celebration comparable to that in the streets of Brazil's major cities, where thousands congregated to watch the voting process wearing their flag's colors. Representatives tossed confetti and cheered.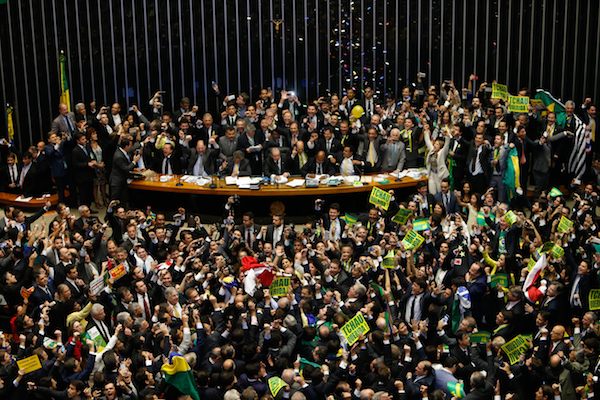 To fully impeach Rousseff, the nation's Senate must now vote to oust her, first by committee, then by floor vote. If she is impeached, Vice President Michel Temer would become president for 180 days while the Senate tries Rousseff for the charges levied against her. The Senate vote is expected in mid-May; a "yes" vote would ensure a new president was in power by the opening of the 2016 Summer Olympics in Rio de Janeiro.
Rousseff tried and failed to get the nation's Supreme Court to block impeachment, calling the move a "coup" and comparing her ordeal to Nazi Germany.
While the anti-Rousseff deputies celebrated in the House, thousands celebrated on the streets of Brazil's biggest cities, holding inflatable prison-uniform versions of Rousseff and her predecessor, Luiz Inácio Lula da Silva. "Lula," as he is known, became embroiled in the embezzlement scandal known as "Operation Car Wash," in which a web of politicians have been found to have used the state-run oil corporation Petrobras as a private slush fund. Rousseff recently appointed Lula her chief of staff, granting him immunity from prosecution.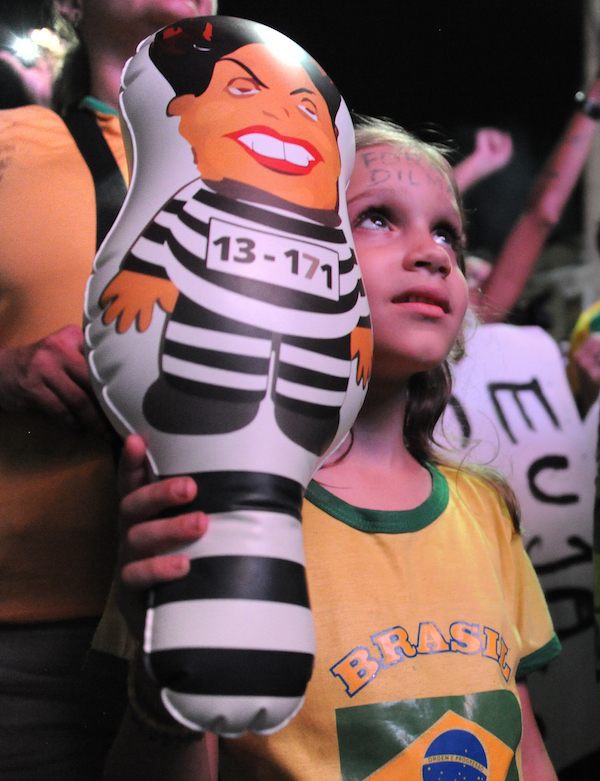 In response to that move, which many saw as a deliberate obstruction of justice, 3.6 million Brazilians took to the streets of 40 cities in mid-March demanding impeachment or resignation.
The scenes across Brazil on Sunday night were not significantly different: Brazilians marching with their children holding signs reading "Ciao, Honey" – a message to Rousseff – and carrying the now-famous inflatables. One group burned an inflatable in effigy.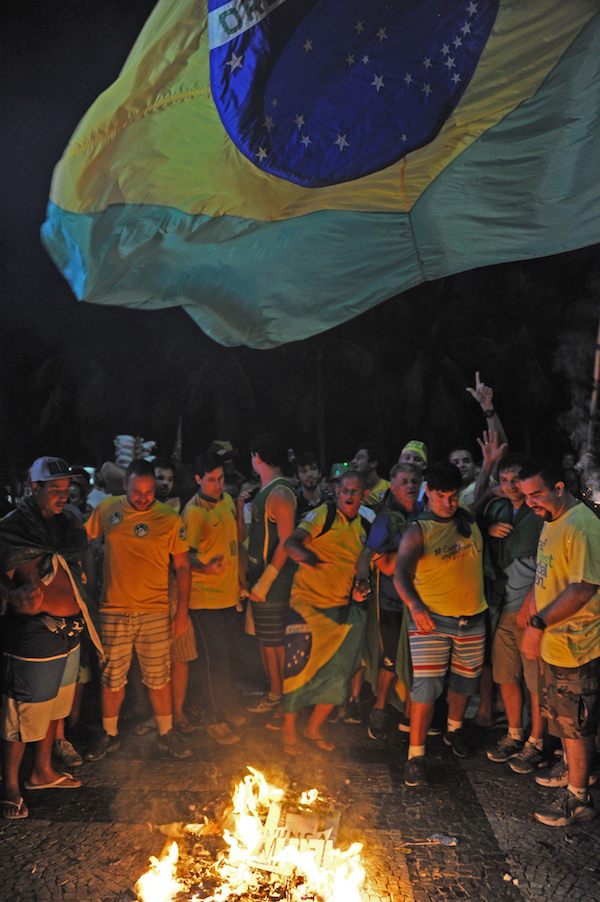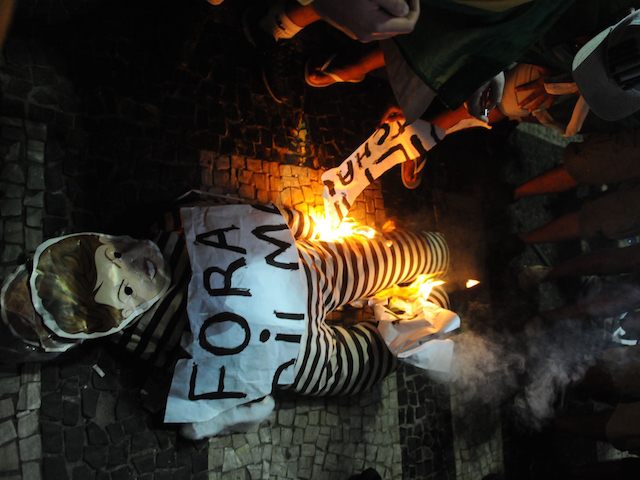 Fights loom after Brazil's lower chamber OKs impeachment https://t.co/mnD49Ap22w pic.twitter.com/udzzOUxG0u

— WFSB Channel 3 (@WFSBnews) April 18, 2016
Important moment for Brazil: Impeachment going on right now. Yes, we can!#Brazil #ImpeachmentDay pic.twitter.com/Bwd1lnuVEH

— David (@GaijinStream) April 18, 2016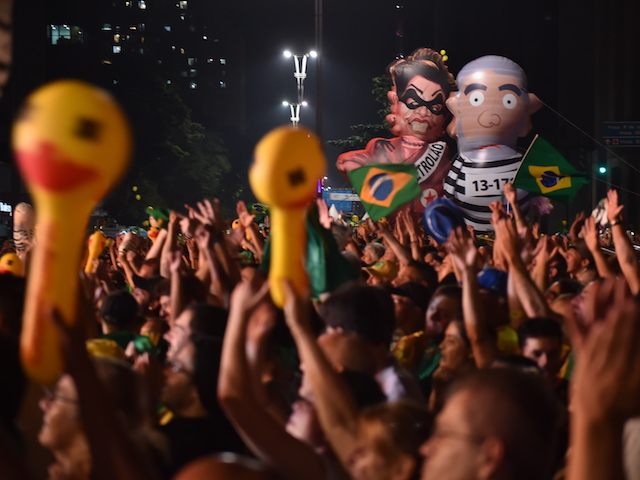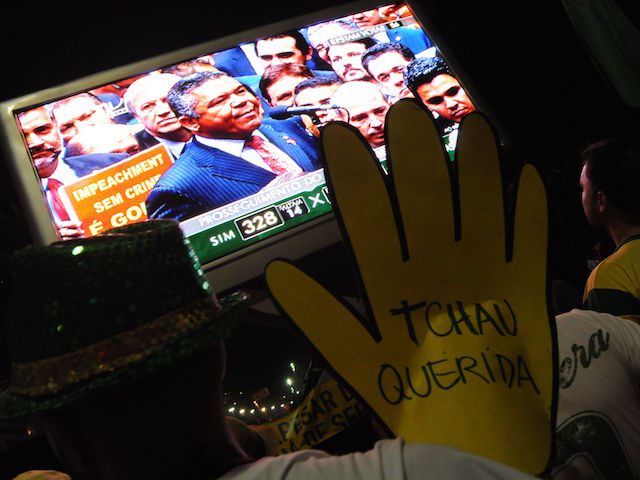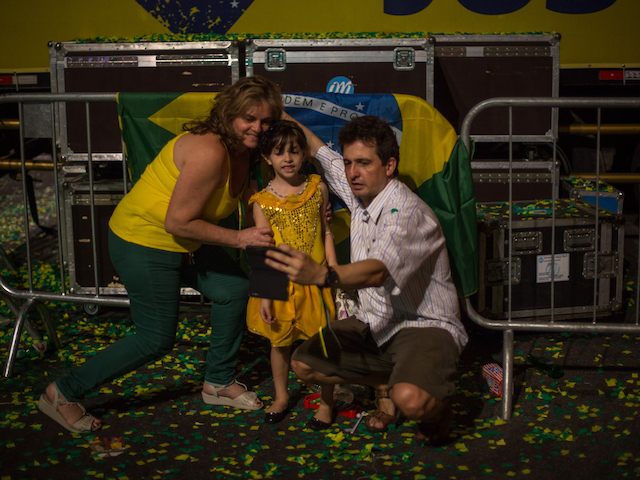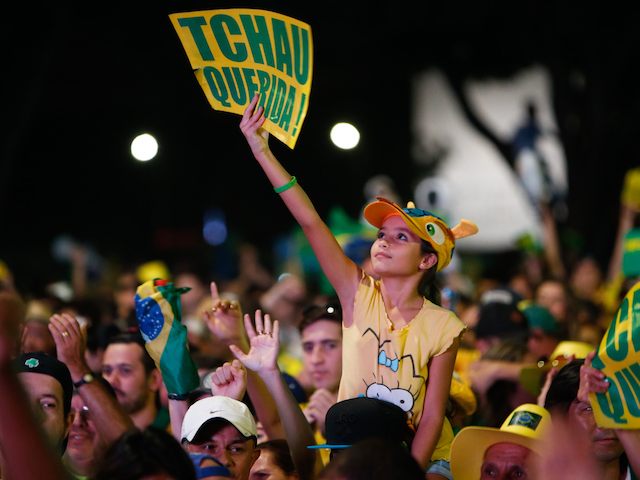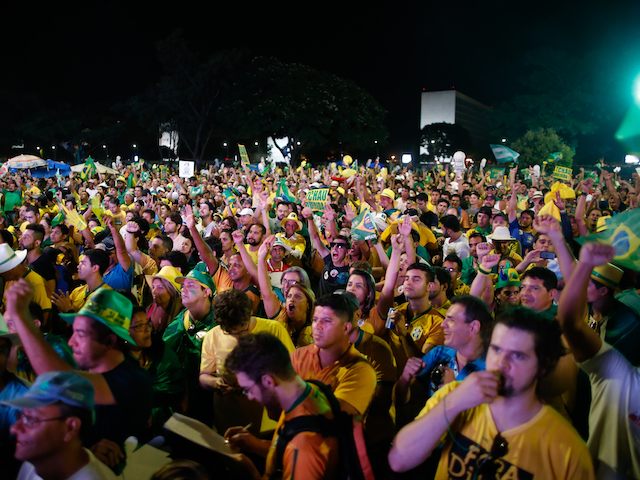 Rousseff's leftist Workers' Party attempted to put together similar assemblies for their supporters, but the atmosphere in those appeared muted and glum in photos, with the few supporters turning out for them, wearing bandanas reading "there will be no coup," in tears.