Breitbart News national security editor Dr. Sebastian Gorka, author of the best-selling book Defeating Jihad: The Winnable War, appeared on Fox News to discuss the Islamic State's threat to attack the crowded Thanksgiving Day parade with trucks, similar to the attack on pedestrians in Nice, France.
Dr. Gorka noted that in just the first nine months of calendar year 2016, ISIS terrorists have been arrested in states across the country, as he demonstrated with an electronic map. The black states have seen ISIS-related arrests: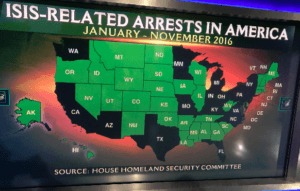 "Let's just add, up to November, we've got four more states, including places like Kentucky, Ohio, where we're arresting ISIS terrorists," he said.
"Let's look at the gross numbers: since the 'caliphate' was declared, just two and a half years ago from Mosul, we have killed or arrested 124 ISIS terrorists here in America. Not 24, not 34 – one hundred and twenty-four. And as you can see, it's distributed," Gorka said.
He emphasized the importance of understanding the global ISIS strategy as well, presenting a world map broken down into color-coded regions: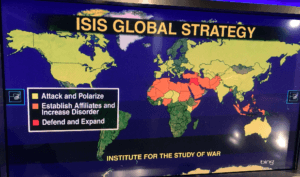 In the yellow regions, ISIS is "doing terrorist attacks far away from the Middle East, to polarize, to create fear amongst populations."
"Don't forget the pressure-cooker bomb here in New York recently, the pipe bombs in New Jersey, the Marine Corps run," Gorka pointed out.
The orange areas of the global strategic map represent areas where ISIS has "affiliates," giving it a "much more powerful presence."
"The President was recently briefed by the National Counterterrorism Center: ISIS has, quote, 'fully operational affiliates' in 18 nations," Gorka said.
He stressed there was always a "personal component" to the Islamic State's jihad recruiting efforts, dismissing the idea of "a guy sitting in his basement, looking at the Internet, and suddenly becomes a jihadi."
"Bogus. There's no such thing as 'lone wolf.' There's always some kind of connection," he contended.
Nestled in the center of the orange zone is the actual Islamic State caliphate. "Now they've captured territory like Mosul, like Tikrit. They have to hold that territory and then expand it into the orange areas," Gorka said, stressing the importance of denying that territorial expansion through military confrontation.
He said it was encouraging to see reports of battlefield success against ISIS in Iraq and Syria recently, but added: "The question is, what next? You can hold Mosul, but it's like squeezing a balloon. You're not going to kill everybody, so where are they going? Look, they understand they've got multiple battle fronts, and they've got at least 6,000 Westerners they've recruited, who they can send back to France, the U.K. So we have to be really aware of all the fronts in this war."