South Korean officials have confirmed a blast at a nuclear testing site in North Korea that the nation appears to be claiming was a test of a hydrogen bomb.
Shortly before the blast, state media published photos of dictator Kim Jong-un reportedly leading the testing.
"Respected Supreme Leader Kim Jong Un guided the work for nuclear weaponization on the spot," Rodong Sinmun, North Korea's state newspaper, reported Sunday. The newspaper claims "all components of the H-bomb were homemade and all the processes ranging from the production of weapons-grade nuclear materials to precision processing of components and their assembling were put on the Juche basis, thus enabling the country to produce powerful nuclear weapons as many as it wants."
"Juche" is the North Korea state philosophy; the word roughly translates to "self-reliance."
Rodong also claims the bombs in question have an adjustable explosive power "from tens [sic] kiloton to hundreds kiloton." The newspaper's site published photos allegedly showing Kim guiding the bomb testing.

On state television, North Korean announcers described the blast as a "perfect success," according to the BBC. Citing experts, the outlet states the test – the sixth of its kind in North Korean history – appears to be the most powerful of its kind in the nation's history.
South Korean newswire service Yonhap reported that South Korean officials observed a seismic event of 5.7 magnitude near the Punggye-ri nuclear testing site at around 12:30 PM local time. The United States Geological Survey rated the quake a 6.3.
An expert at the Korean Meteorological Association (KMA) explained that the size of the earthquake, larger than the 5.04 magnitude blast from North Korea previous, fifth nuclear test, could mean the bomb is up to ten times more powerful than the last test: "If an artificial quake is due to a nuclear test, a 0.2 increase in its magnitude is usually assessed as having a twofold increase in yield. The artificial quake this time (in the North) is presumed to have a yield of more than 9.8 times than that a year ago."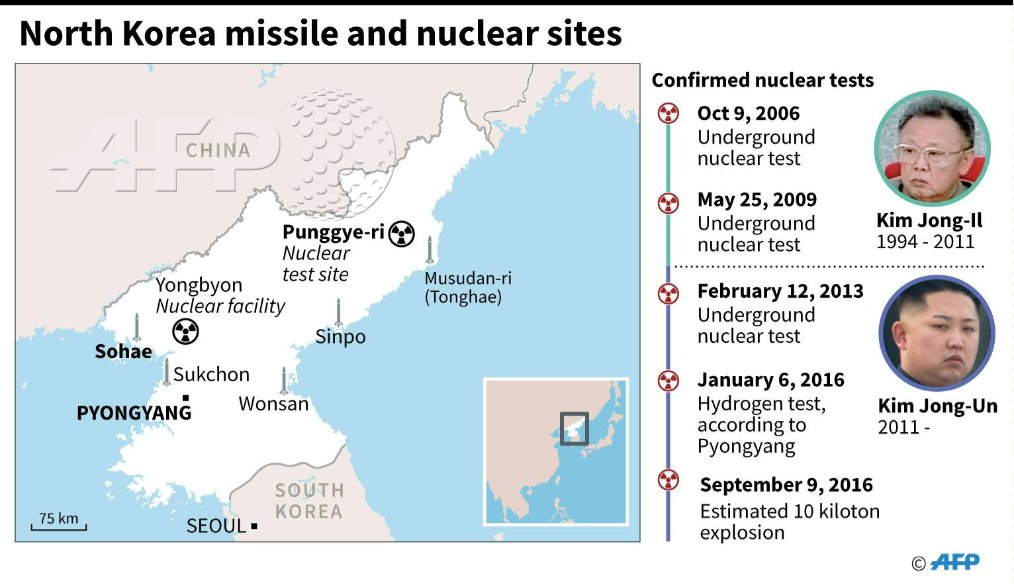 Yonhap is reporting that South Korea will seek further international sanctions against North Korea. "North Korea has committed an absurd strategic mistake that will further accelerate its isolation from the international community through its repeated provocations, such as launching intercontinental ballistic missiles (ICBM) and staging a nuclear test that not only heightened tension on the Korean Peninsula but also greatly undermined global peace," South Korean president Moon Jae-in said in a statement.
The Yonhap site also claims that "top South Korean and U.S. military officers agreed Sunday to take military measures against North Korea." It did not specify what sorts of military action officials discussed, instead stating that South Korea's Joint Chiefs of Staff had said Seoul and Washington had "agreed to take combined military measures against North Korea as early as possible."
North Korea routinely threatens to use nuclear weapons against the United States and South Korea, most recently threatening the U.S. territory of Guam. This is the first nuclear test conducted during the term of President Donald Trump, who recently stated on Twitter that "talking" is no longer an effective measure to contain North Korea's belligerence.