Although Venezuela's problems began with the election of the authoritarian left-wing revolutionary Hugo Chávez in 1998, 2017 was the year that the country's problems became too catastrophic for even the world's most ardent socialists to defend.
Politically, the year has been defined by Nicolás Maduro's socialist government's increasingly blatant efforts to rule the country decree, while an embattled and disunified opposition continue to fail in their attempts to unify the country to bring down the government.
In January, Maduro appointed Aragua state governor Tareck El Aissami as the nation's new vice president, a figure with strong links to major drugs trafficking outlet across Latin America and the jihadi terror organization Hezbollah. Together, the pair has schemed to turn the country into a one-party state.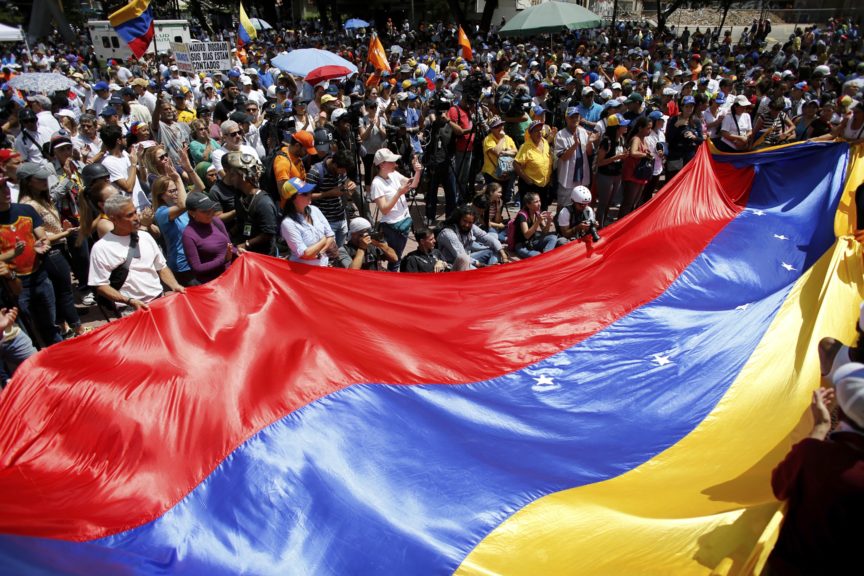 The country's crisis came to a head in April after opposition leaders called for daily protests that would rock the nation to its core. Thousands of Venezuelans took to the streets every day to fight for their freedom and were met with shocking levels of brutality by security forces, which included the use of rubber bullets, tear gas, and water cannons, that led to the deaths of 125.
The protests were primarily a response to increasing political persecution by the Maduro regime, as well as plans to rewrite the country's constitution by creating an illegal lawmaking body known as the "national constituent assembly" that usurped the power of elected lawmakers and replaced them with government-approved cronies.
The Maduro regime eventually prevailed in their attempts to install the lawmaking body, which they legitimized through an election marred by violence which was later found to have been fraudulent. The body has since moved to pass laws to increase the regime's authority, which include a law "against hatred and fascism" and bringing charges against political opponents.
Despite widespread unpopularity, Maduro's United Socialist Party of Venezuela (PSUV) has also had considerable electoral success in both mayoral and regional elections, boycotted by many opposition parties. The State Department later confirmed that both elections were plagued by a number of irregularities, including the banning of international observers, voter intimidation, and the closing of polling stations in opposition-controlled areas.
Maduro has also ruled that main opposition parties can no longer stand in next year's presidential election, declaring that they will "disappear from the political map."
The government has also ratcheted up political persecution. Thousands of political dissidents remain in prison, including opposition leader Leopoldo López. Meanwhile, figures such as Mayor of Caracas Antonio Ledezma and Attorney General Luisa Ortega Diaz, a former government loyalist, have also fled the country.
Economic turmoil has also plagued the regime, amid skyrocketing rates of inflation that have rendered the Bolivar currency practically worthless as well as a failure to meet a number of debt payments amounting to around $200 billion.
Two of the regime's main creditors are China and Russia. Despite managing to agree on a debt restructuring package with Russia, China appears to have lost patience, and last month filed a lawsuit filed a lawsuit against the country's state-run oil firm Petroleum of Venezuela (PDSVA) over a series of missed payments.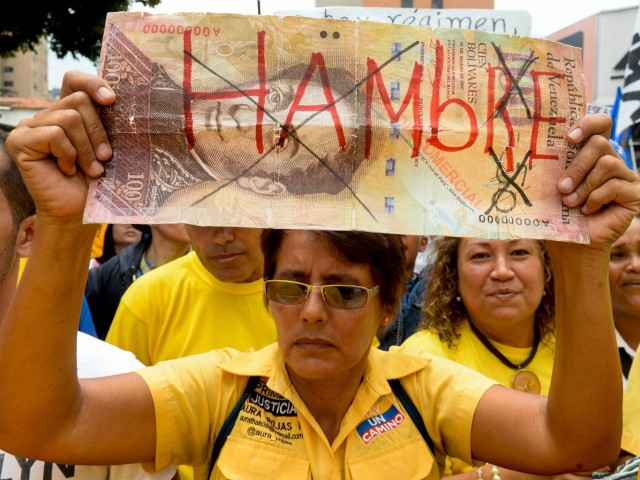 Yet amid all the political and economic turmoil, Venezuela is also facing the worst humanitarian crisis in its history. With a monthly minimum wage of around $1.50, millions of families can no longer afford enough food to eat, basic medical necessities, or power in their homes.
Shocking cases include teenage girls turning to prostitution, the butchering of zoo animals for food, and even cases of cannibalism as people struggle to feed themselves.
2017 has also seen the value of the Venezuelan bolivar collapse to levels comparable to Zimbabwe or the Weimar Republic, with one American dollar now worth 112,000 bolivares, as Maduro continues to hike the country's minimum wage to fight against what he claims is an "economic war" led by the United States.
The crisis has attracted worldwide attention, particularly in the United States. The White House imposed multiple economic sanctions against the regime, as well as personal sanctions against Maduro and other government officials.
President Donald Trump has also become a prominent voice on the crisis, claiming that America "will not stand by as Venezuela crumbles," and has even mulled the possibility of military action as a solution.
Maduro has since urged his country's military to prepare for war with the U.S, urging them to have "rifles, missiles, and well-oiled tanks at the ready … to defend every inch of the territory if need be." He has also ordered civilians to join in "civic-military exercises" at government-run boot camps to prepare for a potential invasion.
Emigration has also become a major issue, with the outflux of Venezuelan migrants reaching unprecedented levels. Venezuela has surpassed Syria as the number one source of asylum requests into the United States, while the neighboring country of Colombia has begun drawing up plans for refugee camps should the country's humanitarian crisis continue to worsen.
"2017 was the year when the international community finally accepted that the Venezuelan regime has morphed into a real narco-state with dangerous implications for the region," former Venezuelan Ambassador to the U.N. Diego Arria told Breitbart News.
"2018 will mark the implosion of the crumbling Venezuela economy, the spread of massive poverty and hunger, becoming the worst humanitarian tragedy of any country in the region," he continued. "Altogether this should lead to an increasing popular revolt that might convince the military to stop supporting this a bankrupt narco-state, under the increasing pressure of international sanctions."
Follow Ben Kew on Facebook, on Twitter at @ben_kew, or email him at bkew@breitbart.com.