[Note: This is the latest segment in an ongoing series about Code Pink and its co-founder Jodie Evans. Click here to read earlier articles.]



2008 campaign flier about then candidate Alan Grayson's ties to Code Pink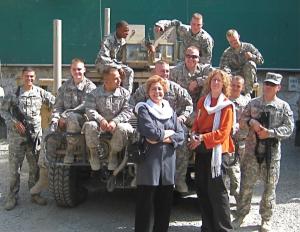 Hamas, Muslim Brotherhood and Obama ally Jodie Evans with President Barack Obama, October 15, 2009.
Top Obama funder, terrorist supporter and Code Pink co-founder Jodie Evans said in a radio interview last Friday night that Rep. Alan Grayson (D-FL) spoke with her earlier that day to express his support for Code Pink's efforts to kidnap former adviser to President George W. Bush, Karl Rove.
Jodie Evans had made an attempt to handcuff and detain Rove that afternoon at a Las Vegas book signing appearance where Rove was promoting his recently released memoir, "Courage and Consequence: My Life As a Conservative in the Fight."
This was the second attempt in recent weeks by Jodie Evans to kidnap Rove and hold him under the pretext of making a citizens arrest for what Code Pink calls war crimes (aka defending America in the war on terror.)
Though the previous attempt in Beverly Hills made national headlines, no mainstream media outlet reported about Jodie Evans' deep ties to President Barack Obama, the Democrat party, terrorist groups and state sponsors of terrorism.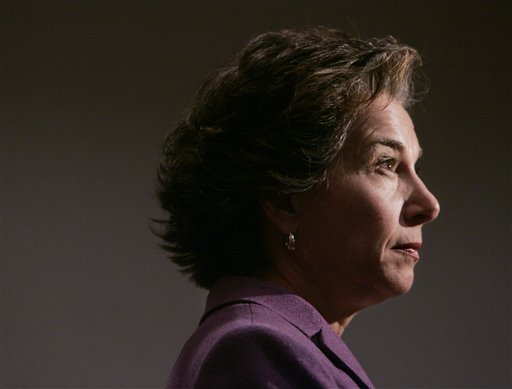 As Big Government reported months ago, Jodie Evans and Code Pink have enlisted the father of Islamic terrorism, the Muslim Brotherhood, and their jihadi allies in supporting their efforts to kidnap former President Bush, his wife Laura, Rove and other former Bush administration officials.
Jodie Evans spoke with guest host Brad Friedman on the Mike Malloy Show last Friday night from Las Vegas outside another Rove appearance. She said that after her attempt to handcuff Rove that afternoon, she got a call from Rep. Grayson. (Grayson is no stranger to Code Pink, his alliance with them was an issue in his 2008 campaign.)

"The funny thing is as soon as I finished doing that action I got a call from Congressman Alan Grayson from Florida. And I told him what I had just done (attempted to kidnap Karl Rove).

He is just horrified by the fact that we can't hold them accountable. That if we don't hold these guys accountable it will get repeated again. And not only that, if they're not held accountable then why does somebody else think they need to follow the law because nobody gets held accountable.

"I said, "So why don't you call for him to be subpoenaed and come talk about his lies in Congress?"

"He said, "Well, Pelosi won't let me do it. She says, she won't put anything out that has anything to do with accountability."

"And I said, "Isn't that horrible?"

"And he said, "Yes. That's why we appreciate Code Pink for constantly saying the emperor has no clothes."
Jodie Evans told Friedman that her plan is to handcuff Rove and then have other Code Pink supporters and audience members hold Rove until a police officer arrives to formally take Rove into custody. Jodie Evans claims she is operating under state laws, however the FBI should be arresting Jodie Evans for attempted kidnapping and conspiracy to kidnap, as well as aiding terrorists.
Last month, Big Government reported on the ties between Jodie Evans, Code Pink and the Democrat party. Jodie Evans has been a Democrat activist for decades. She managed former California Governor Jerry Brown's 1992 presidential campaign.
Jodie Evans spoke to the Democrats' national convention in 1992. Her speech can be seen here on YouTube.
Rep. Grayson made headlines last week for crashing a meeting of Orange County, Florida, Republicans to complain that opposition activists were attending Democrat meetings to stay informed of their plans.