With the real unemployment rate above 16 percent, it is a perfect time to throw a lavish party for high paid federal employees at Eric Holder's Department of Justice. At least Eric Holder thinks so.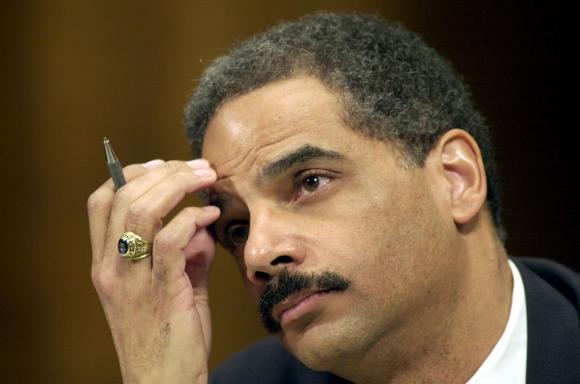 The Civil Rights Division at the Justice Department, the same unit that dismissed the slam dunk voter intimidation lawsuit against the New Black Panther Party and forced Dayton (OH) to hire firefighters who flunked employment tests, is throwing an alcohol-fueled bash during work hours for 815 employees.
I have obtained the invitation posted internally to all 815 Civil Rights Division employees. It reads:

"It's Time to Get Together, So Save the Date – It's time to open up and let the sun shine in!"
I'll wager if a Freedom of Information Act request was sent to DOJ about the costs of the beer bash and lost employee time, there wouldn't be much sunshine.
The invitation continues:
"The Civil Rights Division will host a get-together on Thursday, June 30th in the Main Justice Courtyard, from 3:00 p.m. Until 6:00 p.m. Beer, wine and snacks will be served. Come on out and enjoy the weather and say hello to your co-workers! Hope to see you there! (Rain/extreme heat date: Wednesday, July 13th, 2011 – Great Hall). Please contact Kathy Anderson in the Executive Office by email or on 202-514-5577 if you have any questions. "
Sounds like fun, courtesy of the United States taxpayers. Instead of working, hundreds of federal employees will be tapping kegs. Instead of earning their GS-15 ($123,758 – $155,500) salaries, they will be sipping Chardonnay while other Americans drive trucks, mow lawns or continue their long desperate search for employment.
The Main Justice Courtyard is in the center of the Robert F. Kennedy DOJ building and has fountains and landscaped terraces. It also has two large drive-thru open air gates on 9th and 10th street where members of the public could actually come and watch the party, and loudly petition the government about their grievance for holding such a tone-deaf party.
If that happens, you can bet the party will move to "extreme heat date" in the quiet confines of the Great Hall, inside the building.
Also invited to the party are numerous Senior Executive Service employees making $145,700 to $199,700. This Division has gone on a hiring spree since the inauguration and hired over 130 new high paid attorneys even though Assistant Attorney General Tom Perez informed employees they don't have enough money from Congress to do it, even while DOJ holds employee scavenger hunts and pays for days at the ballpark watching Washington Nationals games.
After President Obama joked about the failed stimulus plan and the not-so shovel ready recipients of trillions of dollars, it seems an odd time for federal employees to be imbibing on the taxpayer's dime during work hours. Then again, they probably didn't count on "much sunshine."