A very bad week for Ben Affleck and Harvard Professor Henry Louis Gates just got a little worse. Breitbart News has discovered that Margaret McLain Roberts, Ben Affleck's Mississippi-born great grandmother, worked as a clerk at a District of Columbia commission established by President Woodrow Wilson.
One of Wilson's first acts when he took office in 1913 was to restore the practice of racial segregation to the federal government, a policy that President Abraham Lincoln had ended fifty years earlier in 1863.
On Wednesday, Affleck acknowledged that he had pressured Gates, executive producer of the PBS series "Finding Your Roots," to edit out his slaveholding ancestor, Benjamin Cole of Georgia, from an episode of the series, "Roots of Freedom," that featured him.
Known as the Plaza Commission, the short-lived federal entity was formed by an Executive Order issued by Wilson in November 1914 to settle claims arising from the destruction of the Washington, D.C. "Swampoodle" slum neighborhood that made way for the construction of Union Station.
Roberts, still using her maiden name McLain, was hired as the commission's clerk shortly after it was formed.
Though only 19 years old at the time, she apparently came from a well off and politically connected family from Mississippi, and was working in Washington on the staff of one of the state's eight Democratic Congressmen prior to her appointment.
Her daughter, Affleck's grandmother Elizabeth Roberts Shaw, told Margaret McLain Roberts's story in an oral history interview given in 1991:
Question: How did [your mother] get to New York?

Answer: By way of Washington, D.C. She went there [from Mississippi] to work for her congressman, then my father and she married and moved to New York City, where I was born. I was brought up in the suburbs of New York, went to Smith College.
As Breitbart News has learned, that marriage took place after she moved from her Congressional staff position to her new job at the Plaza Commission.
She was apparently prominent socially, because news of her secret Christmas vacation 1914 elopement was a featured front page story on the February 24, 1915 edition of the Washington Times.
Ms. Margaret McLain, of 1446 Rhode Island Ave northwest, clerk to President Wilson's plaza commission, eloped to Alexandria December 26 and became the bride of Lawrence Roberts, of 925 Rhode Island Ave northwest.

The young woman broke the news of her marriage today when Guy Mason, member of the commission, went to her desk to ask:

"Miss Margaret, have you time to take a little dictation?"

"Mrs. Roberts, not Miss Margaret. If you please," the young bride responded.

Then she explained that she and Mr. Roberts went to Alexandria to be married the day after Christmas, and as no one found it out she thought it would be a good joke on her friends and her associates in the plaza commission office if she "kept them guessing" for a time.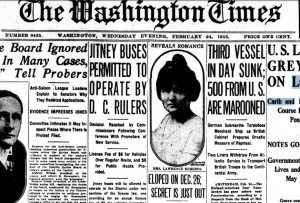 Soon after the marriage, the young couple moved north to New York City, where Lawrence Lester Roberts found a job in sales with Western Electric. He would later go to work for the James F. Newcomb Company, where he would ultimately rise to become the company's chief operating officer.
Affleck's great grandmother, however, never fully embraced the North, as her daughter said in that 1991 oral history:
I was born in New York City. My mother was from Mississippi, my father, from Georgia. My mother never really learned the language; she was like an immigrant, I always thought. All of her friends were Southern.

When I told her I was marrying a man named Shaw, from Boston, she said, "I know about those people. Led the Negroes in the Civil War; until that happened, we thought they were on our side." I said, "Sam, is this true?," and he said, "Yes, it's true, and we're very proud of it."
Affleck's grandmother's second husband–Samuel Parkman Shaw–was a close relative of Union Civil War officer Robert Gould Shaw, whose leadership of an African-American regiment was chronicled in the 1989 film "Glory," which starred Matthew Broderick as Gould, and Denzel Washington and Morgan Freeman as enlisted men in the regiment. Gould and much his of his regiment were killed in 1863 at the Second Battle of Fort Wagner, South Carolina. (Samuel Parkman Shaw's grandfather and Robert Gould Shaw were first cousins.)
This new information casts doubt on Ben Affleck's statement found in the transcript of the first, unedited version of the "Finding Your Roots" episode in which he claimed, "I had no idea I had any southern roots at all, so this is remarkable."
Affleck's grandmother lived until 2003, more than six years after Affleck and Matt Damon won their Oscars for the movie "Good Will Hunting."
As her obituary said, "[w]hen grandsons Ben and Casey Affleck reached national fame through their film roles, she was pleased with their accomplishments."
"You can describe her as being a fan of their art," her husband Samuel Parkman Shaw said in the obituary.
Affleck's ancestral connection to a politically connected and socially prominent Mississippi family that supported and participated in the Wilson Administration is the kind of dramatic juxtaposition that would have made for good television, had this information been included in the controversial episode of "Finding Your Roots," hosted by Gates, that featured Affleck.
Gates, who may or may not have been aware of Affleck's ancestral connection to the Woodrow Wilson administration, chose to focus on a more recent, and as it turns out, not quite accurate connection between Affleck and Mississippi.
On the program, Gates claimed that Affleck's mother was one of the 1964 Freedom Riders–young activists from the north who went down to Mississippi that year to support African-American civil rights.
However, in another awkward "reveal,"Affleck's mother, Christopher Anne Boldt Affleck, now 72, "told the Daily Mail Online that she was not part of the Freedom Rider campaign."
"I supported what they did. People have incorrectly said I was a member which embarrasses me because I wasn't as good as they were," she told the Daily Mail Online.
It is unclear why Gates failed to point out to Affleck and viewers of the program that half a century earlier, his great grandmother was a minor player in the very same Mississippi Democratic power structure that his mother opposed so vehemently.
Adding to these embarrassments comes news that two additional slaveholding ancestors of Affleck– one in New Jersey, and another in Connecticut–have been uncovered by genealogists. Including great-great-great grandfather Benjamin Cole of Georgia, Affleck can now count three different ancestors as slaveholders.
As more research is done on the ancestry of Affleck's Mississippi-born great grandmother Margaret McLain Roberts, it is entirely possible that even more slaveholding ancestors may be discovered.
The question those conducting the PBS "internal review" of the Affleck-Gates controversy must be asking themselves now is this: how can a program that purports to present true family history be believed when it appears that much of the true history has been concealed, and some of the claimed history is simply wrong?