During the past few years, there has been a word beginning with "C" that Florida Republicans can scarcely utter without making a face: "Charlie."
That would be Charlie Crist, the former Florida Governor who used to be a Republican, then bailed on the party to run as an independent after Sen. Marco Rubio (R-FL) surged to a double-digit lead in the 2010 Senate primary. Crist's name has become a shorthand insult whenever someone wishes to challenge a candidate's conservative credentials, and when Rep. David Jolly (R-FL) jumped into the Florida Senate race on Monday, the Club for Growth had thrown the Crist name at him within a few hours.
Jolly, an attorney and former lobbyist, announced he was running for Rubio's Senate seat on Monday morning. Florida law will not allow Rubio, who is running for President, to remain on the ballot for more than one race. Jolly made national headlines when he won a hard-fought special election in the spring of 2014 against former Chief Financial Officer Alex Sink (D-FL).
Jolly's district was already a swing district, and as the Tampa Bay Times reported, the recent Florida Supreme Court ruling forcing the Florida Legislature to re-draw the district lines is expected to leave the district heavily Democratic. In fact, the district is looking so Democratic, Crist himself is considering running, as Politico's Marc Caputo reported.
Crist, as it is well known. officially became a Democrat before attempting to get elected to the office he originally had before playing his political merry-go-round, unsuccessfully challenging Gov. Rick Scott's (R-FL) reelection last year. As of press time, Crist is still a Democrat but the Florida Green Party might want to stay near a phone just in case.
For many Florida Republicans, Crist's apostasy began long before he officially changed his party registration. From vetoing a teacher tenure reform bill to appease the teachers' unions to embracing President Barack Obama's stimulus — and then literally embracing Obama — Crist gave conservatives many reasons to distrust him. He also had a reputation for always being focused on the next highest office, to the detriment of whatever office he was actually holding at the time. Accordingly, the "Charlie Crist" label does not just mean "liberal;" it implies untrustworthiness and unreliability.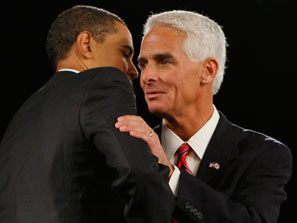 And so, ever since Rubio defeated Crist in 2010, Florida Republican candidates have been using Crist's name to bludgeon each other in primary battles.
The Club for Growth zeroed in on several votes of Jolly's to justify their tagging him with the Crist name. In a statement provided to Breitbart News, Club for Growth President David McIntosh said:
In just 16 months in Congress, Jolly took his place as a big spender on the House Appropriations Committee and racked up a terrible record on fiscal issues. He was one of just three Republicans who voted FOR keeping the Death Tax. He voted against a conservative budget that would have cut spending, while standing for giveaways to Big Labor. Jolly is so addicted to big government, he couldn't even muster up the courage to cut spending for a national  greenhouse in DC. His 2015 Club for Growth score of 33% puts him near the bottom of House Republicans on matters of economic freedom.
McIntosh also slammed him as "a big-spending liberal and former lobbyist."
"[Jolly] can't win re-election to his House seat, so he's taking a page out of Charlie Crist's handbook," continued McIntosh. "When you're doomed to fail, find a new identity. By jumping into the Florida Senate race Jolly is running away from a district where he knows he'll lose in 2016."
The Club for Growth PAC has endorsed Rep. Ron DeSantis (R-FL), who entered the race back in May, as Breitbart News reported. According to the Club for Growth's website, DeSantis has a 90 percent score for 2014 on their Congressional Scorecard, and has a 95 percent lifetime score. As McIntosh noted, Jolly scored only 33 percent for 2014, with a 33 percent lifetime score.
In fact, the Club for Growth ranked Jolly so low that he is their lowest-ranked House Republican from Florida for 2014 (other than Rep. Trey Radel, who resigned and did not have scores), just one rung on the ladder above one of the Democrats in the Senate race, Rep. Patrick Murphy (D-FL). Predictably, Murphy's conservative tendencies are one of the main targets for attack from his main Democratic competitor, Rep. Alan Grayson (D-FL), whose supporters sneer at Murphy for being a puppet of the party establishment and insufficiently liberal.
Currently, there is one other candidate in the race, Lieutenant Governor Carlos López-Cantera, who launched his campaign last week. López-Cantera does not have a score from the Club for Growth because his political experience is in the Florida Legislature and Miami-Dade County, not Congress, but a number of conservative organizations also issued him "nearly flawless scores," as Breitbart News reported.
An ever-changing list of additional candidates on both sides of the aisle have been reported to be looking at running to represent Florida in the Senate. The most recent information from Breitbart News' sources points to Rep. Jeff Miller (R-FL), former Attorney General Bill McCollum (R-FL), and Rep. Gwen Graham (D-FL), to be seriously considering the idea.
Breitbart News reached out to the Jolly campaign for comment on this article, but had not received a response as of press time.
Follow Sarah Rumpf on Twitter @rumpfshaker.