MORGANTON, North Carolina — Speaker John Boehner's worst nightmare is on the rise here in rural North Carolina. Rep. Mark Meadows (R-NC) is gaining steam as a clearly coordinated, highly orchestrated effort to remove Boehner as Speaker of the United States House of Representatives—and fix a broken Congress that no longer represents the wishes of the American people—comes into much clearer focus.
Meadows invited Breitbart News to accompany him on a district visit, and the concerns he discussed with his constituents offer a microcosm of the issues America wants Congress to address. Everyone here agrees: John Boehner needs to go as Speaker of the House, and Mark Meadows is doing something about that.
Unlike some others from the more conservative side of the House GOP conference, Meadows is calm, cool and collected. He doesn't make headline-grabbing comments, and is a serious, well-connected and well-respected member of the conference. Despite clear efforts by leadership—Boehner's office and its allies, including Chief Deputy Whip Rep. Patrick McHenry (R-NC) who represents the district bordering Meadows' here—to isolate him, Meadows' credibility in the House GOP conference only seems to grow by the minute thanks to his steady demeanor and well-intentioned aim to steer Congress back onto a track that more effectively represents America's views in Washington.
Meadows, one of 24 members who at the beginning of this Congress voted for a Republican alternative to Boehner alongside one—Rep. Brian Babin (R-TX) who voted "present," which was technically a meaningless vote—believes it's safe to assume that that 25 members will vote once again to remove Boehner as Speaker of the House should he bring his motion to vacate the chair up as a privileged resolution in the fall. At least three more—Reps. Raul Labrador (R-ID), Mick Mulvaney (R-SC), and Matt Salmon (R-AZ)—have publicly pledged they will join him. Several more, including major power player conservatives, have behind the scenes promised they will not support Boehner's re-election as Speaker.
Meadows is not putting himself forward as a candidate to challenge Boehner for the speakership, but he is spearheading the process to replace Boehner—serving as its public face. The process goes something like this: Meadows will, or anyone else might, offer as a privileged resolution a motion to vacate the chair of the House. That means there would be an automatic vote where Boehner would need to rally support to either get re-elected or lose re-election. If every member of the House is present and votes, then the benchmark for Boehner to lose re-election is that 29 Republicans must vote to get rid of him—assuming no Democrats vote for Boehner. With 28 now publicly opposed to his re-election, as many more are privately opposed to his re-election, it looks more and more likely that if such a vote came up—Meadows or any other member could force it within two days of offering the motion as a privileged resolution—Boehner would not be re-elected without help from the Democratic Party. If Boehner loses re-election, then the House will go into a briefly chaotic process of finding a new Speaker before more official business can be conducted. That person could be any citizen of the United States, but more likely than not will be a different member of the House than Boehner.
"It's hard to tell exactly what will happen," Meadows told Breitbart News in an exclusive interview in his campaign office in nearby Lenoir, North Carolina. "I'm a firm believer, based on just private conversations that I had, that if that vote [to remove Boehner as Speaker of the House] happened today that it would require Democrats to keep Speaker Boehner in as Speaker, meaning that there would be more than 30 Republicans that would find it very difficult to vote for the current Speaker. In order for that to be successful though—because obviously there will be some Democrats that will get released, we have seen it on some votes and other votes that the Speaker has been able to get Democrats to come across to support him on different position—this has to be something that grows across the country. This can't be just Mark Meadows-driven, or Mick Mulvaney-driven, or any of the others. It has to continue to grow. Now I know that it is growing. I also know that there are a number of people that voted for the Speaker that still have to answer for that when they go back home."
Meadows' mission is not political. He's not seeking more power for himself. He's also not seeking to advance any special cause or interest, or seeking revenge against Boehner for some wrong the Speaker did him or some slight perceived. He's trying to fix Congress, which is obviously in the minds of Americans broken right now, and he's going for the jugular of the permanent political class with a reform mindset that isn't a personal squabble with Boehner but an effort to restore Congress as the voice of the people in government.
"I think everybody starts out doing that because they're real sensitive to the fact that they just got into office and say, 'Golly, I want to be a voice for the people,'" Meadows said when asked if enough members of Congress come back to their districts enough to actually listen to their constituents.
The longer they're there, the less likely you are to listen. For me, I've had to redouble my effort and not say, okay, pay attention to what are the priorities in Washington, D.C., but really try to listen to what are the priorities here? There are some of them that have been difficult for me. A prime example is on the Syrian invasion, where really they were bantering back and forth on should we invade Syria or not? I had my own personal view, the fact I believed that ISIS was going to continue to grow and that we had to go in and put an end to it right away really quickly. I was war weary, but I felt like we needed to do that. My district started calling the office and sending in surveys and other things as well—87 percent of the people that contacted us, or it could have been 82, 82 or 87 percent of the people said 'we don't want you to do that.' We're tired of wars. It shifted where we were to saying "just listen, the people back home…" and it wasn't just Republicans it was Democrats, independents, everyone. For us, it's just about trying to have an open ear then going to Washington, D.C., and voting the way the people here want you to vote. When you do that it sometimes puts you at odds with what is deemed pragmatic in Washington, D.C., or "the practical thing to do," but I try to conduct at least a couple days of really listening every time I come back especially if it's for a week or longer where I'm just listening to people. Both the good and the bad. We're going to continue to try to get better.
Down here, he didn't just tell Breitbart News about this in an interview. He showed us throughout a full listening tour day, where he went around to meet with scores of constituents. Meadows held several official congressional business meetings and activities throughout the day in his district here on Thursday, a full day of constituent work and discussions with key stakeholders on various issues on which Breitbart News accompanied him.
Early in the day, downtown here in Morganton, he dressed up in a brown UPS uniform to join delivery driver Marvin Aldridge around downtown to several stops on his route. As Meadows and Aldridge delivered packages to various small businesses—which apparently weren't alerted to the fact a U.S. Congressman would be dropping off their orders that week—Meadows introduced himself to the workers and owners in each.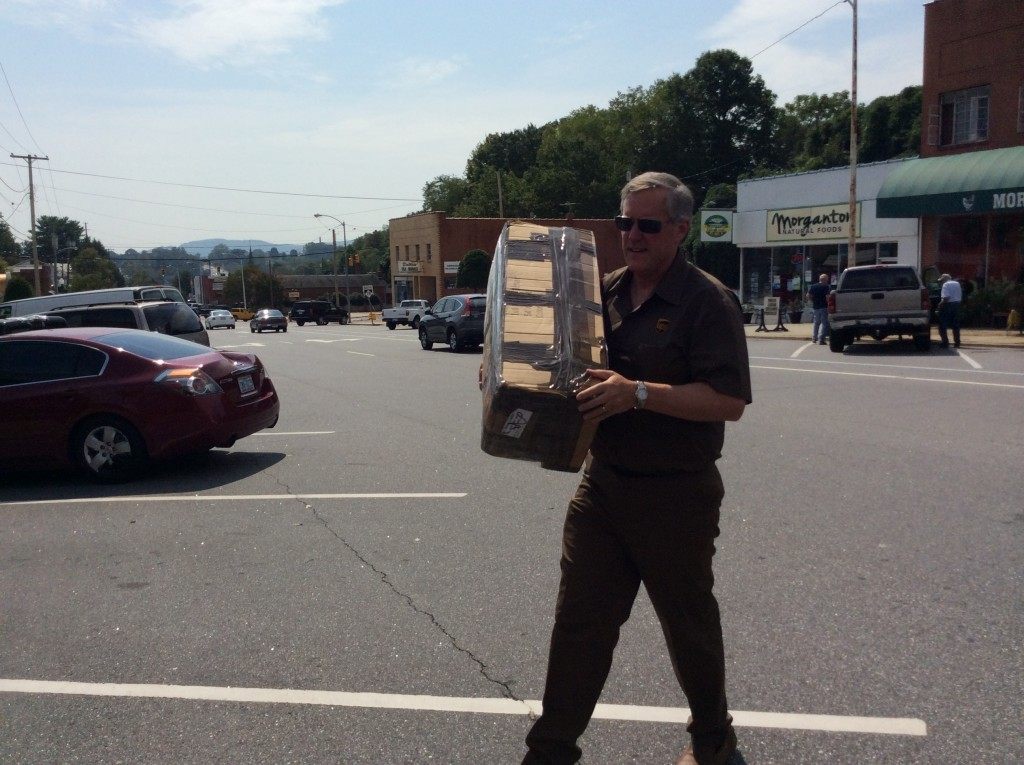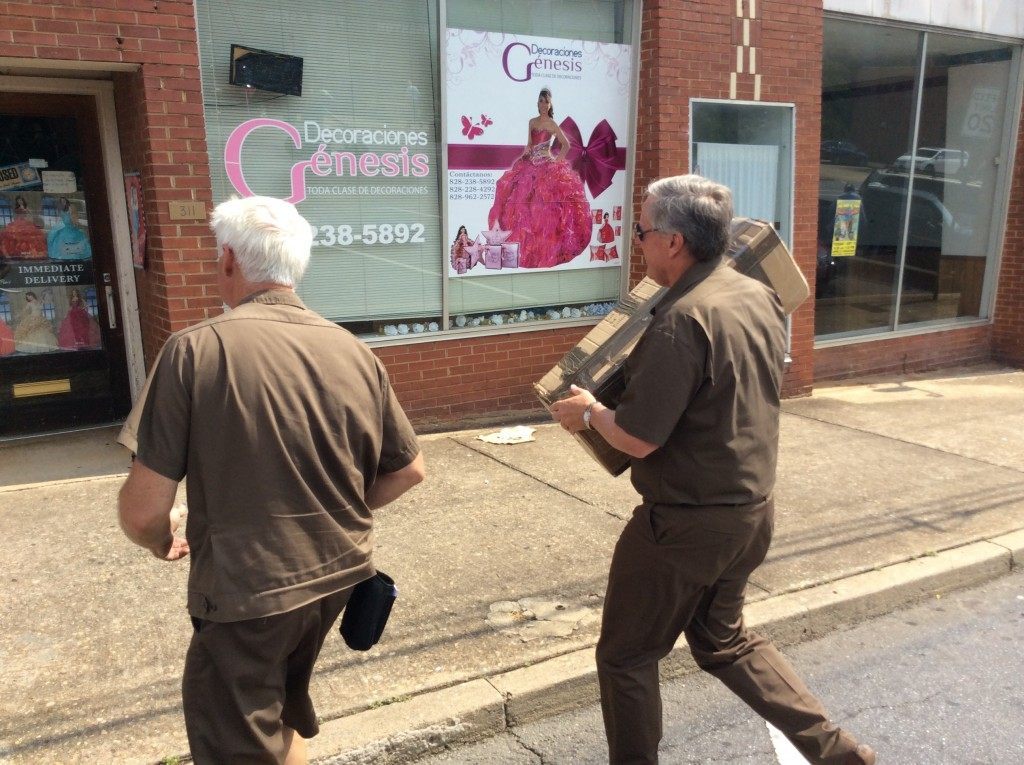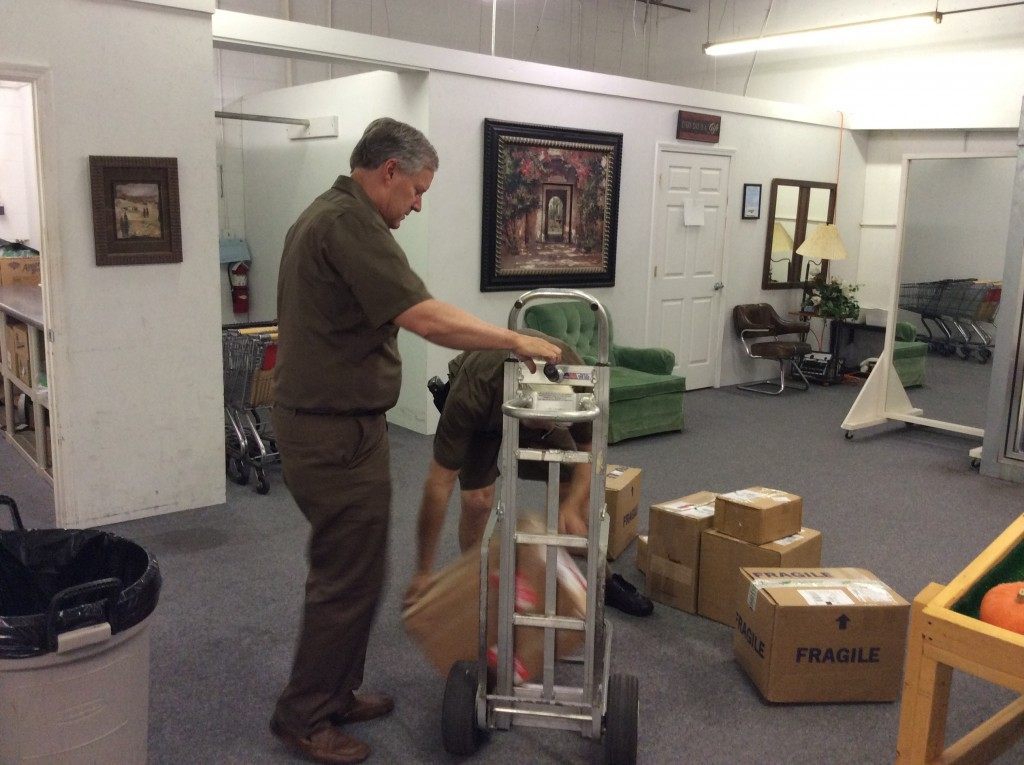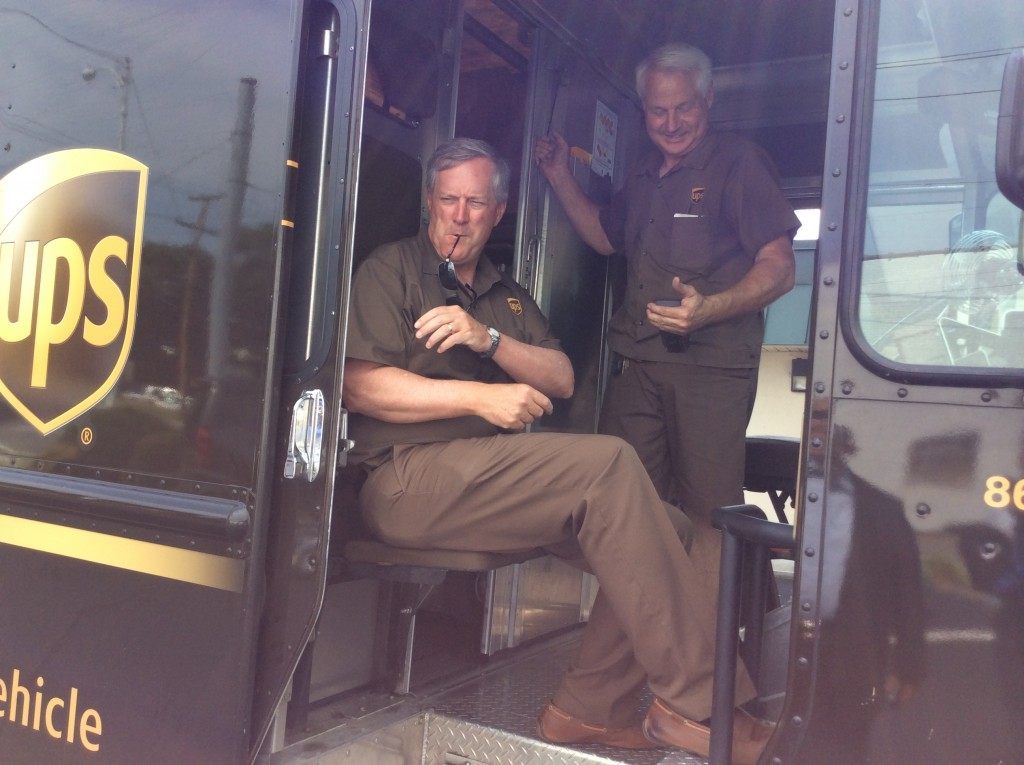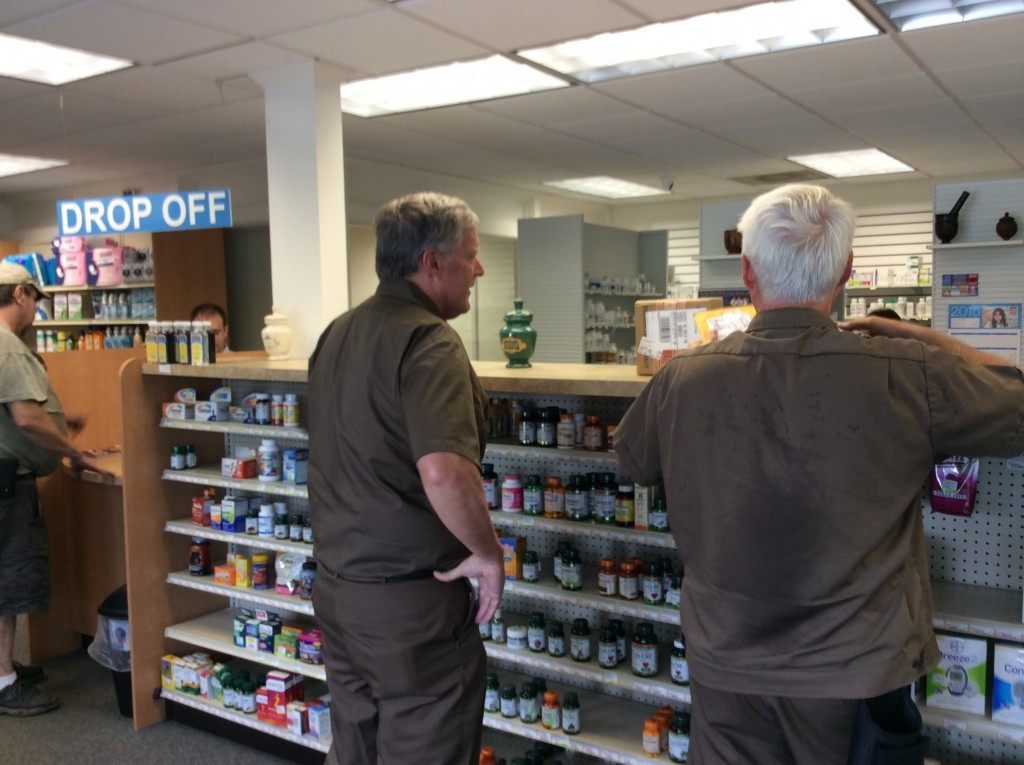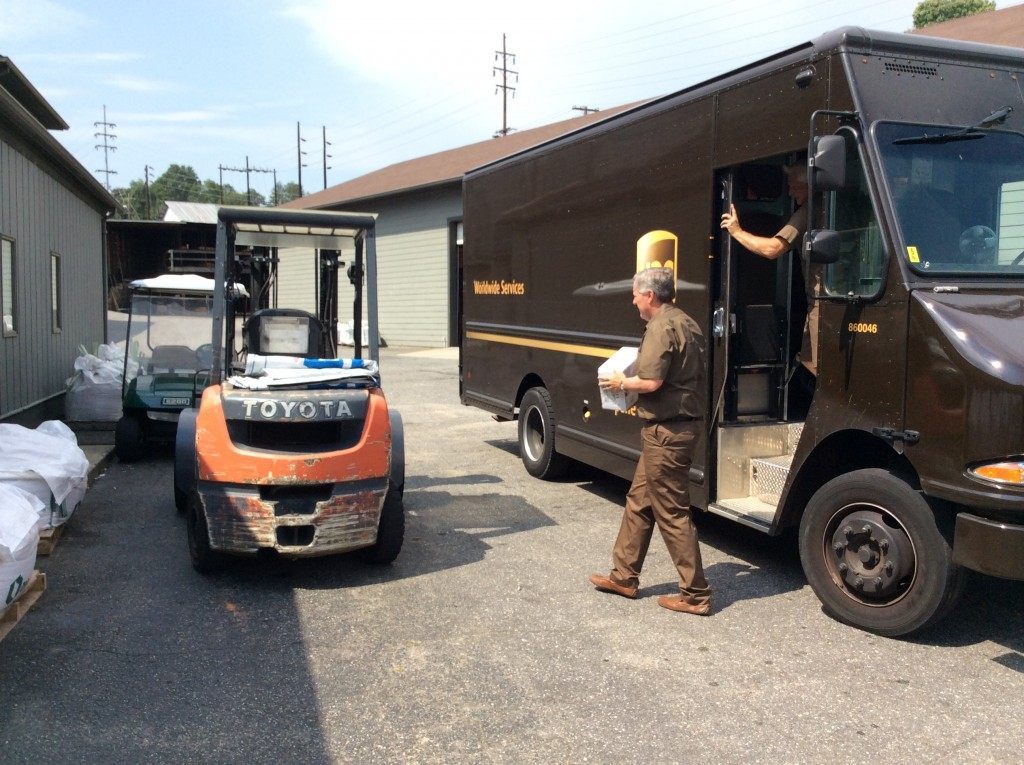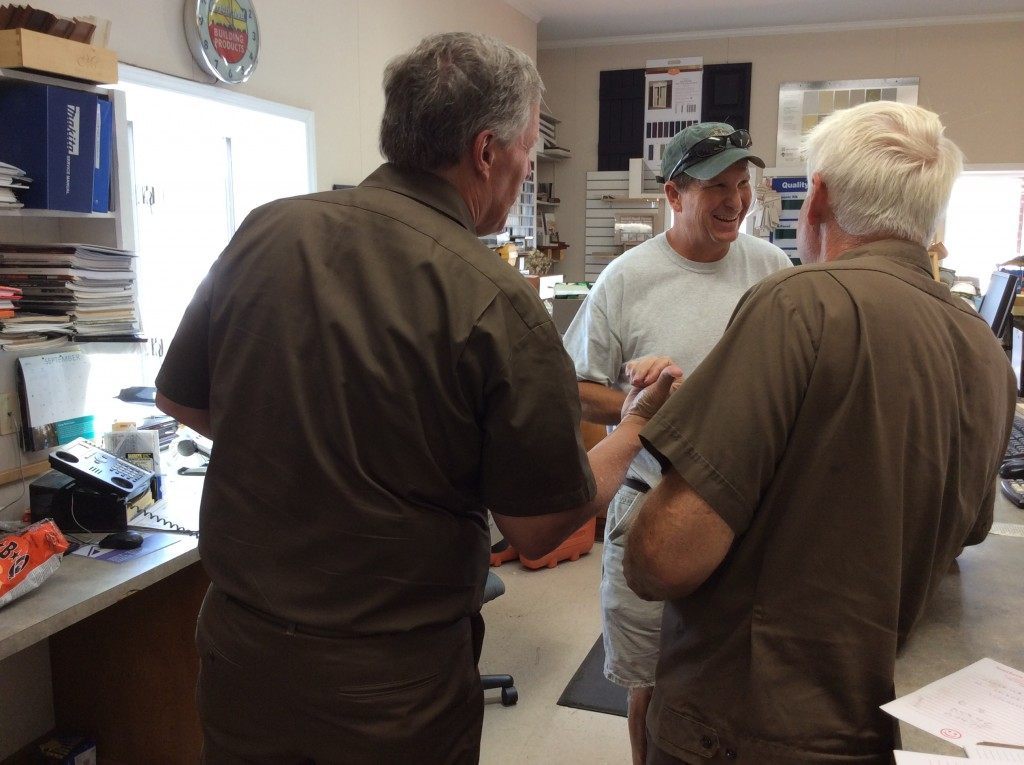 "Where'd you order it," Meadows asked the proprietor of Cole's Auto in downtown Morganton, the first stop on his trip with Aldridge.
"Amazon," the man replied.
"When did you order it?" Aldridge asked.
"Tuesday," the man answered.
"That's pretty good," Meadows commented.
From there, it was on to the next stop, Morganton Children's Dental Center. When Meadows and Aldridge delivered the package to the secretary at the desk inside—and Meadows introduced himself again—the woman was stunned. "You just might make the newspaper," Meadows joked with her.
"No way, yeah right," she replied.
After dropping a package off at an allergy clinic next door at which there was nobody there, Meadows and Aldridge crossed the street to Buff's Tire & Service, Inc. Inside, Meadows told the proprietors after introducing himself: "In Washington, D.C., they don't do real work. I'm out here seeing how real people work."
"Well, if you ever want to put on tire changing clothes, come on down here," one replied.
"Oh golly, I may take you up on that—don't tell my wife, but I may take you up on that," Meadows joked as everyone laughed before hopping back in the brown UPS van onto the next stop, deliveries for a wedding dress company that were left next door since that business' owners weren't in the office on Thursday morning.
Across the street at Morganton Natural Foods, Aldridge and Meadows made the biggest delivery of the day loading up a full UPS pull cart with packages before wheeling it into the back room of the food store. After a brief back-and-forth with the owner, they were off to the next stop—Jay's Pharmacy—which they made it to after almost accidentally stopping at Morganton Drug store. Inside, Meadows chatted with the pharmacists for a few moments before they headed over to Wall Lumber Company for another delivery.
"Hey, I'm Congressman Mark Meadows, I'm coming along seeing how real work gets done with UPS," he introduced himself to the workers inside.
"Well why are you riding with him?" one of them joked about Aldridge.
"I knew that would eventually come out," Meadows played along. "Nice to meet y'all."
"Just kidding, just kidding," the worker said. "I appreciate you."
At the final stop of the tour, Table Rock Pharmacy, Meadows walked inside with Aldridge again to deliver the package and chatted with the pharmacists and owner for a few minutes.
"Marvin, are you in trouble again?" one pharmacist joked with Aldridge as they walked in.
"Hi, I'm Congressman Mark Meadows," he introduced himself. "I'm riding along to see how real work gets done."
The owner asked Meadows why he wasn't wearing brown shirts as part of his UPS uniform like Aldridge was—it was a fairly hot day in Morganton—and Meadows joked: "If you see my legs, you'd know why."
One customer, a black woman sitting on a chair inside the door, asked Meadows: "Are you Donald Trump?"
"No, I'm not Donald Trump," Meadows replied, explaining how he's a Republican Congressman and why she should vote for him.
In an interview after the tour, Aldridge told Breitbart News he thinks "it was wonderful to get a chance to ride around with the Congressman and show him what it's like to work within the town limits of Morganton."
"I think they [the politicians in Washington] are listening to a certain group around the country and a certain group they're not listening to," Aldridge said. "I'm pleased with some of it and some of it I'm not so pleased with. I let the voting take care of that. Oh yes, definitely [I'm going to vote for Congressman Meadows]. He's my type of man."
Aldridge said while the presidential field is currently wide open and anything can happen, he personally likes Wisconsin Gov. Scott Walker. "Right now I'm looking for one man to stand out in about six months," he told Breitbart News. "And then I can say for sure who I want, but I personally like Scott Walker. He made it to where you don't have to join a union if you don't want to. If you want to join a union, you can—but you don't have to be forced to join a union. I'm in a union and I'm not forced to in North Carolina. I choose to. I don't want to be forced to. In his state, they made it to where they had the option to join."
Aldridge represents the type of blue collar, independent-minded American worker who Boehner Republicans have left behind as the national Republican Party has sought to push for the needs of special interests, lobbyists and corporate donors rather than the wants of ordinary Americans nationwide. He, like so many others Meadows would meet with throughout the day, doesn't fit into a cookie-cutter mold of a checkbox voter that pollsters can cram into a focus group designed to push an agenda or an establishment candidate. That's who is standing up in late 2015 heading into 2016, revolting against the Washington establishment while demanding accountability and true representation from their government and elected leaders. While Congressman Meadows isn't Donald Trump as that woman inside Table Rock Pharmacy first thought he might be, he may just be the Trump of Congress. He's the public face of shaking things up in D.C., and he's channeling voter frustration into demonstrable action inside the beltway while working overtime to understand what they want then translate that into reality: Government that works for people, rather than against them.
From here, it was off to J.D.'s Smokehouse in nearby Connelly Springs, North Carolina, for a lunch with local county officials including County Manager Bryan Steen, chairman of the board of the County Commission Johnnie Carswell, County Attorney J.R. Simpson, and assistant County Manager and finance director Paul Ijmes. Meadows' wife Debbie, assistant chief of staff Wayne King and one of his key district staffers joined too.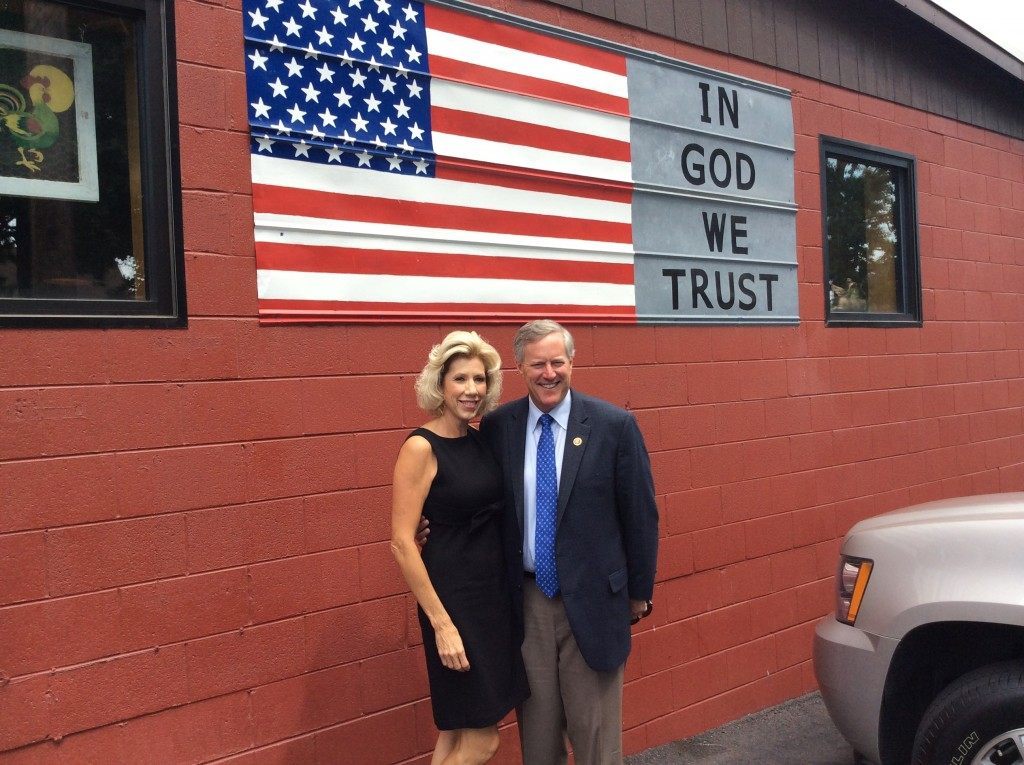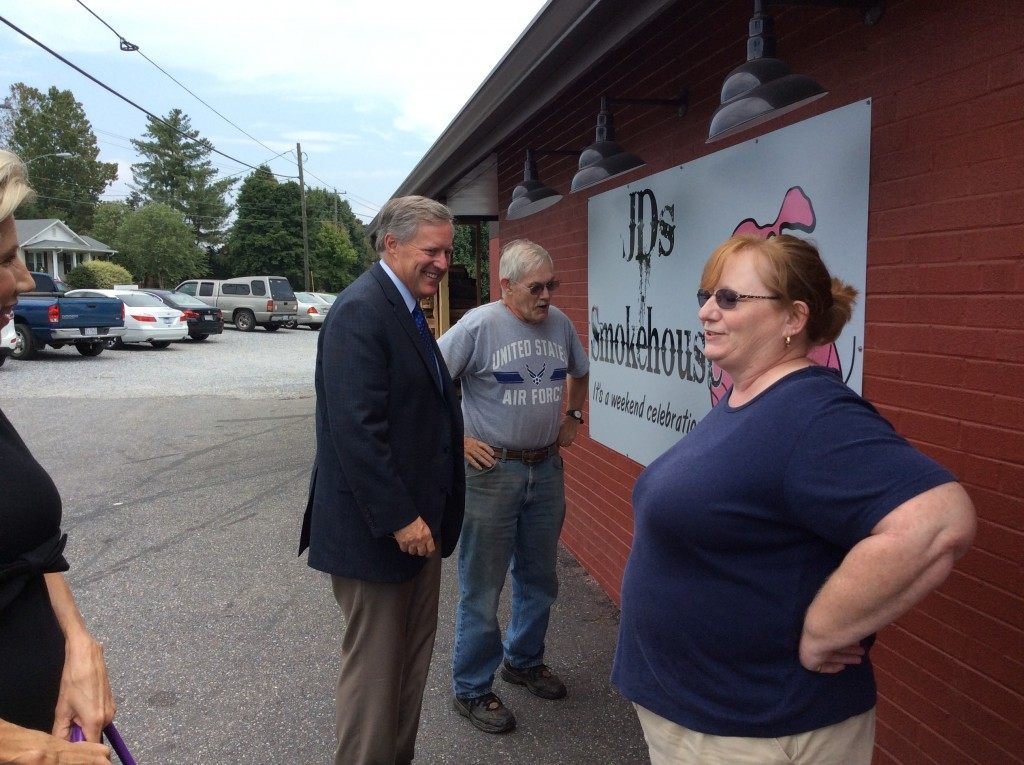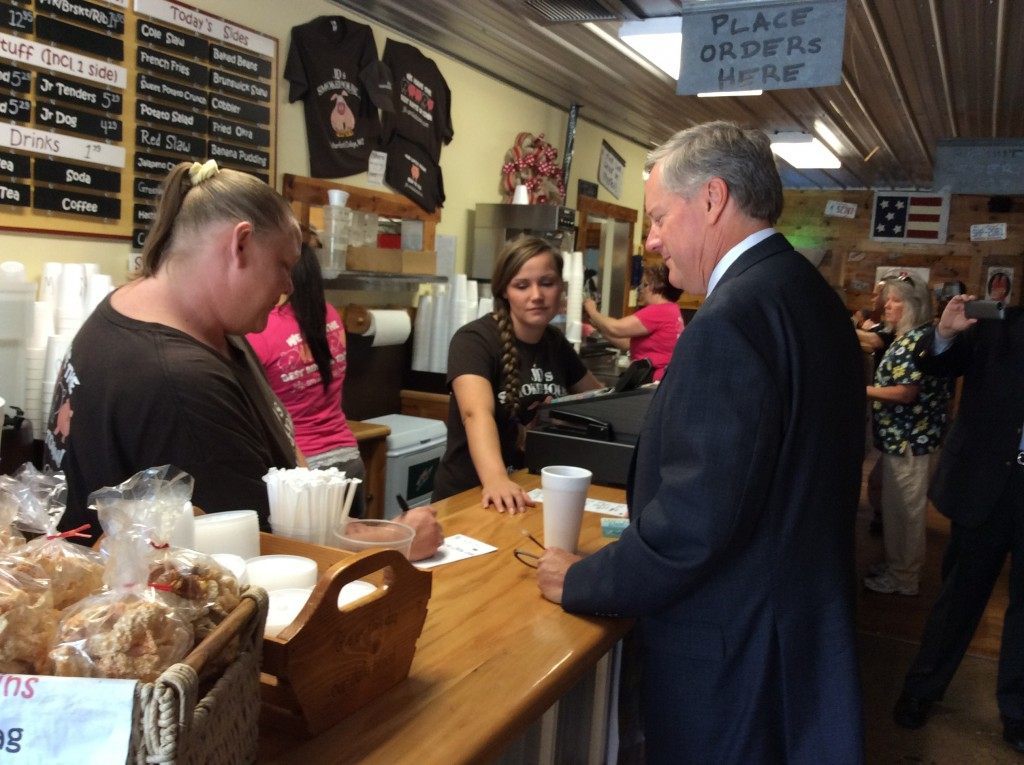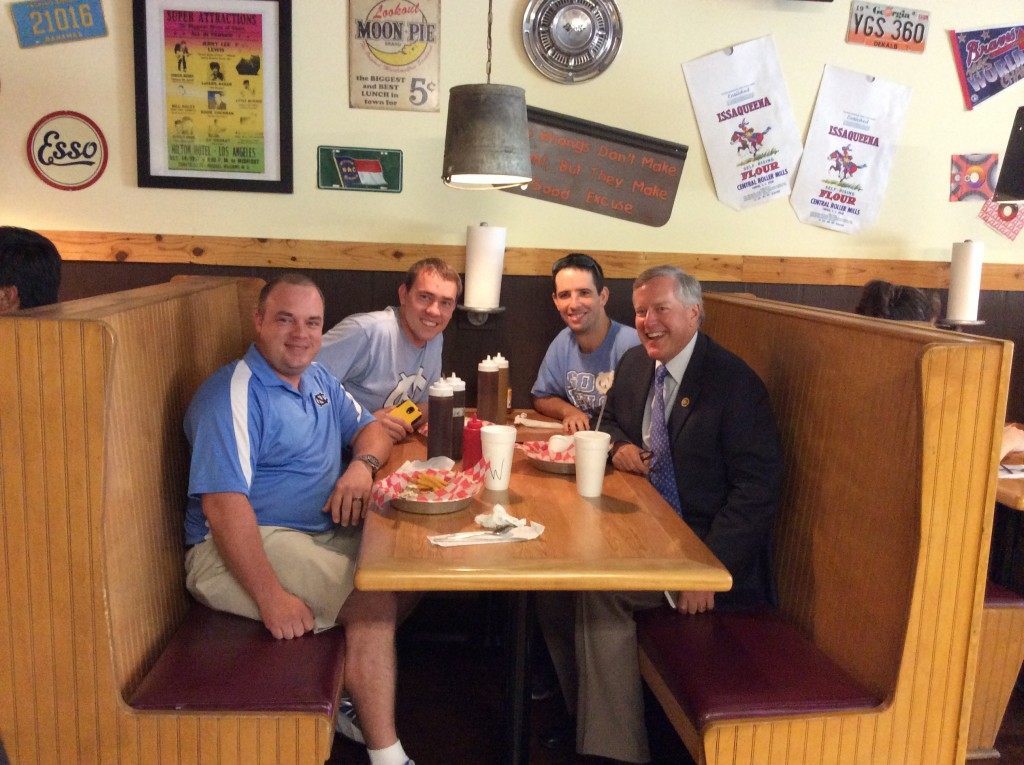 Walking into the restaurant, Meadows shook hands with staffers who were delighted to meet their Congressman—and took photos with several people sitting in booths around the restaurant. Burke County sheriff Steve Whisenant, a Democrat, was seated along with several law enforcement officers at a table in the back of the restaurant nearby where the group meeting Meadows would eventually sit. Before ordering his food at the front of the house, Meadows made it a point to say hello to Whisenant and his officers.
"He's very receptive to law enforcement and how the culture has changed for law enforcement officers across the United States, so we're appreciating him recognizing that and supporting us like he does," Whisenant told Breitbart News when he wrapped a brief conversation with Meadows.
Later in the day in Meadows' office, Caldwell County sheriff's office Captain B. J. Fore told Breitbart News that the Congressman is a huge friend of law enforcement. "He's a friend of law enforcement," Fore said in an interview. "He's always worried about us and worried about our safety and if there's legislation or bills that affect he will call the sheriffs around his district for input. I've gotten to know him on a personal level, and he's genuine."
Throughout the day, whenever he saw a police officer anywhere—whether it was the officer doing his protection detail at his stops or anywhere else—Meadows ran up to them, introduced himself, thanked them for their service, took a photo with them, and gave them each congressional Challenge Coins with his district's insignia on them. Like virtually every photograph he takes with anyone from his district, his staff gets their contact information then Meadows later prints the photos out in high resolution, signs them and mails them back to his constituents.
After ordering, and sitting down for the barbecued lunch, Carswell told Breitbart News that Meadows has been nothing short of an amazing Congressman. "We don't have enough time for me to give you all the accolades that I could give you for him," Carswell said as everyone dug into the barbecue pork, chicken and beef. "One hundred percent pleased. We're absolutely thrilled at the service he's providing for us. He's accessible. When you call, he answers. He realizes what people at home want and that's what he works for. And he's not afraid to stand up for what's right. If it's standing up to the establishment, that's what he does."
Carswell said that "obviously" the entire political establishment in Washington is coming after Meadows for standing up to Boehner, but back here in the district "that's a good thing."
"We agree with it 100 percent," Carswell said of Meadows' work to replace Boehner with a Republican alternative.
During the lunch, mostly Steen but Carswell and the others as well walked Meadows through how there are jobs in the district in manufacturing that need to be filled and the problem is that there are too many young people leaving the district to pursue four-year-college-degrees in fields that they can't find employment in later after graduation. If they instead sought two-year technical degrees, they would be able to work immediately after graduation at jobs paying as much as $75,000 a year for starting salary in the furniture factories nearby, an incredible starting salary for someone as young as 20 or 21 years old. But thanks to a culture in Washington — and politicians pushing trade deals and immigration policies that have shifted not just the demographic make-up of the entire country but the economic engines of manufacturing and blue collar work that dominated America's last generations — these local officials are left planning for the next generation rather than the current generation.
"Some of it is a perception that manufacturing is a dirty job because of what it used to be in the 50s," Steen said, explaining the problem to Meadows and Breitbart News. "They go in there now, the floors are as clean as this [the restaurant table]. Ekornes is one company we recruited. Continental Teves — a guy from Siemens, we had a guy from Siemens come up to talk about this. He told us 'if you come to us with a two year mechatronics degree, we start at $75,000 and you don't have four years of college debt.' If you're 20 years old making that kind of money — now this is in Charlotte, but if even if they only pay $45,000 here at Caterpillar or Continental Teves — if I'm 20 years old, I can have a Corvette. I can have an apartment. I can have a lot of stuff, and I haven't got big debt. And you've got a job. The Siemens guy told us 'if you're working for us, we will pay for you to go to school all the way to get your PhD.' It's got to be something they want, and you got to agree to stay there, but I mean that's fantastic. What do you reckon it cost to do a semester at Duke? $25,000 or $30,000? That's murder."
"What we recognize to be the vision of this county—and what we have to do, we have to look at it constituency wise—and we looked at our baby boomers are dying out, dead and or gone," Carson added. "Our Generation X and Y is already aging out. So what we have to focus on is millennials. How do we keep those people in Burke County and how do we bring them back? We couldn't because we didn't have the jobs. So our vision is to set ourselves and position ourselves for 20, 30, 40 years down the road by getting the jobs in here that these kids want to come back to and the general assembly has now ponied up enough money that we're pretty sure we're going to get the Western School of Science and Mathematics in here."
Carson said that there is a serious problem that he's fighting from a local level, the notion that all kids in America need to go get a liberal arts degree from a four-year university.
"I want to break that parental paradigm that every kid has to go to college," he told Breitbart News. "We're very cognizant that every kid is not going to go to college. We have a dual focus on the kids that go to college, to have the jobs ready for them, but also focus on the other kids with furniture and textiles and bring those back to this area which is the kind of furnitures and textiles. As those people are moving back into Burke County, they're looking for young folks to come to work for them."
Trade policies from Washington have mortally wounded textile plants and manufacturing factories throughout America, but there are signs of life in those industries if the right leadership in Washington makes it into Congress and eventually the White House. Boehner has been pushing things like the Obamatrade package earlier this year that continue seeing jobs slip overseas to Asia and Mexico, but Carson says the people here trust conservatives like Meadows to lead on these issues to ensure that American jobs stay in America.
"It's really a complicated issue for us to take a look at on the national level," Carson says. "That's why we have people like Mark Meadows to lead for us. We trust his decisions on that, and he keeps us informed of when it's time for us to vote, he seeks out our input to do that."
It's because of this leadership that the owner of J.D.'s Smokehouse, Debbie Goare, is so proud of Meadows for standing up to the Washington establishment in both political parties.
"It's refreshing to see a Christian representative and one who has the same beliefs as I do," Goare, who told Breitbart News that this was Meadows' first visit to her restaurant, said in a brief interview.
When asked about Meadows' move to oust Boehner as Speaker, Goare said it's time for new Republican leadership in Washington.
"I agree with him," she said. "I agree with him wholeheartedly. I think we need a new face. We need lots of change, and you got to start somewhere."
Goare is pleased with Meadows' representation of the district, and hopes that he can lead efforts as well to get rid of Planned Parenthood and Obamacare.
"I'd like to see us defund Planned Parenthood," she said. "I'd like to see us repeal Obamacare."
"It's disgusting," Goare added of the Planned Parenthood videos from the Center for Medical Progress. "It's absolutely disgusting. These are not fetuses. These are children. It's just –" she began crying.
"It infuriates me," Goare said when asked what she feels when she hears that establishment Republicans like Boehner and Senate Majority Leader Mitch McConnell — who say they oppose what Planned Parenthood is doing — won't fight to defund their taxpayer subsidies and have completely surrendered to Democrats. "We are paying for this! We work so hard to live by the rules, and to have our money go for something like that. It's disheartening. It makes me angry. It's mind boggling that we can do something like this."
After lunch, and after several more people in the restaurant wanted photographs with Meadows, the Congressman and his staff headed over to a local lumber refinery in neighboring Caldwell County. Granite Hardwoods Operations Manager Richard Buchanan, whose family has run the lumber company there for four generations now, took Meadows through the grounds of where workers took raw timber and prepared it to be made later into hardwood floors or furniture. Rick McCreary, a lumber buyer and salesperson for Granite Hardwoods who accompanied Meadows, Breitbart News and another local reporter on the tour, explained to Breitbart News that the company buys freshly chopped wood from all over the Appalachians all the way up to New York then prepares it into pieces for final refiners in either the United States or over in Asia to make hardwood floors or furniture from it.
"We bring it in, grade it, put it on these stacking sticks which gives it an air flow to dry here on this yard, then we regrade again to create grades, do sorts and get it ready for whatever customer it might be ready for," McCreary said, noting that they're not making the final product with the wood but "sending it to those folks that do."
McCreary said while Granite Hardwoods isn't facing foreign competition, the manufacturers that take the wood they prepare to make into a final product are. "They're about fifty percent of our business now, the Asians," McCreary said. "That's because there's so much displacement of factories that used to be here. Within this area, there used to be textiles everywhere—but furniture manufacturers too. You had Henredon, Drexel, Bernhardt, Royal Hill, just umpteen numbers of people who now basically 'import.' There are a few domestic manufacturers left, but they're all pretty much now in China. They still have their brand names, but the furniture comes in here basically ready to ship or ready to box and ship."
Since Granite Hardwood just serves as an intermediary between the chopped down lumber and the eventual manufacturer, McCreary says that means it hasn't hurt his business. What happens is U.S. lumber, after going through treatment at their business, is shipped over to China for manufacturing then finalized furniture is shipped back to the United States. "It's just been a transition and an evolution," McCreary said. "It hasn't necessarily hurt it. But we've just had to be involved in that process as it moved offshore. So you're not dealing with the guy you know up the road here, you're dealing with umpteen number of companies but the Asian business is good business for us. We still do a lot of domestic business—the domestic business is more inclined to molding, millwork, cabinetry. Most of the displacement has been in the furniture and flooring."
McCreary has known Meadows since before he even decided to run for Congress—and thinks he has "absolutely" done a good job representing the district in Washington.
"He reflects the mindset of our district and he listens to constituents," McCreary said, adding that he too agrees with Meadows' decision to try to replace Boehner with a Republican alternative since "we need more accountability from the core establishment" and that he thinks "Mark is bringing a breath of fresh air to the Washington politics."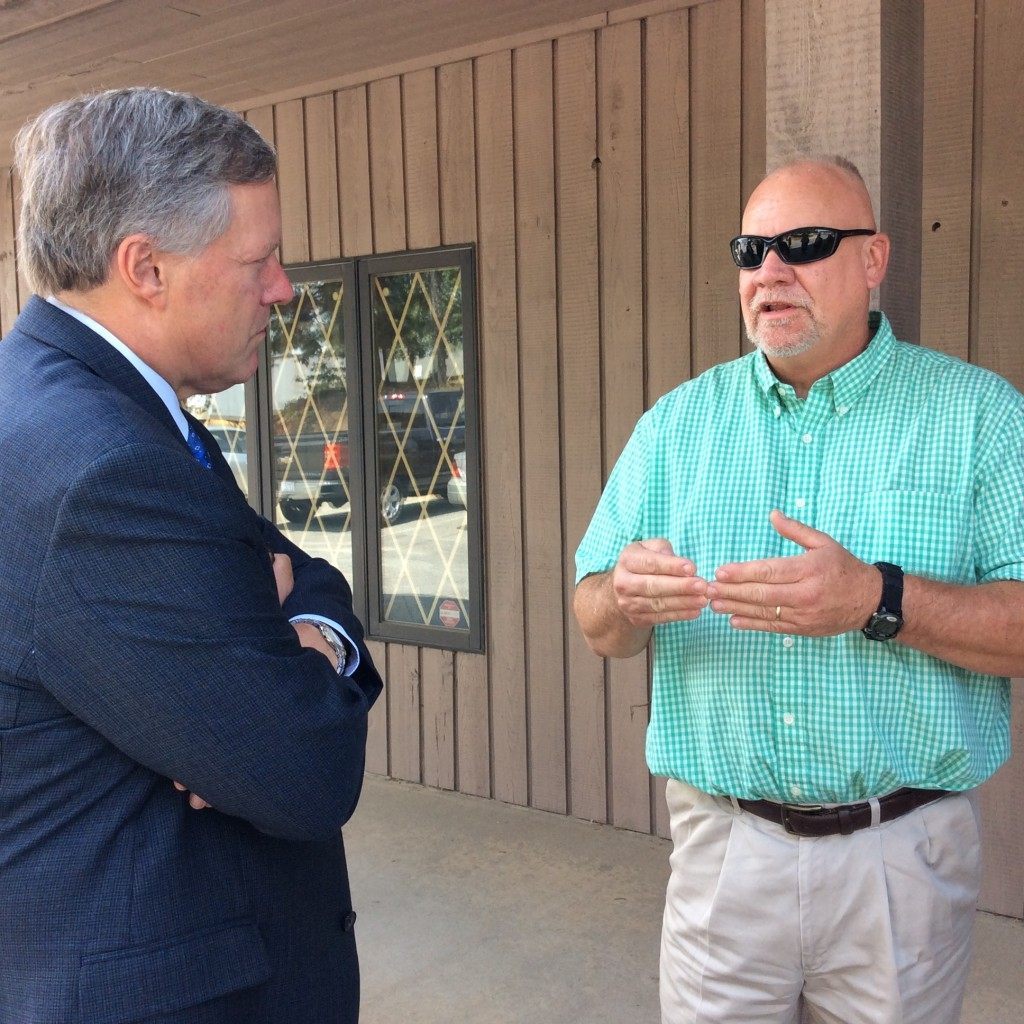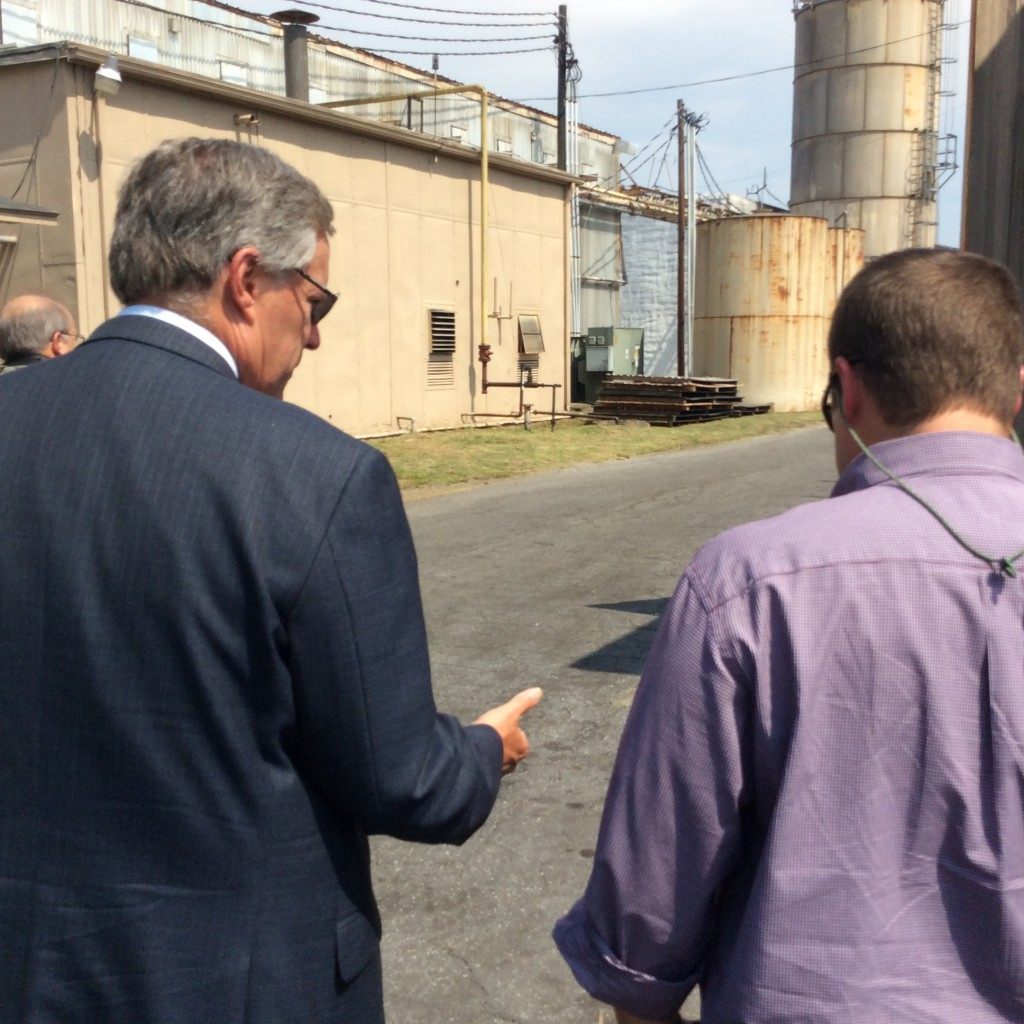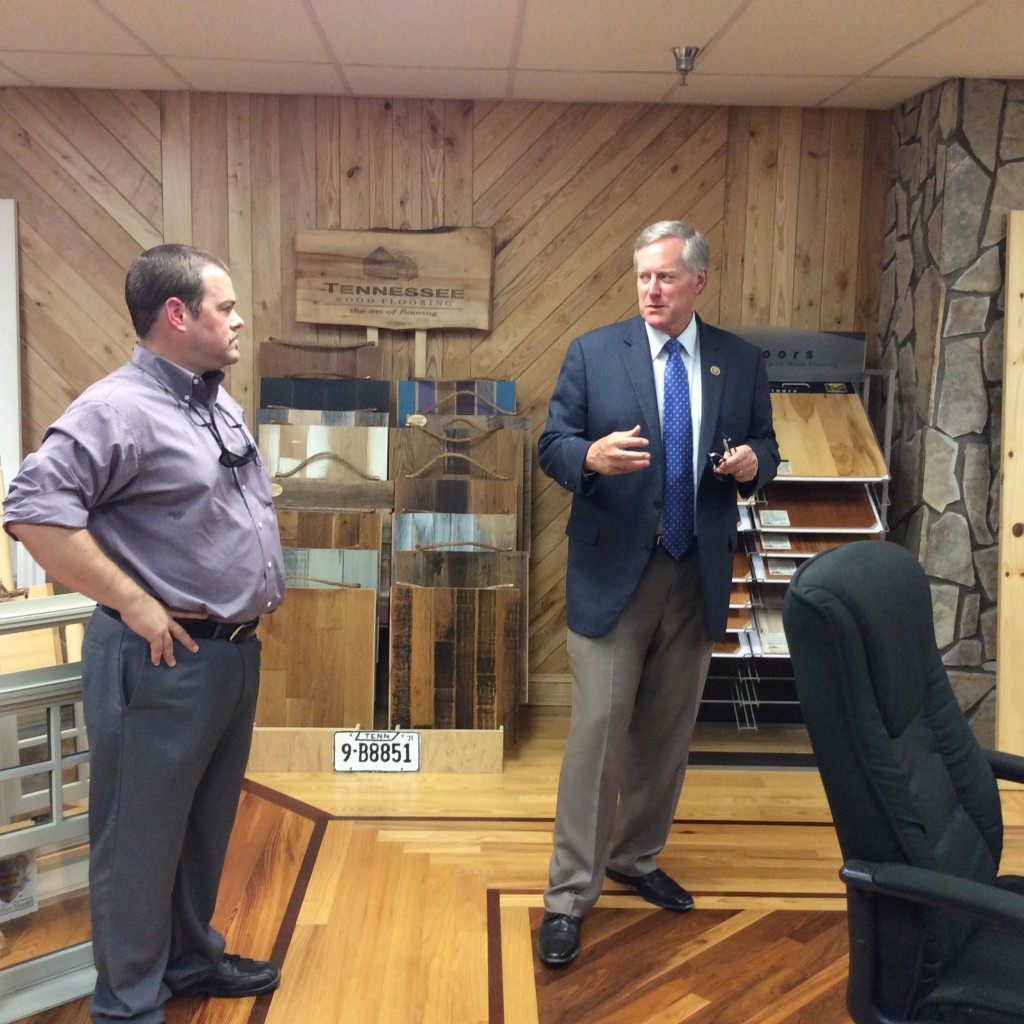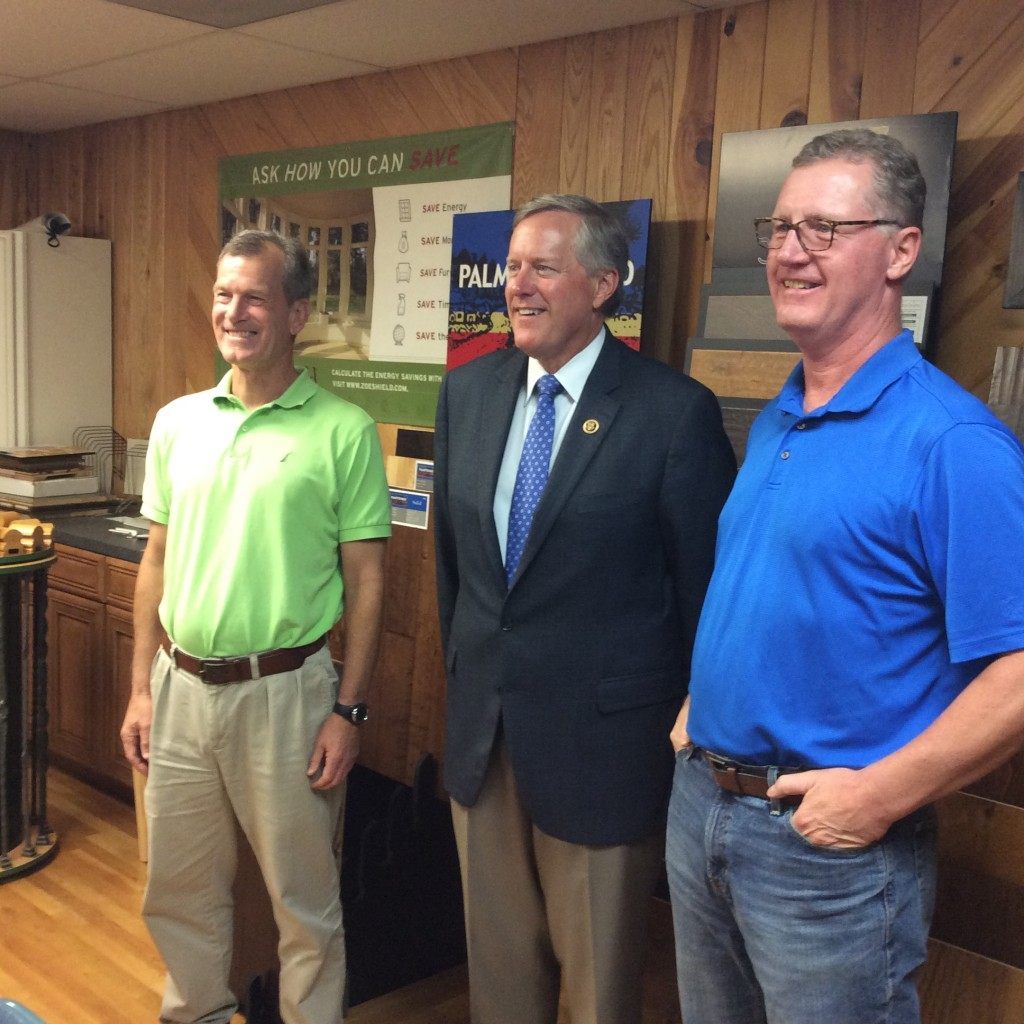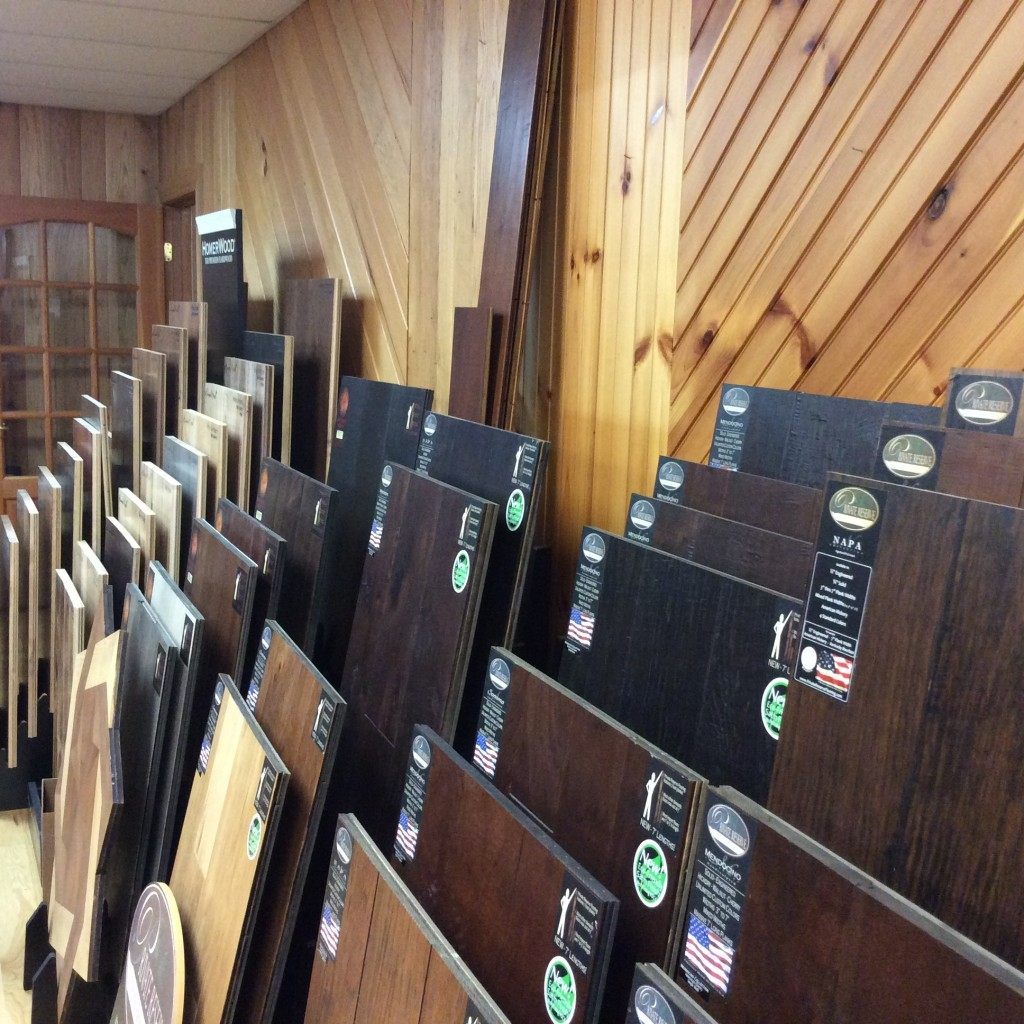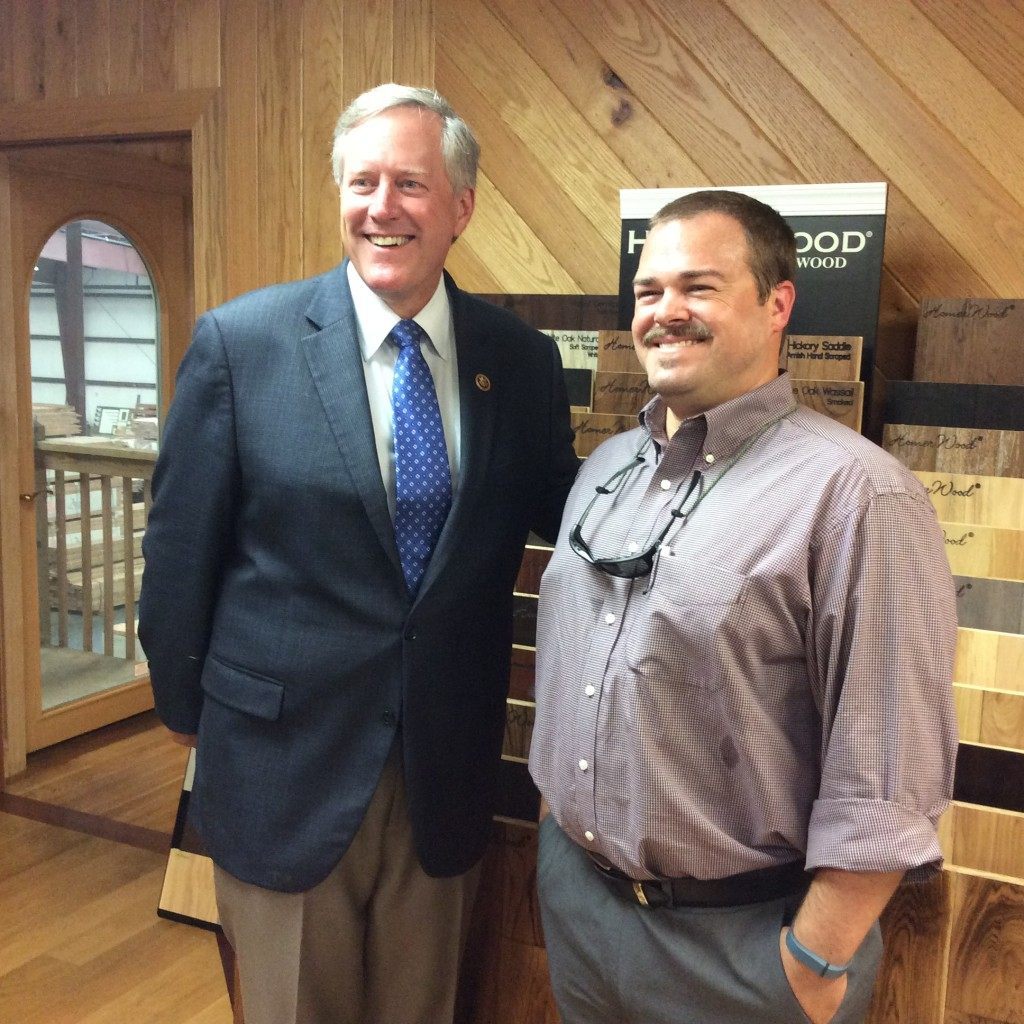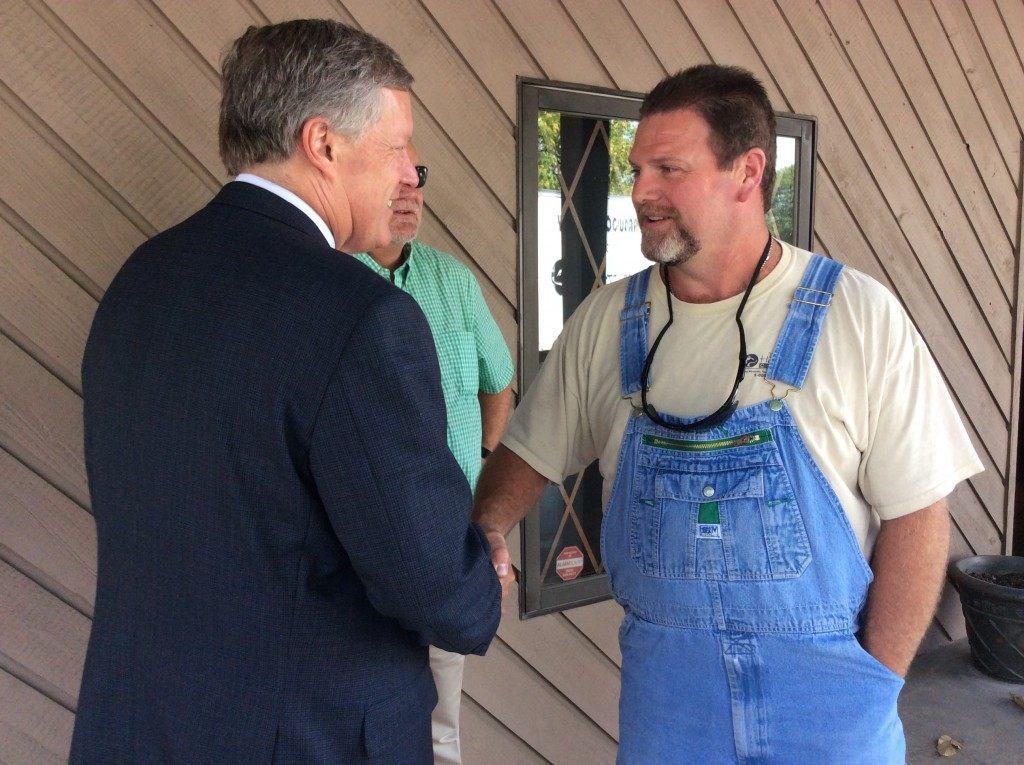 David Learner, the district attorney for Burke, Caldwell, and Catawba counties—the 25th Judicial District of North Carolina—told Breitbart News on the tour he is also relieved that the district finally has someone standing up for them in Washington, D.C.
"It is just an honor to have Mark up there to represent our interests in Washington," Learner, who accompanied the tour of Granite Hardwood, told Breitbart News. "He really does care about and represent the folks back home. He is solid."
Asked about his efforts to remove Boehner as Speaker, Learner said: "I am 100 percent in favor of what he's doing on that topic. You're mighty right. He is standing up to the establishment. It's about time somebody went up there and did it."
Caldwell County commissioner Jeff Branch, also on the tour, praised Meadows as well in an interview with Breitbart News.
"He comes around and sees us," Branch said. "He's not up in Washington all the time. He's a real good home town person. I know he's not from our county but he spends a lot of time in our country. I'm real proud of how he's representing us."
Branch said the people in North Carolina are "not going to be happy" if Boehner and McConnell don't defund Planned Parenthood in September. "That's just my personal opinion from our conservative area, I think it should be defunded," he said. About Meadows' measure to remove Boehner as Speaker, Branch said, "he probably talked to a lot of people around here and did what he thought in his mind was the right thing to do."
Toward the end of the tour, when up in an indoor conference room, Meadows took photographs with several of the staff from Granite Hardwood. As he was doing so, the Hardwood Company's general manager Kevin Mahoney—who runs the second company on the premises which sells finished hardwood flooring to carpenters to install in homes in the region—explained that it's actually cheaper, due to overregulation by the federal government and weak U.S. trade policy, to buy Chinese-finished hardwood flooring than American products. Stacks of sample displays of American-made hardwood flooring lined one wall while Chinese-made hardwood flooring samples were stacked against another wall. Mahoney explained that the Chinese flooring—made in large part from American grown trees, where the wood is prepared then shipped over to China for final refining then back to the U.S. as finished hardwood flooring—is about $4 per square foot whereas the American made version is about $10 per square foot. Mahoney said "some" of the Chinese made hardwood flooring is made from timber America sends to China only to come back finalized, "but also they've been accused of going over into Russia and just taking it. There was a big expose on Lumber Liquidators."
"People will buy this [the American version] because of the quality of it — I mean, if you look at it, you see the difference," Mahoney said. "But in a lot of the smaller homes or the price point homes, a lot of this product [the Chinese version] is being sold. It's taking product away from the hardwood industry in the United States."
Meadows asked Mahoney at that point: "What do we need to do to stay competitive and keep jobs in America?"
"That's above my pay grade," Mahoney responded.
"Come on, you're eight years into this, you're no longer a newbie," Meadows ribbed him.
"I don't know if tariffs is the answer," Mahoney replied. "We're not playing on the same level playing field competing against China. They have the same problem in furniture, too."
From there, it was off to Meadows' district office in Lenoir where he'd hold a meeting with officials from the North Carolina Wildlife Federation (NCWF). They're a coalition of people who believe in preserving the environment for a variety of reasons, from environmentalist viewpoints to hunters and fishermen who want to ensure that the environment is there for their sport for a long time. G. Richard Node, an NCWF affiliate representative and the National Wildlife Foundation's sportsmen outreach coordinator, and one of his colleagues met with Meadows for nearly a full hour, breaking down various concerns they have with forestry regulations and wildlife preservation for the purposes of hunting and angling. After that was Meadows' half-hour-long exclusive interview with Breitbart News, the first parts of which show up here and more of which will be coming out soon, then it was off to a town hall where for more than an hour Meadows answered questions of 40 or so constituents at West Caldwell High School.
Before the town hall started, Lenoir Mayor Joseph Gibbons — another Democrat — praised Meadows for his service, showing his widespread bipartisan appeal district-wide.
"I think Congressman Meadows is a great leader and I've enjoyed working with him through the city of Lenoir and Caldwell County," Gibbons said. "He works with us very, very well. He comes to Lenoir and Caldwell County quite often. He comes down with us to talk about our situations and our problems. He listens very well. He helps on grants and other things we are excited about. He was here a couple weeks ago to present a grant to our fire department for some new fire suppression equipment, and we're very excited about that."
Dr. John Thuss, another constituent who's fairly active in calling Meadows' office, told Breitbart News before the town hall that Meadows has represented the district "most undoubtedly well."
"We voted for him to represent us, not to represent the Speaker of the House," Thuss said.
Thuss' home used to be in Rep. Patrick McHenry's neighboring district before redistricting a few years ago, and he said he feels like McHenry has become part of the "Washington machine."
"I was a county commissioner for 16 years, and you're supposed to go out and seek out what people want you to do," Thuss said. "That's what leadership is, not what one person says in Washington, D.C. What these people say in this room means far more than that."
Meadows fielded questions during the town hall about Planned Parenthood, the Iran deal, anchor babies, sanctuary cities, Benghazi and more before the topic turned to Boehner.
Keith Oxford, a local constituent, asked Meadows: "What is the best thing for us to do to help Representative Boehner vacate the chair?"
After repeating the question back for the audience, another person yelled out: "Let's make you the Speaker of the House!"
"There are a lot of people who would be better Speakers than me, but thank you for your question," Meadows said. "Here's what I would encourage you to do: Do not let the voice of the American people go unanswered. For me, this was very, very difficult. I'm one of these guys who believes you represent the people who sent you to Washington, D.C., not matter what the cost. The cost could be very grave."
The audience broke out into applause.
"But I also want to say your voice and the voice of so many others here tonight, it's that Washington, D.C., needs to get the message," Meadows continued. "They need to get the message that it's We The People that govern not We The DC that govern. It's time that we do that, and that message is starting to resonate. Here's what you can do: Continue to be vocal. There's times when you speak up that it may not be popular. We keep track of every call that comes in, pro and con, on every issue. I want to encourage you to always call my office, always register with an email, respond to surveys, make sure to let me know because we keep very close track of that. On this particular thing, with the Speaker, it was 99.4 percent that we needed a new direction. That surprised me. We had a few negative calls but most of them weren't. We need to make sure our voices our heard."
That's why Meadows is so dangerous to Boehner: He's channeling the voice of America on Capitol Hill, a decidedly pro-representative government, anti-Boehner voice, and he's encouraging his colleagues to join him.