Jef Rouner, a writer for the Houston Press and Cracked.com sent self-confessed pedophile Sarah Nyberg a picture of his daughter on social media in an effort to "cheer up" Nyberg following our reporting about the latter's dark past.
The story of Nyberg, a prominent online progressive, white nationalist apologist and self-proclaimed pedophile just keeps getting more disturbing. A number of left-leaning figures have chosen to rally around Nyberg on social media.
But none have gone as far as tweeting pictures of their own children in "solidarity" with the transsexual Nyberg, who described herself as "rape incarnate" and in 2005 shared in lurid detail her obsession with her own eight-year-old cousin.
Nyberg released a statement yesterday in response to our report about her disquieting past, claiming that her alarming chat posts were merely "trolling" and "an attempt to cause drama," but did not explain why she had shared pictures she said were of her then 8 year old cousin, named the cousin and provided personally identifiable information about the girl in question.
Breitbart has been in contact with the girl's parents, who declined to comment on the record but said they had never let Nyberg spend time alone with their daughter.
Jef Rouner appears to have deleted the tweet, but a screenshot of the original message was taken and also exists in online archiving services.
This isn't the first time Rouner has publicly leveraged his daughter as a prop in ideological battles. In April this year, he wrote an entire article in the Houston Press attacking his child's school as "sexist" because they stopped her from wearing a skimpy outfit in class.
Cracked.com, for which Rouner is a contributor, once ran a piece titled "5 Ways We Misunderstand Pedophilia."
The judiciousness and taste of using one's own child as a weapon in obscure battles in cultural politics is questionable enough. But for Rouner to tweet a picture of his own daughter to a self-confessed pedophile, to lend that self-confessed pedophile support shortly after the story that outed her, which he must have seen in order to be tweeting her to "cheer her up," will rightly be seen as disturbing.
Once news of Rouner's actions spread, there was an outpouring of horrified reactions on social media.
@Nero Its like he offered his child up as tribute.

— Brandon Morse (@TheBrandonMorse) September 13, 2015
I might be blocked by @jefrouner
But at least I'm not sending unsolicited pictures of my kids to pedophiles

— Margaret's in LA for a bit (@MargaretsBelly) September 14, 2015
https://twitter.com/DavidFailkips/status/643213259764539396
https://twitter.com/avi_addict/status/643202356398657536
Rouner himself appears completely unapologetic. Instead of acknowledging the error, he boasted about blocking and ignoring his detractors on social media instead. Rouner did not return multiple requests for comment.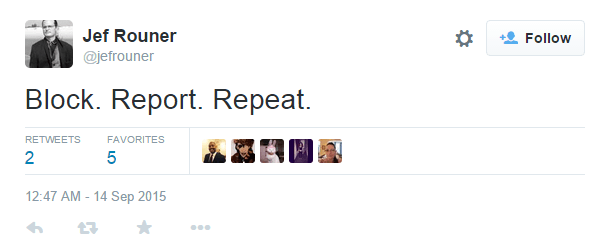 Follow Milo Yiannopoulos (@Nero) on Twitter