Navigating the paperwork and requirements necessary to obtain a Federal Firearms License (FFL) is not easy, especially if you want to be home-based. For that reason, Brandon Maddox wrote "Federal Firearms License Guide" to help would-be applicants understand everything they will need to know in order to secure an FFL.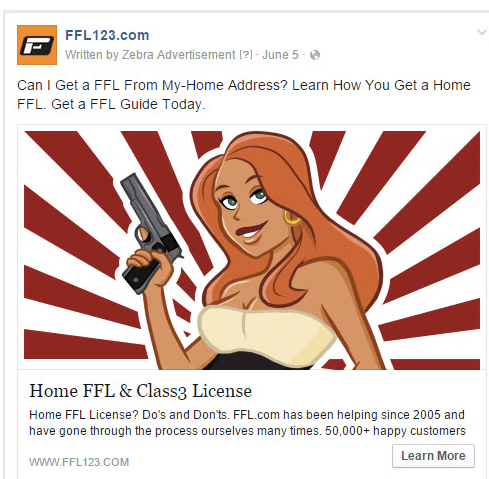 Maddox advertised his book on Facebook and in late September received letters from the social media giant informing that his ads had been taken down and his account disabled because he was advertising things that ran against Facebook policy.
On October 5, Breitbart News spoke to Maddox and he said that because his advertisements contained the word "firearms" they were flagged and finally rejected by Facebook. He was not selling guns but a book on how to get a federal license to make, sell, or repair firearms, often from home.
Maddox stressed that he does own stores where he sells silencers, but he said that was not part of his Facebook advertisement. Rather, he said his interest and advertisements were directed toward people who were getting their start in the firearms industry and wanted an FFL to do so.
Maddox said:
Most people end up getting their FFL for their home. That's how I started, that's how most people start is by getting the license to use from their home. And we advertise this on Facebook and what happens is that you put up an advertisement on Facebook and it will stay up a little while. Then they will send you a notice saying the advertisement is promoting firearms, then they will reject the ad and take it down.
He said that after you have three Facebook ads that are not approved "they close your account down, which means you can't advertise at all."
Maddox said that when he tried to go through the appeal process to explain that he was not selling guns but a book that helped people get an FFL, Facebook responded that their decision was final and that it appeared Maddox is selling firearms because the word "firearms" can be drawn from FFL in the advertisement, and Facebook clicked through the ad to get to FFL123 website where the word "firearms" appears. Of course, it is hard to sell a guide to getting a Federal Firearms License without using the word "firearms."
To help explain the process, Maddox sent Breitbart News two letters he received from Facebook–one dated September 21, 2015 and the second dated September 23, 2015.
Both letters claim Maddox violated Facebook's "advertising policies" or "guidelines." But in the September 23 letter, Facebook elaborated:
Your ad wasn't approved because it promotes the sale of ammunition, firearms, paintball guns, BB guns, or other weapons, including knives, daggers, swords, bows, arrows, knuckle dusters, and nunchucks. Advertising the sale of weapons or leading to destinations where the business primarily focuses on the sale of weapons is not allowed.

Keep in mind that ads can promote advocacy or interest groups that help connect people who have interests related to these products, as long as it doesn't lead to the sale of any weapons.
Follow AWR Hawkins on Twitter: @AWRHawkins. Reach him directly at awrhawkins@breitbart.com.