The number of deaths from drug overdose in the United States has surpassed those from firearms and motor vehicle accidents each year since 2008, according to a newly released report published by the Department of Justice's Drug Enforcement Administration (DEA).
The 2015 National Drug Threat Assessment (NDTA) Summary notes the Centers for Disease Control and Prevention's (CDC) report that 46,471 Americans died of a drug overdose in 2013 – the last year for which information regarding overdose deaths is available – compared with 35,369 deaths due to car crashes and 33,636 as a result of firearms.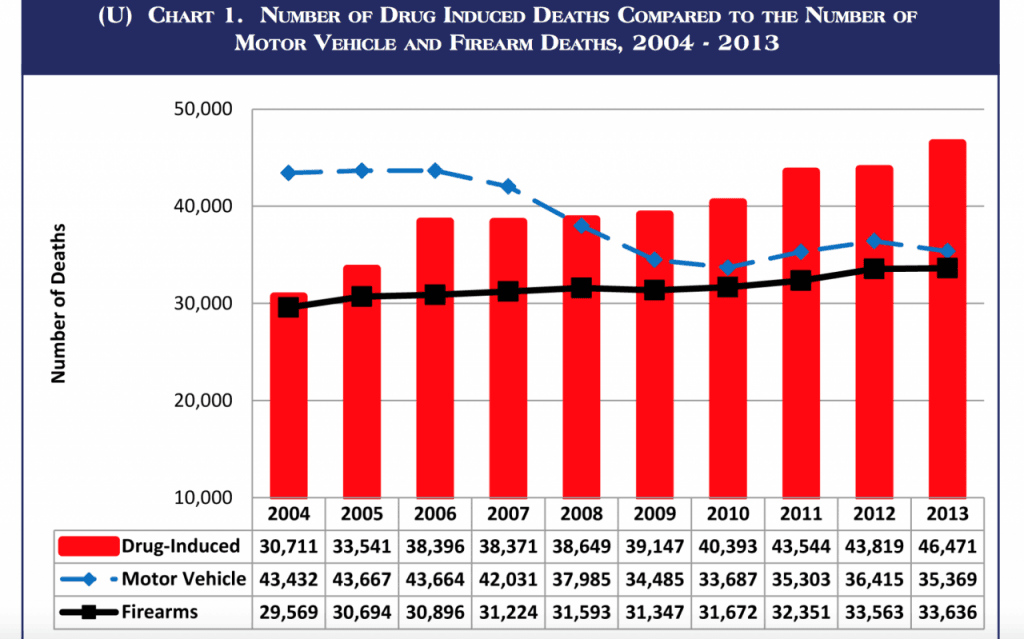 "Drug overdose deaths have become the leading cause of injury death in the United States, surpassing the number of deaths by motor vehicles and by firearms every year since 2008," writes Chuck Rosenberg, acting administrator of DEA. "Overdose deaths, particularly from prescription drugs and heroin, have reached epidemic levels."
More than 700 people died in the United States between 2013 and 2014 due to Fentanyl and its analogs – which are more potent than heroin – says the DEA. In addition, the administration notes that with a decline in the availability of cocaine, drug distributors and users will search for methamphetamine as an alternative.
Marijuana remains the most commonly used illegal drug due to its wide availability. Despite the trend toward legalizing marijuana, DEA states "marijuana concentrates, with potency levels far exceeding those of leaf marijuana, pose an issue of growing concern."
As Breitbart News previously reported, CDC found that the proportion of high school seniors who smoke marijuana has surpassed the proportion that smokes cigarettes.
Additionally, DEA observes synthetic designer drugs continue to be a major threat in the United States, particularly to youth.
Rosenberg adds the Mexican transnational criminal organizations (TCOs) are the most dangerous drug trafficking organizations in the United States due to their high level of sophistication. These groups "are responsible for the extreme violence seen in Mexico," he says, noting that they "battle for turf and attack public officials and innocent civilians."
"Domestically, affiliated and violent gangs are increasingly a threat to the safety and security of our communities," Rosenberg continues. "They profit primarily by putting drugs on the street and have become crucial to the Mexican cartels."