The first major storm of 2016 hit the East Coast on Friday and Washington DC is at the center of the storm's path. The deadly storm has shut down government services and could bury residents in over two feet of snow. A preliminary snow flurry on Wednesday caused massive chaos in the nation's capitol prompting DC mayor Muriel Bowser to apologize for the "inadequate response."
Forecasters have predicted blizzard and whiteout conditions for what is being called "Winter Storm Jonas." The governors of "Pennsylvania, Maryland, Virginia, North Carolina and Georgia declared states of emergency Thursday," according to the New York Times.
**Follow all of the events on the Breitbart News Live Wire below**
Update 6:03 AM EST: Time provides a link to a collection of Instagram photos of the storm.
See the best Instagrams from the snow storm https://t.co/PFgi8ZFF8u pic.twitter.com/lE44zFfvu9

— TIME (@TIME) January 24, 2016
Update 1:00 AM EST: Breitbart News' James Delingpole writes about the "blizzard of global warming" blanketing the east coast. Be sure to note his interesting accounting of the blizzards that struck the nation's capital in the past. The first one he mentions dates back to 1772.
Update 10:12 PM EST:  Some more photos of the storm…
Update 9:27 PM EST: The Associate Press reports on the snowbound motorists dug out of blizzard on the Pennsylvania Turnpike —
PHILADELPHIA (AP) — Snowbound college athletes and teenage parishioners spent a night stranded in a miles-long backup on the Pennsylvania Turnpike with hundreds of other motorists, munching on snacks and watching movies to pass the time, before National Guard members and heavy construction equipment began digging vehicles out Saturday.
More than 500 cars, trucks and buses, some carrying the Duquesne University men's basketball team and the Temple University women's gymnastics squad, got stuck Friday night as snow started to fall. The Duquesne and Temple buses were freed Saturday night, and Duquesne posted online video of 15 basketball players, coaches and support staff members helping to push their bus.
A turnpike official said no one was expected to spend a second night on the snow-choked highway. Crews were removing barriers between the eastbound and westbound lanes and allowing vehicles to fuel up at a turnpike maintenance shed before getting off the highway.
Temple gymnastics coach Umme Salim-Beasley said National Guard members handed out military rations.
"They are one by one trying to plow out vehicles and trying to get them moving," she said.
Father Shaun Whittington, whose Indiana church group was stranded after a trip to Washington, D.C., praised the youngsters traveling with him.
"Our kids have been great through this," he said. "They haven't been complaining. But we're getting close to running out of food."
The group of more than 90 in a pair of buses was from St. Nicholas parish in Sunman, Indiana, and St. Anthony's parish in Morris, Indiana, and was returning home after attending the March for Life in Washington.
Duquesne's bus got stuck Friday night on its way home from an 86-75 win over George Mason in Fairfax, Virginia. The stranded passengers along the turnpike put on brave faces. The players mostly got by on leftover pizza and Gatorade and watched movies including "Invincible." It was difficult for some of the players, who were quite tall, to sleep on the bus.
Democratic Gov. Tom Wolf's office said the problems in Somerset County began after westbound tractor-trailers were unable to climb a hill. As traffic backed up behind them, more trucks became unable to go up the hill, backing up all vehicles and preventing emergency crews from getting heavy-duty tow trucks to the scene and road crews from being able to clear the snow.
Wolf said each vehicle had been checked at least once and workers had been delivering food and as fuel to make sure engines keep running so the heat can stay on. He said the state was working to get shelters in place quickly so people can be moved to them in buses if necessary.
Update 9:25 PM EST: Some photos taken today of snowbound Washington, D.C.:
Update 9:20 PM EST: The Associated Press reports —
New York's governor says a travel ban he instituted during a massive snowstorm will likely be lifted by morning. Andrew Cuomo says Saturday he expects to lift the ban that barred non-emergency motorists from being on the roads by 7 a.m. Sunday.
Officials had warned that police would enforce the ban so that workers could clear the roads. Cuomo says he's unaware of any arrests. The governor declared a state of emergency Saturday throughout New York City and its suburbs during the storm. Transit officials have shut down the above-ground portions of the Metro-North, Long Island Rail Road and city subway systems.
Public buses stopped running at noon in New York City. Cuomo says officials will advise by 6 a.m. Sunday whether above-ground subway service will resume.
More than 25 inches of snow have fallen in New York City during a blizzard that has blanketed the East Coast.
Meanwhile, two airports in the Washington region will likely remain closed through Sunday. The Metropolitan Washington Airports Authority, which oversees Ronald Reagan Washington National Airport and Washington Dulles International Airport, said Saturday evening in a statement that the airports continue to experience significant snowfall.
The authority says the snow and high winds are making snow removal on the runways, roadways and parking lots difficult. Add that to the closure of roads and public transportation, and the authority says it is unlikely that normal flight operations would resume Sunday.
The authority says passengers should contact their airline directly for specific flight information and to re-book any flights if necessary. The authority says it will continue to evaluate conditions to make decisions about when to open the runways.
Nearly 30 inches of snow had reportedly fallen at Dulles as of 8 p.m. The blizzard has brought much of the East Coast to a standstill and shut down the nation's capital. At least 18 deaths have been blamed on the weather.
Update 9:15 PM EST: The Associated Press gives a state by state update on the massive winter storm burying much of the U.S. East Coast in a foot or more of snow by Saturday, shutting down transit in major cities, stranding drivers on snowbound highways, knocking out power to tens of thousands of people:
DELAWARE
Firefighters helped about a dozen people evacuate Oak Orchard, a low-lying community in southern Delaware that often floods during storms. Part of Route 1, a costal artery, was closed because of sand and water. Officials reported numerous dune breaches along the coast and significant flooding of low-lying communities around inland bays. More than 5,000 homes and businesses lost electricity. A power failure shuttered the Delaware City Refinery and released pollutants, but environmental officials said no harmful levels of pollutants were detected at the facility's fence line or downwind from it.
GEORGIA
Utilities had restored power to more than 66,000 customers since the storm began there early Friday, though a few thousand more were still without service, a Georgia Power spokesman said.
KENTUCKY
Motorists got stuck overnight Friday on Interstate 75 south of Lexington as wrecks and blowing snow brought traffic to a halt. Officials went from vehicle to vehicle, checking on marooned drivers; distributing water, fuel and snacks; and helping people get to shelters set up at churches and public schools along the highway. But some drivers said they were too far away to make it to the shelters. The road reopened early Saturday. Elsewhere, a transportation worker died while plowing snow-covered highways near Bowling Green, and a man died when his car collided with a salt truck.
MAINE
Snow pros in the Bangor Police Department offered advice to points south, instructing the snowbound to keep generators gassed up but outside. Running a generator inside can result in deadly carbon monoxide filling the house. Their Facebook post said, "The men and women of the Bangor Police Department are rooting for you."
MARYLAND
A 60-year-old man shoveling snow in the Fort Washington area died after an apparent heart attack, Prince George's County Fire/EMS Department spokesman Mark Brady said. In Montgomery County, north of Washington, roofs collapsed on a condominium complex's utility building and on a large barn. A dozen horses were temporarily trapped. Baltimore banned nonemergency vehicles from its streets overnight to speed snow clearing.
NEW JERSEY
Several seaside resort towns were temporarily isolated by flood waters when the tide rushed in Saturday, and firefighters were hampered by floodwaters and the weather as they battled a blaze at a restaurant. More than 50,000 homes and businesses lost power. Republican Gov. Chris Christie said he saw some plows that had come to a stop because they were blocked by cars that got stuck in the snow on highways.
NEW YORK
Three people died while shoveling snow in New York City, police said. Broadway shows were canceled, and drivers were ordered to stay off New York City and Long Island roads. Above-ground subway lines, city buses and many commuter trains were suspended, and some workers scrambled to get home as the forecast worsened. Hudson River crossings including the George Washington Bridge and the Holland and Lincoln tunnels were closed to regular traffic. Police said they had responded to more than 200 car accidents and 300 disabled vehicles.
NORTH CAROLINA
Six people, including a 4-year-old boy, were killed in wrecks amid the storm, authorities said. And a man was arrested on charges of killing a motorist who stopped to help after his car slid off an ice-covered road outside Charlotte. About 150,000 homes and businesses lost power.
OHIO
A teenager sledding behind an all-terrain vehicle was hit by a truck and killed Friday, the State Highway Patrol said. The truck failed to yield at a traffic light and hit the sled, which the ATV was pulling in Wheelersburg, the highway patrol said.
PENNSYLVANIA
Many travelers, including teams of college athletes and a church group, got stuck on the Pennsylvania Turnpike. The Temple University women's gymnastics team and the Duquesne University's men's basketball team were stuck in their buses for hours, as was a church group of 96 mostly teenage parishioners heading home to Indiana from the March for Life in Washington. The National Guard and front end loaders started digging the vehicles out on Saturday afternoon.
TENNESSEE
Two people were killed as cars slid off icy roads. One vehicle plummeted down a 300-foot embankment Wednesday night, killing the driver, whose husband survived and climbed up over several hours to report the wreck. Nashville saw its heaviest snowfall in nearly 20 years as the storm caused gridlock on streets and highways in Middle Tennessee. Eight inches of snow fell at Nashville International Airport, the most since Nashville logged 8.7 inches of snow on March 19, 1996.
VIRGINIA
A driver was killed in Chesapeake on Friday when his car veered off a snowy highway and hit a tree, and two people died of hypothermia in southwest Virginia, police said. Statewide, police grappled with more than 1,000 car crashes and more than 1,000 disabled vehicles as snow piled up Friday and Saturday. Snow, ice and gusting winds made the roof collapse at a Donk's Theater, a historic venue near the Chesapeake Bay, building officials said. The theater opened in 1947 and was known as Home of Virginia's Lil' Ole Opry.
WASHINGTON, D.C.
Mass transit was shut down in the nation's capital, where the federal government had closed its offices at noon Friday. Monuments normally busy with tourists were largely deserted as snow made the steps of the Lincoln Memorial look almost like a short ski slope. President Barack Obama, hunkered down at the White House, was one of many who stayed home. But a video of one of the Smithsonian National Zoo's four pandas enjoying the snow there Saturday was a bright spot amid the storm clouds, drawing 1.7 million views on Facebook.
WEST VIRGINIA
As many as 200 vehicles, most of them tractor-trailers, were stranded overnight Friday on Interstate 77 north of Charleston. The logjam was cleared by noon Saturday, with a fleet of wreckers pulling out stuck vehicles. Roman Catholics were relieved of their obligation to attend Mass because of the snowstorm, as Bishop Michael J. Bransfield encouraged prayers for those in the path of the storm.
Update 9:10 PM EST: The Associated Press reports from Atlantic City on the massive flooding on the east coast due to the snowstorm —
ATLANTIC CITY, N.J. (AP) — A massive winter storm that dumped as much as 3 feet of snow on the eastern United States raised flood waters in communities up and down the Atlantic Coast, closing roads and prompting evacuations, authorities said Saturday.
The first round of flooding came with the morning tide. But officials prepared for another surge Saturday evening.
A string of resort towns was temporarily isolated by floodwater that inundated homes and restaurants, authorities said.
"We're looking at more of the same or maybe not as bad," Diane Wieland, a spokeswoman for Cape May County said ahead of Saturday night's high tide. "A lot of properties have water in them. But it may not be until later Sunday that they can assess the damage."
Officials in other states, from North Carolina to New York, expressed similar concerns. By late Saturday morning, some people had already seen enough havoc.
"When the water just started rushing down, it was as impressive as some of the videos you saw of Japan during the tsunamis," said Jason Pellegrini, owner of Steak Out restaurant in Sea Isle City, who was trapped inside by floodwaters. "It came in that fast."
Another restaurant, The Lobster House, was partly submerged by the rising tide more than 20 miles away in Cape May.
"It touched everywhere," said Keith Laudeman, the third-generation owner of the nearly century-old establishment on Cape May Harbor. "It even got to the equipment we moved and never thought would get touched."
The water quickly receded. And Laudeman said he has a crew of people preparing to clean the place so they can reopen in the coming days.
In Delaware, flooding closed a popular route to the state's beaches and forced about a dozen people to leave the low-lying community of Oak Orchard.
Gale warnings are in effect through Sunday morning along the North Carolina coast, the National Weather Service said, with winds of 30 mph expected along with rough seas.
New York Gov. Andrew Cuomo, a Democrat, said coastal flooding remained a concern along parts of Long Island into Saturday night.
Virginia Gov. Terry McAuliffe, also a Democrat, shared the same fears about the Chesapeake Bay. Water had already covered some roads in Norfolk, which is prone to flooding.
Officials in New Jersey were assessing damage caused by the flooding. By noon, when the water began to recede, emergency responders visited inundated areas. Firefighters even descended into a flooded area of Sea Isle City to battle a blaze at another restaurant that may have been linked to the high waters.
New Jersey Gov. Chris Christie, a Republican presidential candidate, said subsequent high tides weren't expected to bring as much flooding as towns saw Saturday morning.
Update 9:04 PM EST: The Associated Press reports on the storm bringing the east coast to a standstill and leaving as many as 18 dead —
NEW YORK (AP) — A blizzard with hurricane-force winds brought much of the East Coast to a standstill Saturday, dumping as much as 3 feet of snow, stranding tens of thousands of travelers and shutting down the nation's capital and its largest city.
After days of weather warnings, most of the 80 million people in the storm's path heeded requests to stay home and off the roads, which were largely deserted. Yet at least 18 deaths were blamed on the weather, resulting from car crashes, shoveling snow and hypothermia. And more snow was to come, with dangerous conditions expected to persist until early Sunday, forecasters warned.
"This is going to be one of those generational events, where your parents talk about how bad it was," Ryan Maue, a meteorologist for WeatherBell Analytics, said from Tallahassee, Florida, which also saw some flakes.
The system was mammoth, dropping snow from the Gulf Coast to New England. By afternoon, areas near Washington had surpassed 30 inches. The heaviest unofficial report was in a rural area of West Virginia, not far from Harper's Ferry, with 40 inches.
As the storm picked up, forecasters increased their snow predictions for New York and points north and warned areas nearly as far north as Boston to expect heavy snow.
"This is kind of a Top 10 snowstorm," said weather service winter storm expert Paul Kocin, who co-wrote a two-volume textbook on blizzards.
It was Top 3 in New York, where more than 25 inches of snow had fallen as of 7 p.m. Saturday, close to the record, 26.9 inches, set in February 2006.
Three people died while shoveling snow in Queens and Staten Island. The normally bustling streets around Rockefeller Center, Penn Station and other landmarks were mostly empty. Those who did venture out walked down the middle of snow-covered streets to avoid even deeper drifts on the sidewalks.
With Broadway shows dark, thin crowds shuffled through a different kind of Great White Way in Times Square.
Officials imposed a travel ban in the city, ordering all nonemergency vehicles off the roads. Commuter rails and above-ground segments of the nation's biggest subway system shut down, too, along with buses.
Without a bus, home health aide Elijah Scarboro couldn't get to his next client, an 89-year-old man with Alzheimer's disease.
"I wish I could get there, but I can't," Scarboro said, hoping the man would be safe at home with his wife.
As recently as Friday night, New York officials had expected the storm to top out at 18 inches. But that prediction jumped to 28 inches by Saturday evening. The scenario was much the opposite of what unfolded a year ago, when a storm carrying predictions for 18 to 24 inches of snow prompted officials to shut down the subway system completely, but far less than a foot ultimately fell.
In Washington, monuments that would typically be busy with tourists stood vacant. All mass transit in the capital was to be shut down through Sunday.
Throughout the region, drivers skidded off snowy, icy roads in accidents that killed several people as the storm raged Friday and Saturday. Those killed included a 4-year-old boy in North Carolina; a Kentucky transportation worker who was plowing highways; and a woman whose car plunged down a 300-foot embankment in Tennessee.
An Ohio teenager sledding behind an all-terrain vehicle was hit by a truck and killed, and two people died of hypothermia in southwest Virginia. In North Carolina, a man whose car had veered off an icy-covered road was arrested on charges of killing a motorist who stopped to help.
In Kentucky, Pennsylvania and West Virginia, drivers were marooned for hours in snow-choked highways.
The Temple University women's gymnastics team, the Duquesne University's men's basketball team and a church group from Indiana were among travelers who got stuck when the Pennsylvania Turnpike turned into a snowy parking lot.
Father Shaun Whittington said he and his nearly 100 parishioners, mostly teenagers, got stranded on their way home Friday evening from the March for Life in Washington. They had enough gas to keep the buses running and enough DVDs to keep the kids entertained until nearly noon Saturday, when plows finally arrived, Whittington said.
"We're on a pilgrimage," he said. "There's going to be suffering with that."
Roofs collapsed on a historic theater in Virginia and a horse barn in Maryland, while seaside towns in New Jersey, Delaware and Maryland grappled with flooding.
The snow was whipped into a maelstrom by winds that reached 75 mph at Dewey Beach, Delaware, and Langley Air Force Base, Virginia, the weather service said. From Virginia to New York, sustained winds topped 30 mph and gusted to around 50 mph. And if that weren't enough, the storm also had bursts of thunder and lightning.
Airlines canceled nearly 7,000 weekend flights and started to cut Monday service. Stranded travelers included Defense Secretary Ash Carter, whose high-tech aircraft, the Doomsday Plane, couldn't land at Andrews Air Force Base in Maryland after returning from Europe. Carter was rerouted to Tampa, Florida.
The storm also knocked out electricity to thousands of homes and businesses.
Update 8:28 PM EST: Snow fall is burying cars across the mid-Atlantic…
https://twitter.com/georgekourounis/status/691050153910759424/photo/1
@ryanhanrahan I lived in New Fairfield for 21 years but I've never seen this. Unreal night in NYC. pic.twitter.com/PR5wPLe0yf

— Chris Barca (@CBarca_) January 24, 2016
The Washington Post reports that National Weather Service meteorologists have been forced to sleep in their offices:
The National Guard has been called in to rescue meteorologists at the @NWS in Sterling. They're snowed in & need to change shifts #dcsnow

— Heather Curtis (@HeatherMCurtis1) January 23, 2016
Multiple performances and events have been cancelled due to the storm.
.@TheGarden & @springsteen must postpone the performance set for tomorrow 1/24 due to a Tri-state travel ban & weather safety concerns.

— Bruce Springsteen (@springsteen) January 23, 2016
#Isles Game Update: Today's game vs Philadelphia is postponed. No makeup date has been announced as of now. Details: https://t.co/hKKMlyIKWa

— New York Islanders (@NYIslanders) January 23, 2016
Update 5:00 PM EST: Bloomberg reports on the sledding on Capitol Hill.
Update 3:43 PM EST: Astronaut Scott Kelly shared a view of the blizzard from the International Space Station:
Rare #thundersnow visible from @Space_Station in #blizzard2016! #Snowzilla #snowmaggedon2016 #YearInSpace pic.twitter.com/l3p6hjnJOq

— Scott Kelly (@StationCDRKelly) January 23, 2016
Update 3:30 PM EST: The Washington Post has video of people battling Jonas to visit the White House:
Update 3:25 PM EST: Time-lapse video posted to YouTube showing the progress of Storm Jonas in metro DC:
Update 3:18 PM EST: The Washington Post has a story of a family that saved a snow-bound piglet from freezing to death on the side of the road in Hagerstown, Maryland. Full story and photo of cute piglet here.
Update 3:08 PM EST: Image posted to Instagram showing snow conditions on Manhattan streets.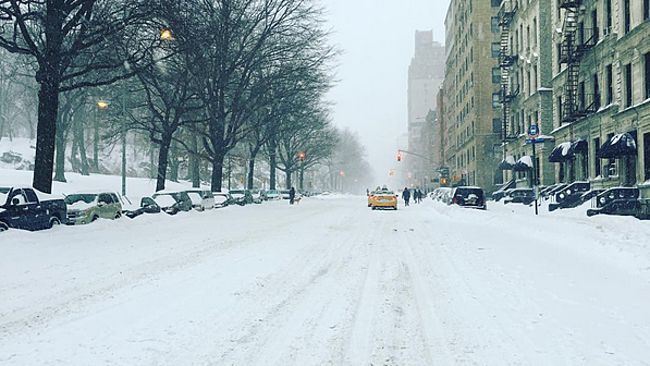 Update 2:45 PM EST: The Associated Press reports —
Gov. Tom Wolf says more than 500 vehicles are stuck in the miles-long backup in western Pennsylvania, but emergency crews have been delivering supplies and officials are working to move people to shelters if needed. Wolf told reporters Saturday afternoon that each vehicle had been checked at least once, and workers had been delivering food as well as fuel to make sure engines keep running so the heat can stay on.
He says they are working to get shelters in place quickly so people can be moved to them in buses if necessary. And Wolf said the rest of the commonwealth "is in as good a state as can be expected." But he warned people to stay off the roads and said another major problem could prompt a closure of highways in the commonwealth.
—
An interstate highway north of Charleston, West Virginia, has reopened after as many as 200 vehicles were stranded overnight amid a snowstorm. The logjam of mostly tractor trailers on Interstate 77 was cleared by noon Saturday after road crews plowed the snowy highway surface and a fleet of wreckers pulled out stuck vehicles.
C.W. Sigman of the Kanawha County Department of Homeland Security and Emergency Management said the vehicles became ensnared Friday evening as snow moved into West Virginia's capital city. He said the backup of dozens of big rigs grew as the night went on and into Saturday morning. Charleston received nearly 1 ½ feet of snow.
Update 2:35 PM EST: The Associated Press reports —
North Carolina troopers say a sixth person has died in the state as a result of snow and ice that have covered roads in recent days. The death brings the nationwide total to 12 people killed in a massive snowstorm that has battered the South, mid-Atlantic and East. State Highway Patrol spokesman Sgt. Michael Baker said Saturday that a motorist died after losing control of her car and hitting a tree in Hickory. Troopers say 19-year-old Madeline Paige Scalf of High Point was killed in the Friday morning crash.
Update 2:30 PM EST: Wave heights in Ocean City, Maryland, reportedly went from 2 feet to over 26 feet since yesterday.
Ocean City MD 67th Street pic.twitter.com/Vi8mNcPN0e

— Drew Moyer (@TheDrewMoyer) January 23, 2016
Update 2:15 PM EST: A short video clip uploaded to Twitter shows the blizzard conditions in Reading, PA:
These are Blizzard conditions folks!! Reading, Pa getting hammered! @AccuRayno pic.twitter.com/HR2RhIxFdO

— Dan Talarico (@dan_talarico) January 23, 2016
Update 1:55 PM EST: The Associated Press reports —
Authorities say a Kentucky transportation worker has died while plowing snow-covered highways, bringing the total number of deaths from the massive snowstorm hitting the U.S. to at least 11. The Kentucky Transportation Cabinet says in a statement that Christopher Adams died Saturday in Christian County.
The statement says Adams called a supervisor about 5:50 a.m., saying snow plow had slid into a ditch along Kentucky Route 115. When the supervisor arrived, Adams was slumped over in his truck seat and unresponsive. An ambulance was called to the scene. Paramedics called a coroner. Officials say the 44-year-old Adams had been working since about midnight. His family has been notified, but a cause of death has not been released.
Update 1:15 PM EST: The Associated Press reports —
New York Gov. Andrew Cuomo has announced a travel ban in New York City as a massive snowstorm hits the region with up to two feet of snow.
Cuomo says all non-emergency vehicles should be off the roads after 2:30 p.m. Saturday. Mayor Bill de Blasio says the police will enforce the ban. De Blasio says people should heed the warnings and "immediately go home." He urged Broadway theaters to cancel performances and restaurants to close.
Cuomo says Metro-North, the Long Island Rail Road and above-ground parts of the subway system will shut down at 4 p.m. MTA buses stopped running at noon. All Broadway shows — both matinees and evening performances — were cancelled Saturday after New York state officials declared a weather emergency.
A ban on travel in New York and the suspension of public transportation forced Broadway producers and theater owners to pull the plug. Charlotte St. Martin — president of The Broadway League, which represents producers— says: "We expect normal operations to resume for tomorrow's Sunday matinees."
The storm didn't stop the inaugural three-day BroadwayCon — sort of like a Comic Con for thespians — at a midtown hotel. Further north, a Rita Moreno concert at Jazz at Lincoln Center was canceled.
The last time Broadway took a big weather hit was Superstorm Sandy in 2012. It darkened Broadway for four days and cost more than $8.5 million in lost revenue.
Update 1:05 PM EST: The Associated Press reports —
After a week of forecasting how bad this blizzard would be and a night stuck in the Atlanta airport because of the weather, meteorologist Ryan Maue says he was out of words to properly describe how big and bad this storm is. Meteorologists say that even with double-digit — and up to 2-feet — snow accumulations, cities across the East can expect much more until it all ends late Saturday or early Sunday.
Maue, of the private WeatherBell Analytics, estimates that Washington will get another 9 to 10 inches of snow and New York 14 to 20 more inches by noon. He says 80 million people are affected, and a quarter of the U.S. is suffering from snow.
And yet it could have been more. He says that's because the low pressure storm center of the coast is elongated. Had it been more focused, there could have been even more snow and high wind. He adds: "This is going to be one of those generational events, where your parents talk about how bad it was."
People all over the East Coast are dragging out yardsticks, if they can find them, to measure the snow as a major blizzard hits a huge swath of the country. But private meteorologist Ryan Maue said Saturday that in some cases, those 36-inch measuring tools may not be enough. People might find more snow than that outside their doors. Maue also says this storm may be the first true social media blizzard. As an example, video from the National Zoo in Washington of giant pandas playing in the snow went viral.
More than 27 inches of snow dropped by noon in the Maryland suburbs of the nation's capital. The highest amount in the unofficial numbers compiled by the National Weather Service was 27.2 inches in Clarksburg, which is in Montgomery County. Observers in Washington reported a high of 18 inches in the city's Anacostia neighborhood. Fifteen inches was reported in Baltimore. More than 2 feet of snow was reported in Allegany County in western Maryland, Carroll County in central Maryland, in the northern Virginia city of Manassas and in Purcellville in Loudoun County, Virginia.
Update 12:30 PM EST: New York Governor Andrew Cuomo has put a travel ban into effect for New York City, effective 2:30 PM EST, due to the snow storm. Those found on the roads after this time by police face significant fines and possible arrest.
After 2:30 p.m and you're on the road, we will arrest you @NYPDChiefofDept says

— NYPD NEWS (@NYPDnews) January 23, 2016
Update 12:17 PM EST: Students from Owensboro Catholic High School in Tennessee who were travelling by bus have been stranded on Interstate 76 in Pennsylvania for over 14 hours due to the winter storm. The bus still has gas, heat, and a bathroom, so the occupants have been taking in other motorists stranded nearby.
Update 11:37 AM EST: The Associated Press reports on hundreds stranded in Kentucky and sleeping in their cars on the interstate:
LEXINGTON, Ky. (AP) — What was supposed to be a relaxing weekend in Tennessee for Alexx and Kate Bragg turned into a grueling night of frozen gridlock along one of the country's busiest interstate highways.
Hundreds of drivers were stuck on I-75 overnight after a massive winter storm dumped more than a foot of snow in south central Kentucky, clogging cars and causing multiple crashes that created a 30-mile stretch of shivering passengers. By Saturday morning, I-75 southbound had been cleared and traffic was moving — albeit slowly. Northbound lanes were closed; Kentucky State Police say they anticipate opening them before noon. Trooper Lloyd Cochran said he couldn't give a figure for number of cars or people affected by the standstill but noted that no injuries were reported.
Kate Bragg was one of the stuck motorists, spending most of the night at mile marker 59 between Livingston and Mount Vernon. She and her husband, Alexx, are from Indiana and were on their way to Tennessee for a getaway weekend when they got stuck. For hours, the only people they saw were salt truck drivers begging motorists to move over so they could exit, refuel and hopefully help clear the roads. At one point, Alexx Bragg tucked in behind a salt truck and followed it on the shoulder, only to get stuck again.
"We are worried because we are from Indiana, have no concept of where we are and no idea when to anticipate getting out," Bragg told The Associated Press in an electronic message using Twitter.
Kentucky officials set up shelters for stranded motorists at churches and public schools along the Interstate, but the Braggs were too far away and could not make it to them.
"Emotional breaking point coupled with exhaustion has been met," Kate Bragg tweeted just after 11 p.m. after spending about eight hours on the highway, later adding: "Sleeping on the interstate… Don't they normally caution against this?"
Kate Bragg posted on Twitter that the couple finally got off the interstate at about 2:30 a.m., using online mapping services to find a way around the clogged interstate using side roads that had been plowed.
Traffic was slowly moving slowly Saturday along the 30-mile stretch, from Berea to London, according to Buddy Rogers, spokesman for Kentucky Emergency Management. All local hotels were booked, Cochran said. He described people still stuck on the road, some milling about at exits or leaving their cars to seek out the few stores and restaurants nearby.
About 65 people had taken shelter at the West London Baptist Church Saturday morning, according to Amanda Shotton, disaster program manager for the American Red Cross in Kentucky. She said local grocery stores and restaurants provided food for firefighters to take to stranded motorists who couldn't reach shelter.
Mariclare Lafferty and her family were on their way home to Hamburg, New York, when they stopped at a hotel in Knoxville to avoid the storm. But they had no heat after their hotel lost power, so they got back on the interstate, only to get stuck for five hours.
"I was very scared, very nervous," she said. "They don't plow their roads in Kentucky. We're from Buffalo, and we're used to a plow going down the road every 20 minutes. We're just not used to this here."
Lafferty said she and her family have been at the West London Baptist Church shelter since about 2 a.m. and plan to stay there for most of the day.
"They're treating us very well, but we're very tired," she said.
This is the second time in less than a year Kentucky drivers have seen major delays because of snow. Last March, thousands of drivers were stuck on I-65 in western Kentucky, some for up to 24 hours, after two feet of snow fell over several days.
Update 11:15 AM EST: Tian Tian, the panda at the National Zoo in Washington, D.C., plays in the snow.
Update 9:57 PM EST: CNN reports 130,000 people without power.
Around 130,000 customers are already reported to be without power in storm https://t.co/mB1EZgDZwZ #blizzard2016 pic.twitter.com/GqnH2g4QmQ

— CNN (@CNN) January 23, 2016
Update 9:13 PM EST: Some intrepid locals are taking advantage of the Capitol's new law allowing sledding on the Hill.
Sledding on Capitol Hill is LEGAL, and DC residents are taking full advantage. #blizzard2016 https://t.co/MfefjQm6fJ pic.twitter.com/ez1uS3g3B5

— NBCWashington (@nbcwashington) January 23, 2016
Update 8:30 PM EST: CNN reports that Virginia authorities have logged over 500 accidents on Virginia roads.
Police saying already 500+ accidents reported in Virginia https://t.co/K4UJ0UBtmq #blizzard2016 pic.twitter.com/vEypCMyBJc

— The Situation Room (@CNNSitRoom) January 22, 2016
Update 7:59 PM EST: Ride share company Lyft vows not to raise prices during storm, according to the Washington Post.
Update 7:04 PM EST: The cost of the storm could be between $585 to $850 million, according to NBC News.
Update:  6:43 PM EST: NASA tracks Winter Storm Jonas.
#Blizzard2016 is hitting much of the mid-Atlantic & we're keeping track from space. See how: https://t.co/VzyxKGJlyO pic.twitter.com/VfJRk3uv8W

— NASA (@NASA) January 22, 2016
Update 6:11 PM EST: Country Star Brad Paisley indulges in some boy band storm name humor…
If you think winter storm Jonas is something, wait til you see winter storm Hanson.

— Brad Paisley (@BradPaisley) January 22, 2016
Update: 6:07 PM EST: New Jersey Governor and GOP presidential hopeful Chris Christie leaves the campaign trail to return home as snow storm looms, Politico reports.
Update 6:02 PM EST: NBC reports that at least 10 people have died due to the storm.
Update 5:27 PM EST: NASA's latest satellite image.
Intense #Blizzard2016 also caused severe weather in Gulf Coast. Satellites see extreme rain: https://t.co/delTBIzjri pic.twitter.com/LUfNQqVL3Z

— NASA (@NASA) January 22, 2016
Update 5:20 PM EST: The National Zoo's baby panda Bei Bei sees snow for the first time.
Bei Bei, the National Zoo's very darling panda cub, experiences his first snow in D.C.: https://t.co/VXPZbNGnmF pic.twitter.com/bKkBF3Pi77

— CBSN (@CBSNLive) January 22, 2016
Update 5:15 PM EST: Nick Jonas of the Jonas Brothers (singers) tweets that winter storm Jonas is "awkward."
So… Winter storm JONAS is coming. This is awkward.

— Nick Jonas (@nickjonas) January 21, 2016
Update 5:03 PM EST: Shoppers clear stores out of food and alcohol as the storm hits. "Alcohol keeps you warm, not so much bread or milk," said Danielle Myrick, who bought six mini bottles of Pineapple flavored liquor at a Richmond, Virginia ABC store on Thursday night according to wtvr.com.
Grocery stores in New Jersey are packed and getting cleared out according to 6abc.com. "We sold probably about 10-15 snow blowers last night, plus an additional five, maybe 6, over the Internet over the last 36 hours," said the Cherry Hill Wegman's Assistant Manager according to 6abc.
Update 4:58 PM EST: The storm has caused enormous numbers of airline delays and cancellations. "More than 3,300 flights were canceled for Saturday, including all flights into and out of Philadelphia International Airport. All major airlines have issued waivers for travel over the weekend, allowing passengers to rebook onto earlier or later flights to avoid the storms," according to Fox News.
Update 4:51 PM EST: The Washington Post calls the storm "Snowzilla."
We hereby name this winter storm 'Snowzilla' https://t.co/Eg0anPCLhc

— The Washington Post (@washingtonpost) January 22, 2016
Update 4:28 PM EST: Guards continue to stand watch at Arlington National Cemetery's Tomb of the Unknown Soldier.
Photo of the Day: The Tomb of the Unknown Soldier covered in snow at Arlington National Cemetery. pic.twitter.com/NOnOMcaEm3

— Fox News (@FoxNews) January 22, 2016