Donald Trump and Bernie Sanders can potentially rock the political establishment tonight as Iowans kick off the 2016 election season.
Stay tuned to Breitbart News for live updates throughout the day/evening. Keep track of the GOP caucus results here. Voting starts at 7 PM central time.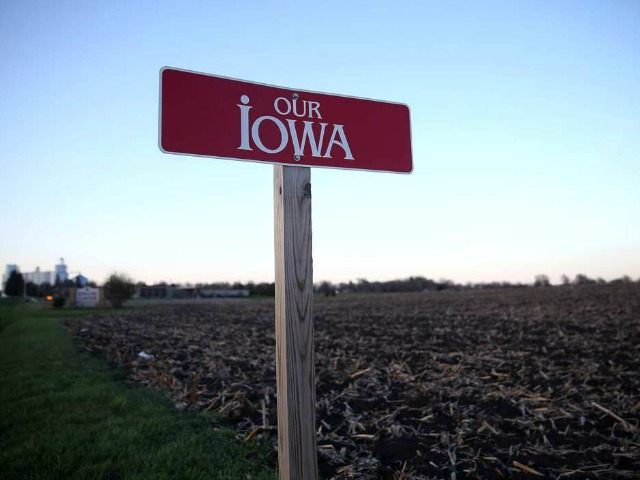 12: 23: Breitbart's Nolte has repeatedly made the same points about the state of polling:
Didn't every public poll show Trump leading? (Any w Cruz ahead?) Shows that even weighted averages not useful when state of polling a mess.

— Josh Kraushaar (@HotlineJosh) February 2, 2016
12: 22: Fiorina reportedly skipped her party and flew to New Hampshire:
@CarlyFiorina no show at her party as @BernieSanders on the tv @WHOhd #iacaucus pic.twitter.com/hmi6wZK4Pw

— Roger Riley (@rogerriley) February 2, 2016
12: 20: Funny:
once again, Bernie Sanders is set to have his day ruined by the 1%

— colley2k16 (@JamColley) February 2, 2016
12: 17: DNC Chair Wasserman-Shultz reportedly is not even declaring a victory for Clinton:
Whoa DNC chair won't even say Clinton won: "Tonight's caucus results have set the stage for .. a Democrat who will energize voters" in Nov

— Ed Henry (@edhenry) February 2, 2016
12:10: It turns out "Sticker Boy" is not even a Clinton supporter:
Hey, mom, I'm on TV with Hillary. Love, Sticker Boy. pic.twitter.com/qojI3kYZ0S

— Bob Lonsberry (@BobLonsberry) February 2, 2016
11:47: Sanders gets ready to speak as his supporters start chanting "Bernie! Bernie!" and "Feel the Bern! Feel the Bern!"
The Socialist thanks Iowa and says "nine months ago, we came to this beautiful state, we had no political organization. We had no money. We had  no name name-recognition and we were taking on the most powerful political organization in the United States of America."
Sanders says it looks like "we are in a virtual tie." He also says it looks like "we'll have half of the Iowa delegates." He says he wants to congratulate Clinton to lukewarm applause. He says he wants to thank O'Malley to louder cheers and says O'Malley ran an issue-oriented campaign and contributed a lot to the dialogue. He says as he thinks about what happened tonight, "the people of Iowa has sent a very profound message to the political establishment, the economic establishment, and, by the way, to the media establishment." The crowd goes wild. He says "and that is, given the enormous crises facing our country, it is just too late for establishment politics and establishment economics." He says "what the American people have said" is "we can no longer continue to have a corrupt campaign finance system." He says he is the former Chairman of the Senate's Veterans Committee and has had the privilege of meeting so many veterans. Sanders said they were protecting a democracy of one person, one vote and not of "billionaires buying elections."
"I am overwhelmed and I am moved by the fact that millions of people throughout this country have helped volunteer for our campaign," he says, pointing out that his campaign has received 3.5 million contributions. He says the average contribution was $27.
"We do not represent the interest of the billionaire class, Wall Street, and corporate America," he says, "We don't want their money." He says he is proud that he is the only candidate on the Democratic side without Super Pac and the reason he has done so well in Iowa and will do well in New Hampshire and the other states that follow is because Americans are saying "no to a rigged economy."
"They no longer want to see an economy in which the average American works longer hours for lower wages while almost all new income and wealth is going to the top one percent," he says. "What the American people understand is this country was based and is based on fairness… it is not fair when the top 1/10 of one percent today owns almost as much wealth as the bottom 90 percent." He keeps railing against the rich and asks if his supporters are ready for a "radical idea." He says that "radical idea" is to create an economy that works for working Americans and not just billionaires. He rails against "starvation wages" and vows to wage the minimum wage to $15/hour and get pay equity for women.
[CNN and MSNBC are still showing Sanders's speech. Fox News is not.]
Sanders says he believes that health care "is a right and not a privilege" and touts his "Medicare for All/single-payer program."
And he declares he will pay for his programs by imposing a "tax on Wall Street speculation" and sounds gleeful when speaking about raising taxes on Wall Street to help the middle class.
Sanders addresses his potential minority supporters by talking about criminal justice reform and then shifts to climate change, declaring that the "debate is over and climate change is real."
He says Iowans have started a "political revolution." He says they will "transform this country" when "millions of people come together, including those who have given up on the political process," and say "enough is enough!"
[It seems like the only person who did not give a "victory speech" tonight was Trump]
11:42: CNN points out that Sanders supporters at his party booed when Clinton said she was a "progressive" who "got results" in her "victory" speech. Supporters also reportedly shouted "she's a liar" as the campaign reportedly cut off MSNBC's feed.
11:40: Breitbart's Michelle Fields sends some photos from Cruz's victory party: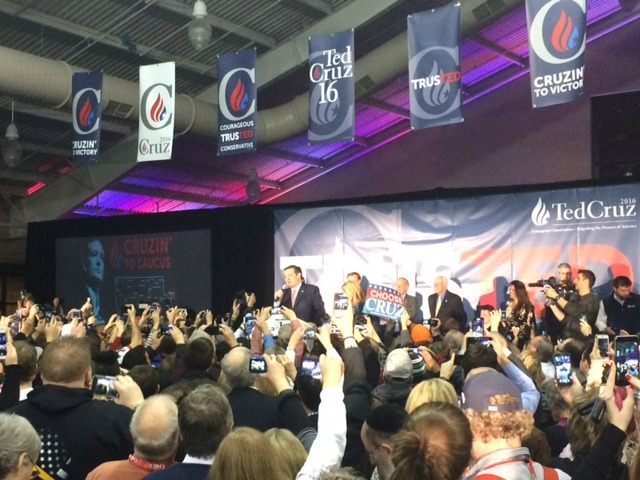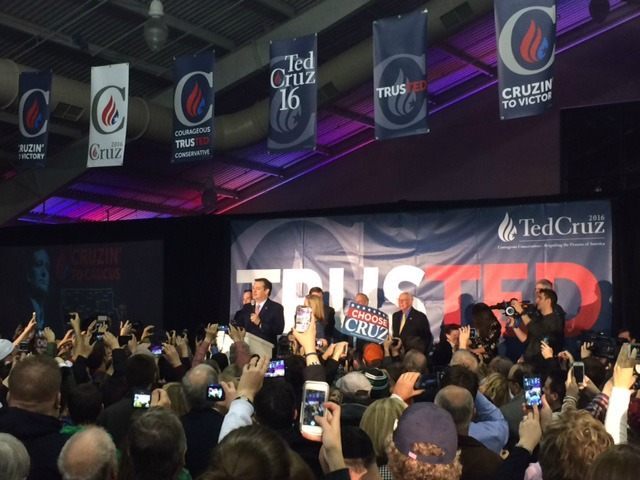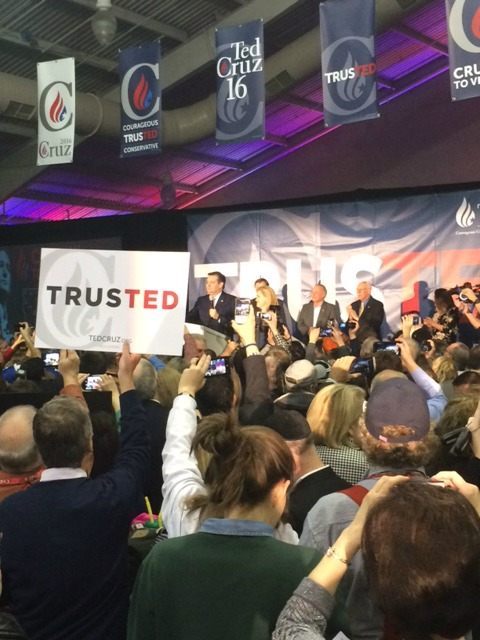 (Photos: Michelle Fields/Breitbart News)
11:32: Clinton "breathing a big sigh of relief."
Clinton sounds shrill compared to Cruz, who seemed in command. Clinton says Democrats have to be united against Republican who "want to drive us apart." She says she has followed the GOP campaign closely and understand what they are appealing to and vows to stand against it. She says Republicans want to "rip away the progress we have made" and says "we can't afford that." Clinton says she is "breathing a big sigh of relief" tonight (truer words may never have been spoken) but she did not definitely declare victory though her aides have.
11:30: MSNBC/CNN switch to Clinton. Fox News sticks with Cruz.
11:2o: Cruz gets ready to deliver his victory speech.
"God Bless the great state of Iowa," he says.
Cruz says he first wants to say, "to God be the Glory."
"Tonight is a victory for the grassroots," he continues. "Tonight is a victory for courageous conservatives across Iowa and all across this great nation." He says Iowa has "sent notice that the Republican nominee and the next President of the United States will not be chosen by the media. Will not be chosen by the Washington establishment. Will not be chosen by the lobbyists. But will be chosen by the most incredible, powerful force where all sovereignty resides in the nation–by We the People, the American people."
He continues by saying that thanks the hard work of courageous conservatives across the state, he got the most votes every by a Republican primary winner in Iowa. He says tonight is a victory for millions of Americans who have "shouldered the burden of seven years of Washington deals run amok" and for Americans who have watched in dismay as career politicians in both parties "refused to listen and failed to keep their commitments to the people." Cruz says tonight is also a victory for those who think that "no one personality can right the wrongs done by Washington." He speaks up for the Constitution and says tonight is a victory for those who believe that our rights come from God and not from any party, including the Tea Party. He says the federal government's role is to defend those fundamental rights. Cruz says Iowa has proclaimed to the world that "morning is coming" and says that from day one, "this campaign has been a movement for millions of Americans across this country" and "whatever Washington says, they cannot keep the people down."
He says that when the Washington lobbyists settled on a candidate and the media said a conservative cannot win, courageous conservatives poured in contributions and said, "yes, we can."
[Interesting: As Cruz fires up his audience, it seems like Clinton is trying to "bigfoot" him as she is getting ready to speak right in the middle of Cruz's fiery speech. This is why it is important, as Cruz and Rubio did, to thank supporters later in the speech (Cruz started to thank a lot of his supporters/political operatives seconds after some channels switched to Clinton) and get the main message out in the beginning. Cruz effectively got his core message out to conservatives right in the beginning. Cruz needs a better background for these speeches. His effective "TrusTed" logo was way too big and television viewers could not see it.]
11:10: NBC's Chuck Todd also points out there is nothing to back up the Clinton campaign's confidence:
There is nothing in our models that backs up the Clinton campaign confidence that they won. They still might. But it is thiCsLose

— Chuck Todd (@chucktodd) February 2, 2016
11:08: Interesting prediction from Norm Ornstein:
Prediction: if Hillary wins by 1 to 2%, press will say it's a wash. If Bernie wins by one vote, press will say it's a revolution

— Norman Ornstein (@NormOrnstein) February 2, 2016
11: 07: Decimal points matter for the post-Iowa narrative for Clinton/Sanders and even Trump/Rubio if Rubio continues to close the gap. Just ask Hillary Clinton after her narrow third-place 2008 finish in Iowa behind John Edwards.
11:o5: Cruz tells the Associated Press that his Iowa victory is a victory for the conservative grassroots over the "Washington Cartel."
11: 01: Paul will remain in the race and head to New Hampshire.
10:55: Left-wing BuzzFeed jabs Rubio for his "third-place" win:
"OMG THANK U FOR THIS GOLD MEDAL" – marco rubio coming in third at the olympics

— Jessica Misener (@jessmisener) February 2, 2016
10:50: Trump address his supporters and says, "I love you people." I says he "absolutely" loves the people of Iowa. He says that when he started this journey on June 16, he was told by everybody "do not go to Iowa" because you can't even finish in the top ten. Trump says he decided, "let's give it a shot." He says he is "honored" for his second-place finish and wants to congratulate Cruz and all the candidates, including Mike Huckabee, who Trump says has become a really great friend. Trump says "we're just so happy with the way everything worked out." He thanks his family for being "so amazing" and "so supportive." Trump says that he is 28 points ahead in New Hampshire and "we're leaving tonight" and "tomorrow afternoon, we'll be in New Hampshire." He says he hopes to be "proclaiming victory" in New Hampshire. Trump says "we will go on to get the Republican nomination" and beat Hillary or Bernie or whoever the hell they throw up there. He vows to be back many more times and says he may even buy a farm. Trump's speech could have been better. He should have had second-place speech prepared in case he finished second in any state but it seems like he did not.
10:35: A glowing Rubio addresses his supporters and says this is the moment "they said would never happen." He says for months people said they had no chance because he offered too much optimism in the face of anger. He says "they told me we had no chance because my hair wasn't gray enough and my boots were too high" and his detractors said he needed to wait his turn in line. Rubio says Iowans sent a message: "After seven years of Barack Obama, we aren't waiting any longer to take our country back." Rubio says "this is not a time for waiting" because "everything that makes this nation great hangs in the balance." Good use of time by Rubio by not using the precious time he has on national television to endlessly thank friends, family, and operatives. Rubio says that if Sanders or Clinton get elected, "we will be a great nation in decline." He says Obamacare "becomes permanent" if they win and Obama's "unconstitutional executive orders" become permanent while America's military declines and liberals control the Supreme Court. He says Clinton is "disqualified from being president of the United States" because "she thinks she's above the law." He says Clinton can never be "Commander-in-Chief" because "anyone who lies to the families of people who have lost their lives in the service to this country can never be the Commander-in-Chief of the United States." Rubio thanks Iowans because he has taken the first step to winning the GOP nomination and promises that when he is the nominee, "we are going to unify this party and we are going to unify the conservative movement" and "grow the conservative movement" by taking our message to people who are "struggling paycheck to paycheck" and bring them to our side. He also thanks "all-powerful and mighty God" and his family. He said he wants to congratulate Cruz for earning his victory and thanks Huckabee as well. He says his family's story is the story of America and calls for a "new American century." Rubio rightfully seems ecstatic and his speech appeals to voters in South Carolina in addition to those in New Hampshire. He vows to be back in October and September of this year because "when I'm the nominee, we are going to win Iowa and we are going to win this election for this country."
.@marcorubio: When I am GOP nominee, we are going to unify this party and the conservative movement. #IowaCaucus pic.twitter.com/J1DF9I3RlL

— FOX Business (@FoxBusiness) February 2, 2016
10: 32: From Breitbart's Michelle Fields: Cruz crowd at victory party goes wild when CNN announces Cruz victory: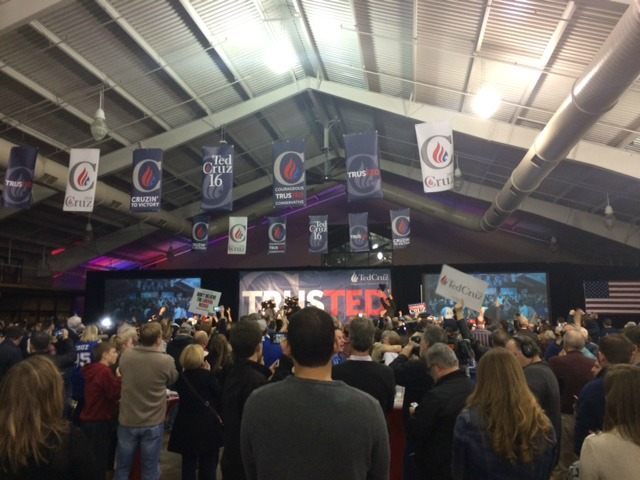 (Photo: Michelle Fields/Breitbart News)
10: 30: Huckabee, who won the caucuses in 2008, will suspend his campaign, according to a CNN report.
10:28: From Breitbart's Alex Swoyer: As CNN called the Iowa caucus for Ted Cruz, supporters at Donald Trump caucus party started booing.
10: 26: Cruz headquarters ecstatic.
Huge cheers here at Cruz headquarters as Trump's numbers tick down and Rubio's tick slightly up.

CRUZ 28
Trump 24
Rubio 23

— Teddy Schleifer (@teddyschleifer) February 2, 2016
10:25: CNN Projects Cruz Will Win Iowa.
10: 24: Rubio may win Iowa's larges country (Polk, County). A lot of late-deciders seem to go for Rubio:
Marco Rubio wins my home precinct in West Des Moines, Polk County suburb. He's leaning on Polk to help him #iacaucus pic.twitter.com/pF7B9YiTBc

— Jennifer Jacobs (@JenniferJJacobs) February 2, 2016
10: 23: NBC News calls Iowa for Cruz.
10: 17: Rubio is closing in on Trump for second place and now trails him by a percentage point. A second-place finish for Rubio may not bode well for Messrs. Bush, Kasich, and Christie in New Hampshire.
10: 15: O'Malley's "sad" victory party:
The scene at his victory party: "The saddest picture in all of politics tonight." https://t.co/lgFk7PbdLV

— Mashable (@mashable) February 2, 2016
10: 12: Interesting note on Sanders:
The one model we have showing Sanders ahead clarifies his challenge: it has him winning 57% of the vote left in Polk. He's down 53-46 so far

— Nate Cohn (@Nate_Cohn) February 2, 2016
10:10: From Breitbart's Charlie Spiering:
The Rubio campaign is claiming momentum as the results come in strong for their campaign. Rubio campaign managers tweeted their amazement on Twitter moments ago:
We blew past all our vote goals an hour ago. Feeling very good. We are still climbing. #teammarco #rubiowa

— Todd Harris (@dtoddharris) February 2, 2016
Damn good night for @TeamMarco ! And it looks like its gonna keep getting better based on the precincts still to come

— Terry Sullivan (@OnBackground) February 2, 2016
10:05: Pundits are wondering what Trump's reaction will be if he loses Iowa. It will be interesting to see if he has the political savvy to use a potential loss to set up wins in other states like Obama did after New Hampshire:
Can only imagine the awesomeness that will spew forth from @realDonaldTrump's twitter feed if he loses tonight.

— Tom Bevan (@TomBevanRCP) February 2, 2016
10:00: Breitbart's Dr. Susan Berry finds NARAL/Planned Parenthood Tweets supporting Hillary:
Karen and Melanie are caucusing for @HillaryClinton bc she has the most experience. #IowaCaucus#ImWithHerpic.twitter.com/58IucLc0So

— NARAL (@NARAL) February 2, 2016
AFSCME member Bambi supports @HillaryClinton bc she thinks it's time for a woman president! #iacaucus #ImWithHer pic.twitter.com/sC3I7VxKHc

— NARAL (@NARAL) February 2, 2016
The United Nations affirmed abortion is a human right. Why would presidential candidates campaign aggressively against it? #NotMyCandidate

— Planned Parenthood (@PPact) February 1, 2016
9:55: CNN reports that former Maryland Governor Martin O'Malley will suspend his campaign.
9:40: Multiple reports–from CNN to the Des Moines Register–suggest that Republicans will have a record turnout north of 150,000 caucus-goers.
9:38: O'Malley supporter heads over to Sanders. There were reports that Clinton supporters may try to game the system to make O'Malley viable at some caucus sites:
WATCH: Martin O'Malley supporter heads over to Bernie Sanders' corner at caucus in West Des Moines. #IowaCaucushttps://t.co/ATvONA6crB

— ABC News Politics (@ABCPolitics) February 2, 2016
9:36: Interesting, given Branstad warned Iowans against nominating Cruz:
Interesting that @TerryBranstad son Eric spoke for @realDonaldTrump at Des Moines Precinct 62, over 490 caucusers.102 new registrants.

— Laura Ingraham (@IngrahamAngle) February 2, 2016
9:35: Top Cruz aide wonders if Fox News employs anyone who doesn't shill for Rubio in a Tweet that has been deleted:
Cruz aide frustrated by Fox — representative of some conservatives' disillusionment with the channel https://t.co/3MbvDHH6sP

— Brian Stelter (@brianstelter) February 2, 2016
9:33: Jeb's waste of resources:
Jeb Bush is projecting to win one Iowa caucus vote for every $25,000 spent by Right to Rise. https://t.co/r2tI2Y0rV1

— Nate Silver (@NateSilver538) February 2, 2016
8:57: According to Fox News's entrance poll, Trump only trails Cruz by only two percentage points among Evangelicals:
Among evangelical Christians, Ted Cruz polled the best at 26 percent, followed by Donald Trump at 24 percent, Marco Rubio at 21 and Ben Carson at 12.

As for first-time voters, Trump led the way with 33 percent, Rubio came in second with 21 percent, followed by Cruz at 18 and Carson at ten.
8:53: From Breitbart's Charlie Spiering:
After holding three campaign events in Iowa this morning New Jersey governor Chris Christie traveled back to New Hampshire to renew his campaign there.

Christie is currently at an event at Nashua Community College in Nashua, NH.

He hopes to be the number one governor running for president in Iowa, beating Mike Huckabee, John Kasich, and Jeb Bush.
8:52: Early estimate from CBS News has Trump ahead in Iowa with Rubio and Cruz in a dead heat for second:
CBS News Estimates have Donald Trump ahead in #iowa. Cruz and Rubio fighting it out for second? pic.twitter.com/rR2D4bh6b6

— Britain Elects (@britainelects) February 2, 2016
8:50: From Boyle: MICHELLE FIELDS reporting for Breitbart News from precinct Clive 6 at Waukee Middle School in Waukee, Iowa, at the GOP caucus there says turnout is so high that caucus goers are being given green slips of paper to make their own ballots.
The incredible turnout levels so far throws many predictions by political observers into flux and most campaigns behind the scenes are now saying this may end up being a long night in Iowa. (see below for photos).
8:48: Trump doing well among first-time caucus-goers:
First time caucus-goers: Trump 33, Rubio 21, Cruz 18
Previous caucus-goers: Cruz 25, Trump 23, Rubio 22

— elrian Gray (@adrian_gray) February 2, 2016
8:45: According to CNN's entrance polls, "about 4-in-10 Democrats are first-time attendees, while about 60% said they had attended before. On the Republican side, about 4-in-10 early arrivers say this is their first caucus, a bit more than said so in 2012."
8:40: From Breitbart's John Nolte:
Early entrance poll. Hillary #1 with 50%. pic.twitter.com/ErYfRbJNzq

— John Nolte (@NolteNC) February 2, 2016
8: 37: Breitbart's Michelle Fields reports that Waukee Middle School did not expect this many people and ran out of ballots.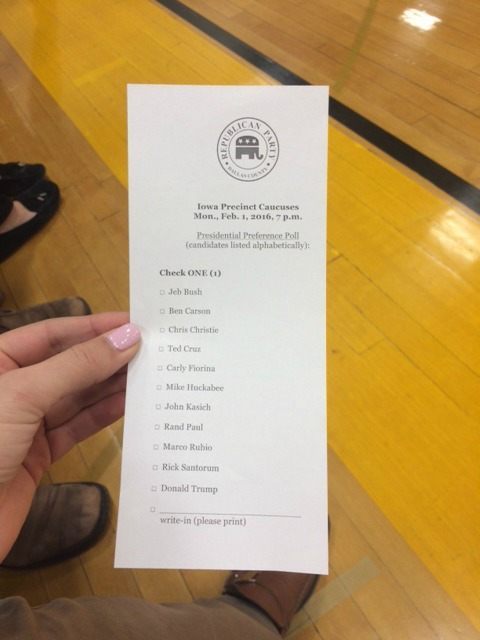 They are now passing these little green pieces of paper out for people to use as ballots.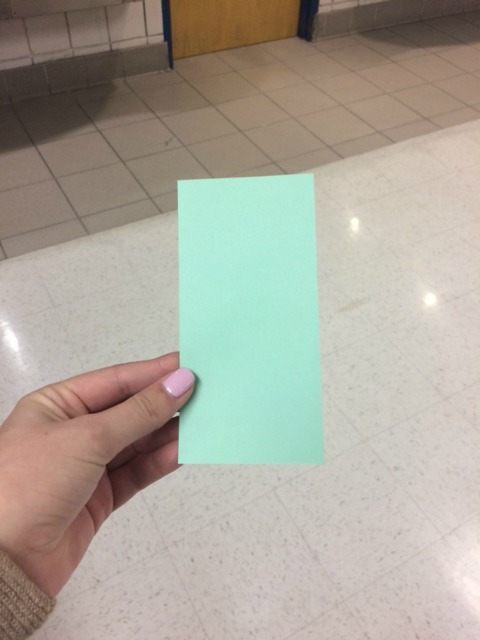 8:36: From Breitbart's John Nolte:
Early entrance poll. Trump #1 at 27%. pic.twitter.com/3fgVZdHJjY

— John Nolte (@NolteNC) February 2, 2016
8:35: From Breitbart's Adelle Nazarian:
Counterfeit black man Shaun King weighs in, attempts to take swipe at HRC:
I'm disturbed by Clinton operatives saying they are hoping for a smaller turnout. That they "need" that is very Republican of them.

— Shaun King (@ShaunKing) February 2, 2016
Check out this turnout #CaucusForBernie pic.twitter.com/pV3A8d821z

— Erik Mueterthies (@mehterteez) February 2, 2016
Check out this age breakdown on the Dem side… pic.twitter.com/56UKfxNbxg

— Harry Enten (@ForecasterEnten) February 2, 2016
When you run out of room at an #iacaucus, you make room in the kitchen. #thisiswhatscooking pic.twitter.com/xv4n5Vd2R3

— Jennifer Dukes Lee (@dukeslee) February 2, 2016
Really strong turnout for @tedcruz here in Iowa City. This race is TIGHT people pic.twitter.com/7SQnC4OEGO

— Maeve Reston (@MaeveReston) January 31, 2016
Beautiful turnout for @BernieSanders at Precinct 63 in Polk County, IA #FeelTheBern #IAcaucus2016 #iacaucus pic.twitter.com/wRrhvVxjvD

— DemocracyForAmerica (@DFAaction) February 2, 2016
Very large turnout for Des Moines Precinct 15 Democrats. Still people in line to check in pic.twitter.com/RRMoa2fwoB

— Jamie Dupree (@jamiedupree) February 2, 2016
8:30: From Breitbart's Charlie Spiering:
Where is Marco Rubio?

Tonight Marco Rubio will join supporters at the Marriott Des Moines Downtown following the caucuses to react to the results. The doors open at 8:00 pm CT.
8:25: Breitbart's Michelle Fields sends a photo from Waukee Middle School right before the caucus is about to start: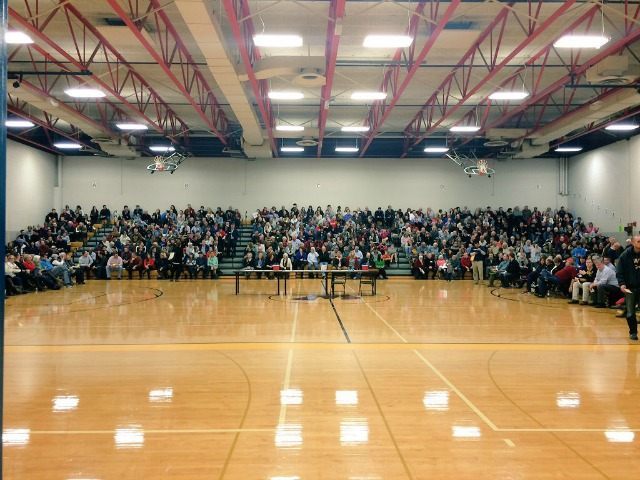 8:21: From Boyle:
One Scott County GOP site that had 19 voters 2012 has more than 100. At #ISU – GOP site expecting 100 or so has maybe 800. #iacaucus

— John King (@JohnKingCNN) February 2, 2016
Caucus update: The turnout is significantly larger than the county auditor predicted. The line is still out the door pic.twitter.com/e0cOBzFeaV

— está (@ejstanford) February 2, 2016
Caucus update: The turnout is significantly larger than the county auditor predicted. The line is still out the door pic.twitter.com/e0cOBzFeaV

— está (@ejstanford) February 2, 2016
"If turnout is what we're hearing it is… tonight could be a historic evening." – @treyhardin16 | Listen: https://t.co/0eB1uZ8LWM

— ABC News Radio (@ABCNewsRadio) February 2, 2016
Precinct 41 Dem turnout so big they're telling people to leave the Perkins Elementary gym and caucus outside in parking lot

— Peter Hamby (@PeterHamby) February 2, 2016
8:20: From Swoyer: Donald Trump and Carly Fiorina turn up at same caucus site in West Des Moines, according to CNN.
8:19: From Boyle: As the Iowa caucuses opened, as a show of strength, former Pennsylvania Sen. Rick Santorum announced a forthcoming ambitious 46 county statewide tour in South Carolina starting on Wednesday.
8:15: From Boyle: Entrance poll results show a slight lead from Trump.
8:10: From Boyle (Tweets on turnout):
I am at a Republican caucus on the east side of Des Moines, Democratic leaning blue collar area. There is huge turnout here

— Ben Jacobs (@Bencjacobs) February 2, 2016
Higher than expected turnout at D and R caucuses at this site

— Christopher Hayes (@chrislhayes) February 2, 2016
turnout appears to be high

— Dylan Byers (@DylanByers) February 2, 2016
Very large turnout on north side of Des Moines for #Iowa2016 caucuses. Lots of young people. Lots of 1st-timers. pic.twitter.com/F7lNGxYGYl

— John Nichols (@NicholsUprising) February 2, 2016
Dallas Co GOP chair Trevor de Haan announces precinct has already set record turnout — w 10 minutes left to go pic.twitter.com/CCk1hMre85

— Josh Kraushaar (@HotlineJosh) February 2, 2016
Lots of #IAcaucus sites reporting much higher turnout than in 2012.

Let me know if yours is the same or different. https://t.co/5VtgArqtKi

— Frank Luntz (@FrankLuntz) February 2, 2016
Trump is appearing at a caucus site in West Des Moines with huge turnout

— Maggie Haberman (@maggieNYT) February 2, 2016
8:05: Polling found that Republican minivan voters in Iowa (39.5%) favored Cruz, who showed up to a caucus location in a minivan:
Here is @tedcruz, rollin to caucus in a minivan pic.twitter.com/nRCoqlPlHl

— Benny (@bennyjohnson) February 1, 2016
7:57: A Trump voter reportedly last voted in 1968. She was a part of Nixon's "silent majority."
Deborah Humphrey is at her caucus to support Trump. She says she last voted in 1968 for Richard Nixon pic.twitter.com/7WrosT9jUO

— Ben Jacobs (@Bencjacobs) February 2, 2016
New voters certainly will benefit Trump:
Keep hearing there's high turnout at caucus sites. We won't know until we know, but on its face it bodes well for Trump.

— Katy Tur (@KatyTurNBC) February 2, 2016
7:55: Breitbart's Neil Munro finds images of Caucus Night. Anecdotal evidence of packed crowds is good news for Trump:
In line waiting to caucus #IowaCaucus huge turnout – weather not an issue in Des Moines pic.twitter.com/VjKgfvlMmi

— Scott (@scottinankeny) February 2, 2016
CNN reporting massive turnout in Iowa on both sides. "Clinton staffers nervous." Suggests Trump win, Sanders/Clinton nail biter. #IowaTODAY

— Graham White (@GrahamWhite1010) February 2, 2016
Sweaty packed gym. Turnout intense at Perkins Elementary. #IowaCaucus pic.twitter.com/sahRu2E0wq

— Brad Anderson (@BradAndersonIA) February 2, 2016
Sweaty packed gym. Turnout intense at Perkins Elementary. #IowaCaucus pic.twitter.com/sahRu2E0wq

— Brad Anderson (@BradAndersonIA) February 2, 2016
Wow. Unreal turnout! #iacaucus #ourcaucus pic.twitter.com/rjEf2uWDUU

— Richard Dedor (@RichardDedor) February 2, 2016
7:40: Breitbart's Alex Swoyer: Video of media setting up at Trump's Caucus Party. She also points out that Trump is still doing media appearances as people start to go to their caucus sites:
7:35: Donald Trump and Bernie Sanders are relying on social media to get some of their supporters to their caucus sites. They have dominated the Facebook conversation on Monday. And they also have gained the most new Facebook fans throughout the day: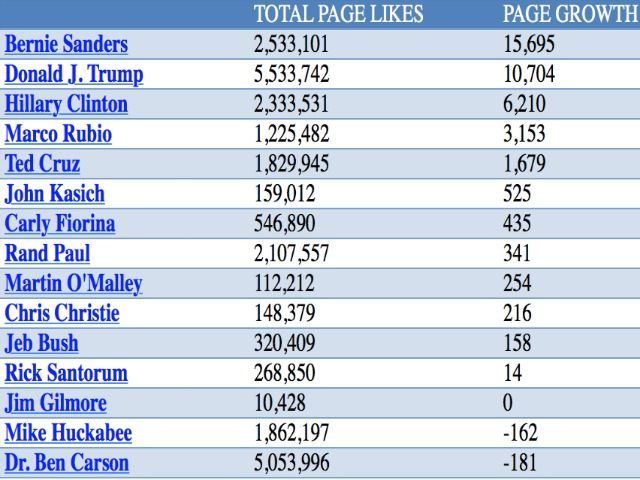 7:25: After his ridiculous and unprompted attacks on Sarah Palin (without any shred of evidence whatsoever) earlier in the day, Rep. Steve King (R-IA) tells Breitbart News Washington Political Editor Matt Boyle that the Cruz campaign is "confident without being cocky." Read the full report here.
7:10 PM: Blizzard Expected to hit Western Iowa around midnight.
#blizzard & #winterstorm still for Tue across IA. Heavy Snow, Blowing Snow and Whiteout Conditions expected #iawx pic.twitter.com/NehOzQ8m17

— NWS Des Moines (@NWSDesMoines) February 1, 2016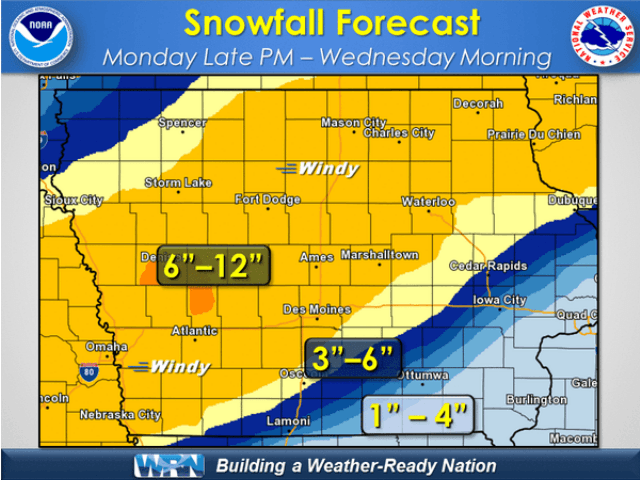 7:00 PM: When he is not spewing conventional wisdom or repeating what GOP beltway hacks/insiders are whispering to him, Chuck Todd occasionally will speak some straight talk. If Trump resoundingly wins Iowa, it may be nearly impossible to stop him if he then wins New Hampshire. It would be a political earthquake. But I'm more interested to see what will happen if Trump loses an early state primary. Does he have the political sophistication to use a potential loss to set up victories down the road that Obama did after his New Hampshire loss in 2008. It was after he lost in New Hampshire that Obama delivered his "Yes, we can!" (which conveniently translates to "Si, Se Puede" in Spanish) speech that arguable helped him galvanize even more of his supporters in the following states to give Obama the nomination and the presidency. Can Trump pull off something familiar? That, to me, is the $1 billion question.
As overhyped as Trump's been at times, we may b underplaying the political earthquake a Trump victory cd set off tonight @NBCNightlyNews

— Chuck Todd (@chucktodd) February 1, 2016
6:35: Secret Ballot Could Help Donald Trump:
Unlike Democrats, Iowa Republicans cast secret ballots at their caucuses, and that may benefit Donald Trump, especially with non-blue-collar voters who may be reluctant to publicly declare their support for Trump.
Trump's campaign flyer explicitly informs potential caucus attendees that the "ballot is Secret," with "Secret" written in bold, which is no accident.
A Morning Consult analysis recently found that Trump polls considerably better in online polls than in live telephone interviews by about six percentage points and "his [hidden] advantage online is driven by adults with higher levels of education."
"Among adults with a bachelors degree or postgraduate degree, Trump performs about 10 percentage points better online than via live telephone," the study found.
Blue-collar voters who lack college degrees, which is the stereotype of typical Trump voters, are not hesitant to wear their support for Trump on their sleeves.
But Trump gets support from a huge swath of the GOP electorate, even moderate Republicans and those with college degrees and higher incomes.
If these voters had to publicly declare their support for Trump like Democrats have to at their caucuses, though, some may be reluctant to do so just like moderate women who support Sarah Palin and are often hesitant to reveal their support in pubic because it may not be "socially acceptable" to admit support for someone whom their peers like to bash in public.
But the secret ballot ensures that some of Trump's supporters will not risk social ostracism on Monday evening.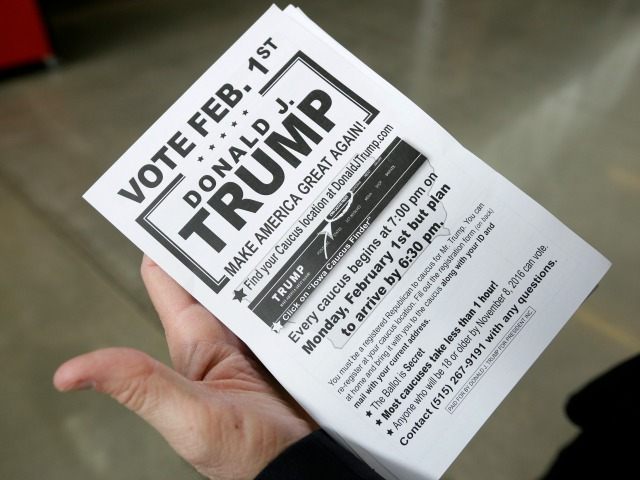 (Photo: Associated Press)
6:00: Here's what's at stake for Democrats and Republicans tonight per the Associated Press:
DEMOCRATS HAVE 44 DELEGATES AT STAKE
Iowa Democrats award delegates proportionally, based on the statewide vote as well as the vote in individual congressional districts.

Candidates must get at least 15 percent of the statewide vote to win any statewide delegates. They must win at least 15 percent of the vote in individual congressional districts to win the delegates allocated to those districts.

The threshold could be a problem for former Maryland Gov. Martin O'Malley, who is polling below 15 percent in pre-election polls in Iowa.

In a tight contest, it is possible for two candidates to split the delegates evenly.

There are 4,763 delegates to the Democratic National Convention, so it takes 2,382 to win the nomination.

___

REPUBLICANS HAVE 30 DELEGATES AT STAKE

Republicans also award delegates proportionally, based on the statewide vote. But there is no threshold for winning them. That means a Republican candidate could win a single delegate with as little as 1.67 percent of the vote, depending on how the rounding works out.

There are 2,472 delegates to the Republican National Convention, so it takes 1,237 to win the nomination.
5:50: Here's how Iowans voted in 2012 (per the Des Moines Register/Morning Consult). According to demographics expert Dante Chinni, since Trump's supporters include voters who lack college degrees in addition to those who are less religious, he will "find friendly territory in the state's southern counties, such as Decatur, Lucas, Monroe and Lee. He may also do well in counties that run through the center of the state, such as Guthrie, Jasper and Adair." Chinni argues that "if those counties go for the New York businessman, it will be a signal that Mr. Trump's core supporters stuck with him on Monday night."
Chinni also adds that in 2012, Santorum won "34 of the 44 counties west of Polk," and Cruz must run up big margins in this socially-conservative territory big or "he won't win the state."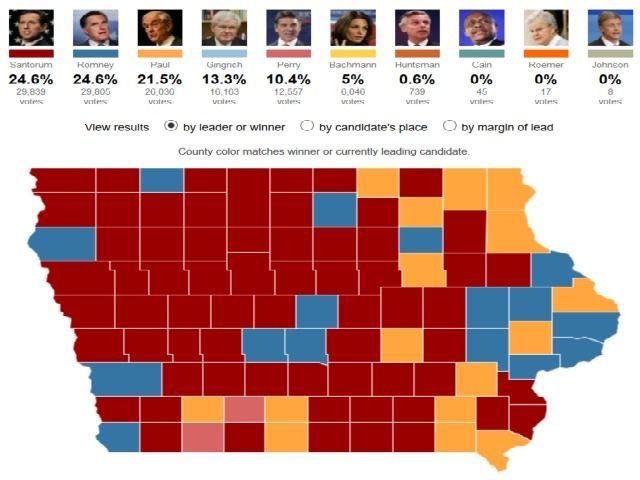 5:3o: Former Rep. Mike Rogers (R-MI) said on CNN that he has been speaking to people on the ground in Iowa and they have "never had so many calls" from new voters asking about where they have to go to caucus. He said "if that continues and they actually show up, it's going to be a Trump night." He added that Cruz has organized reliable conservative voters across the state and it will be hard for anybody to beat Cruz's ground game.
3:50: A Morning Consult analysis determined that Rubio's campaign has spent $4.53 million on ads in Iowa while his Super PACs have added another $7.2 million. How in the world, then, can a third-place finish be considered a huge win for Rubio, who, before he became the face of the Gang of Eight's comprehensive amnesty bill, was the Iowa frontrunner. And what in the world was overrated GOP operative Mike Murphy, who has ZERO presidential wins and heads Jeb Bush's Super PAC, doing spending $14 million in Iowa?
Here are the numbers per Morning Consult:
Jeb Bush: $0 from campaign, $14.05m from Super PACs
Ben Carson: $3.28m, $329k
Chris Christie: $44k, $543k
Ted Cruz: $2.90m, $4.53m
Carly Fiorina: $356k, $475k
Mike Huckabee: $0, $2.76m
John Kasich: $0, $0
Rand Paul: $86k, $1.23m
Marco Rubio: $4.53m, $7.20m
Rick Santorum: $3k, $29k
Donald Trump: $3.54m, $24k
Democrats:
Hillary Clinton: $10.74m from campaign, $48k from Super PACs
Bernie Sanders: $10.01m, $0
Martin O'Malley: $0, $239k
3:15: Sarah Palin Blasts Steve King for False Attacks. Re: Trump, Palin says: When Both Political Parties 'Hate You, You Know America Loves You.'
In introducing Trump at a Cedar Rapids event, former Alaska Governor Sarah Palin said Trump is in the perfect position to "tell the Washington good old boys that the status quo is going to go." She said both political establishments are in "such a panic" because Trump will put them out of business. Palin added that when both political parties hate you, "you know America loves you." Palin said Trump's campaign has exposed all of the cronyism in the permanent political class and asked what have Trump's opponents ever built. She quipped that they have built big vocabularies, big debt and big war chests.
Palin also blasted Rep. Steve King (R-IA), a top Cruz supporter, for attacking her on MSNBC earlier in the day and falsely accusing her of selling her support to Trump. Palin said the only promise Trump made to her was to "make America Great Again."
She said King's attack is "why people don't really like politics," which people rightfully think is a "dirty business" where people say things they know are untrue.
"Why would a good conservative like Steve King want to say something he knows isn't true?" Palin asked. "That doesn't sound like the heartland of America."
Palin said maybe King has forgotten his heart in in the heartland or has gotten "Potomac fever." She said maybe he has been huffing ethanol in the corn fields.
She called King's accusations "way off base" and she said she has learned from Trump that you have to stand up for what is right, for yourself, your family, your community, and your country.
Palin has repeatedly emphasized that she decided to endorse Trump because he is the candidate least beholden to anybody in the permanent political class. She has said Cruz would be better served fighting the Republican establishment in the Senate. King's comments on the day of the caucuses do Cruz no favors in a state where conservatives still hold Palin in high regard (ask Joni Ernst. Ask Santorum, who surged in 2011 right after Palin praised his campaign without even endorsing him).
2:40: Santorum Compares Himself to Nick Saban:
Former Pennsylvania Senator Rick Santorum, who won the 2012 Iowa caucuses, said he would "reassess" his campaign if he did not win tonight. Santorum said Trump's success represents the frustration voters have with the Republican Party in D.C. that has "betrayed" them. Santorum said disaffected Americans think both parties do not represent their interests on trade and immigration, and he said Democrats want amnesty for votes while Republicans want it for cheaper labor. Santorum said mass immigration is keeping wages down and both parties are not looking out for wage-earners. Earlier, Santorum made an interesting argument against a potential Trump presidency. He said a struggling football team would not hire someone without any football knowledge as a head coach because that coach would then have to hire a bunch of assistant coaches who are football experts. Santorum told MSNBC's Andrea Mitchell that Trump would have to hire "insiders" to run the government, and Santorum compared himself to Nick Saban. The analogy doesn't quite work as well because Trump is succeeding because many voters see him as a great delegator, and they trust him to hire people with knowledge who will not be co-opted by the system.
2:35 PM: Sanders, Trump Most-Discussed Candidates in Iowa per Facebook:
Sanders: 42.2%
Trump: 21.7%
Clinton: 13.1%
Cruz: 10.7%
Paul: 4.7%
Carson: 2.6%
Rubio: 1.9%
2:30 PM: Cruz completes "The Full Grassley" (visting all of Iowa's 99 counties) with his stop in Jefferson, Iowa (Greene Country). He reportedly says that he is showing Iowans respect by visiting every country in the state and it is "fitting" that he is completing "The Full Grassley" in a place named after a Founding Father.
.@tedcruz completes the Full Grassley in Jefferson, Iowa! #CruzCrew pic.twitter.com/SXgNd1BuoG

— Alice Stewart (@alicetweet) February 1, 2016
Barack Obama gamed the caucuses brilliantly in 2008. His supporters cut a deal with Bill Richardson's supporters–and the Clintons still not have forgiven the former New Mexico Governor and U.N. Ambassador for those shenanigans. Obama supporters also kept some candidates viable at certain caucus locations (ensuring they had 15% support in the room) if they thought their supporters would go to Hillary Clinton. Fast forward to 2016, and the Clinton campaign may be taking a page out of Obama's playbook that defeated her. MSNBC pundits over the weekend suggested that Clinton supporters may keep former Maryland Governor Martin O'Malley viable by supporting him at some caucus locations so his supporters do not go to Sanders. Clinton denied any knowledge of these reported plans. But it just goes to show that the caucuses can be much more chaotic for Democrats.
Unlike Democrats, who require that 15% threshold, Republicans can cast their caucus vote through secret ballot, and GOP caucus-goers can write the name of the candidate they support on a piece of scrap paper. Hopefully the vote-counting will be less chaotic than it was in some caucus locations in 2012. (Video courtesy of videographer Pat Frank).