The government provides more green cards to immigrants each month than South Carolina — the next GOP primary state – issues high school diplomas each year, according to a new chart released Thursday by Republicans on the Senate Subcommittee on Immigration and the National Interest.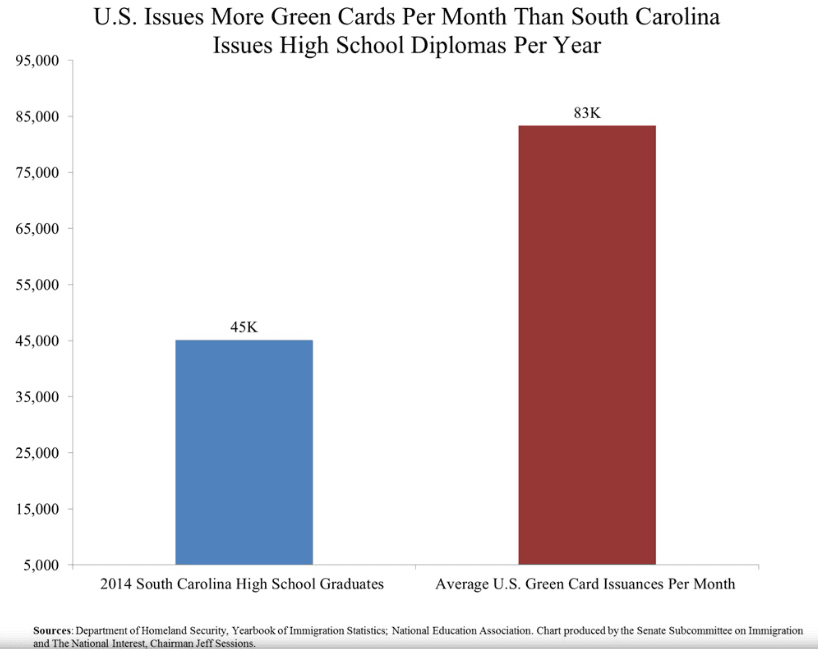 According to the subcommittee, chaired by Sen. Jeff Sessions (R-AL), the United States issues an average of 83,333 green cards each month. In 2014, nearly half that number, 45,137, graduated from high school in South Carolina.
Approximately one million immigrants were granted green cards and all the privileges that come with them, including permanent residency, work authorization, and welfare benefits after five years. The subcommittee points out that the new immigrants mean more competition for jobs and coveted college slots.
A subcommittee analysis reads:
Not only will these 45,137 young men and women compete against these new Lawful Permanent Residents for jobs and spots in universities and trade schools, but they will also face competition from the approximately 700,000 guest workers allowed to work in the United States through other visa programs each year, or the roughly 500,000 foreign students who are permitted to study in the United States each year (and in some cases, who have been permitted to work in the United States contrary to Congressional authorization).
The subcommittee pointed to the declining workforce, implying that more immigration is serving to further dilute the labor market:
According to Pew research, after five decades of unprecedented immigration, a record number of Americans are not working. The civilian labor force participation rate has steadily dropped since President Obama took office, and is currently at 62.7 percent – meaning that the percentage of Americans who are currently not working is at a level not seen in nearly four decades. The share of men in their prime working years who do not have jobs has tripled since 1967. Workplace participation rates for women have declined more than three full percentage points since 2000. Median household incomes today are $4,000 less than they were fifteen years ago.

By a 3:1 margin, voters in all parties say the level of immigration should be reduced – not increased. Absent changes in law, the annual rate of immigration, the total level of immigration, and the percentage of the country that is foreign-born will continue surging every single year.