Welcome to Breitbart News's daily live updates of the 2016 horse race. 
—
9:27: Focus group of one rejects Hillary Clinton's appeal to younger voters.
https://twitter.com/joshismadd/status/707017490556059649
9:22: Karl Rove takes leading role in secretive anti-Trump conclave of GOP establishment and billionaires. Seems like just another gift for Trump before the Michigan primary.
"THE PROBLEM IS ME": Not sure Karl Rove right man to lead an anti-Trump strategy session https://t.co/FpagK1wdwK

— Mickey Kaus (@kausmickey) March 8, 2016
9:00: Mike Bloomberg quit because he never had a chance.
The other unspoken reason why Bloomberg isn't running: He wouldn't have won even if he spent his entire fortune. My bet for him was zero EVs

— Larry Sabato (@LarrySabato) March 7, 2016
8:33: Sanders radio ad hits Clinton's 'dishonest politics.'
8:25: Report: GOP elites meet with tech titans to try to stop Trump (it seems like the tech world is scared of Trump–and his immigration plans):
Billionaires, tech CEOs and top members of the Republican establishment flew to a private island resort off the coast of Georgia this weekend for the American Enterprise Institute's annual World Forum, according to sources familiar with the secretive gathering.

The main topic at the closed-to-the-press confab? How to stop Republican front-runner Donald Trump.

Apple CEO Tim Cook, Google co-founder Larry Page, Napster creator and Facebook investor Sean Parker, and Tesla Motors and SpaceX honcho Elon Musk all attended. So did Senate Majority Leader Mitch McConnell (R-Ky.), political guru Karl Rove, House Speaker Paul Ryan, GOP Sens. Tom Cotton (Ark.), Cory Gardner (Colo.), Tim Scott (S.C.), Rob Portman (Ohio) and Ben Sasse (Neb.), who recently made news by saying he "cannot support Donald Trump."

Along with Ryan, the House was represented by Energy and Commerce Committee Chair Fred Upton (Mich.), Rep. Kevin Brady (Texas) and almost-Speaker Kevin McCarthy (Calif.), sources said, along with leadership figure Cathy McMorris Rodgers (Wash.), Budget Committee Chairman Tom Price (R-Ga.), Financial Services Committee Chairman Jeb Hensarling (Texas) and Diane Black (Tenn.).
8:20: Ryan reportedly spoke to Trump/Cruz:
JUST IN: @SpeakerRyan has spoken to both Trump and Cruz over the phone to discuss House GOP agenda, plans to also speak w/ Kasich & Rubio.

— Frank Thorp V (@frankthorp) March 8, 2016
8:15: Rep. Tulsi Gabbard (D-HI) stumping for Sanders:
Rep @TulsiGabbard takes to the stump for the first time for @BernieSanders at the University of Michigan. pic.twitter.com/4bbFXMLltX

— Danny Freeman (@DannyEFreeman) March 8, 2016
8:00: Trump rally in Mississippi:
Here's the scoreboard pic.twitter.com/fUOpw3gkXZ

— Jill Colvin (@colvinj) March 8, 2016
Here's the scene at the football stadium in Madison, Mississippi where Trump is now headed pic.twitter.com/BMVtT10Gz0

— Jill Colvin (@colvinj) March 8, 2016
7:55: MS Gov. Bryant for Cruz:
MS Gov. Phil Bryant endorses @tedcruz: "I urge my fellow Mississippians to join me in standing behind Ted Cruz tomorrow," he says in stmt

— Betsy Klein (@betsy_klein) March 7, 2016
7:35: Rubio campaign fundraising off of the CNN story:
Rubio's campaign now fundraising off that CNN story

— Seung Min Kim (@seungminkim) March 8, 2016
7:30: GOP donors plotting to steal nomination from Trump at the convention. But GOP grand pooh-bah Fred Malek tells the Washington Post that "There's a group that thinks, look, Trump is likely to be inevitable here and let's not tarnish him."
7:15: Rubio campaign fires back at CNN for "false report" (about some Rubio advisers wanting him to drop out before Florida) that was "utter nonsense."
7:10: Politico cartoonist compares Sanders campaign to food truck:
might say it's down to the Food Truck Dems vs the Steak House Dems…
New cartoon POLITICO https://t.co/AZdqQ7mqW5 pic.twitter.com/ohrRw46BSv

— Matt Wuerker (@wuerker) March 7, 2016
6:59: Questioner asks whether she considers Sanders an ally or an enemy. Clinton says "an ally, for sure." She says they have differences and are passionate about their positions and differences. She says to compare that the Republicans and "how they behave." She says she is proud of their campaigns and she hopes to work with Sanders if she wins the nomination because Sanders's supporters will be important in the general election and beyond. "Let's not get ahead of ourselves," Clinton says when asked about whether Sanders will be her VP pick.
[Clinton, for the most part, ran out the clock on Fox News. Fox News gleefully asked Trump about his comments about women. For some reason, Fox News never brought up whether Bill Clinton's past affairs will haunt her during the campaign. The network did not ask her if it is hypocritical to play the "war on women" card. Fox News did not ask her if she stopped playing the "sexism" card on Trump after Trump accused her of enabling her husband's shenanigans and intimidating women who came forward. The network did not ask her why so many alleged sexual assault victims from her husband's past are now speaking against him. Just like Mitt Romney, Fox News was tougher on Trump than on Democrats. The network, at the very least, could have brought up the "war on women"/sexism issues even while giving those issues the white-glove treatment.]
6:56: Baier asks Clinton why young women/millennials are not supporting her. She says it is good that Democrats are bringing more people into the process and she again repeats her line that she will be for them even if they are not for her. [Same answer she has given at nearly every debate/forum.]
6:50: Questioner asks why Clinton supported the '90s Crime Bill and whether she would support the same bill if it were on the table today. She says Sanders voted for it while she just "supported it." She says there were some positive things in the crime bill the combat the crime epidemic. But she says that there were problems that were solved but there were also "mistakes made." She says the bill set off a chain reaction where more and more people got incarcerated when they should not have been. She says we have to replace the "school-to-prison" pipeline with a "cradle-to-college" pipeline. She calls on Michigan's governor to return control of the Detroit schools back to Detroit. She touts her debt-free tuition plan to make college more affordable. She differentiates her plan from Sanders's. Clinton says "her numbers add up" when asked about reducing the country's debt and implies that Sanders's numbers don't.
6:49: Baier asks Clinton who were favorite Republican is. Same question CNN's Anderson Cooper asked. She gives the same answer. Name-checks Susan Collins and John McCain. She says she will hesitate to name name because it will hurt them.
6:46: Questioner wonders how Clinton will get anything done in Washington when "compromise is a bad word." Clinton says that when she was First Lady, Senator, Secretary of State, she worked with some of the most partisan Republicans. She talks up her role in the passage of CHIP and foster care issues. Clinton says Republicans say really nice things about her when she is not running and she has a ton of archival material [Republicans may regret praising Clinton in order to attack Obama in 2008]. She says "compromise is not a dirty word" and it is the way "democracy has to work."
6:41: Baier asks Clinton about her email scandal. He says Democrats are worried that another shoe will drop. Clinton says it was a "mistake" to use a personal server. She says a lot of government officials have done the same (they have not used private servers though some may have used private email accounts). Speaking in legalese, Clinton says she nothing she sent or received was "MARKED CLASSIFIED." Baier asks Clinton whether she lied when she said there was no classified material on her servers after the State Department found 22 top-secret emails. Clinton says the State Department decides what is and isn't classified. She says she will reiterate that nothing she sent or received was "marked classified." She doesn't say just "classified" anymore like she did at the March press conference. Clinton says the some of the classified emails that were found were "not classified at the time." She says after FOIA requests, government agents can later decide to classify various emails because they do not want to release. Clinton's explaining and she's losing on this answer.
6:37: Baier asks Clinton about abortion… She says that Roe v. Wade is "rooted" in the Constitution and women have this "right" to make this "highly personal decision with their family, in accordance with their faith, with their doctor." She says it is not much of a "right" if it is "totally limited and constrained." She says we have to continue to stand up for a woman's right to "make these decisions" and "defend Planned Parenthood." Her supporters in the audience cheer. Clinton rejects banning abortions after 20 weeks. [Sanders/Clinton thing healthcare/abortion are fundamental rights…]
6:34: Baier asks Clinton about Libya and points out that it is in total chaos after Clinton's "smart power" (borrowed from Joseph Nye) foreign policy strategy there. She says Qaddafi was a ruthless dictator whom Reagan tried to once take out. Clinton, after repeating talking points, says what has happened is "deeply regrettable." She says it is fair to say that if there hadn't been the intervention, we would be looking at something resembling Syria. When Baier asks whether Clinton would put U.S. troops on the ground in Libya, Clinton says not "combat troops." She says there is a concerted effort to unify the different elements in Libya and concedes Libya has not been as successful as Tunisia.
6:33: Hillary on Fox News. Baier asks Clinton about Bloomberg's decision not to run. She says she has the greatest respect for Bloomberg, who conveniently slammed Trump and Cruz in his announcement.
6:29: When asked if Sanders will accept a VP nomination, he says he is running to be President of the United States.
6:28: Questioner asks Sanders what his plan is to rebuild the country's infrastructure. Sanders says "we should not be having a Flint, Michigan" water crisis in the wealthiest country in the world. He says we have to transform our energy system away from fossil fuels. He talks about bridges, water systems, etc. Sanders says he has proposed spending $1 trillion over five years to make sure states/cities have the resources they need to rebuild our crumbling infrastructure. Sanders says $1 trillion sounds like a lot of money but civil engineers say even more needs to be spent. He says his plan will create $13 million jobs.
6:27: Sanders says he will not reveal his favorite Republican because it will be a disservice to that person.
6:23: Sanders says he will not rely on executive action to push his left-wing agenda. He pivots and says there are too many lawmakers worried about securing donations from wealth people. He says that is why Congress is not listening to ordinary people and only listening to Wall Street, multinational corporations, and large campaign contributors. When Baier asks how he would convince a GOP Congress to enact  his agenda, Sanders says if he becomes president, it will have been because of a massive voter turnout…He says if that happens, the Republicans will not continue to control the Senate "and have a lot less seats in the House." Sanders claims there is overwhelming support to raise the minimum wage and his voters will pressure lawmakers to raise it, etc…He will mobilize millions of voters who will also demand pay equity.
6:21: Baier asks if Sanders thinks abortion should be illegal at any stage of pregnancy.
He says it is wrong for the government to tell  a woman what to do with her own body. Sanders also says he respects opposing viewpoints. Sanders says he is "very strongly pro-choice" when asked whether abortions should be banned after five months except for the health of the mother. He says that decision is between the woman, her doctor, and her family.
6:17: Questioner asks Sanders to explain his healthcare system. He again insists that it is a "right for all people." Questioner has concerns about replacing the current system with "Medicare for all." Sanders says that is what Clinton is trying to scare people about and says he will not leave anyone behind as president. Sanders says we have made good progress but we still have millions who are underinsured. He says many Americans are sicker because they didn't go to the doctor before because of high deductibles or could not afford prescription drugs that doctors prescribed.
6:14: Questioner says he will speak for the American public and say Sanders is much more honest than Sanders. He's also a Trump supporter. He asks Sanders whether taxing the rich will hurt job creators. Sanders says we have to put in context what has happened in the last 30 years. He says there has been a massive transfer of wealth from the working class to the top 1%. Sanders blasts America's unfair trade deals. He says corporations will invest in America and not in China. He says he does not believe in trickle-down economics. Sanders says he believes that more money needs to be put in the hands of working families by raising the minimum wage to a living wage. He talks about the country's poor infrastructure and asks why the infrastructure is collapsing in the wealthiest country in the world. He blasts corporations for stashing their profits offshore and not paying a nickel in taxes.
6:13: First questioner asks Sanders about ISIS. Sanders says ISIS is a "barbaric organization that has to be destroyed." He says that one of the differences between Clinton and himself is he voted against the Iraq War while Clinton voted for it. He says  a lot of the turmoil/instability resulted from that "disastrous decision." Sanders says the United States needs to work with its allies in the Middle East to combat ISIS. He says what is happening to Christians and Muslims is "horrific" when asked about Christian prosecution.
6:10: When Baier asks Sanders if he shares the concern of his supporters that Clinton is not "honest and trustworthy." Sanders says he will let Americans decide that. He says he is proud he received 86% of the vote in Vermont.
6:06: Sanders explains that he wanted the 1% to bail out Wall Street and not the taxpayers at a Fox News town hall event. Baier presses Sanders how he would prevent a debt crisis with his spending plans. Sanders says by guaranteeing health care to all people, the average middle-class family would save about $5,000/yr on healthcare costs. He says healthcare is a "right of all people." When asked where the right came from, Sanders says, "being a human being." Sanders says the poor (if she is poor and you are rich) are entitled to the same healthcare as the rich because "she is a human being." Sanders is scrambling on how he would bring down the debt. Now reverting to talking points about free public college for all… He now says he will pay for his programs by taxing Wall Street speculation. "It's Wall Street's turn to help the middle class of this country," he says.
6:05: Trump suggests immigration pause. He says working-class minorities will benefit the most (FLASHBACK: Slate's Jamelle Bouie: 'Not a Bad Play' for Trump to Court Black Voters with Pro-U.S. Worker Immigration Plan):
"Record rates of immigration have produced lower wages and higher unemployment for U.S. workers. Pew polling shows 83 percent of all voters – Democrats, Republicans and Independents – think immigration should be frozen or reduced. The biggest beneficiaries of allowing fewer foreign workers into our country would be minority workers, including all immigrants now living here, who are competing for jobs, benefits and community resources against record waves of foreign workers. Limiting job competition would reopen pathways to middle-class stability and shrink welfare rolls. In addition, it would relieve overcrowding in our schools and hospitals that afflict our poorest communities. Yet, Senators Cruz and Rubio have led the charge for even higher immigration rates – a policy supported by only 7 percent of the Republican electorate. When I am President we will listen to the people – not the special interests – and get immigration numbers under control, as the voters have demanded."
6:00: Trump loves Idaho's potatoes:
Thank you Idaho! I love your potatoes-
nobody grows them better. As
President, I will protect your market. pic.twitter.com/kqx8un1jnw

— Donald J. Trump (@realDonaldTrump) March 7, 2016
5:55: Cruz, Rubio making same anti-Trump arguments:
Cruz & Rubio making exact same case, verbatim, @ exact same time: A vote for anyone but me is a vote for Trump. pic.twitter.com/oe97ATkF8w

— Alexandra Jaffe (@ajjaffe) March 7, 2016
5:50: Associated Press writes about donors having second thoughts about Rubio. Washington Post blames "poor strategy" for Rubio's struggles. None of these stories mention that Rubio's embrace of the Gang of Eight Bill/amnesty may be why his campaign never got off the ground. The insiders/donors/geniuses who wrote the RNC "autopsy" report who are sources for the reporters really covet amnesty and will do everything they can to downplay its impact in hurting Rubio.
5:45: Rubio in Florida:
Live in Tampa: Keep Calm Vote Rubio -> pic.twitter.com/hl849OvLqz

— Charlie Spiering (@charliespiering) March 7, 2016
– @marcorubio getting a hero's welcome back in Tampa – crowd is excited. His campaign message appears particularly attuned to this state

— Charlie Spiering (@charliespiering) March 7, 2016
– @marcorubio getting a hero's welcome back in Tampa – crowd is excited. His campaign message appears particularly attuned to this state

— Charlie Spiering (@charliespiering) March 7, 2016
5:40: CNN Report: Some Rubio Advisers Think He Should Drop Out BEFORE Florida:
Rubio himself is "bullish" on his odds of winning the critical primary, despite some advisers who are less hopeful and believe a loss there would damage him politically in both the short- and long-term.

Publicly, the campaign is maintaining they are still a contender in this race, touting a Sunday win in Puerto Rico's primary that delivered Rubio 23 delegates. But privately, the campaign is having a debate about whether or not he should remain in the mix — even for his home state of Florida's primary.

"He doesn't want to get killed in his home state," one source familiar with the discussions said, noting "a poor showing would be a risk and hurt his political future."
5:37: Snake oil salesmen have to con rich candidates to live the high life:
Maybe whoever was consulting for Bloomberg just randomly filled in states? No way he'd win TN or tie Sanders in VT. pic.twitter.com/TNAiJ3mcN3

— Nate Silver (@NateSilver538) March 7, 2016
5:35: Message from NASCAR (its CEO Brian France endorsed Trump):
NASCAR statement: "NASCAR has not and does not endorse political candidates."

— NASCAR (@NASCAR) March 7, 2016
5:30: Rubio comparing Trump to Crist:
Loud but not huge crowd for Rubio at Tampa convention center pic.twitter.com/d71giKCzy3

— Shane Goldmacher (@ShaneGoldmacher) March 7, 2016
In Florida, Marco Rubio is trying to sell Donald Trump as another Charlie Crist

— Shane Goldmacher (@ShaneGoldmacher) March 7, 2016
5:09: Bloomberg NOT running [Did anyone other than Bloomberg/Frank Luntz really think Bloomberg had a chance? Bloomberg's the typical schemer/ladder-climbing politician in one of the most anti-establishment/anti-politician election cycles. He only appeals to No Labels/Goo-goos that the media elite socialize with at all of their dinner parties.] :
JUST IN: Michael Bloomberg announces he will not run for president in 2016: "It's clear to me that if I entered the race, I could not win."

— ABC News Politics (@ABCPolitics) March 7, 2016
5:07: Tons of enthusiasm for Trump ahead of his Mississippi rally:
Trump's Madison rally won't start till 7 but folks are already arriving. #trump #Mississippi pic.twitter.com/FSAd2Uud13

— Courtney Ann Jackson (@courtneyannj) March 7, 2016
5:04: "Harbaugh 2016" sign featured in new Kasich campaign video:
NEW VID: Michigan voters are ready for a president who knows how to fight and win for them — John Kasich.https://t.co/3WHaKzLLnV

— John Kasich (@JohnKasich) March 7, 2016
5:02: Anti-Trump forces still whacking Trump over Trump University:
Donald releases 3 min video on Trump U, at no point does he discuss anything good they did. Mostly legal semantics. https://t.co/yuhosmq1Iv

— Tim Miller (@Timodc) March 7, 2016
4:59: Not sure this anti-Trump ad will be effective when so many voters are frustrated/angry at politicians who have screwed them over. They won't mind Trump going "Stone Cold Steve Austin" on the "establishment"–foul language and all…
https://www.youtube.com/watch?v=Thw6k1XNRtc
4:55: Trump trying to tag Rubio as "Corrupt Marco" and bringing up his credit card scandal:
https://www.youtube.com/watch?v=XrvdyeD7NYs&feature=youtu.be
4:50: Chris McDaniel stumping for Cruz in Mississippi:
Chris McDaniel: "The one man that stood with me in 2014 wasn't Donald Trump. It was Ted Cruz."

— Patrick Svitek (@PatrickSvitek) March 7, 2016
4:45: Cruz in Mississippi:
Ted Cruz on a table in sea food joint in Florence, Mississippi–> pic.twitter.com/denZyjJoqG

— Vaughn Hillyard (@VaughnHillyard) March 7, 2016
4:40: She endorsed Trump.
Erotic film star from pulled @Tedcruz ad announces her pick for president live on #TheLead: https://t.co/fUFppUa7v3 pic.twitter.com/K2DxiJ3XMN

— CNNgo (@CNNgo) March 7, 2016
4:25: Trump adviser: Our Campaign Is About Winning for American Workers
On CNN, Trump policy adviser and former Jeff Sessions aide Stephen Miller says that while other campaigns are obsessed with process, the Trump campaign is focusing on preventing "the donor class from taking away the birthright of American citizens who've been betrayed for 50 years by trade deals that have sent our jobs overseas, by immigration policies that have sent our wealth away from the working people of this country. We're going to win for American workers."
He also pointed out that Rubio promised voters in Florida that he would stand against amnesty only to become the biggest champion of it as soon as he got to Congress.
3:45: Packed crowd for Cruz in Mississippi:
Crowd is filling up at Berry's Seafood for Ted Cruz. This photo taken by @bradcooney1 who says folks are excited. pic.twitter.com/fCWluHMLr9

— Annette Peagler (@Annette_Peagler) March 7, 2016
Cruz supporters gather for his appearance. Being told he's 15 minutes out! #msnewsnow #Ted #TedCruz #Trusted pic.twitter.com/7CBDqUb9YL

— Kyle Simmons (@kscamop88) March 7, 2016
3:35: Kasich has Michigan all to himself as he hopes for momentum going into Ohio after a strong performance on Tuesday.
.@JohnKasich dominates last-minute GOP campaigning in #Michigan with Trump, Rubio & Cruz elsewhere https://t.co/KNd42qvzQA @detroitnews

— Chad Livengood (@ChadLivengood) March 7, 2016
3:32: Ohio poll:
Trump: 38
Kasich: 35
3:28: New 'Trump Has Tiny Hands' PAC launches:
"Trump Has Tiny Hands PAC" — it was only a matter of time, folks pic.twitter.com/IMgalmk90z

— Dave Levinthal (@davelevinthal) March 7, 2016
3:25: Not going to help Sanders win over black voters he desperately needs:
Sanders deletes tweet confusing 'Selma' movie photo with historic march: https://t.co/TgMKXBmGFn pic.twitter.com/zak22eRCIi

— The Hill (@thehill) March 7, 2016
3:20: New Trump ad blasts 'corrupt Marco.'
Trump unveils new ad against Rubio. It's called "Corrupt Marco." Hits his credit card, home purchase, voting record. https://t.co/2Qhp4Cc4uQ

— Matt Viser (@mviser) March 7, 2016
3:05: Bad numbers in Ohio for Messrs. Rubio, Romney:
Marco Rubio's at 5% in the Ohio poll we'll release later today. 33/51 favorability with GOP voters

— PublicPolicyPolling (@ppppolls) March 7, 2016
Another finding from Ohio- if GOP voters had to pick between Trump and Romney, they'd take Trump 52/36

— PublicPolicyPolling (@ppppolls) March 7, 2016
3:00: Mexico's president compares Trump to Hitler/Mussolini (so much for softening their tone). Pena Nieto also vows never to pay for the border wall:
Mexico's president has said his country will not pay for White House hopeful Donald Trump's proposed wall along the U.S.-Mexico border, and likened his "strident tone" to the ascent of dictators like Adolf Hitler and Benito Mussolini.
FLASHBACK:  During his 2014 trip to California, Mexico's President Enrique Pena Nieto said America is "the other Mexico" and called on lawmakers to "evolve" on granting amnesty to illegal immigrants.
2:45: Sanders: Hillary was rude at the debate:
Sanders says HRC was rude one: "she ended up going, many occasions, spoke a lot longer than the time allotment allowed." via @maryaliceparks

— Rick Klein (@rickklein) March 7, 2016
2:42: Bernie's white supporters also upset that he said last night white people don't understand know what it's like to be poor.
2:40: Sanders responds about "ghettos" comment:
.@BernieSanders responds to @NBCNews' question about his "ghettos" comments from last night in the #DemDebate. pic.twitter.com/JeJtGkQNHl

— Danny Freeman (@DannyEFreeman) March 7, 2016
2:30: Cruz birther case dismissed in New York:
A New York judge has tossed a legal challenge to Ted Cruz's ballot eligibility in the upcoming primary https://t.co/3bZR4ccngi

— Nick Reisman (@NickReisman) March 7, 2016
2:15: Cruz rallying with Rep. Amash (R-MI) tonight:
JUST CONFIRMED: Join @tedcruz and me for a rally TONIGHT in #MI03. Details attached. https://t.co/49AIiabHZK

— Justin Amash (@justinamash) March 7, 2016
2:13: Trump up eight in Monmouth (fans of the Monmouth bench hoping their basketball team beats Iona tonight) Florida poll:
FLORIDA –
Monmouth Poll

Trump 38%
Rubio 30%
Cruz 17%
Kasich 10%

###

— Ted Davis (@TedDavisSAV) March 7, 2016
2:11: On CNN, Carl Bernstein says Trump is promoting "fascist" policies and again floats the idea that Republican insiders may want to nominate Paul Ryan if there is a brokered/contested convention.
2:08: Rubio allies touting that his team is made up of "who's who" in the foreign policy community (Nobody cares):
.@marcorubio's National Security Advisory Council is made up of the "who's who" in the foreign policy community https://t.co/JhY9soHNQ8

— CesarConda (@CesarConda) March 7, 2016
2:05: Trump again asks supporters to take a pledge to vote for him:
CONCORD, NC– Again, Trump has rally attendees take the pledge where they swear to vote for him. pic.twitter.com/Vmc9LeFyqi

— Candace Smith (@CandaceSmith_) March 7, 2016
2:o2: Says all you need to know about Romney, the GOP establishment, and the so-called "smart set."
Romney's more committed to going negative vs Trump than he ever was vs Obama. His offensive is misplaced & too late. https://t.co/y4NfSMjdEk

— Andrea Tantaros (@AndreaTantaros) March 7, 2016
2:oo: Must have been really painful to Tweet this:
Marco Rubio now has a lower chance (2.5%) than John Kasich (2.9%) of becoming president.https://t.co/oFiV3Ykor4 pic.twitter.com/idkYbEGy3y

— Frank Luntz (@FrankLuntz) March 7, 2016
1:55: Sanders rips Clinton for lying about his record before Dearborn, Michigan rally:
.@BernieSanders says Clinton's claim he did not support the bailout of the Auto Industry is "categorically untrue." pic.twitter.com/hakYZFGtGd

— Danny Freeman (@DannyEFreeman) March 7, 2016
Another big line for @BernieSanders in Dearborn pic.twitter.com/PnYkjNhDKJ

— Jonathan Oosting (@jonathanoosting) March 7, 2016
1:45: Looks like Mexico is afraid that Trump will actually build the border wall. The globalist Financial Times, while referring to trade, reports that "Mexico also fears a Trump presidency would gridlock the world's busiest land border…" Mexico also is realizing that attacks on Trump by the country's former presidents have backfired: "Rather than strike back at the man who has promised to build a 'great wall' between the trading partners, the government plans to re-educate presidential campaign managers and the media to 'counteract misinformation' about Mexico in the US, says Francisco Guzmán, chief of staff to President Enrique Peña Nieto."
Mexico v Donald Trump is entering a new phase https://t.co/GuA1ugbuVp pic.twitter.com/6rC0rhoGHe

— Financial Times (@FT) March 7, 2016
1:35: Interesting comments by Kasich regarding the so-called GOP "civil war."
Kasich says GOP is not in a civil war: "These people that fight with each other, they're backstage slapping each other on the back"

— Thomas Kaplan (@thomaskaplan) March 7, 2016
12:47 – Sam Biddle at Gawker tells Cruz: we're not "sitting on bombshells" about Trump, and "we have no idea how to stop" him.
Ted Cruz has a new theory: the American political media is in possession of "bombshell" stories about Donald Trump that could ruin him, but are choosing to not publish them for some reason. Ted, I'm here to tell you: we've got nothing, and we're all really f***ing freaked out about it.
12:34 – Cruz soldiers on despite illness.
Turns out @tedcruz WILL be in Mississippi after all today: adds a Jackson stop, then will head to Grand Rapids, Michigan tonight. #nbc2016

— Hallie Jackson (@HallieJackson) March 7, 2016
12:16 – French director is crowdfunding a film all about killing Donald Trump. The tagline: "What would you do to end tyranny?"
https://www.youtube.com/watch?v=kNNp_Q8zGc4
12:15 – Ohio paper suggests Ted Cruz could overperform in Kasich's home state like he has elsewhere:
Four reasons @tedcruz could win Ohio https://t.co/3VCgDIqofK via @enquirer pic.twitter.com/zFLNzjTUyO

— Carl Weiser (@cweiser) March 7, 2016
11:58 – Like Breitbart's Milo Yiannopoulos to bubble-dwelling university students, Donald Trump is driving the people of New York City to therapy sessions.
11:57 – Kasich: Cruz and Rubio could be "spoiling it for me. Maybe the all ought to get out."
11:34 – New Monmouth poll for Michigan. Full results here.
New Michigan poll — @Monmouthpoll

GOP
Trump 36
Cruz 23
Kasich 21
Rubio 13

DEMS
Clinton 55
Sanders 42

— Sahil Kapur (@sahilkapur) March 7, 2016
11:30 – Bloomberg columnist says Trump doesn't have the money to mount a third-party general election campaign:
Donald Trump is not going to run as a third-party presidential candidate, even if he's denied the Republican nomination.

There, I said it.

I'm not saying whether it would be a good idea for the GOP to deny him the nomination if he gets a plurality but not a majority of the delegates. But if it does, he won't run third-party: He can't afford it.
11:28 – New York Times names the guy who's willing to spend a bunch of money on a Draft Ryan effort:
Earle Mack, a Brooklyn-born businessman and former ambassador under President George W. Bush, is the major force behind a "super PAC" that is attempting to draft the Representative Paul D. Ryan, Republican of Wisconsin and speaker of the House, as the party's presidential nominee.

Mr. Mack said in an interview that he would spend up to $1 million on "The Committee to Draft Speaker Ryan," which was formed last week, but has kept its backers secret until now. Mr. Ryan has disavowed the group, which is plowing ahead anyway.
11:18 – Pennsylvania "Students for Rubio" chairman trying to kick John Kasich off the state's primary ballot:
A University of Pennsylvania student is trying to have Republican presidential candidate John Kasich removed from the state's primary ballot.

Nathaniel Rome, a Penn sophomore and chairman of the Pennsylvania Students for Rubio network, has petitioned Commonwealth Court to remove Kasich from the April 26 primary election ballot, alleging that the Ohio governor did not meet the statutory requirement of at least 2,000 signatures on his nominating petition.
11:16 – Consultants making bank for tiny Hillary tasks:
Clinton campaign paid $90K to Portland consulting firm to help compile a list of 13 songs to play at campaign stops https://t.co/9Tl1ZPHHlX

— Tim Mak (@timkmak) March 7, 2016
11:11 – Scott Adams, the Dilbert author who has correctly predicted Trump's rise through a paradigm of "Master Persuasion," says the Donald has exposed the identifying term "conservative" as a tool of shame to keep the Republican base in line.
Trump has laid bare the ridiculousness of the conservative label. In 2016, the word conservative can be seen as a tool of influence – a shaming tool – used by the party elites to bring people together under their handpicked puppet. Conservativedoesn't have a normal definition that is useful and widely understood. That's why it works so well for persuasion. If it had a rigid definition, lots of people could find a reason to disagree. But by leaving the definition of conservative in ambiguity, people see nothing with which they can disagree. That is classic persuasion.
11:04 – Compared to previous winners, Rubio under-performed in Puerto Rico
Final Puerto Rico vote: Rubio 71%. Compare to Romney 85% (2012), McCain 90% (2008), Bush 94% (2000).

— daveweigel (@daveweigel) March 7, 2016
10:58 – NRA praises Bernie Sanders
Sen. Sanders was spot-on in his comments about gun manufacturer liability/PLCAA https://t.co/nDjEerjkgB #DemDebate pic.twitter.com/jEScbMDFt4

— NRA (@NRA) March 7, 2016
10:51 – 61% of Americans believe immigration is dangerous
Sixty-one percent of Americans agree that "continued immigration into the country jeopardizes the United States," according to a new poll commissioned by management consulting firm A.T. Kearney that revealed pessimism across a wide range of issues.

The degree of concern is remarkable considering that the question was about all immigration, including the legal kind. Even Republican presidential candidate Donald Trump has said he supports legal immigration into the U.S.

A.T. Kearney gave Bloomberg Businessweek an exclusive first look at the results of the survey, which covers 2,590 respondents and is part of an America@250 study that's intended to gauge the nation's direction with 10 years to go before its 250th birthday. The study, which will be posted online later this month, was conducted last October and November by NPD Group.
10:44 – Former-ADL Chief says Trump engaged audience in Nazi salute
Holy crap: ADL chief Abe Foxman says Trump's raised hand oath was a deliberate Nazi gesture https://t.co/VFb4ncXesl pic.twitter.com/Wq6Rj5Gtdp

— Benjy Sarlin (@BenjySarlin) March 7, 2016
10:31 – VIDEO: Another Hillary coughing fit
—

—
10:24 – Drudge Now…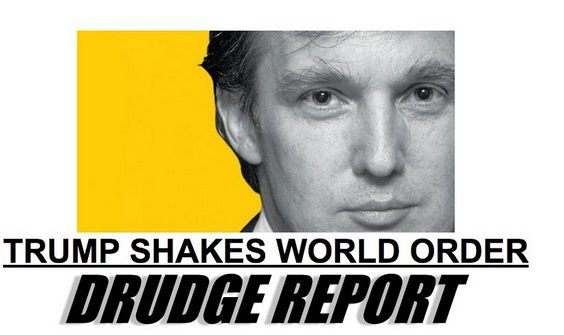 10:12 – 1 million early voters in FL.
1 MILLION, GOING STRONG — Florida has topped the 1 million early voter mark ahead of its presidential primaries, and Election Day is eight days away. Of the total pre-Election Day primary ballots cast, about 574,000 were cast by Republicans (56 percent) and almost 460,000 (44 percent) were by Democrats by Sunday morning. More than 2 million Republicans are expected to vote in the GOP primary; Democrats expect a slightly lower turnout. Another 21,000 independents voted in local races (they can't vote in Florida's closed primary system). Including independents, total ballots cast: 1,054,000.
9:42 – Cruz cancels Mississippi visit due to illness
Mississippi votes tomorrow.
.@tedcruz cancels Mississippi visit citing illness. https://t.co/bC7hHn1TMb via @BraceyHarris pic.twitter.com/iAWSEtDUxf

— The Clarion-Ledger (@clarionledger) March 7, 2016
9:27 – "Dems fret about Trump's appeal"
"I've been saying for months that we should never take Trump lightly and that I do think he has appeal, to independents and blue-collar Democrats especially," said Rep. John Larson (D-Conn.), former head of the House Democratic Caucus. "He is stoking the fears. … He comes along and says, 'I'm a deal maker, I'm about getting the deal done.' And they're so fed up of seeing nothing getting done and want to see him [act] on the issues that strike to the core of their feelings."

Larson predicted his preferred candidate, former Secretary of State Hillary Clinton, would prevail over Trump once he's forced to delve more deeply into policy issues. But it won't be without a fight.
9:19 – Marco Rubio's Dukakis-In-a-Tank moment?
AIDE: he's calling you "little Marco"
RUBIO: what if i sit in this huge chair
AIDE: no, why would you—
RUBIO: weeeee pic.twitter.com/kQOBB3aVpn

— Matt Negrin (@MattNegrin) March 5, 2016
This photo was the lead at Drudge over the weekend.
9:07 – Trump rips Rubio/Establishment
We cannot let the failing REPUBLICAN ESTABLISHMENT, who could not stop Obama (twice), ruin the MOVEMENT with millions of $'s in false ads!

— Donald J. Trump (@realDonaldTrump) March 7, 2016

—

I will be using Facebook and Twitter to expose dishonest lightweight Senator Marco Rubio. A record no-show in Senate, he is scamming Florida

— Donald J. Trump (@realDonaldTrump) March 7, 2016
9:04 – Trump blasts Lindsey Graham
Failed presidential candidate Lindsey Graham should respect me. I destroyed his run, brought him from 7% to 0% when he got out. Now nasty!

— Donald J. Trump (@realDonaldTrump) March 7, 2016

—
Lindsey Graham is all over T.V., much like failed 47% candidate Mitt Romney. These nasty, angry, jealous failures have ZERO credibility!

— Donald J. Trump (@realDonaldTrump) March 7, 2016
9:01 – Exhibit 11,235: The media deck is stacked in favor of Democrats
MSNBC Reporter Has No Idea She's Live During Interview, Tells Clinton Aide What She'll Be Asking https://t.co/bnk574ek7g

— Terri (@River_City) March 7, 2016
8:32 – So far in this primary the Republican Establishment is 1 – 19
Trump has won 12 states.
Cruz has won 6 states.
Rubio has won one state (and Puerto Rico)
Full breakdown here.
8:31 – Cruz super PAC aims to take out Rubio in Florida
8:27 – Cruz: Media is sitting on bombshells about Donald Trump
This is a smart strategy on Cruz's part. It both sows seeds of doubt about Trump and bashes the corrupt media.
"I think an awful lot of reporters — I can't tell you how many media outlets I hear, you know, have this great exposé on Donald, on different aspects of his business dealings or his past, but they said, 'You know what? We're going to hold it to June or July,'" Cruz said on CBS's "Face The Nation" Sunday.

"We're not going to run it now."

Cruz said the media has given the front-runner "hundreds of millions of dollars of free advertising." Every press conference Trump has is shown on every television station, he said, noting the media helped create this "phenomenon."
8:09 – Rubio collapses in Michigan — 4th place!
The latest poll out of Michigan shows Rubio in 4th place behind Trump (42%), Kasich and Cruz (20%).
Rubio sits at just 9%.
7:59 – Michigan, Mississippi, Idaho (R), and Hawaii (R) vote tomorrow.
Clinton is up +22 over Sanders in Michigan.
Trump is up +19 in Michigan.
Clinton is up +54 in Mississippi.
Trump is up +24 in Mississippi.
7:47 – Among other states, Michigan votes tomorrow. The latest poll shows Donald Trump with a commanding lead of 42%. His closest competitors, Ted Cruz and John Kasich, earn just 20%. One note of caution here: Polls in Louisiana and Kentucky showed a similar lead for Trump. The end result, though, was a Trump win but only by a squeaker.