Cell phone footage captured at Wednesday's campaign rally shows Donald Trump's touching and spontaneous interaction with a group of mothers who attended the rally and who lost their children to illegal alien violence.
The footage shows Trump kissing and signing posters of the mothers' deceased children after his rally in Anaheim, California.
Sabine Durden—whose 30-year-old son Dominic was murdered by an illegal alien who was driving without a license and who had two prior DUI charges—said that she "lost it" when Trump kissed her son's poster.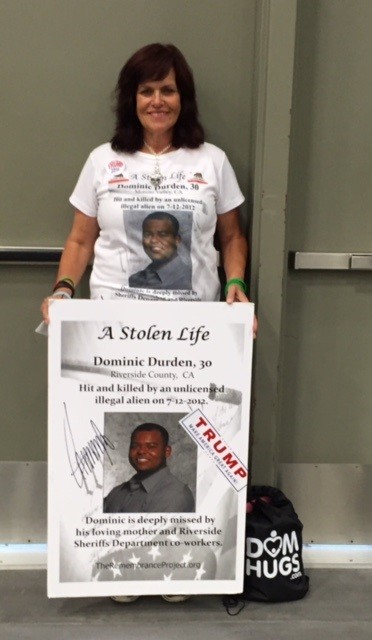 "It came from his heart," Durden said. "We were not in front of a big audience. He was on his way out of the building and we were off to the side… It was such a touching, and very genuine and tender moment and it shows what a kind, gentle and very caring man he is."
The footage also revealed the pandemonium after a Trump rally—with fans reaching over and around each other as Secret Service desperately tries to maintain control of the chaotic situation. It is in this context that Trump, despite the pressure to continue moving forward, stopped and interacted with the families.
The affectionate gesture draws a sharp contrast with the growing chaos outside the arena—where protesters were waving foreign flags, chanting obscenities, and violently confronting law enforcement. The irony is that these children are dead specifically because law enforcement was not allowed to do its job.
"He's our last hope for our country to ever recover," Durden said of Trump's candidacy.
Durden said that Trump has been her "personal hero and lifesaver." She added, "He gave me the boost I needed to keep going and keep telling Dominic's story.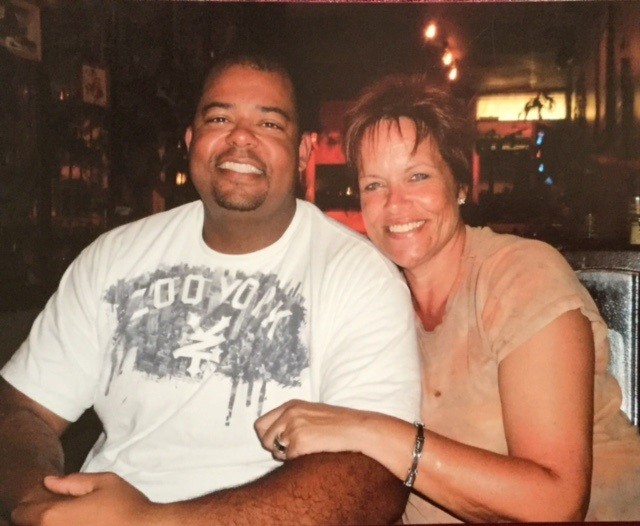 She explained that prior to Trump's candidacy, "a lot of us 'Angel Moms' felt as though no one would ever hear our stories."
Durden, who is herself an immigrant to the United States, explained that "a week before he [Trump] announced his candidacy, I was so depressed. No one cared about our stories, no one talked about my permanently separated family. [After Dominic's death] I had no more family here, and I contemplated suicide. Donald Trump saved my life. [When Trump announced his candidacy] I felt like I was finally heard. From then on, my son had a voice through Donald Trump. What he did for me was profound."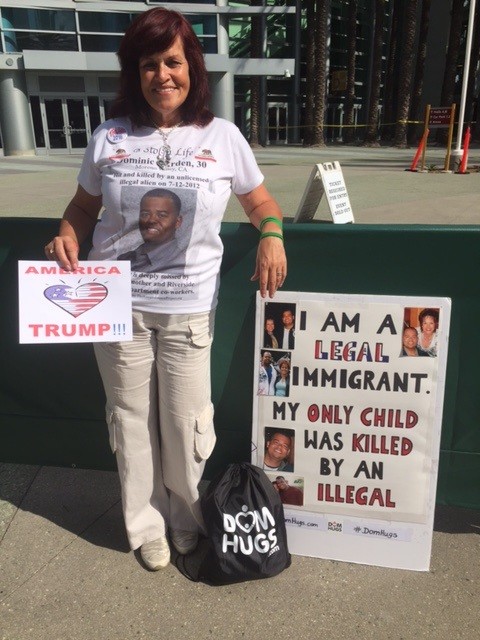 Durden said that she disagrees with Hillary Clinton's characterization of Trump as a "bully."
"Donald Trump has always been so very kind," Durden said. "People call him racist, and he's none of that. My son Dominic was half black… and Donald Trump has always been so very gentle and concerned about how I feel and how I am doing."
Durden said that it is Hillary Clinton — and not Trump — who is "the bully":
During one of the Democratic debates, Hillary Clinton openly announced what she was going to do to help illegal families be united again. She kept saying what she would do for illegal families, and I got so angry because we have American families that need help. We have American families that have been affected by illegal aliens, and Hillary never talks to us, and never talks about our stories or even about the issue. She's the bully.