Politico, a struggling progressive centerpiece of the mainstream media based in Northern Virginia, has again embarrassed itself in its coverage of Donald Trump, the presumptive GOP presidential nominee.
In a piece about Trump's Thursday morning meeting with about 200 House Republicans, the publication accidentally inaccurately reported that Ivanka Trump—Donald's daughter—was Trump's "wife." Politico also misspelled Republican National Committee chairman Reince Priebus's name.
"With Republican National Committee chairman Reince Preibus and his wife Ivanka in attendance, the billionaire real estate tycoon met with the full House GOP conference at RNC headquarters," Politico's Rachael Bade, Heather Caygle, and John Bresnahan wrote in a triple byline epoch on Trump's speech inside the RNC headquarters to 200 House Republicans.
Of course, it takes three Politico scribes to make such silly mistakes. Ivanka Trump is Donald's daughter not his "wife." They also misspelled Priebus's name.
But what's even funnier than the silly mistakes is how Politico has handled them since then. Thankfully, Breitbart News has a series of screen shots to capture all the ways Politico changed the piece.
The first screen shot shows Politico's originally published version of the article, how they misspelled "Priebus" as "Preibus" and called Ivanka the "wife" of Donald Trump.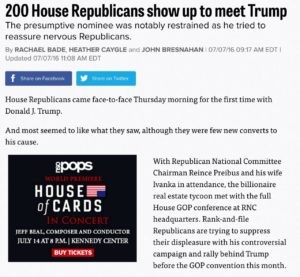 The second screen shot shows Politico's first update, shortly before 11:40 a.m., which still misspells "Priebus" but removes all reference to Ivanka Trump.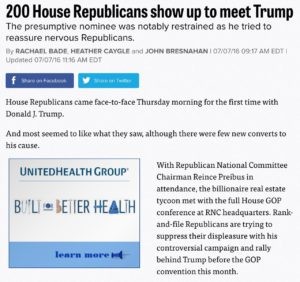 The third screen shot, which still misspells "Priebus," adds Ivanka Trump back into the story and now correctly refers to her as Donald Trump's daughter.
As of Breitbart News's publication 0f this article, Politico has still not updated the story with the correct spelling of Priebus's name. What's more, a Politico spokesperson—Christyn Lansing—has not responded to a Breitbart News request for comment about this latest embarrassment.
Despite all the changes to the Politico piece, there has been no notice to readers anywhere in it or at the end of the piece to notify them that Politico erred in calling Ivanka Trump the "wife" of Donald Trump.
The Politico reporters' aim in writing this piece, as clearly laid out in the next sentence after this epic fail, is for them to use their influence as members of the media to drive an inaccurate narrative that there is somehow widespread discontent with Trump inside the GOP. "Rank-and-file Republicans are trying to suppress their displeasure with his controversial campaign and rally behind Trump before the GOP convention this month," the three Politico reporters wrote.
Of course, most in the Republican Party are now fully in support of Trump—the party's presumptive nominee who will easily win the nomination on the first ballot in Cleveland at the Republican National Convention—but Politico wants to hype divisions while downplaying unity. In the Democratic Party, they are doing the exact opposite for presumptive Democratic nominee Hillary Clinton—who has actual serious problems getting rank-and-file Democrats who backed Sen. Bernie Sanders of Vermont in the primaries to support her—by doing whatever they can to help her unify before their convention in Philadelphia.
But the bastion of progressive media has lost its edge in recent months as a series of high-profile reporters and editors have announced their resignations—or have already left—leaving the Northern Virginia outlet in a rough spot. Meanwhile, amid the departures, Politico has seemingly—as Breitbart News has reported—been taken over by a large group of registered Democrats. Specifically, national editor Kristin Roberts has admitted to Breitbart News that she was once a registered member of the Democratic Party in both Florida and New Jersey, but now claims she is an independent. Voter registration forms for several other Politico reporters and editors show active or former Democratic Party membership is now rampant inside the publication's upper circles.
As the progressive wave has swept into Politico, more and more of these embarrassing errors keep appearing in the publication—as the true purpose of the outlet has shifted away from telling and breaking stories towards protecting Democrats like Hillary Clinton while undermining Republicans like Donald Trump. Trump has responded in kind by de-credentialing Politico from coverage of his campaign events.
UPDATE 4:07 p.m.:
Politico has still not corrected the misspelling of Priebus' name in the article, but does seem to have added a correction to the bottom of the piece.

The correction, however, misstates Politico's original error. It says that the progressive outlet originally "incorrectly stated that Trump's wife attended the meeting with House Republicans" and that it was actually "[h]is daughter [who] attended." The correction does not make clear that the error Politico made was in identifying Ivanka Trump as Trump's wife. Ivanka Trump did attend the meeting, as well as other meetings with her father in Washington, D.C., on Thursday, but Ivanka Trump is Trump's daughter not his wife as Politico originally reported.