President Barack Obama's preferred policing practices deserve the credit for changing the crime rate in Dallas, his spokesman says.
But spokesman Josh Earnest does not seem to be aware the city's murder rate has climbed 40 percent this year as Obama's preferred policing practices are implemented. Some of the 2016 dead in Dallas are shown above.
The spokesman's July 13 statement came in response to a reporter asking a question about the value of the policing changes that Obama is pressuring state and local police forces to adopt. "This latest tragedy [the murder of five cops] took place in a community [Dallas] that the White House actually touted for having done a good job of implementing [new policing rules]?  I mean, doesn't that suggest that they're either ineffective or insufficient to prevent these kinds of things from happening?"asked the reporter. 
The police "reforms that have been put in place in Dallas have made a difference," Earnest answered.
"That is a reflection of why it's important for other communities to make this issue a priority in the same way that Dallas has. It's making a difference in the lives of the people in Dallas, because it's not just those incidents of concern about police conduct that have declined; the violent crime rates declined, too."
Actually, violent crime is up across the board in Obama's model city of Dallas.
According to The Dallas Morning News, 67 people were murdered in the first five months of 2016, compared to 48 murders in the first five months of 2015. Also, robbery is up from 1,576 to 1,805, and aggravated assault is up from 1,501 incidents to 1,747 incidents. The relatively good news is that sexual assault nudged down from 336 incidents in 2015 to 312 incidents in 2016.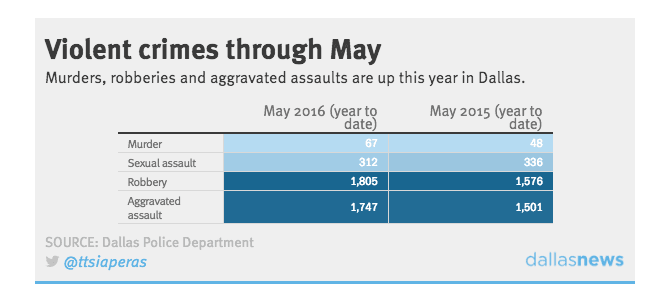 The 2016 spike comes after the murder rate jumped almost 17 percent in 2015, bring the city's death toll up to 136 dead for 2015.
The 2016 crime spike is so large that the city's now famous police chief, David Brown, has faced pressure to resign.
"Chief Brown's Career Has Lived by Crime Stats, and It Will Die by Crime Stats," said a March headline in the Dallas Observer.
According to a March 28 report in The Dallas Morning News,
Dallas Police Chief David Brown's plan to fight a drastic rise in violent crime — including a nearly 75 percent jump in murders — by moving hundreds of officers to different shifts and on to task forces is creating an uproar within his department.

The Black Police Association has historically been supportive of Brown but called for his resignation Monday hours before the group met with the three other police associations…

Council member Philip Kingston expressed concern Monday about Brown's plans. "None of what you've presented here today is sustainable," Kingston said …

Council member Tiffinni Young also said the policing efforts seem to neglect some neighborhoods, including many in her South Dallas district, where she says she has seen an increase in crime. Council member Adam Medrano echoed her concerns…

But council member Adam McGough told the chief that he wants to hear a more long-term solution to reducing crime. "In the last six to eight months, I'm only hearing excuses. I'm only hearing the issues and the problems we're facing … but not any strategy around dealing with those," he said.
On June 13, The Dallas Morning News reported that;
Murders are up nearly 40 percent over last year in Dallas, but the rate has slowed since an alarming spike in March…

[A new ] task force, arrested 41 people, seized five guns and recovered two stolen vehicles. Brown formed the task force in March in response to a drastic increase in murders, aggravated assaults and robberies.

The task force, which includes officers from the K-9, gang, narcotics and tactical units, has been targeting high-crime areas. Brown also created a property crimes task force to battle a slight increase in thefts and burglaries this year.

Experts say what's happening in Dallas mirrors national trends. Chicago, Los Angeles, Baltimore and other large cities have seen similar spikes in murders and violent crimes.
Obama, however, is pushing ahead with his planned effort to federalize the nation's state and local police forces, despite the sharply rise in murder rates in 2015 and 2016. 
He's also better at hiding the higher murder rate than his spokesman.
For example, on July 9, he declared that "over the last four or five years during the course of my presidency, violent crime in the United States is the lowest it's been since probably the 1960's … in places like New York or Los Angeles or Dallas, you have seen huge drops in the murder rates." That's a clever sentence because it hides the recent increase in crime by comparing the average crime during his term to earlier decades when crime was far higher. 
In Los Angeles, the 2016 murder rate is up by 27 percent, despite Obama's insistence on July 9 that there was a "huge" drop in the city's murder rates. The city's murder rate also rose 10 percent in 2015. In 2015, the city also saw a sharp jump in other crimes, such as violent assaults. Prior to 2014, Los Angeles' murder rate had fallen steadily since 1993, down to 296 dead in 2013.
Obama can't have missed the many reports by non-profit groups showing the crime spike since 2014.
Murder rates in the nation's biggest cities climbed by 11 percent in 2015, the left-wing Brennan Center for Justice admitted in November 2015. The center's report, titled "Crime in 2015: A Preliminary Analysis," projected the 2015 murder toll in 25 cities at 3,668 dead.
The left-wing Fivethirtyeight.com website reported in September 2015 that the higher crime rate had buried an extra 482 murder victims.
The left-wing Marshall Project admitted at 14.5 percent increase in 2015, and also indirectly suggested that Obama's blame-cops-first policy may contribute to the greater violence.
It is unclear what is driving the problem, but …  Multiple studies have demonstrated that, controlling for other factors, when communities view the police and criminal justice system as illegitimate, they become more violent. When people believe the system is unwilling or unable to help them, they are more likely to take the law into their own hands, creating the cycles of violent retribution.
That claim is backed by by some data. For example, a Gallup poll in June 2015 showed confidence in the police had dropped to a 22-year low.
But at least Obama has Factcheck.org, which cheerleads for his claim of crime reductions amid the rising crime because "we can't discern a trend from a few years of [recent] data."