WEST PALM BEACH, FL – Republican presidential nominee Donald Trump is responding to allegations from three women from two separate reports that accuse him of engaging in improper sexual conduct.
Trump, speaking to a crowd of at least 7,000, attributed the timing of the allegations to the election and blamed forces involved with Democratic presidential nominee Hillary Clinton's campaign directly, adding they were using the "corporate media" to further the claims.
"There is nothing the political establishment will not do, no lie they will not tell to hold their political power and prestige at your expense and that's what's been happening," Trump said. "The most powerful weapon deployed by the Clintons is the corporate media, the press."

"Let's be clear on one thing," he continued. "The corporate media in our country is no longer involved in journalism, they're a political special interest no different than any lobbyist or financial entity with a total political agenda and the agenda is not for you, it's for themselves. And their agenda is to elect 'Crooked' Hillary Clinton at any cost, at any price, no matter how many lives they destroy."
He went on to call the allegations "all fabricated" and "outright lies" and vowed he is preparing a lawsuit against The New York Times, which is one of the two outlets involved.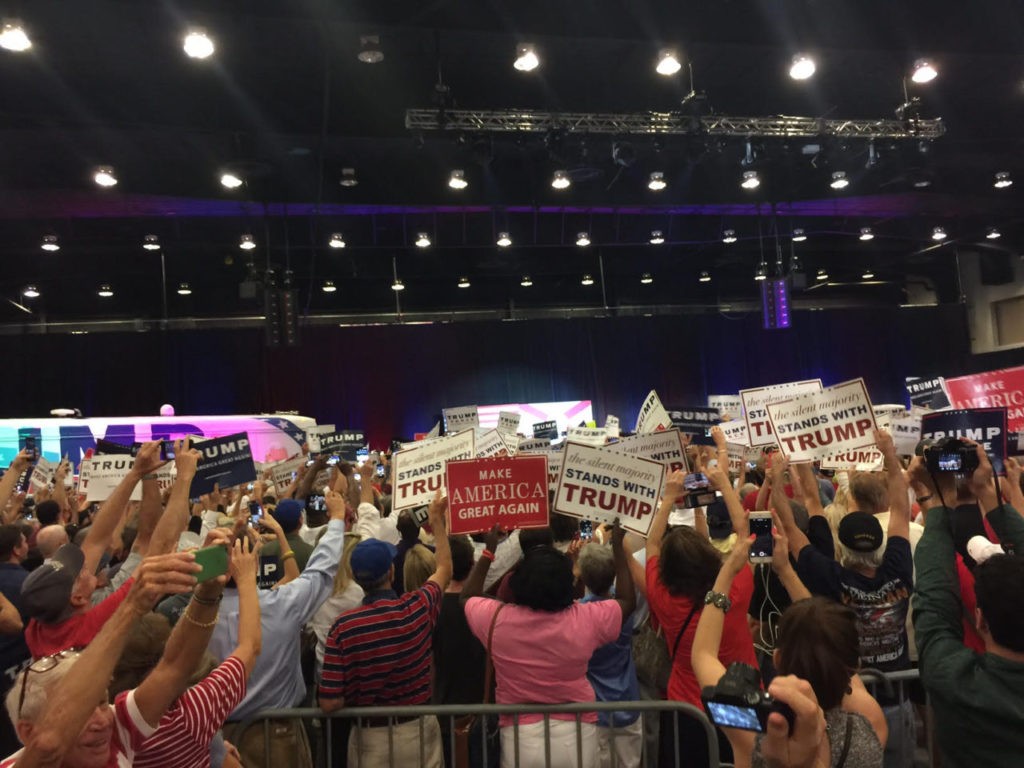 "We demanded a retraction, but they refused to print it. Just like they refused to take the comments from another source, who praised me in her book, or the words of another wonderful woman who said really nice things about me," he said. "They put other statements that she didn't say. They misrepresented. The story was a fraud and a big embarrassment to the New York Times."
"And it was a big front-page story, front page, center, color picture, a disgrace," Trump added. "They were very embarrassed. It will be part of the lawsuit we are preparing against them. "I will not allow the Clinton machine to turn our campaign into a discussion based on their slanders and lies."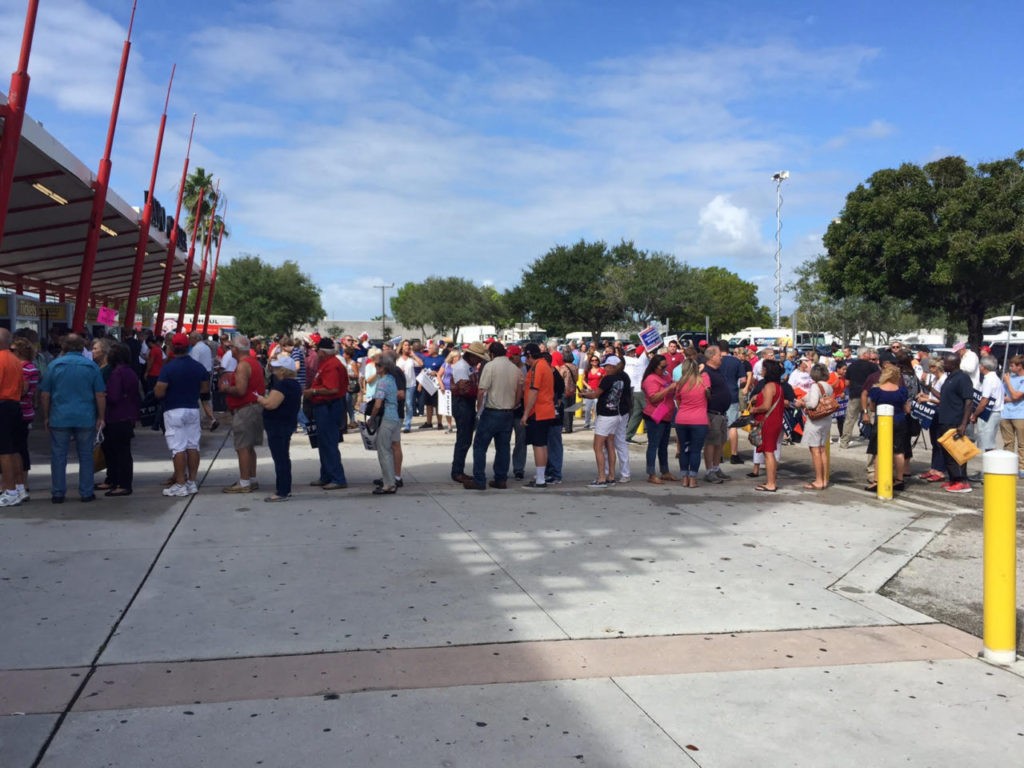 On a broader note, Trump told attendees Clinton only had the press "going for herself" and speculated on what her effort might be without the media.
"The only thing Hillary Clinton has going for herself is the press," he said. "Without the press, she is absolutely zero. And you saw that the other night in the debate where some people said she made virtually a fool of herself. This is not presidential material, believe me."
Trump told attendees that he would not let the Clintons succeed in their efforts to "destroy our movement."
"Again, this is nothing more than an attempt to destroy our movement and for the Clintons to keep their corrupt control over our government," Trump said. "When I declared my candidacy, I knew what bad shape our country was in."
Trump's stop in West Palm Beach was the last one of four in a three-day Florida swing that started in the panhandle in Panama City Beach, and then in Ocala and Lakeland on Wednesday.
The latest Real Clear Politics average has Trump only down three percentage points to Clinton in the battle for the Sunshine State's 29 electoral votes.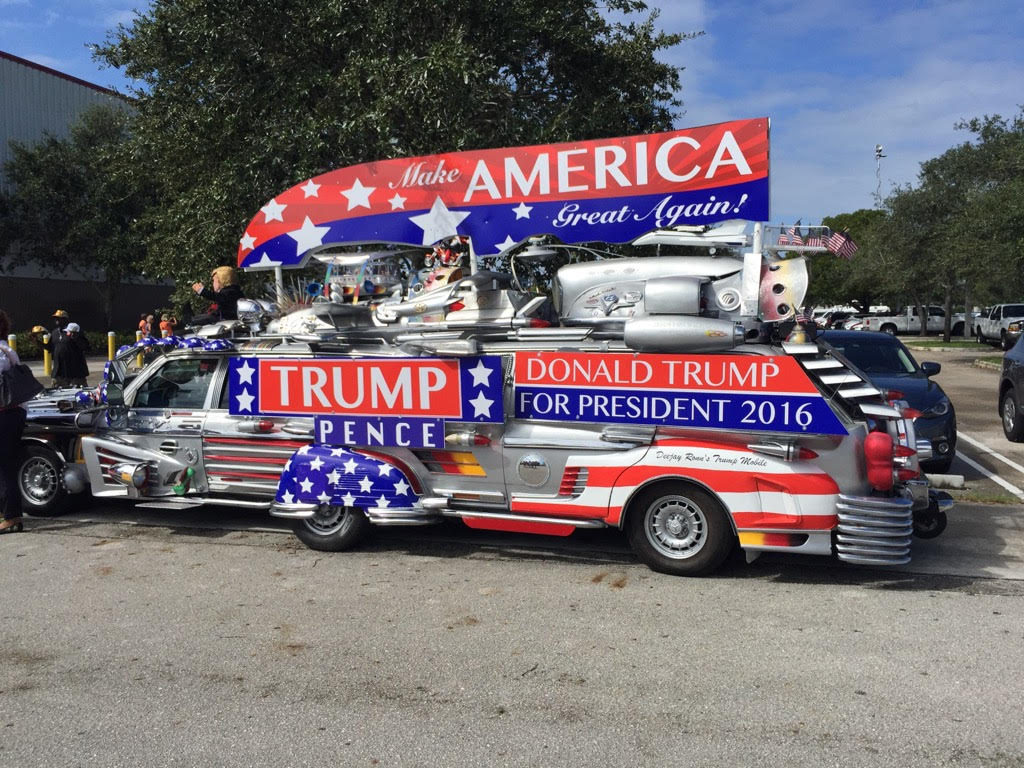 Follow Jeff Poor on Twitter @jeff_poor