Roughly 180,000 foreign criminals with court-approved removal orders are still living in the United States because President Barack Obama's administration is not trying to send them home, says a new Senate report.
Alabama Republican Sen. Jeff Sessions hit the administration Wednesday for allowing other countries to treat the United States as a holding ground for their migrant criminals.
Agencies working for Obama have allowed almost 1 million illegal immigrants to remain in the country, even though they have been approved by judges for deportation. That number includes 182,761 illegal aliens who have been convicted of crimes inside the United States.
The one million total also includes almost one-quarter of a million illegal aliens whose home countries simply refuse to let U.S. officials fly the criminals home.
Obama's deputies could pressure those countries to take back their criminals, for example, by denying visas to political and business leaders from those countries. So far, the U.S. has only applied those pressures to the small nation of Gambia.
"According to data provided to the Senate Subcommittee on Immigration and the National Interest by U.S. Immigration and Customs Enforcement (ICE), as of June 25, 2016, there were 953,806 aliens in the United States with outstanding orders of removal, 182,761 of whom were convicted of crimes in the United States," Sessions' office stated.
"Of the 953,806 aliens who have final orders of removal, 242,772 come from countries that refuse to take back their nationals after they receive final removal orders," said the statement.
Of the quarter million aliens, "123,098 [are] coming from the 23 countries that ICE deems to be 'recalcitrant,' and 119,674 from the 62 countries that ICE deems to be otherwise uncooperative."
Tens of thousands of those 242,722 illegal aliens went on to commit more crimes after being released back onto U.S. soil, says the Sessions statement.
"57,029 were convicted of criminal offenses, or roughly 30 percent of the criminal aliens with removal orders in the United States—including 28,733 from Cuba, 7,705 from Vietnam, 2,140 from Haiti, and 1,848 from China," his office continued.
Lax immigration enforcement has allowed much crime by non-departed aliens, including murders.
[I]n 2012, ICE released an alien who had completed his sentence for attempted murder instead of deporting him to Haiti, because Haiti refused to accept him. In 2015, the same alien stabbed 25-year-old Casey Chadwick of Norwich, Connecticut, before stuffing her body in a closet.  In 2013, an alien who should have been deported to Cambodia in 2009, but was instead released from ICE custody, molested a child that he picked up from a school without authorization.  And in 2010, an alien who should have been deported to Jamaica, but was instead released, broke into his ex-girlfriend's home and stabbed her and a friend as her children slept nearby.
Many criminal aliens are now being released from U.S. jails back into U.S. neighborhoods, instead of being repatriated, the statement says.
Further, 95 of these dangerous criminal aliens were recently released early from federal prison, due to retroactive sentence reductions, and not deported, including:

A Cuban national with convictions for burglary, drug trafficking, and sex offenses, who was released in Florida;

A Cuban national with convictions for eight counts of assault and aggravated assault, along with convictions for battery, selling cocaine, six counts of larceny, and four additional charges related to stolen property, who was released in Texas;

A Laotian national with convictions for burglary, drug trafficking, homicide, and sexual assault, who was released in California; and,

A Syrian national with convictions for selling cocaine and possession of a weapon, who was released in Illinois.
China and Cuba each have resisted taking back tens of thousands of their citizens wreaking havoc in the U.S., with Brazil and Haiti close behind: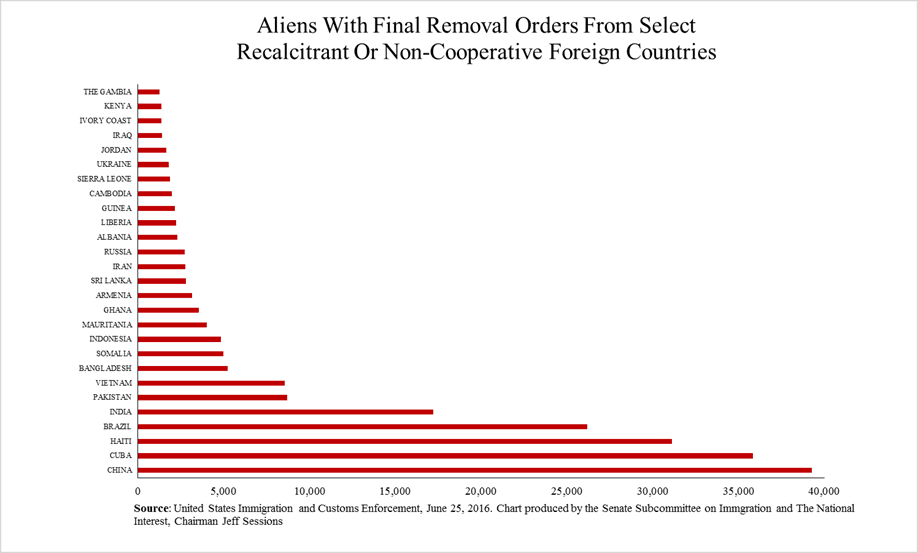 The only country who experienced repercussions for refusing to take back their criminal citizens was Gambia, who made up less than one percent of the some-quarter million ready to go back if their home countries would allow them. Gambian government employees and their families can no longer receive U.S. visas, a repercussions Sessions called "mild" and unlikely to work.
The Obama administration also granted U.S. citizenship to over 1,800 illegal aliens from terrorist-infiltrated countries who were set for deportation. Once the massive fraud and security crisis was exposed, the administration shut down the whistleblower program that uncovered it.