GRAND RAPIDS, Michigan — Thousands of Donald Trump supporters filled the DeltaPlex arena on a cool Halloween morning — some in costume — as the Republican presidential nominee made a bid to expand the electoral map and win a state that has long eluded Republican presidential candidates.
The crowd — some 8,000 strong in the DeltaPlex stadium — waited patiently through warmup speeches and delays, and were rewarded with an appearance by former Indiana University basketball coach Bobby Knight, who introduced Trump."
"Donald Trump is a tough son-of-a-bitch," he said, to cheers.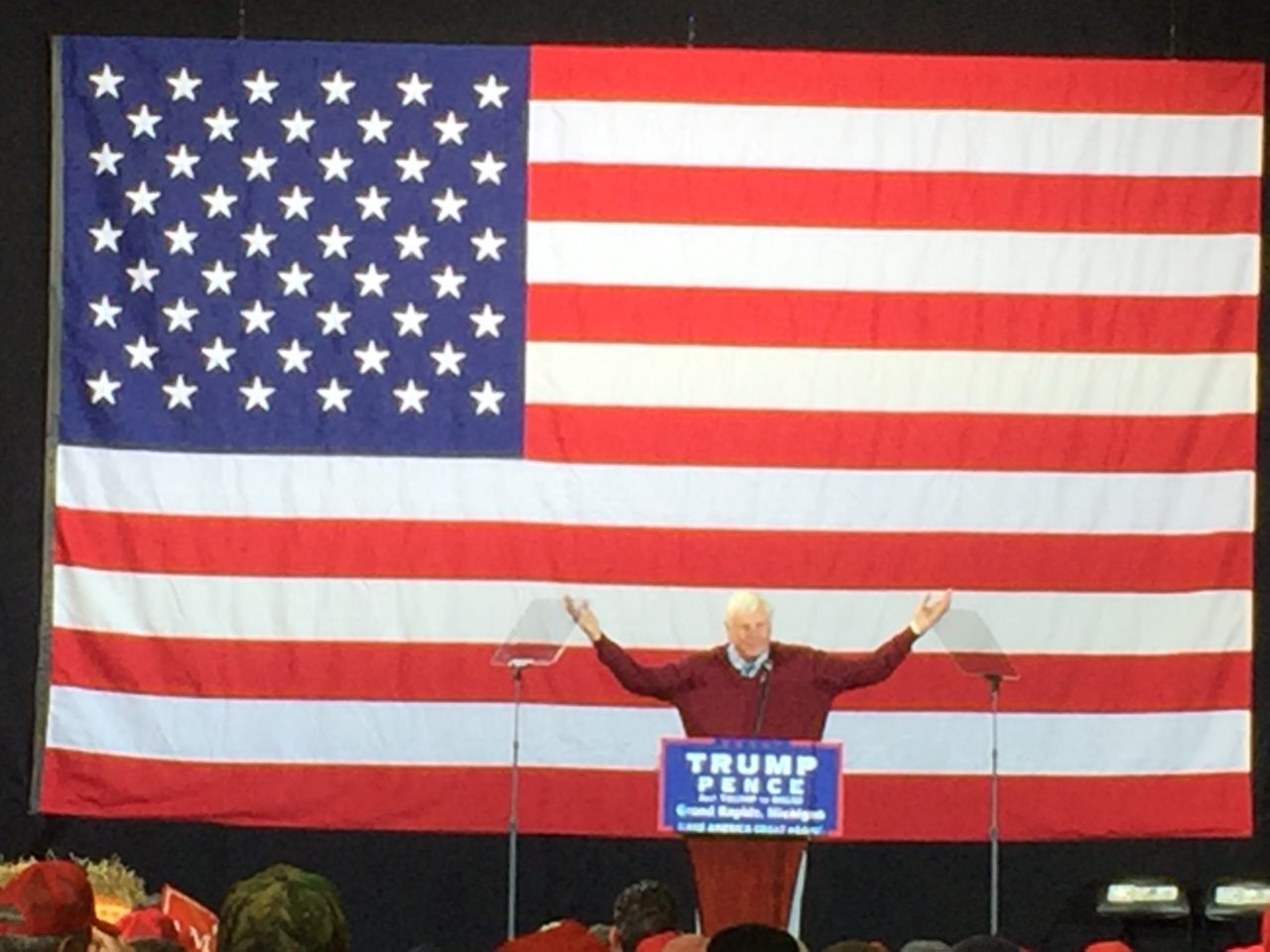 He added that Trump would never allow what Hillary Clinton allowed to happen in Benghazi: "There will never again be four Americans sent out on a hill and left to die," he said.
Trump emerged to wild cheers, and walked through a familiar list of the country's glaring economic and foreign policy problems.
He talked about the departure of jobs from the state, including the closure of Ford production facilities, which are relocating to Mexico.
"This is your one chance, right now, November 8th, to change it," Trump said.
He talked about the "tremendous potential" of the country, if it changed its political leadership and decided to "drain the swamp" in Washington.
"My contract with the American voter begins with a plan to restore honesty and accountability in our government," he said, to cheers.
He noted the latest developments in the Clinton email scandal, and quoted from Democratic pollster Doug Schoen's statement on Fox News on Sunday that he was withdrawing his support for Clinton in light of the re-opening of the FBI investigation.
Trump also joked about the newest revelations in Wikileaks, including the discovery that Democratic National Committee chair and CNN commentator Donna Brazile had passed debate questions from the network to the Clinton campaign. Later, he challenged the media to ask Hillary Clinton why she didn't report Brazile at the time. (The revelations cost Brazile her CNN job on Monday.)
Shortly thereafter, Knight re-emerged to tout Trump's respect for the military, and added — despite the live television and radio coverage of the speech: "In a Donald Trump administration, there will be no bullshit."
Trump also talked about his "new deal for black America," which he introduced last week in Charlotte, North Carolina. And he pledged to protect the environment of the Great Lakes.
Several attendees came in costume — and not just the Hillary-in-prison gear that has become ubiquitous at rallies throughout the country.
One woman dressed as a bottle of ketchup, imploring Americans to "ketchup" to the Trump train.
Costumed @realDonaldTrump supporter at #GrandRapids #Michigan rally: "Ketchup" to the #TrumpTrain pic.twitter.com/GN3AahSFwF

— Joel B. Pollak (@joelpollak) October 31, 2016
Another couple, celebrating their wedding anniversary, came as Abraham and Mary Todd Lincoln.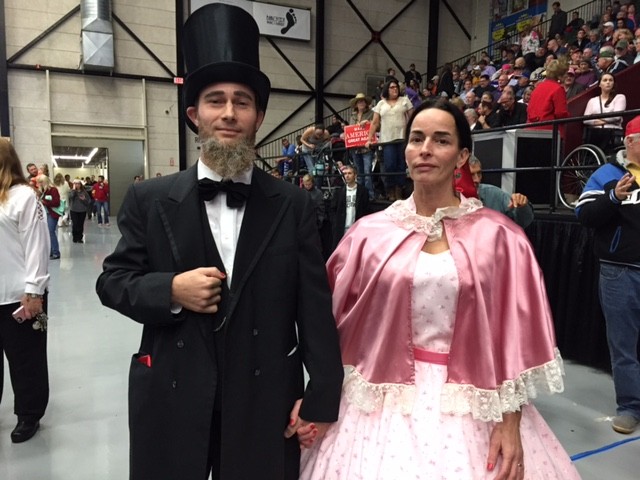 Mary Simcox, of nearby Portland, dressed as Lady Liberty. She was passionate in her support for Trump.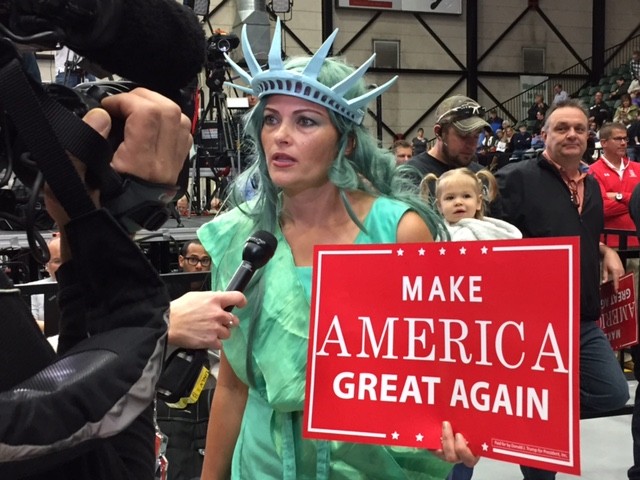 "I think 'Women for Trump' is a great idea. I'm pro-life, and I can't stand the views of Hillary Clinton on abortion.
"I love the idea of Trump bringing in new ideas, as an outsider. I want to drain the swamp — I went to Washington recently, and it smells pretty bad."
Asked about Trump's recorded comments and alleged behavior towards women, Simcox said:
"I grew up with a lot of men — brothers, uncles, friends. Men do have the so-called 'locker room talk.' It's true. They don't do it in public, or to women directly. I don't know anyone who hasn't used a swear word. You have to judge the good in people.
"I also don't believe some of the stories — at least not the timing, or the extent.
"I think Trump loves women, I think he respects women. I'm a mother with two children, Catholic, college-educated, I've traveled the world, we're small business owners — and I love Trump."
Devon, 13, was one of many children at the rally, some of whom skipped school to join their parents there.
"I love that he's going to put America and Americans first," he told Breitbart News.
He and his father, Chris, drove an hour and a half to be at the rally.
"Donald Trump is the only answer for our future," Chris said. "I don't know what my kids will grow up with, if it's Hillary.
"I believe in him. He can fix it.
"Nobody's ever said before, 'We've got a corrupt government, let's fix it."
Tammy, from Vicksburg, insisted on speaking to Breitbart News. She was furious at the media's portrayal of college-educated women preferring Hillary Clinton to Trump.
"We're smart and we're conservative," she said.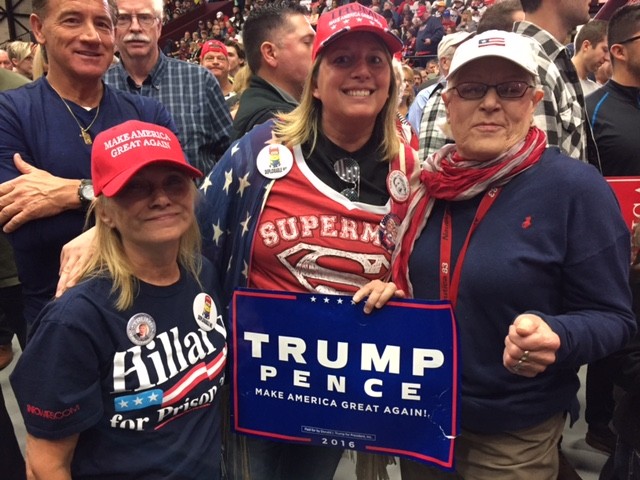 She and her friend Dawn, from Mendon, said the issue that motivated them most was the desire to "protect America." Both said that they were planning on buying guns for the first time in their lives.
"I'm all for immigration if it's legal, but this massive immigration that Hillary wants — we don't support that."
Doug de Lange of Grand Rapids was wearing a "Donald Trump" yarmulke, and holding a Star of David that he had made from two Trump campaign signs. He told Breitbart News that on a recent trip to Israel, "one hundred percent" of the people he met preferred Trump. "They don't think Israel can survive another four years of Obama-like, Hillary Clinton policies."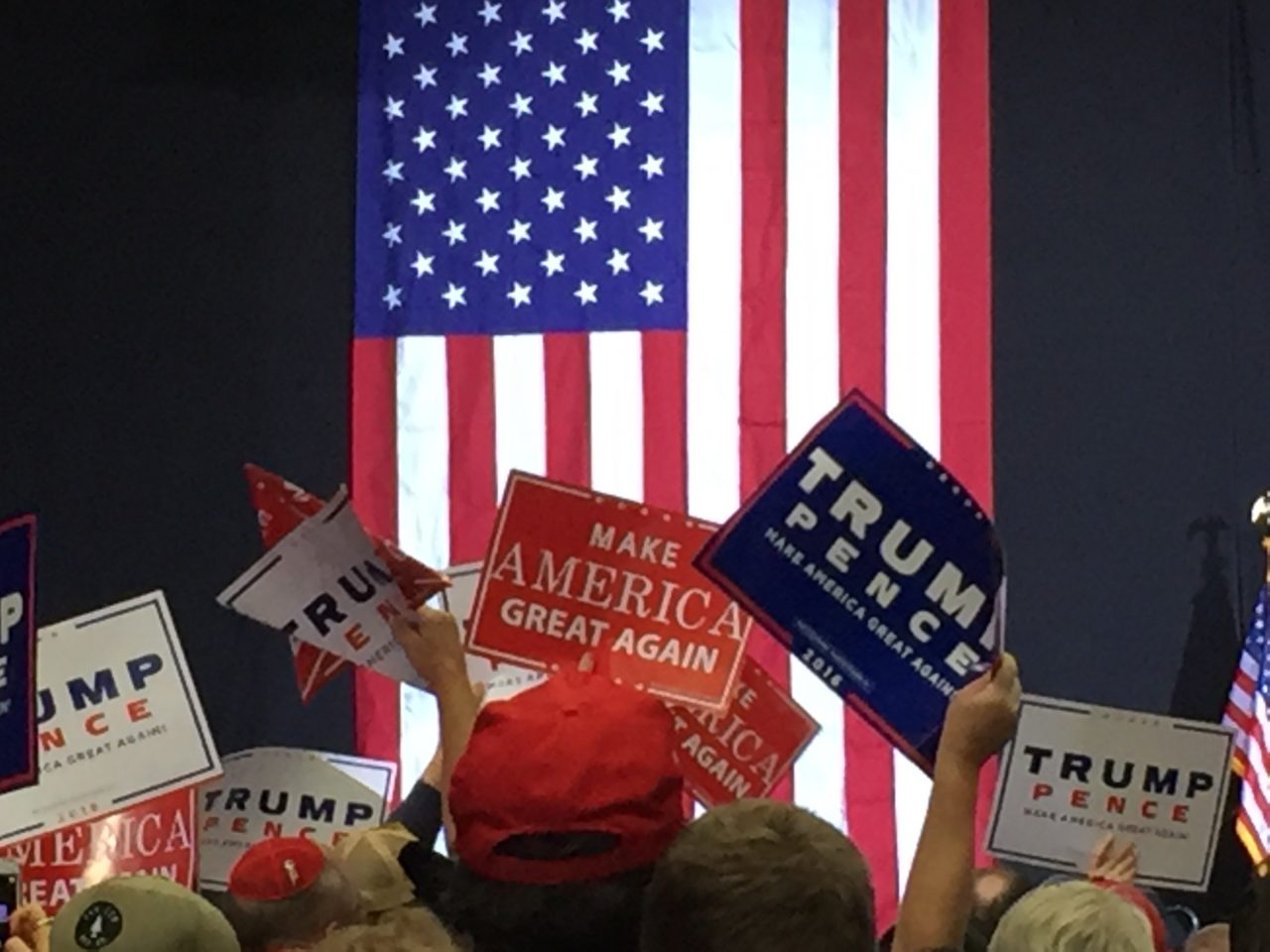 "People in my religious community ask me, 'How can someone who's so intelligent vote for Trump?' Now, I say to them, 'How can someone who's so moral vote for Hillary?'"
Kevin Gregg, an Iraq war veteran, told Breitbart News that he had "mixed" feelings about that war, but did not trust Hillary Clinton's foreign policy. "Hillary Clinton is going to have us at war with Russia," he said.
Retiree Dean Elleman drove three hours from Chicago to be at the rally, and planned to follow Trump across the state later that day, to a rally in Warren.
He said that the country had not yet understood the problem with Hillary Clinton's email scandal — that if the emails really had been deleted, anyone could produce a fake one and claim it was real, and use it for any nefarious purpose.
His son Derek, an equities trader, said he supported Trump's tax code, and opposed "what the Clintons have done to the country," including former President Bill Clinton's liberalization of banking in the late 1990s.
There were a few protesters as well. Victoria, a makeup artist from Grand Rapids, wore a "Black Lives Matter" T-shirt and stood with fellow demonstrators.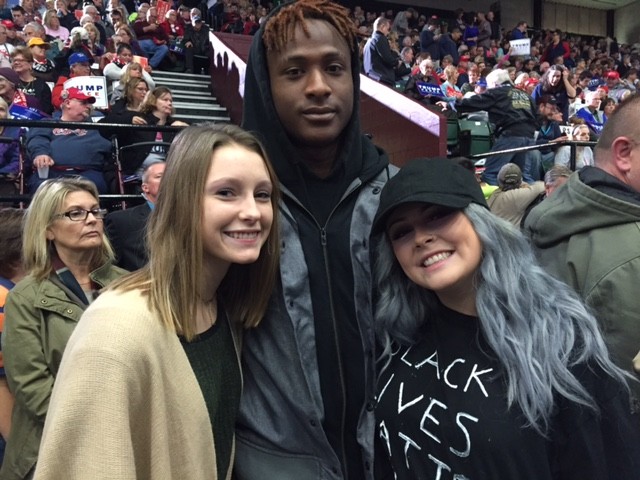 "I'm here to peacefully protest," she told Breitbart News. She said she believed Trump's supporters were prejudiced, and wanted to make a point: "I just wanted people to see [Black Lives Matter], and for it not to be taboo in a place like this."
There were no disruptions in the speech.
Michigan has 16 electoral votes, and has been won by the Democratic presidential candidate in every election since 1988. However, it has a Republican governor, now in his second term.
Joel B. Pollak is Senior Editor-at-Large at Breitbart News. His new book, See No Evil: 19 Hard Truths the Left Can't Handle, is available from Regnery through Amazon. Follow him on Twitter at @joelpollak.