JACKSONVILLE, Florida — Republican presidential nominee Donald Trump kicked off a marathon day of campaigning with a speech to over 4,000 supporters at the Jacksonville Equestrian Center on Thursday. And John LaBarbera and Craig Starling, wearing rainbow 'Gays for Trump' T-shirts, made sure they were there.
"We're concerned about the possibility of Musilm terrorism," Starling told Breitbart News. "Trump is better on security and immigration."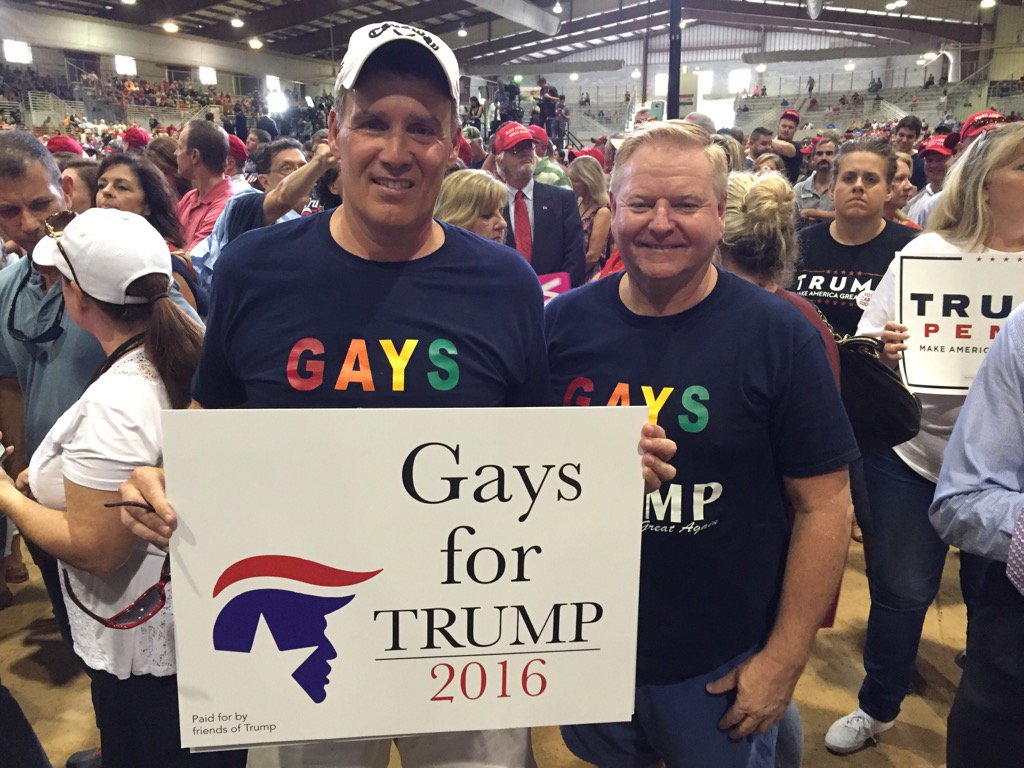 LaBarbera, who drove with Starling from Savannah, Georgia, to attend the rally, agreed, adding that he also preferred Trump's economic policies.
He said that he had lost several yard signs to theft, and had endured hate on Facebook. But he added that people at Savannah's gay pride rally had been "kind" when they set up a booth for Trump, and that Trump fans at the rally had been "supportive" as well.
Other "Gays for Trump" signs have been popping up at Trump rallies elsewhere in the Sunshine State. One supporter waved a homemade sign at Trump's rally in Orlando on Wednesday. And Trump emerged onstage in Colorado on Sunday holding a rainbow flag with the words "LGBTs for Trump" written on it.
Though the crowd in Jacksonville was predominantly white — and someone high in the stands even brought a Confederate flag — the supporters were an eclectic mix.
Rabbi Eli Wilansky, distinctive in his black suit and hat, walked through the crowd, looking for Jews who wanted to put on tefillin, the leather straps and boxes that are traditionally worn by Jewish men in morning prayers.
He held a sign: "#MakeTefillinGreatAgain."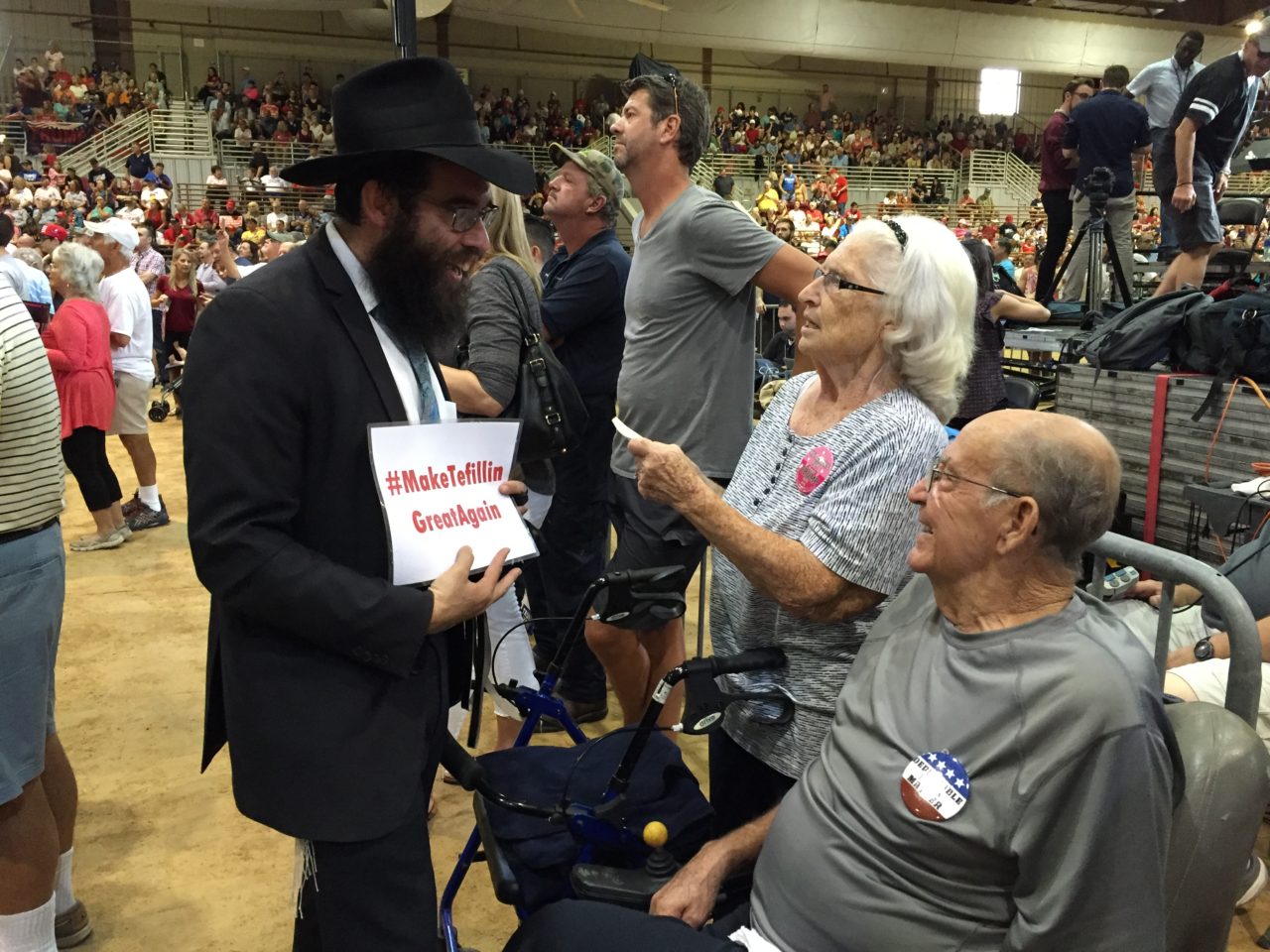 He said he was not trying to make a political point, and that he would do the same at Hillary Clinton rallies, given the opportunity. As for the election, "God controls the world," he told Breitbart News. "God is going to make the final decision."
Andrea Colson of Jacksonville held a homemade "Redheads for Trump" sign. She said what inspired her to support Trump was his love for America.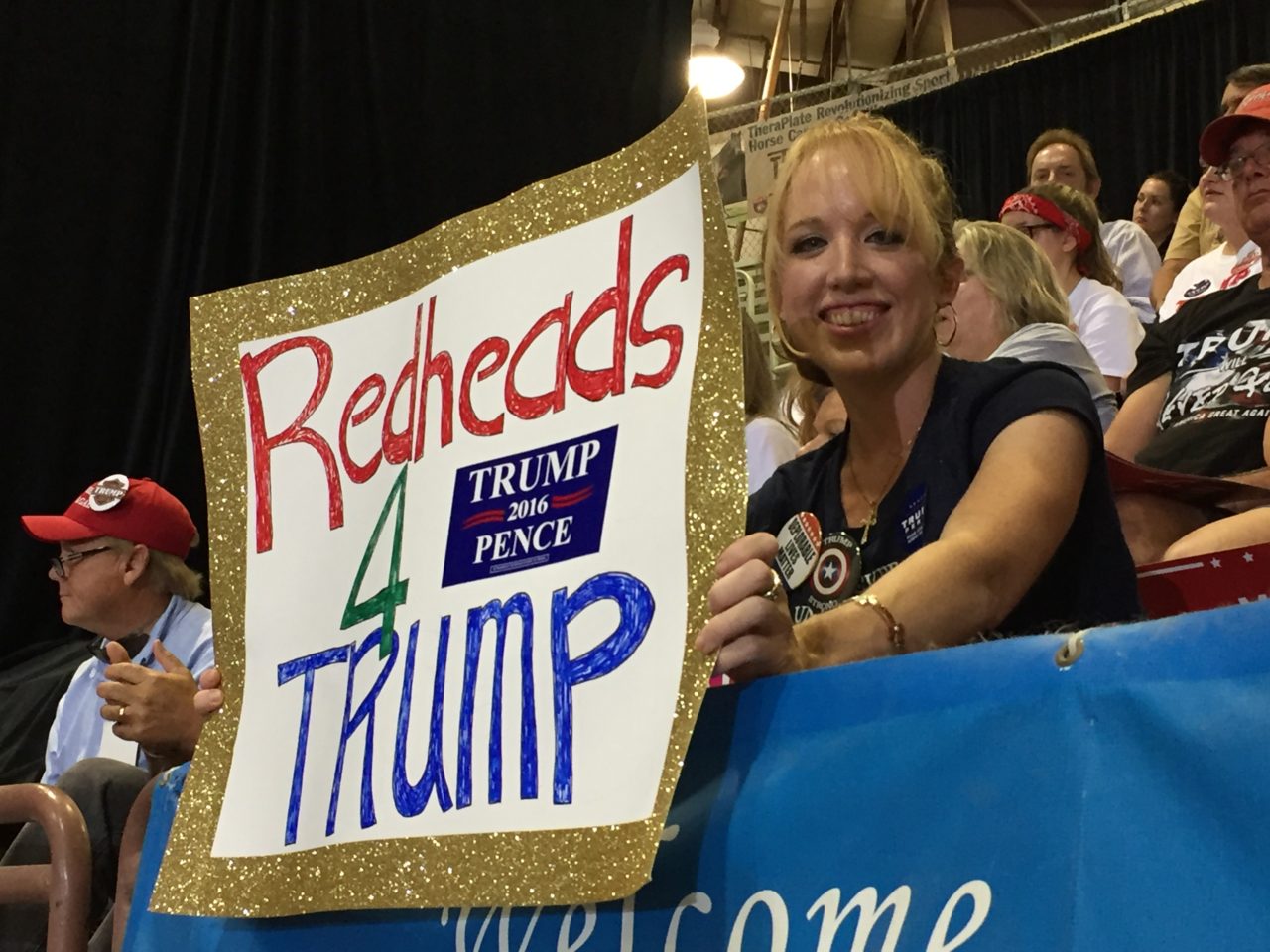 "He loves America. He is giving up so much for us, because he loves us. You can just feel the love in his voice when you hear him speak. He really loves this country."
Galina, a Russian-American immigrant, said she supported Trump's foreign policy. "I like the idea of peace between Russia and the United States," she said.
There were several families, including children, at the rally. Ashley Lagazo brought her daughter, Ahliana, to see Trump, whom she said was "the best candidate addressing all the issues."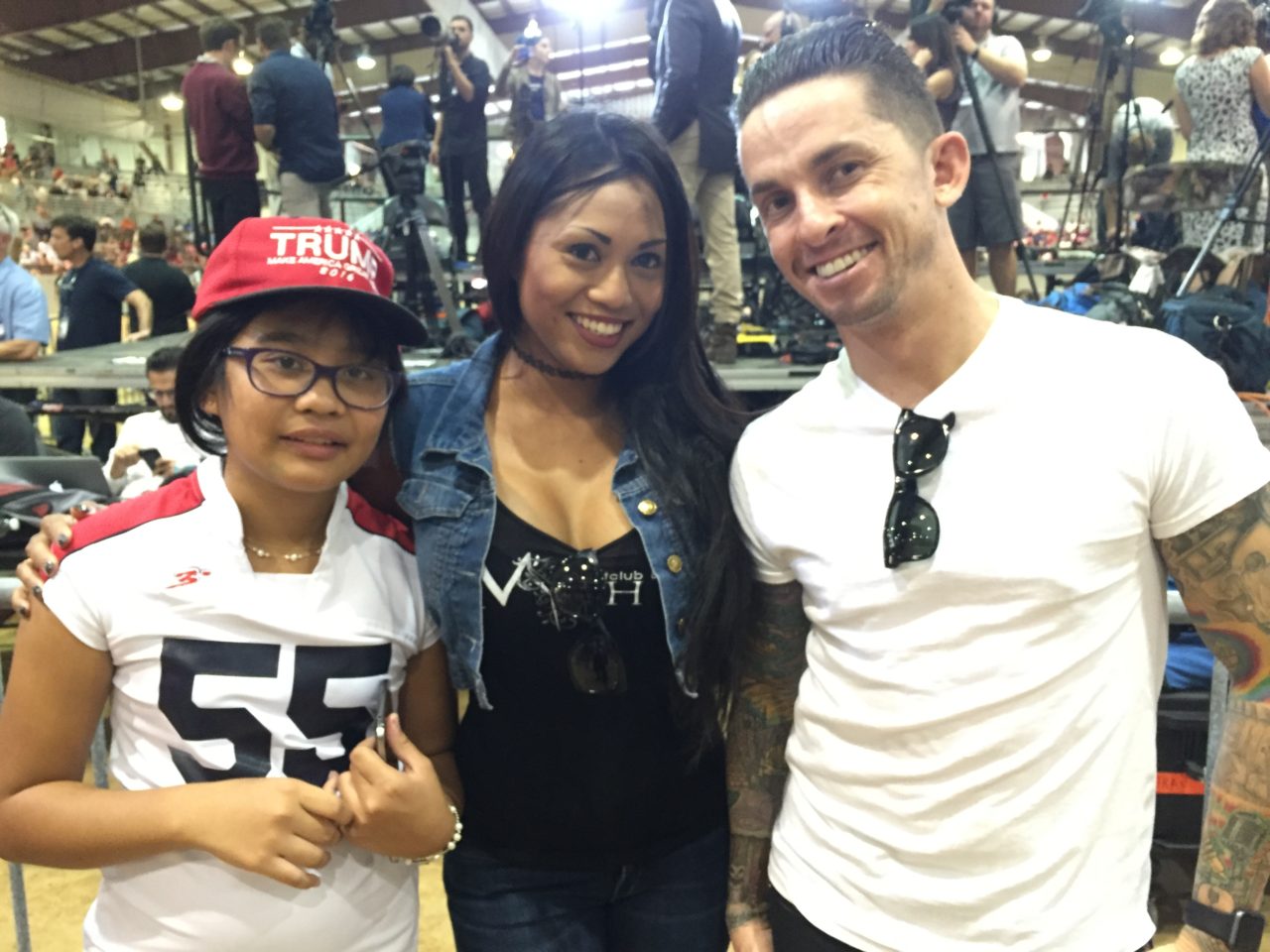 Kyle Helm, also of Jacksonville, said that he supported Trump because of his business experience.
"Finally, we have someone who knows about money … We need a leader who truly understands how to make change rather than printing and spending more money, and creating more problems."
Trump's major themes in the address included Obamacare, job creation and military spending. He touched on the latest news about the FBI investigation into Hillary Clinton's email server, noting that an indictment had been reported likely in the inquiry into the Clinton Foundation.
And he expanded on his recent remarks criticizing Hillary Clinton for cheating during the presidential debates by accepting leaked questions from former CNN contributor, and current Democratic National Committee chair, Donna Brazile.
He added that Sen. Bernie Sanders (I-VT) had been the main victim of the cheating, and wondered why Sanders had not yet given up on Hillary Clinton.
"Doesn't he tell his supporters to go vote for trump at some point?" he asked, to cheers.
Trump was scheduled to make appearances in North Carolina later Thursday.
This post has been updated to correct Donald Trump's schedule.
Joel B. Pollak is Senior Editor-at-Large at Breitbart News. His new book, See No Evil: 19 Hard Truths the Left Can't Handle, is available from Regnery through Amazon. Follow him on Twitter at @joelpollak.