While many celebrity deaths grabbed the headlines in 2016, we've also lost others whose names may not be as well known, but who have had an incredible impact on so many. One of those people is Doug McMarlin. The world of politics will never be the same after McMarlin's passing in December.
McMarlin was a world class political consultant. He worked alongside the likes of President George W. Bush, Mrs. Laura Bush, Senator John McCain, former Alaska Governor Sarah Palin, Ohio Governor John Kasich, and several others. Politically he was a smashing success. People are certainly remembering him for his professionalism. But most are missing McMarlin because of the man he was.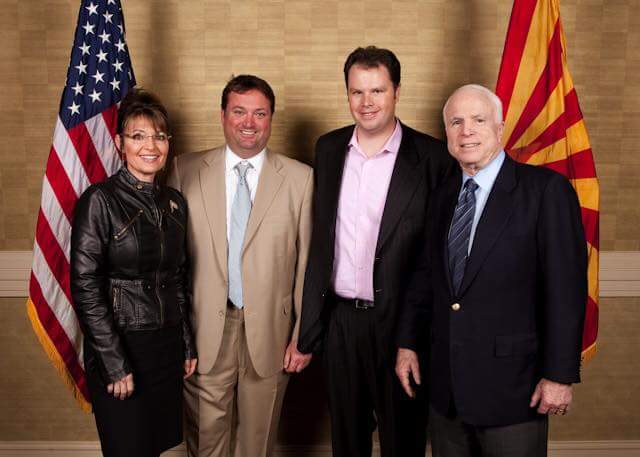 Those who knew him best are describing him as generous, kind, loving, loyal, sensitive, and even gorgeous. McMarlin's humor and big heart are also a recurring theme if you talk to his friends and colleagues.
"Doug was one of the funniest people I've ever known," said Matt Borges, Ohio's GOP chairman. "Smart, talented, and an exceptional advance man and political expert. Better yet, he was a kind and devoted friend. Every time we talked he'd ask about my family. Some of my favorite memories, professionally and personally, are with him. Everyone who knew Doug, liked him. That's rare. It's even rarer to find a person who lived as joyfully as Doug did."
Like Borges, many friends considered McMarlin so much more. He was family. He was a brother.
Reagan White House veteran and SarahPAC Treasurer Tim Crawford told Breitbart News McMarlin was the total package. "I lost a dear friend, a brother in arms," Crawford said. "Doug's humor, outlook on life, and our frequent conversations will be what I will miss most of all."
While McMarlin made his mark all over the United States, not to mention overseas, his ties to Ohio were Buckeye strong. McMarlin grew up there and graduated from The Ohio State University. He even served as a board member for the Columbus Zoo. His favorite animal though was his beloved French Bulldog, Emerson.
Outside of Ohio, McMarlin was received just as well. "Doug McMarlin was a friend, colleague, and also a very bright light in the national political landscape," said Susan Combs, the former Texas State comptroller. "He had an acute ear for political trends across America, as well as a refreshing and singular warmth and kindness. I really miss him."
Karen Rosalie Giorno was a political colleague and a friend of McMarlin's for over 25 years. They worked for several presidents, traveled the world together, and helped get candidates elected. She loved him like a brother. In fact, McMarlin moved to Florida in 2015 so the two could be closer to each other. Not only would this give them a chance to socialize more but they even discussed combining their consulting practices in order to work full time together.
"Doug was a scholar and a gentleman," Giorno said. "He was one of a kind; unique in his zest for life; his insatiable appetite for getting to the heart of things, always asking questions. I loved his intellectual curiosity, his boyish playfulness, his heartfelt laugh, and his joyful led nature. Yet he also had a serious side and was passionate about his work and the people that mattered to him. He was an amazing person, an amazing friend-he was, part of my family. His contribution to the world and the people around him will stand the test of time. I miss him every day, and his passing has left a giant sized hole that will never be filled."
The Palin camp was hit hard by the loss of McMarlin. Not only are the Palins themselves grieving but those who have worked for the former Alaska governor are particularly shaken. Palin team member Jason Recher, a former Special Assistant to President George W. Bush worked with McMarlin for over 16 years in various capacities all over the world from Alaska to Moscow to London to Hong Kong. He remembers McMarlin as special and unique. "Doug McMarlin wore several hats in my life – friend, groomsman, business partner – but brother is what sums it up best," Recher said. "Together, we accomplished great things professionally but personally he was always there to serve as a listening ear, a compass, or comedian. Doug McMarlin was an original, one of a kind – he'll be tremendously missed and never replaced."
Palin herself is reflecting on her times with McMarlin. "Doug was one of the most talented strategic communicators on the national scene," Palin told Breitbart News. "His signature touch was a covert, brilliant use of humor and clever sarcasm that alleviated much of the stress in the bizarre situations we've encountered. He and a couple more of us always talked about writing a book or screenplay about what our team's encountered, but I doubt people could even believe most of it! Still, I wish we would have done more than just talk about how we wanted to share some unbelievable times. Doug helped get us through them with grins on our faces, and the rest of America could benefit from what we've learned in what we wanted to title, 'The New Normal'."
McMarlin's relationship with Palin and her family dates back to the Mama Grizzly's historic run on a national ticket.
"Doug started with our team on the '08 Vice Presidential trail, quickly becoming my and my family's true friend," said Palin. "My kids loved him."
Palin also appreciated McMarlin's accomplishments before she met him.
"Before that, Doug proved his incredible dedication to public service as a veteran of both Bush 41 & 43 White House teams, and had served in the Ohio Governor's cabinet," Palin said. Doug was the resident expert on all-things Buckeye. Working all hours, everyday, across all these time zones in which our small crew operates, Doug kept us informed so we wouldn't miss a beat… and in fact often let us beat the rapid news cycle. We practiced citizen journalism before citizen journalism was cool! Personally, my family and I will miss Doug tremendously; his laugh, his ability to make everyone else laugh, his love and protection of our children – those gifts can not be replaced."
Georgia loved Doug McMarlin too. Georgia Godfrey that is. "No matter where we were in the world, I laughed with Doug McMarlin," said Godfrey, Chief of Staff to Secretary Condoleezza Rice. "Our work was sometimes hard and maddening but Doug, through his wit, taught me to see the humor in everything. Doug was a mentor to me but most importantly, he was my friend — a friend, who will be sorely missed."
North Carolina State Senator Deanna Ballard worked with McMarlin on various trips with President and Mrs. Bush and Governor Palin dating back to 2003. She remembers all of those trips fondly. "Doug could extinguish any heat in an argument with his quick wit and cheeky smile – he always put others at ease, was fiercely loyal, a team player, always focused on getting the job done and lived with a sincere and genuine affection for people," Ballard said. "If he were a photograph, he would be seen in the background – not the foreground. He would be standing in a warm light that would complement his rich smile and bright eyes all framed by solid arms that could push anything forward. He would be unassuming by his posture, but never dull in presence because he always lived in color."
North of the border, McMarlin is missed as well. Jeremy Hunt met McMarlin in 2008 during the North American Leaders' Summit in New Orleans; the last such meeting hosted by President Bush before he left office. He made quite the impression. Hunt, now the managing director of Harper and Associates; a consulting group former Prime Minister Stephen Harper founded following his departure from public office, told Breitbart News that McMarlin was the real deal.
"Doug was a polished, articulate professional who never pulled a punch or a punch line with me," Hunt said. "He represented the President of the United States with class and was a tremendous personal ambassador for the American people to our team of Canadian politicos. Those who have worked in campaigns, politics and government know how much easier and enjoyable the work becomes when you undertake it with people who are competent, reliable and funny. Often, you are stuck working with people who have none of these qualities. So when you meet someone like Doug, who has all of this and more, you immediately make note, because they so rarely come along. His loss will be most acutely by his family and loved ones. But make no mistake, conservatives across the U.S. and Canada will feel his loss for years to come as they proceed into electoral battle without his wisdom, insight or experienced counsel."
Doug McMarlin was a friend of Canada and conservatives the world over. He will be missed by many Canadian conservatives who had the pleasure of working with him and like Hunt, the honor of calling him a friend.
While McMarlin's work in politics is what he may be best known for, he touched the lives of many in the entertainment industry as well.
Major Nashville public relations executive Kirt Webster is mourning the loss. "I was saddened to hear of the passing of Doug McMarlin," Webster said. "I had the opportunity and honor to work with Doug on various occasions and he was always the consummate professional. It is not easy, although it might look it sometimes, to handle logistics for government officials with various layers of associates tied to one event, but Doug always made it look easy and with a smile on his face. I worked with Doug on advancing several celebrity campaign events including ones with Hank Williams Jr., Lee Greenwood, and Big & Rich, and adding those logistics to an already hectic schedule was not an easy task. However, our experiences were always first class and without drama. Doug will be missed, not just by his friends in the government sector, but also the entertainment sector."
High praise is rolling in from all circles. When McMarlin died he was only 48-years old. Too soon for sure, but it's unanimous that he packed a lot of life into those four-plus decades.
McMarlin played a pivotal role in the Bush 43 era. He was part of the campaign team for both of George W. Bush's presidential campaigns, managing national media logistics in 2000 and directing major event logistics and media in multiple battleground states in 2004. McMarlin was appointed to the staff of both Presidential Inaugural Committees. Throughout President Bush's two terms, McMarlin served as one of a select group of individuals who traveled on behalf of Bush in advance of both foreign and domestic mission. He coordinated between the White House, local governments, national press corps, and foreign diplomats and the heads of government and state. McMarlin managed events across the globe and was a key leader in each of Bush's visits to the United Kingdom, including the historic State Visit of 2003. His resume is one for the books, figuratively and literally. McMarlin created and managed national book tours for Bush as well as Sarah Palin. He was responsible for the public roll out strategy of Palin's Going Rogue – An American Life and Bush's Decision Points, the two top-selling non-fiction books of 2009 and 2010. Whatever McMarlin touched was a hit.
The senior vice president of Harper Collins Tina Andreadis remembers McMarlin as a "gorgeous person".
"He was instrumental in the launch of Sarah Palin's Going Rogue – and other subsequent projects," Andreadis said. "His wit, intelligence and humor is unmatched. I miss him dearly."
She has a lot of company.
While McMarlin was a whiz with media, he interestingly enough was not a fan of social media. At least not for his personal use. Hysterically funny and often loud, McMarlin was also private. He helped others excel in the limelight rather than crave it for himself.
He loved all things British. An Anglophile to the core, McMarlin handled every visit President Bush took to Great Britain – including the State Visit at Buckingham Palace and more private events such as a concert performed by Andrew Lloyd Webber at Winfield House with Ambassador Robert Tuttle.
McMarlin loved music. From Sinatra to Fleetwood Mac, he took his tunes seriously. He consumed both books and movies – and had a titanic sized personal DVD collection.
His main interest was simply knowledge. A walking Trivial Pursuit game, McMarlin knew the most obscure, random, fascinating facts from history.
Above all though, he loved his country, his friends, and his family.
Doug McMarlin is survived by his husband, Nick. Many are reminiscing about the amazing Christmas and Halloween parties the couple would throw. Always concerned for others, McMarlin would make sure everyone at these events was comfortable and having fun. Professionally and personally, the best interests of those around him continued to top his priority list.
Other accomplishments of McMarlin include serving as Director of Government and Public Affairs for one the nation's largest college financial entities, and serving as a member of the Executive Committee of the U.S. Small Business Administration's National Advisory Council.
McMarlin held a degree in Journalism with a focus on Advertising and Television Production from The Ohio State University. For his work he appeared on the covers of Time Magazine, New York Times Magazine, and has been featured in New York Magazine, The Washington Post, The New York Times and quoted in various other national media. McMarlin was even featured in Breitbart News. And in true McMarlin style he was somehow able to incorporate the McRib sandwich into a serious political discussion about Donald Trump. What a guy. Now he is forever etched in the hearts of those who loved him.
In 2015, a friend of mine was having major medical problems. She was depressed. Enter Doug McMarlin. He helped to brighten her spirits by sending her a book signed by one of her favorite authors. All I had to do was ask Doug to send it to her. He took care of the rest. That's the kind of guy he was. A good guy's good guy if you will.
Doug McMarlin was an accomplished man. He worked for State Senators and former Ohio Governor George Voinovich's administration. He was a personal aide to former Ohio Republican Party Chairman Bob Bennett. He then skyrocketed on to the national scene. But for all his accomplishments and all his victories, McMarlin will live on in those he knew because he was a caring, good man.
When Tim Russert died in 2008, I remember the outpouring of emotion from so many people. People from all walks of life and all political persuasions mourned the loss of the journalist. Before his death, I knew Russert was popular, but never did I realize the magnitude of the respect and love people had for him until he was gone. Doug McMarlin's passing has been very similar. The level of which he is missed and really revered by people is truly amazing. A beautiful response toward a man who led a beautiful life.
The world of politics lost a giant in 2016. His friends and family lost so much more. The engaging, funny, gregarious Doug McMarlin will live on however through all of those he impacted. That list is long and glorious.