A leading Indian software entrepreneur says Indian companies must accept President Donald Trump's pro-American policies and must start hiring Americans instead of sending Indian white-collar H-1B visa workers into American job sites.
The startling Feb. 2 recommendation came from N.R. Narayana Murthy, the president and co-founder of the most-criticized H-1B outsourcing firm, Infosys Limited, which has asked for more than 100,000 work visas since 2013. The company uses the visas to send their lower-wage Indian employees to work in U.S. banks, manufacturers and service companies throughout the United States.
"We should stop using H-1B visas and [stop] sending a large number of Indians to those countries to deliver services," he said in an interview on an Indian affiliate of Microsoft's MSN network.
We have to recruit from colleges there, we have to train those local people [to work with] Indian companies … it is great opportunity for Indian companies to become more and more multicultural.
Murthy's televised concession appears as Indian and American companies rally to stop Trump from implementing his campaign promise to reform the H-1B outsourcing visa program.
Roughly 650,000 foreign H-1B workers are employed in a wide variety of white-collar jobs in the United States, including roughly 100,000 as academics, teachers, doctors, therapists, scientists, and designers at American universities. Overall, roughly 1 million foreign college-grads are employed as contract workers in the United States, even as 800,000 Americans graduate from college each year with skilled degrees to compete for well-paying jobs.
Throughout the 2016 campaign, Trump criticized the H-1B program, which is used by many American companies, including Comcast, Carnival, Disney, McDonalds, Caterpillar and Uber. The Indian firms usually rent their H-1B employees out to brand-name American companies.
The increased supply of foreign graduates pushes many middle-aged American professionals out of their careers, and pushes younger American graduates into different careers with lower salaries. The sidelined American professionals and their families have been a huge source of support for Trump among university-educated voters because of Trump's promise to reform the program.
Trump's plan to reform the H-1B programs is expected to appear in the next few months, amid determined efforts by major U.S. companies – such as Microsoft and Google – to keep their reserve army of foreign professionals. On Friday, Trump met with top business advisors, many of whom oppose his January decision to exclude would-be immigrants with "hostile attitudes."
In his TV interview, Murthy said Indian companies must hire Americans to become first-rank global firms:
I personally believe that Indian software companies must truly become multicultural. They must recruit American citizen [and] American residents in the U.S., they must recruit Canadians in Canada, British people in Britain, etc. That's the only way we can become a true multi-national company and in order to do that, we should stop using H-1B visas and sending a large number of Indians to those countries to deliver services.

We have to recruit from college there, we have to train those local people [to work with] Indian companies. Therefore, I think, even if the [Trump] Executive Order comes, we should look at it more as an opportunity for Indian companies to become more multicultural … it is great opportunity for Indian companies to become more and more multicultural.
Close-minded Indian managers need to learn skills from American graduates, he said: 
I think by and large, the Indian mindset is always to take the soft option. … Our managers will have to learn with non-Indian professionals … how to make sure that we understand the rules of crossing cultures. So therefore I think this is a learning opportunity for our senior people. This is not an easy option, it is s very tough option, but the earlier we start, the better it is for us.
Companies also have to hire Americans because of legal risks, including Trump's planned reform of the H-1B outsourcing program:
This is the only way you can remove a very important risk, which is the risk of governments mandating things like the Executive Order that we are talking about. I would think risk mitigation is a very important duty of any [company] board, and I have no doubt that all the boards of Indian software companies will at least now start thinking of this as a very important risk and will take action to mitigate.
The TV interviewer responded by saying, "I certainly hope that Indian companies are listening to that because you are the best person to advise them on the road ahead."
But many Indians criticized Murthy's advice as bad for their nation's industry and as hypocritical, because he made his fortune and name by renting India's cheap programmers to American companies. 
Major clients of Infosys:
~ Bank of America
~ Wells Fargo
~ JP Morgan Chase
~ Morgan Stanley#OutsourcedHypocrisyhttps://t.co/dtLSA7gDfP

— An Insignificant Oncologist (@DrSaniaMaan) February 3, 2017
Murthy's company is already facing legal threats in the United States because of its hiring practices. According to an November article in ComputerWorld, a judge has approved a lawsuit to proceed against Infosys for discriminating against Americans:
The plaintiffs, four IT workers from around the U.S., brought their discrimination lawsuit against the India-based IT services giant in 2013. This week, they filed a motion seeking class-action certification from 2009, and say the potential pool of plaintiffs may be as large as 125,000 …

There were some 50 exhibits filed in this case, including one from a former Infosys recruiter who said, in a declaration, that in conference calls "many of the highly qualified American candidates we presented were being rejected in favor of Indian candidates."
The company's reliance on Indian H-1B workers may also have helped torpedo President Barack Obama's disastrous Obamacare rollout:
One plaintiff was hired by Infosys to work on a $49.5 million Affordable Care Act, government-funded development project for the District of Columbia. There were about 100 Infosys employees working on the healthcare project, but only three were American, the lawsuit claimed. The plaintiff alleged harassment, and was denied promotion, the complaint said.
U.S. officials say the H-1B program suffers from fraud and extensive corruption, especially in India where inflated resumes and faked documentation are used to get poorly trained and poorly paid Indian workers into American job sites. One U.S. government cable released via Wikileaks said that:
H-1B fraud is one of the top two visa categories for fraud throughout Mission India. All posts regularly encounter inflated or fabricated educational and employment qualifications. The vast majority of these documents come from Hyderabad. In the 18 months prior to the start-up of consular operations in Hyderabad, FPU Chennai investigated 150 companies in Hyderabad, 77 percent of which turned out to be fraudulent or highly suspect (ref F). Most of those cases slated for site visits were to verify the experience letters for H-1B applicants who did not meet minimum educational qualifications.
Murthy's recommendation to hire more Americans was cautiously welcomed by one American software expert, who was forced out of regular work in the early 2000s when companies began hiring from the pool of 500,000 younger and cheaper H-1B contract workers now working in the sector. A recruiter for Infosys recently called him to talk about possible work, he said, but he remains skeptical:
There are a lot of conversations going on, but until I confirm a start date and confirm compensation terms with the hiring company, it's all nice chit-chat. … Most of the job leads I follow-up on – I'm talking to someone clearly not born in the USA. This seems to me to be a de-facto structural discrimination based on national origin when American [job-seekers], most of the time, find themselves talking to foreign-born recruiters or foreign-born hiring managers. It's like our tech labor market has been colonized.
Another American technology expert, who is a legal immigrant, told Breitbart News that the inflow of foreign workers has crushed career prospects for mid-career Americans, who are discriminated against because they are Americans and middle-aged.
I have been turned down by every single possible employer. Every job in Atlanta that is advertised by the [Atlanta Journal Constitution] says that you can 'apply, even if you have a university degree from another country,' meaning from India. Microsoft's CEO is from India. Google has hundreds of Indian and foreigners that have taken our jobs from us, Comcast is doing the same, and so is Facebook, etc. …

I am in perfect health, I have no defects, I have no criminal records, my credit score is perfect, I taught at very prestigious universities (taught math and computer science, applications, C++, English language and Spanish language. … A few years ago I was making $50 an hour with a major corporation in Atlanta … 

A few weeks ago I was willing to accept $21 an hour from [a name-brand company] working at their headquarters.  I had four phone interviews. They were ready to offer me the job. Until they saw me in person. They discriminated as they thought I was 'too old' for them. They said to the recruiter, that 'I was going to get bored with the Job.' I feel I was aged-discriminated … I have two small children to feed and clothe. How could I allow myself to get bored?
White-collar visa workers are used throughout the American economy, and there is no annual cap on the number of H-1B visas, L-1 or or OPT visa graduates which can be brought into the United States. Companies are not required to interview or hire Americans before they hire foreign white-collar contract-workers, and are not required to pay them market wages, and in some case, are not required to pay some taxes. Also, each year, companies are allowed to provide a huge bonus to as many as 150,000 foreign contract workers who have worked long hours – the very valuable prize of U.S. citizenship for the workers and their family.
The numbers and jobs of H-1B workers are tracked at this website.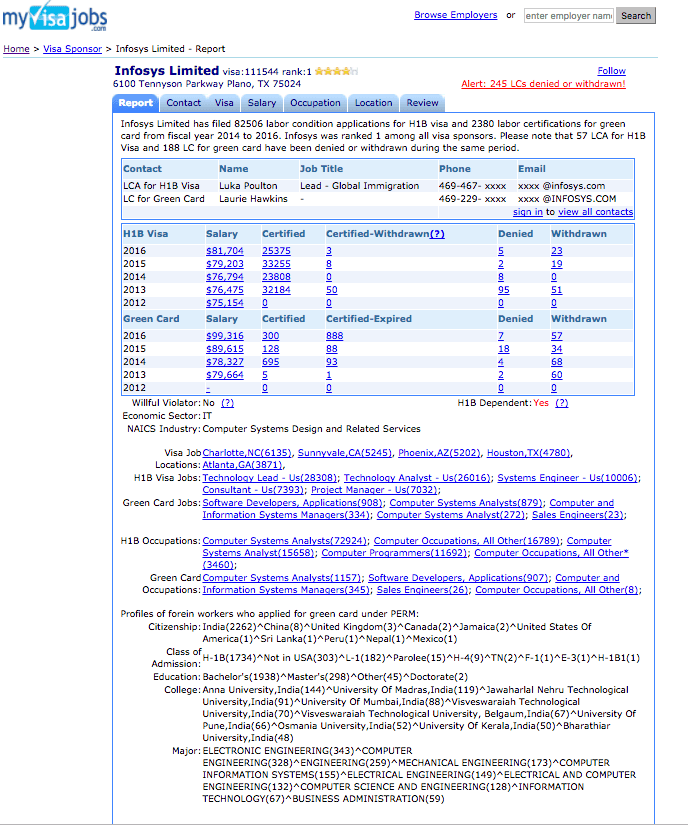 Follow Neil Munro on Twitter @NeilMunroDC or email the author at NMunro@Breitbart.com