Hundreds of left-of-center activists gathered at the base of the Washington Monument this morning to advocate for an independent investigation into alleged Russian interference in the 2016 Presidential election.

Above: Anti-Trump protesters gather in the "March for Truth" at the base of the Washington Monument June 3, 2017
Anger and derision were also directed at the president for his perceived mishandling of the truth, his associates' interactions with various Russian officials, and American withdrawal from the Paris Climate Agreement.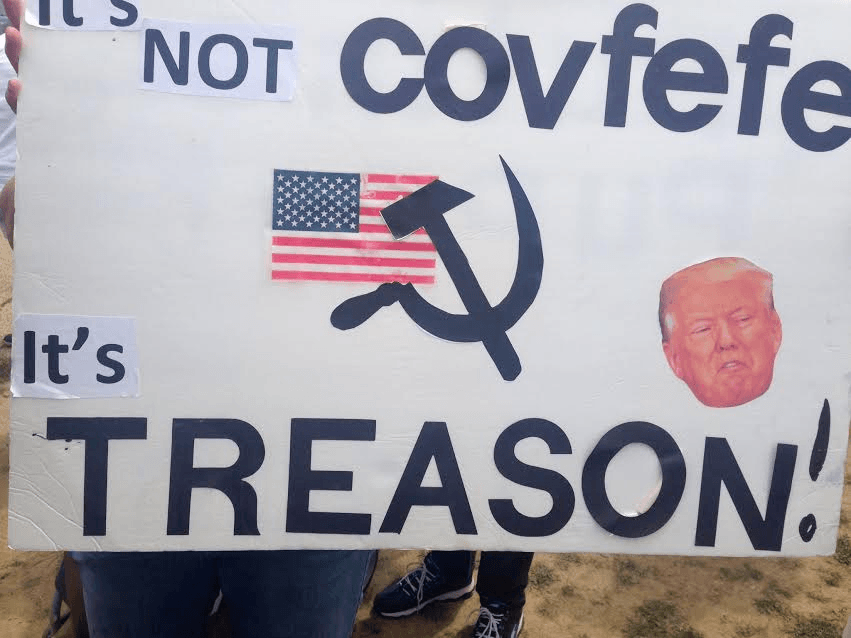 Speakers at the event included Congressman Jamie Raskin, NOW President Terry O'Neill, Obama Speechwriter Jon Lovett, Town Hall Project Spokesman Jimmy Dahman, and Muslim/Feminist Activist Linda Sarsour.
Congressman Raskin spoke of Russian President Vladimir Putin leading a global conspiracy to destroy liberal democracy with his own puppets, ranging from President Rodrigo Duterte of the Philippines to President Trump. He also railed against the American President's entire agenda as "an act of war" on the American people.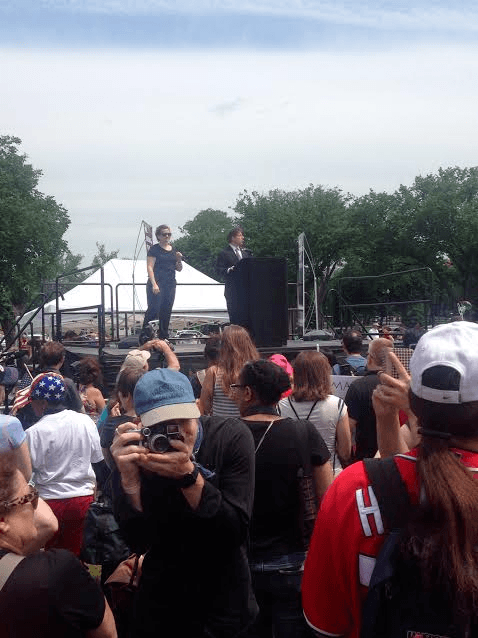 Above: Congressman Raskin of Maryland Speaking at the March for Truth 
All the speakers received thunderous applause interspersed with chants of "lock him up" and "Resist." Speakers also alleged that Russian interference helped Donald Trump win the presidential election through fake news campaigns, paid Russian trolls on social media, and Kremlin-funded media outlets.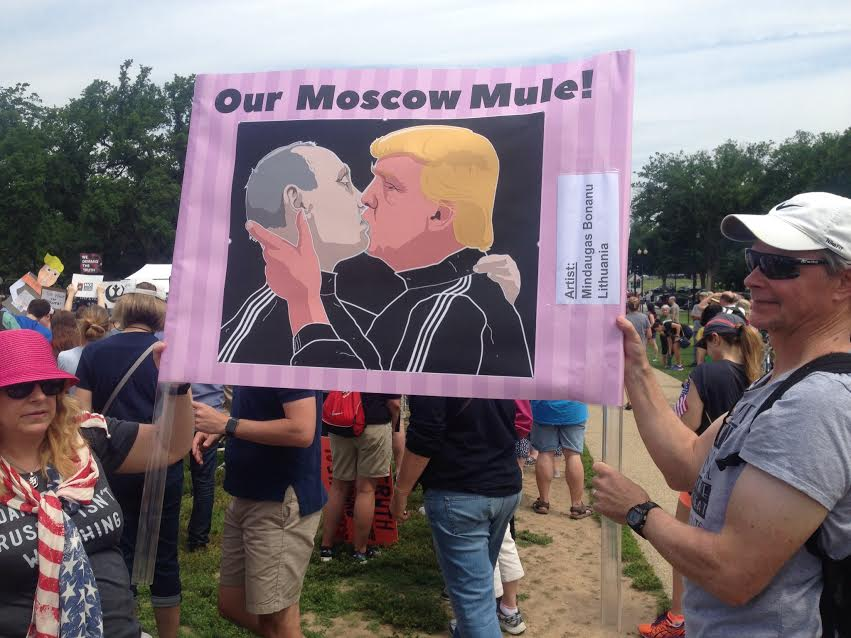 Various protest signs featured President Trump and President Putin in cahoots and essentially as one in the same person. Hammer and Sickle imagery was constantly evoked, bringing back memories of the Cold War. This Russophobia was especially striking, given that leaders in the Democrat Party snarked at Mitt Romney for calling Russia "America's greatest geopolitical foe" in 2012. 
The crowd was largely white, which is noteworthy because leftists famously derided Tea Party gatherings and Trump campaign rallies for being overwhelmingly Caucasian.
Various attendees refused to speak with this reporter due to his affiliation with Breitbart News. However, some were generous to share their thoughts on the event.
Helen, a political science student from Loudon County said, "We need more transparency, and an independent investigation into Russian interference in the 2016 presidential election." While she would prefer not to reach out to President Trump himself, she expressed a desire to reach Trump supporters and explain to them why an investigation would be warranted.
Mary and James, a mother and son who drove down from Maine, claimed that President Trump's involvement with Russia originated from Trump taking out loans from Russian financial institutions in the wake of the 2008 recession. James especially expressed frustration over Press Secretary Sean Spicer's inability to answer basic questions from the press regarding such Russian ties.
Not everyone at the rally was in line with such sentiments. One young man who went by the namesake of the second President, John Adams, held up a sign reading "CNN=ISIS" to derision and boos from the crowd. The efforts of Adams and his friends, self-styled info warriors and trolls, likely stemmed from Alex Jones's promises of cash rewards to those holding up CNN=ISIS signs on TV.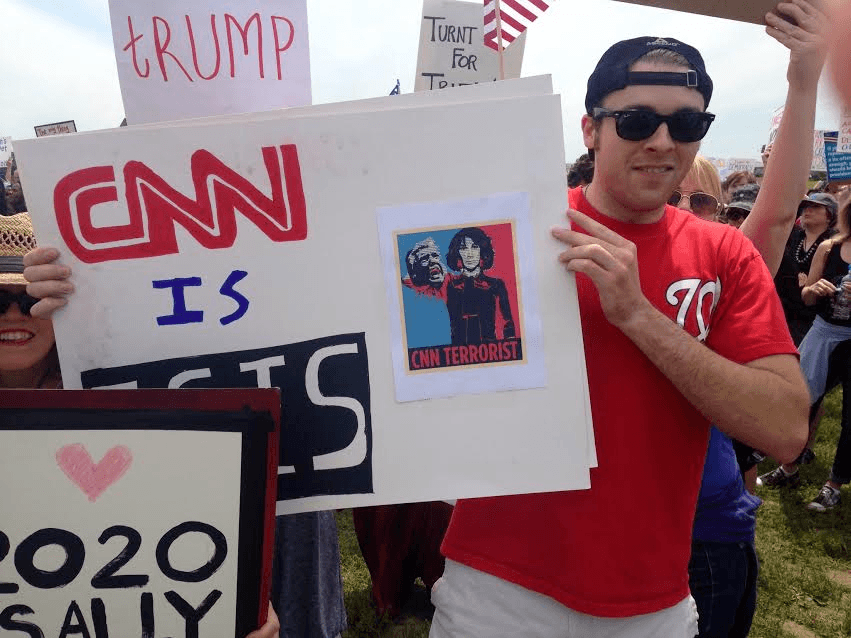 Adams blasted the Russian collusion narrative as fake. He claimed such contacts with Russian officials were legitimate, citing Jeff Sessions meeting with Russian Ambassador Sergey Kilsylak as a normal duty of an American senator.
Others who refused to speak with the media included noted and controversial Muslim activist Linda Sarsour, who brushed off this reporter's questions in the aftermath of the rally.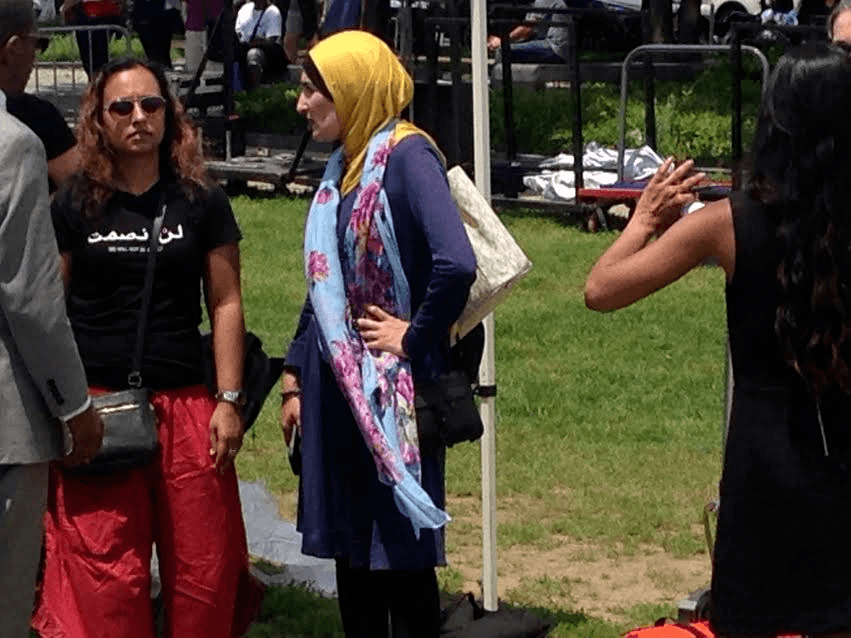 Above: Linda Sarsour at the March for Truth
Video by Stephen Chretien: 
Photos by Alex Clark for Breitbart News