The sorrowful reaction to Otto Warmbier's death on Monday was not universal. Many from across the political spectrum, including the president, voiced their support for Warmbier and his family throughout his ordeal at the hands of North Korea. However, a small, yet vocal, cohort on the left were amused at the American's misfortune. In some cases, they defended North Korea for punishing Warmbier. A general narrative condemning white male privilege emerged from those in the far-left justifying Warmbier's punishment for stealing a North Korean propaganda poster.
1. Affinity Magazine: "You Have to Respect the Laws of Other Countries"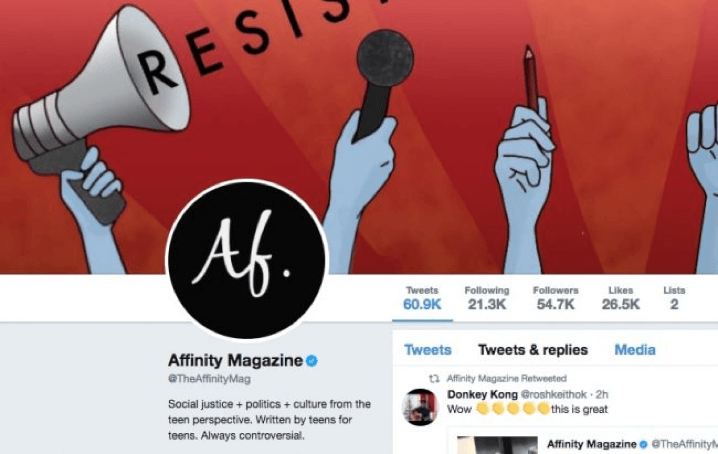 Above: A Screencap of Affinity's twitter page Credit Jon Levine/Mediaite
In a tweet that now appears to be deleted, Affinity Magazine argued, "Watch whiteness work. He wasn't a 'kid' or 'innocent' you can't go to another country and try to steal from them. Respect their laws." When someone retorted that dying for stealing a propaganda poster was beyond cruel, Affinity fired back:
Of course not, the punishment was harsh but also you have to respect the laws in other countries

— Affinity Magazine (@TheAffinityMag) June 20, 2017
Affinity failed to note that laws in North Korea include punishment for the slightest criticism of the ruling Kim family with imprisonment and/or death.
Affinity Magazine is focused on issues pertaining to social justice. With articles written only by teenagers, website creator Evelyn Atieno claimed the goal of the publication was to create, "a safe space for teenagers to send in their articles about being illegal aliens, non-binary, agender, and discussing why they need feminism." Former TV Host Larry Willmore Mocks Warmbier and his Name
2. Former TV Host Larry Willmore Mocks Warmbier and His Name
https://youtube.com/watch?v=PBmmDfC6ONY
On his now-cancelled TV show, Larry Willmore labeled the now-deceased American as, "one of America's most annoying exports, a frat bro." He made fun of Warmbier's name by arguing that it came from his fake ID. He finished his mocking segment by claiming, "It's just tough for me to have much sympathy for this guy."
Before being canceled, Willmore's TV show lost over half of the audience it inherited from its predecessor, Stephen Colbert.
3. The Huffington Post: North Korea Proves Your White Male Privilege Is Not Universal
In a headline apparently praising North Korea for not having white privilege, the Huffington Post had no sympathy for Otto Warmbier. The author, La Sha, blasted Warmbier for not thinking about the consequences of stealing a propaganda poster. "Privilege is a hell of a drug," the blogger claimed regarding Warmbier's decision to travel to North Korea. Sha went on to equate the regime's sentencing of Warmbier to hard labor with the deaths of Eric Garner and Sandra Bland. Anger over such police killings was a central theme in this analysis of Warmbier. "What a wake-up call it is to realize that your tears are met with indifference."
4. Salon: Warmbier is "America's Biggest Idiot Fratboy"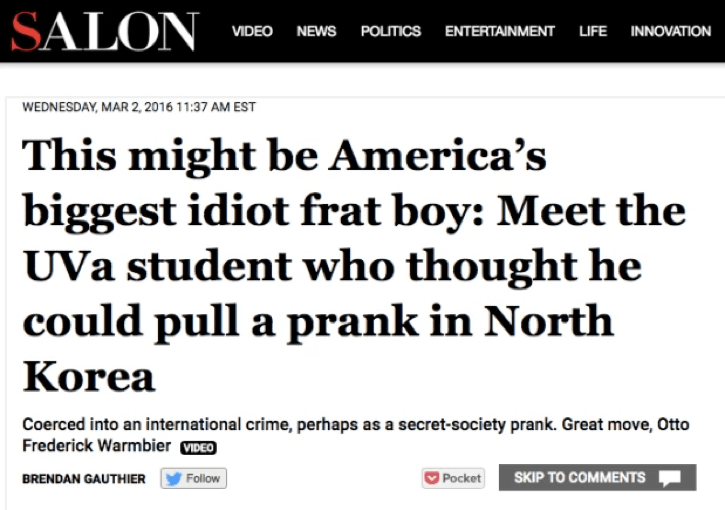 Above: Screencap, Heat Street
In a story now removed, Salon shamed Warmbier over his 15-year sentence to hard labor. The piece offered favorable coverage of Larry Willmore's harsh take on Warmbier. The left-leaning site went on to tweet further approval of Willmore's mocking of the now deceased former political prisoner.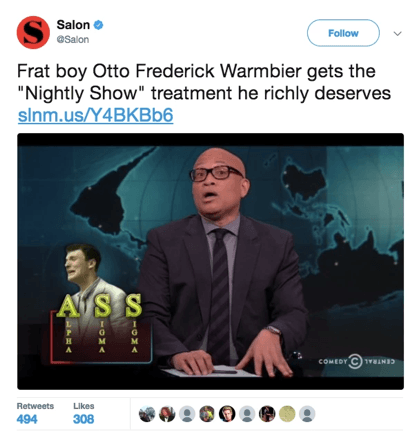 Above: Screencap, credit Heatstreet
5. The Love Life of An Asian Guy: #NKPrisonGuardLivesMatter
Ranier Maningding, founder of the popular Facebook page, the Love Life of an Asian Guy, used Warmbier's death as an opportunity to criticize conservative narratives surrounding the Black Lives Matter Movement. For example, his hashtag #NKPrisonGuardLivesMatter was an apparent dig at #BlueLivesMatter, a popular slogan in defense of American law enforcement. He blamed Warmbier's parents for the tragedy and claimed that superior "Asian values" could have averted his death. He also denounced Warmbier as a thug. The post received predominately positive reception, generating nearly 10 thousand reactions, over 2 thousand shares, and nearly 2 thousand comments.
Maningding's page is predominately focused on race. He is aggrieved over those who deny white privilege and he sees anti-Asian racism as a major problem in Western societies. He has over 215,000 followers.