New Jersey Gov. Chris Christie has sent his popularity plunging when he was pictured sunning himself on a state beach Sunday after the beaches were closed due to a government shutdown he ordered.
The unpopular Republican, whose approval rating recently hit a historically low 15 percent and making him the most unpopular in the state's history, ordered the shutdown Friday after the state legislature failed to pass a budget — closing all non-essential services including all state beaches and parks.
But as families were being turned away from enjoying their Fourth of July weekends at the state's parks and beaches, the New Jersey Star-Ledger photographed Christie sporting a T-shirt and baseball cap and sunning himself on a beach at the governor's summer residence.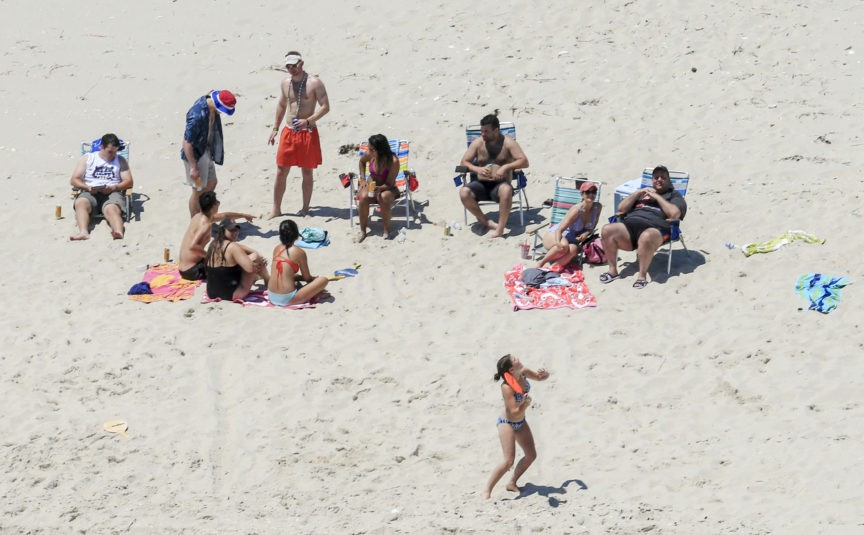 Credit: Andrew Mills/NJ Advance Media via AP
Christie was asked at a press conference before the pictures emerged Sunday if he had gotten any sun, to which he replied: "I didn't get any sun today."
Christie's team had to try and backtrack after the pictures emerged, with one of his press team saying Christie's statement was accurate because "he had a baseball hat on."
Christie had also noted that the beach was outside the governor's residence and separate from the park, and the family does not request any state services.
"Run for governor, and you can have a residence there," he said.
Christie was once one of the rising stars in the Republican Party, shaking the national political scene when he won the governorship of one of the most reliably blue states in the country, and immediately putting his name among possible presidential candidates. HIs feuds with unions, often resulting in viral videos of his tough talk, went viral.
But Christie's second term was marred by scandal as he has been forced to tackle to "Bridgegate" controversy — involving members of his staff who shut down the George Washington Bridge to punish a political opponent.
Also the combination of a failed presidential run in 2016, after which he became a key member of Trump's team but was not offered a significant post in the administration for his work, and gridlock in New Jersey has given many residents the belief that Christie was more interested in pushing his national standing rather than doing his job.
He also upset many conservatives in 2012 when, days before the presidential election and with a razor thin race, Christie welcomed Obama to the state in the wake of Hurricane Sandy and was pictured smiling and hugging him.
Then Fox News CEO Roger Ailes, who had tipped Christie as a possible White House contender, soured on the governor at that moment, later reportedly telling Christie: "You looked ridiculous…you were like the fat kid in high school chasing the popular kid."
Adam Shaw is a politics reporter for Breitbart News based in New York. Follow Adam on Twitter: @AdamShawNY