The Russian lawyer who is being portrayed as a courier between Russia's president and Donald Trump's campaign team got in — and stayed in — the United States via a very unusual set of circumstances, say immigration experts.
Lawyer Natalia Veselnitskaya was first denied a visa in 2015 but was then allowed a special "parole" in September 2015 to provide advice — not legal services — during a trial over alleged money laundering by a Russian executive, Denis Katsyv and his company, Prevezon.
Her unusual parole was extended until February 2016, and she subsequently got a temporary business visa from former President Barack Obama's deputies in June 2016 despite the first denial. 
"If you have to be paroled into the country, that means by definition that you're inadmissible," said Jessica Vaughn, an immigration expert at the Center for Immigration Studies. She continued:
People who are unqualified for entry are given a special exemption… on case-by-case basis because of a request by law enforcement. It happens, it is not unccommon, but what is uncommon is for that person who was given an exemption for a specific purpose to remain after that purpose [is over] … that is very unusual.
After arriving, Veselnitskaya began working for Katsyv to eliminate the Magnitsky Act, which an economic-sanctions law named after a Russian business leader who died under suspicious circumstances. She failed in that task, despite hiring several Democratic activists, including former Rep. Ron Dellums, plus a Russian-born PR fixer.
According to a July 2016 complaint by a private sector company, and released by Sen. Chuck Grassley, the chairman of the Senate's judiciary committee: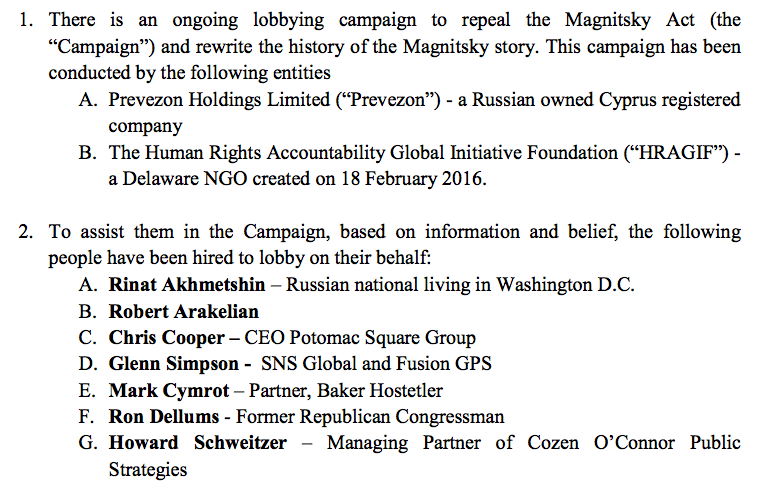 The complaint by Hermitage Capital Management misidentified Dellums as a Republican.
The eventual 20- to 30- minute meeting in June 2016 with Donald Trump Jr. was intended by Veselnitskaya to persuade Donald Trump to kill off the Magnitsky Act if he were to be elected president, according to the Washington Post. The meeting was arranged by a music-industry lawyer, Rob Goldstone, who has at least one Russian client.
The 2015 parole given by the Department of Homeland Security to Natalia Veselnitskaya to attend the money-laundering trial is unusual partly because she provided no legal services that could have not also been provided by via video, said Vaughan.
The DHS has not explained the reasons for the parole, but has described the process in a brief July 14 statement:
In Sept. 2015, DHS paroled Natalia Veselnitskaya into the U.S. in concurrence with the U.S. Attorney's Office, Southern District of New York, allowing her to participate in a client's legal proceedings. She was issued a Significant Public Benefit Parole document on Sept. 25, 2015.
Even more unusually, Veselnitskaya's parole was extended and then converted into a formal visa, effectively overturning the unexplained reasons for denying her a visa in 2015, said Vaughan.
According to DHS, "Ms. Veselnitskaya was subsequently paroled into the U.S. several times between 2015 and 2016, ending in February 2016. In June 2016, she was issued a B1/B2 nonimmigrant visa by the U.S. Department of State."
That B1/B2 visa allowed her into the United States to meet with Trump Jr. in June 2016.