Job Creators Network, one of the nation's largest pro-jobs grassroots organizations, is launching a nationwide TaxCutsNow bus tour that will end in Washington, D.C. on September 15 on the steps of the IRS building.
In partnership with Freedom Works, the weeks-long bus tour is part of a larger initiative to encourage American to sign the organization's petition to urge Congress to pass meaningful tax reform.
The "Tax Cut Tour" will begin on Sunday, September 10 with a massive event in Oklahoma City, OK. The tour will conclude with a "15% on the 15th Rally" in Washington, D.C., on September 15, where several trade associations are scheduled to attend.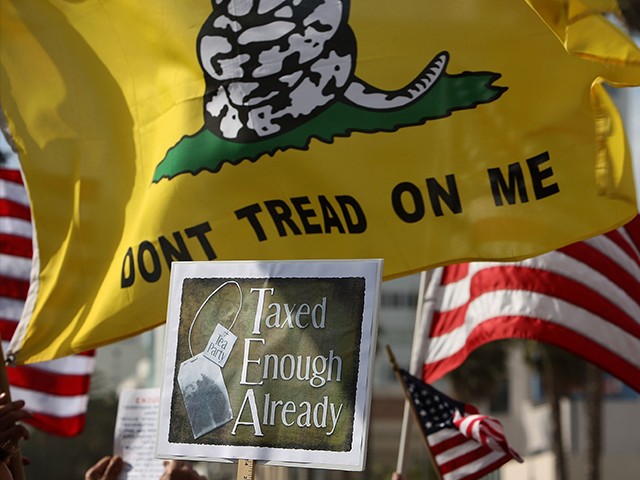 Demonstrators gather at an American Family Association (AFA)-sponsored T.E.A. (Taxed Enough Already) Party to protest taxes and economic stimulus spending on the last day to file state and federal income tax returns, April 15, 2009 in Santa Monica, California. (David McNew/Getty Images)
Job Creators Network will unleash a "seven figure" media campaign, set to begin after Labor Day, with the goal of gather over one million petition signatures from Americans calling on Congress to honor the promises they made the American people to pass middle-class and pro-small business owner tax cuts.
In one 30-second ad, Camp Bow Wow founder Heidi Ganahl explains how small business owners will benefit from lower taxes.
On Wednesday, Job Creators Network President and CEO Alfredo Ortiz praised President Donald Trump's speech this week in which he urged Congress to pass his "pro-American tax reform" plan.
"The president is determined to energize the American economy, especially with the necessary tax cuts for job creators – small businesses all across the country who create 70 percent of all new jobs," Ortiz said in a statement. "Job Creators Network will be very vocal and supportive over the coming weeks and months in an all-out effort to ensure small businesses and the country's hard-working taxpayers get the help they've been asking for over so many years."
Job Creators Network has featured advertising on Breitbart News Network regarding TaxCutsNow.
Follow Jerome Hudson on Twitter: @JeromeEHudson