The number of foreign workers getting work permits for U.S. jobs will hit 2 million this year, partly because President Donald Trump's deputies have reduced only a few of President Barack Obama's foreign-worker programs and policies.
Roughly 2 million foreigners will get temporary work permits, dubbed "Employment Authorization Documents," or EADS, during 2017, despite administration efforts to cut back some of the many business-backed foreign-worker programs, according to two sets of data released by the Department of Homeland Security.
"This is almost entirely outside of our legal immigration and legal guest-worker system — these are additional workers," said Jessica Vaughan, a policy expert at the Center for Immigration Studies. "The majority of these [EAD] work permits are given to people who originally entered the country illegally and now have some kind of exception being made for them, either on a temporary base or while they apply for some other benefit," she added. 
The new data shows that 1.6 million work-permit EADs were given out during the first nine months of the government's 2017 accounts. That puts the number on track to break 2 million, partly because an extra rush of people applied for DACA amnesty work permits in September and early October.
Four million young Americans join the workforce each year. But their ability to get well-paid jobs is hurt by the one-for-one influx of roughly four million lower-wage foreign workers.
As the new report show, roughly 2 million foreigners will get EADs in 2017. Also, 1 million foreigners are allowed to become legal immigrants. Roughly half a million foreign "guest workers" get work-visas, such as the H-1B, H-2A, H-2B, J-1 and L-1 visas, and a few hundred thousand illegal immigrants will cross the Mexican border or overstay the temporary tourist or work visas. That inflow adds up to almost 4 million, or one new migrant for every American who turns 18.
"There's no way you can make the case that this number of work permits being issued annually does not have an affect on the labor market," Vaughan said.
A huge population of roughly 30 million lower-wage immigrants has filled up job openings since the 1970s, leaving millions of American men unwilling or unable to work. In 1980, 94 percent of prime-age U.S.-born men were working, according to federal data. The number fell to 91 percent in 2000, down to 89 percent in 2010, and down to 88.4 percent in Spring 2017, according to federal data.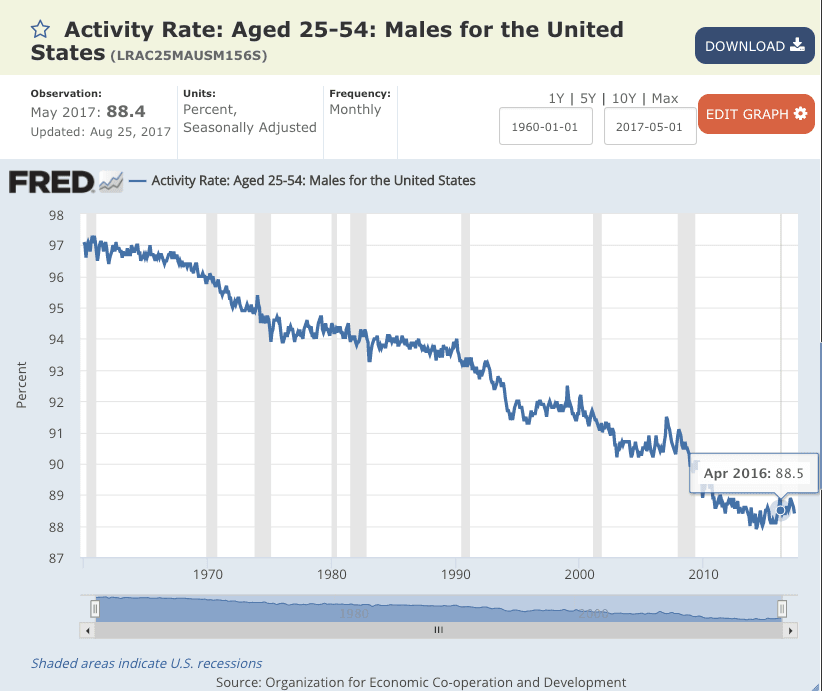 The activity rate for Americans has fallen, but low-immigration Japan has raised its work rate.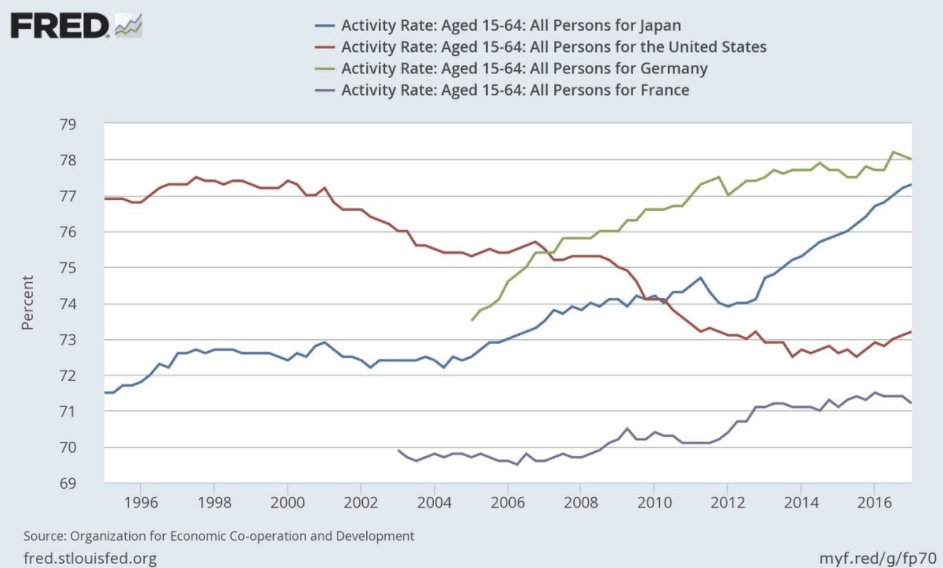 Under Trump, "there is some small progress" in reducing the number of EADs, said Vaughan.
The progress includes a reduction in the number of illegal aliens who get permission to stay, she said. Similarly, the agency has nudged down the number of people getting work-permits after applying for U visas, is pressuring some countries to take back their illegals and is ending "Temporary Protected Status" for some foreigners who fled homeland disasters a decade or more ago, she said.
On October 8, Trump announced his pro-American immigration principles, saying:
As President, I took an oath to uphold the Constitution, which makes clear that all legislative powers are vested in the Congress, not the President.

I, therefore, tasked the relevant executive departments and agencies to conduct a bottom-up review of all immigration policies to determine what legislative reforms are essential for America's economic and national security.  Rather than asking what policies are supported by special interests, we asked America's law enforcement professionals to identify reforms that are vital to protect the national interest.  In response, they identified dangerous loopholes, outdated laws, and easily exploited vulnerabilities in our immigration system – current policies that are harming our country and our communities.

I have enclosed the detailed findings of this effort.  These findings outline reforms that must be included as part of any legislation addressing the status of Deferred Action for Childhood Arrivals (DACA) recipients.  Without these reforms, illegal immigration and chain migration, which severely and unfairly burden American workers and taxpayers, will continue without end.

Immigration reform must create more jobs, higher wages, and greater security for Americans — now and for future generations.  The reforms outlined in the enclosure are necessary to ensure prosperity, opportunity, and safety for every member of our national family.
Trump is pushing Congress to implement his pro-American policies, but Trump has plenty of authority to reduce the EAD output each year. 
"To really rein this [EAD problem] in, they need to rein in the big categories," said Vaughan. 
The big categories for work permits are Obama's 2012 DACA amnesty, the TPS program, the Optional Practical training program, and the asylum program.
Obama's DACA amnesty was announced in 2012, and it exploded the number of EADs issue in 2013 by 550,000, up to 1.8 million. The DACA people got two-year EADs, so many did not have to apply again in 2014 when the EADs total dropped down to 1.2 million. Most of the initial 2013 DACA EADs expired in 2015, so pushing that year's total back up to 1.96 million. Many of the DACA applicants signed up again in 2017, until President Trump blocked the program on on October 5.  That decision will drop the EAD numbers down to roughly 1.5 million in 2018 if no other changes are adopted. 
Partly because of Obama's welcoming policies, the number of people who asked for asylum skyrocketed from 188,000 in 2012  to 252,000 in 2017. The 2017 number likely to reach that level partly because Obama's deputies worked with immigration advocates to get judicial backing for his welcoming policies, so preventing any easy fix. Trump has asked Congress to change the law so that border agents can reduce the inflow of asylum-seekers. 
The OPT program was created by administration officials and it can be easily stopped — but the education and business sectors strongly support the extra inflow of cheap white-collar labor. Officials have not announced any changes. 
Administration officials have cut back the TPS program, but face big tests in the next few months when TPS status for the large resident population of people from El Salvador has to be continued or ended. 
Officials have asked a judge for more time as they decide how to answer a lawsuit calling for the end of the H-4 program, which allowed work permits to roughly 68,000 foreign spouses of H-1B visa-workers in 2015 and 2016, and another 36,000 in 2017. 
Four million Americans turn 18 each year and begin looking for good jobs in the free market.
The Washington-imposed economic policy of mass-immigration floods the market with foreign labor, spikes profits and Wall Street values by cutting salaries for manual and skilled labor offered by blue-collar and white-collar employees. It also drives up real estate prices, widens wealth-gaps, reduces high-tech investment, increases state and local tax burdens, hurts kids' schools and college education, pushes Americans away from high-tech careers, and sidelines at least 5 million marginalized Americans and their families, including many who are now struggling with opioid addictions.
The cheap-labor policy has also reduced investment and job creation in many interior states because the coastal cities have a surplus of imported labor. For example, almost 27 percent of zip codes in Missouri had fewer jobs or businesses in 2015 than in 2000, according to a new report by the Economic Innovation Group. In Kansas, almost 29 percent of zip codes had fewer jobs and businesses in 2015 compared to 2000, which was a two-decade period of massive cheap-labor immigration.
Americans tell pollsters that they strongly oppose amnesties and cheap-labor immigration, even as most Americans also want to favor legal immigrants, and many sympathize with illegals.
Because of the successful cheap-labor strategy, wages for men have remained flat since 1973, and a growing percentage of the nation's annual income is shifting to investors and away from employees.