In their Sunday editions, three of Alabama's larger newspapers — Mobile, AL's Press-Register, The Birmingham News and The Huntsville Times — featured front-page editorials telling voters to "reject Roy Moore" in next month's U.S. Senate special election.
The three newspapers, all under the Alabama Media Group umbrella, featured the headline at the top of their front pages in block lettering "STAND FOR DECENCY, REJECT ROY MOORE."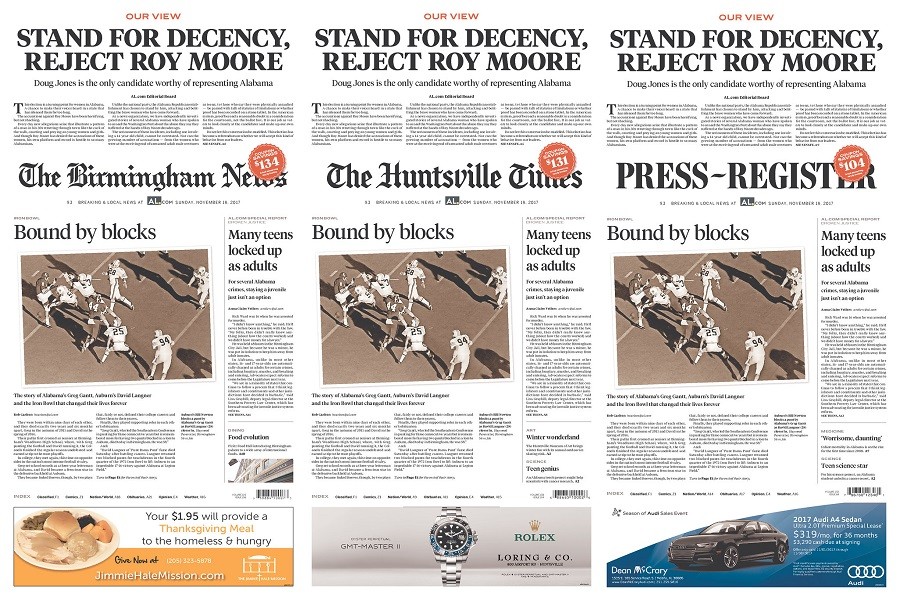 The 1,200-word editorial that accompanied those headlines urged Alabama voters to dismiss what those beyond the state's borders have to say about the race.
Alabamians have never cared about what the rest of country thinks of them. And we do not expect all the handwringing from national pundits, conservative or liberal, to make much of a difference. This election isn't about what a late-night comedian may think of Alabama or whether Sean Hannity can sell advertisements; it's not about Saturday Night Live or Mitch McConnell. It's not about Breitbart or National Democrats. It is about the moral values of the people of Alabama.

Do not make your voting decision based on who it will affect on a national stage. Vote based on who it will affect in your hometown.
https://t.co/Nr8n3P876T editorial board endorsement: It's time for voters to stand behind Doug Jones for U.S. Senate. https://t.co/S6jsvV2BG7 pic.twitter.com/DVvMy3PfFN

— AL.com (@aldotcom) November 19, 2017
The editorial then warned electing Moore would send "the worst kind of message" on the issue of abuse.
A vote for Roy Moore sends the worst kind of message to Alabamians struggling with abuse: "if you ever do tell your story, Alabama won't believe you." Or, worse, we'll believe you but we just won't care.

To be clear: it's not only his record on women and children that disqualifies Moore. If we vote for Roy Moore, Alabama will also show that we don't care about you if you're gay or Muslim or Catholic. If you're an atheist or an immigrant. We'll show each other that we only care about Roy Moore's definition of Alabama. And that there's not room for the rest of us.
It went on to urge readers to vote for Democrat Doug Jones in the race.
Despite his out-of-the-mainstream views on abortion, it described Jones as "moderate Democrat." The editorial also compared Jones to Sens. Joe Manchin (D-WV), Jon Tester (D-MT) and Heidi Heitkamp (D-ND), all deemed to be "Red State Democrats" that have a seat "at the table crafting policy in the Senate."
Not everyone is convinced this will do much to help Jones' cause. Huntsville talk radio host Dale Jackson, who said he isn't voting for Moore, argued the move by the Alabama Media Group newspapers would be a positive and not a negative for Moore.
It's the exact point, @aldotcom's opposition is a positive for Roy Moore, not a negative.

I'm not voting for the guy, but this stuff doesn't work.

I understand that you don't get it, but that's because you don't have a clue what you're talking about. #ALPolitics #ALSen https://t.co/c6FJu7wGo3

— Dale Jackson (@TheDaleJackson) November 19, 2017
…securing him many votes in the process… https://t.co/xRafQ9DqzO

— Dale Jackson (@TheDaleJackson) November 19, 2017
Follow Jeff Poor on Twitter @jeff_poor