The Vatican gave a shout-out to California Gov. Jerry Brown Sunday, praising him for his war against climate change and his defense of human "dignity and freedom."
In a Tweet from Casina Pio IV, the headquarters of the Pontifical Academy of Sciences, the Vatican called Brown a "true leader" while singling out the Democratic governor's concern for "the good of the planet threatened by human activity that uses fossil fuel."
More questionably, the message lauded Gov. Brown—a darling of Planned Parenthood and zealous advocate for abortion on demand—as a "leader who seeks the good of the people defending the dignity and freedom of each person." The Tweet ends with a triple emoticon of human hands clasped in prayer.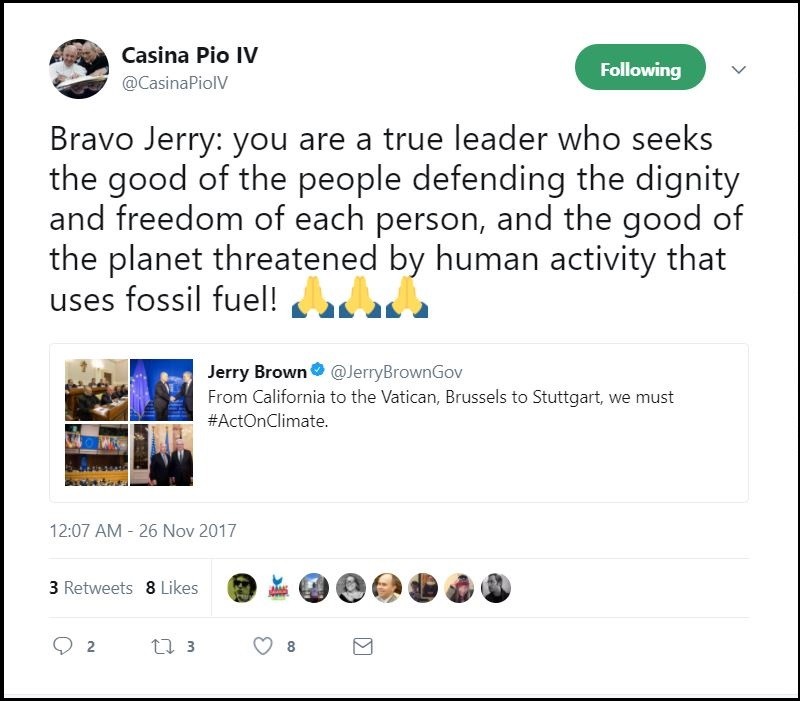 The Vatican has twice offered Governor Brown a platform to preach his ideas, inviting him on two separate occasions to address an assembly of clerics and lay people on issues related to global warming.
Earlier this month, Brown delivered a keynote address at the Vatican in a meeting of the Pontifical Academy on climate change titled "Health of People, Health of Planet and our Responsibility: Climate Change, Air Pollution and Health."
In open opposition to the Catholic Church's defense of unborn children, Brown has been a passionate supporter of abortion-on-demand and has called himself "an uncompromising champion of a woman's right to choose." He also supports federal funding of Planned Parenthood and other abortion providers, leading Planned Parenthood to refer to him as "the REAL pro-choice candidate for governor."
Although as a young man Brown was a Catholic seminarian with the Jesuit order, he sees no contradiction between his Catholic credentials and his crusade for abortion.
The State of California accounts for a disproportionately high number of U.S. abortions, and although only 12 percent of the national population lives in the state, 29 percent of all the nation's abortions take place there. This means that the abortion rate in California is well over twice that of the national average.
The Pontifical Academy for Science is run by Argentinian Bishop Marcelo Sánchez Sorondo, who came under fire in May of 2016 for offering a Vatican platform to other known advocates of abortion and population control, like Jeffrey Sachs and UN General Secretary Ban Ki-moon, as well as population hoaxer Paul Ehrlich.
When questioned about the decision to enlist speakers so divergent from Catholic teaching, Sánchez shifted the blame to the Tea Party and the oil industry, and suggested he was not responsible because "I am only the Chancellor."
Shortly before his most recent trip abroad, Governor Brown granted an interview to BBC radio, in which he threatened to sue the Trump administration over climate change, while vowing to "stabilize the ship of state."
"The president is working to delegitimize the very notion of climate change," Brown told Jim Naughtie of the BBC, while the position of California is to go "against the policies of President Trump."
"I hope the rest of the world does their part in providing a forceful opposition," he said.
"Trump has declared war on a majority of the American people under the guise of supporting his minority base and it's very dangerous," Brown said. "It's very disruptive for America, and I'm going to do everything I can to stabilize the ship of state."
Follow Thomas D. Williams on Twitter