Deportations of illegal aliens living across the United States in the interior of the country increased 37 percent after President Trump signed his Enhancing Public Safety in the Interior of the United States Executive Order five days after being inaugurated.
A year-end Immigration and Customs Enforcement (ICE) report reveals how effective Trump's pro-enforcement executive order has been throughout the first year of his presidency thus far, with deportations of illegal aliens living in the U.S. — and not those caught at the border — peaking at more than 61,000 between January 20 to September 30, 2017.
Compare that figure to the number of illegal aliens living in the interior of the country who were deported in that same time frame under former President Obama, when less than 45,000 illegal aliens were deported.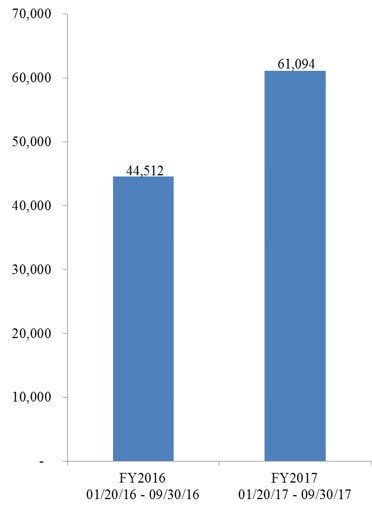 Overall, Trump's ICE agency in the full Fiscal Year of 2017 deported 226,119 illegal aliens, including those caught at the southern border and those arrested and deported from the interior of the U.S. This is a slight decrease from the Fiscal Year 2016 deportations, when more than 240,000 illegal aliens were deported, but ICE officials say this is entirely because of the record decline in border-crossings under Trump.
The ICE report notes:
The decrease in ICE's overall removal numbers from FY2016 to FY2017 was primarily due to the decline in border apprehensions in 2017. Many fewer aliens were apprehended at the border in FY2017 than in FY2016—possibly reflecting an increased deterrent effect from ICE's stronger interior enforcement efforts. [Emphasis added]

The drop in border apprehensions contributed to a decrease in total ICE-ERO removal numbers, as the majority of aliens arriving at the border are processed under the provisions of expedited removal and are removed quickly, while aliens arrested in the interior are more likely to have protracted immigration proceedings and appeals, which delays the issuance of an executable final order of removal. These cases also frequently require a more complex and lengthy process to obtain travel documents, further delaying the process. [Emphasis added]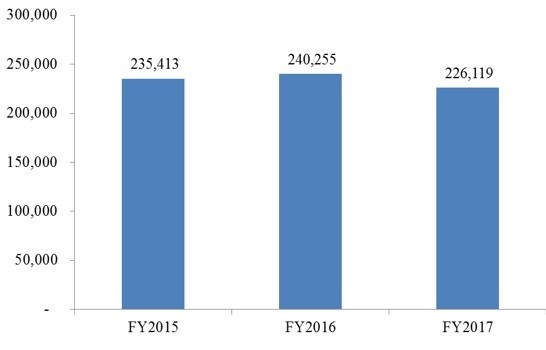 For enforcement purposes, Trump's ICE agency has made massive gains ahead of previous administrations when it comes to deporting illegal aliens who are non-criminals and living in the country, not just at the U.S.-Mexico border.
In Fiscal Year 2017, more non-criminal illegal aliens were deported from the interior of the U.S. under Trump than were deported the two previous fiscal years combined. Trump's ICE agency deported nearly 70,000 criminal illegal aliens from within the U.S. in this year and deported nearly 60,000 criminal illegal aliens at the southern border.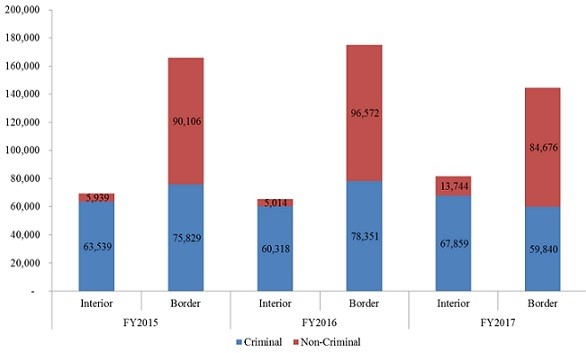 Last month, border-crossings at the U.S.-Mexico border ticked up to Obama-era levels, with a staggering 39,006 illegal aliens attempting to cross into the country in the month of November, Breitbart Texas reported.
As Breitbart News reported, the increase in illegal aliens attempting to enter the U.S. through the southern border has coincided with constant discussion from the Republican establishment, Democrats, the open borders lobby, and corporate interests about giving amnesty to at least roughly 800,000 illegal aliens under the Obama-created Deferred Action for Childhood Arrivals (DACA) program.
Spike in Illegal Immigration Coincides with Talk of DACA Amnesty by GOP Establishment, DHS Secretaryhttps://t.co/uZRkGmqewG

— John Binder 👽 (@JxhnBinder) December 15, 2017
Attorney General Jeff Sessions, in September, announced the official termination of DACA, to take place in March 2018. Since then, establishment Republicans and Democrats have sought to push the Trump administration to sign off on an amnesty.
For example, Department of Homeland Security (DHS) Secretary Kirstjen Nielsen said in November that she supported giving DACA illegal aliens amnesty.
"I believe that we must and we owe it to them to find a permanent solution," Nielsen said of passing a DACA amnesty that could potentially lead to a chain migration of 9.9 million to 19 million foreign nationals pouring into the U.S. legally. "It's no way to expect anyone to live a month or two months at a time," said Nielsen, even though the DACA work-permits each last for two years.
This month, though, Nielsen admitted in an interview that illegal aliens seeking to cross into the U.S. pay attention to the national discussion on immigration and amnesty to get a grasp on when is the best time to enter the country.
"They have money, they have time, and this is their job. So they do watch," Nielsen told Fox & Friends. "They watch what's happening in Congress. They watch what's happening as part of our national conversation and they learn as we along. So we see more and more loopholes being exploited."