Populist conservative Sen. Tom Cotton (R-AR) is firing back after being attacked by pro-amnesty Sen. Lindsey Graham (R-SC), saying the American people voted for "Donald Trump's vision of immigration policy."
Trump's vision includes building a border wall between the U.S. and Mexico, as well as reducing legal immigration levels to raise the wages of America's working and middle class.
In recent days, Graham has attempted to isolate Cotton — who is seen as the heir to Jeff Sessions' pro-American immigration reform agenda — by trashing him in the mainstream media in a push to give amnesty to millions of illegal aliens enrolled and eligible for the President Obama-created Deferred Action for Childhood Arrivals (DACA) program.
For example, on Friday, Graham claimed that Cotton's economic nationalist "approach" to immigration, which is the same as Trump's, "has no viability" in the Senate, using the same talking points as Senate Minority Leader Chuck Schumer, who has attacked Cotton this week as well:
EXCLUSIVE: Sen @LindseyGrahamSC blames White House adviser Stephen Miller for the change in Trump's stance on immigration and DACA, tells @NBCNews Miller's approach to immigration "has no viability." pic.twitter.com/T5AQzvEimc

— MSNBC (@MSNBC) January 19, 2018
GRAHAM: Now they've taken a hard-edged approach all I can say is we're not going to end immigration for DACA. The Tom Cotton approach has no viability here. He's become sort of the Steve King of the Senate. I like Tom but on immigration, he's putting something on the table that there's just no market for in phase one. As soon as the White House understands there's a bandwidth here for phase one that will include border security and DACA and a few other things, we'll get a deal. [Emphasis added]
Cotton, though, is now hitting back at Graham's attempt to isolate him in the national immigration debate, noting that Trump's economic nationalist approach to immigration is overwhelmingly favored by the American people.
Cotton told the media:
The difference between Steve King and Lindsey Graham is that Steve King can actually win an election in Iowa.

Look, we had an election in 2016. Immigration was a major issue there and the American people and especially Republican primary voters made it clear that they wanted Donald Trump's vision of immigration policy, not Lindsey Graham's. He didn't make it to the starting line and he didn't even make it off the kiddie table in the debates. [Emphasis added]
Trump and Cotton's pro-American immigration reform agenda includes ending the process known as "chain migration,"whereby naturalized citizens can bring an unlimited number of foreign relatives to the U.S.; ending the Diversity Visa Lottery, which randomly gives out 50,000 visas to foreign nationals every year; and constructing a wall along the U.S.-Mexico border.
MUST WATCH: What you need to know about #ChainMigration pic.twitter.com/obBgkm3lxl

— FAIR (@FAIRImmigration) January 17, 2018
In an explosive report, Breitbart News revealed that chain migration, if not ended, is expected to add between seven and eight million new foreign-born voters to the U.S. electorate – a scheme that favors Democrats, as immigrants, specifically Hispanics and Asians, vote 2-to-1 for Democrats over Republicans.
Since 2005, chain migration has imported more than nine million foreign nationals to the U.S., making it the largest driver of immigration —  more than 70 percent of all legal immigration. As Breitbart News reported, five years of chain migration to the U.S. adds more people to the country than one year of American births.
Overall, the current U.S. legal immigration system is on track to import roughly 15 million new foreign-born voters in the next 20 years. Of those new voters, between 7 million and 8 million will be brought to the U.S. through chain migration. https://t.co/Ov7Gb0fURZ

— John Binder 👽 (@JxhnBinder) January 14, 2018
Despite Graham's claim that the Trump-Cotton approach to immigration policy "has no viability," their agenda is wildly popular with the majority of Americans.
A new poll by Pulse Opinion Research shows that nearly 60 percent of likely voters want to see chain migration ended, while 60 percent also want to see the Visa Lottery program ended. That same poll showed that 60 percent of likely voters said legal immigration levels should be reduced to 500,000 admissions a year or even less – a plan that Trump and Cotton, as well as Sen. David Perdue (R-GA), have championed.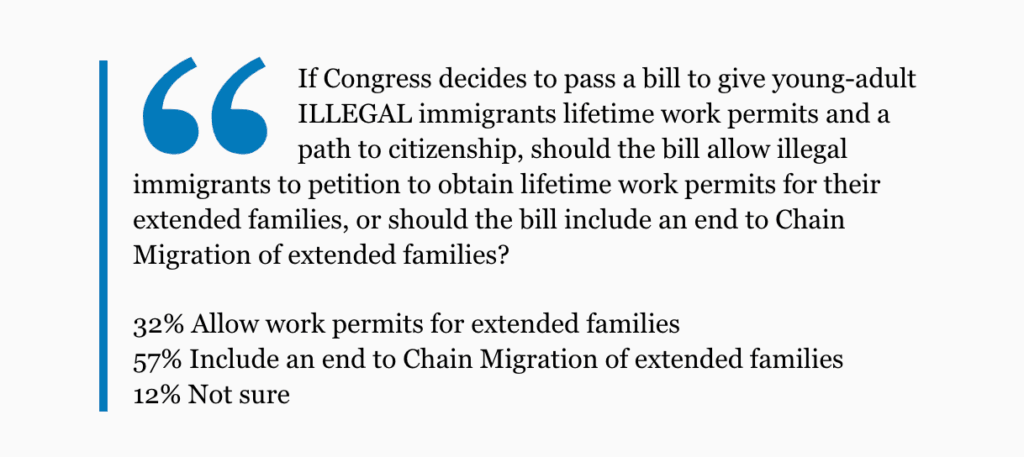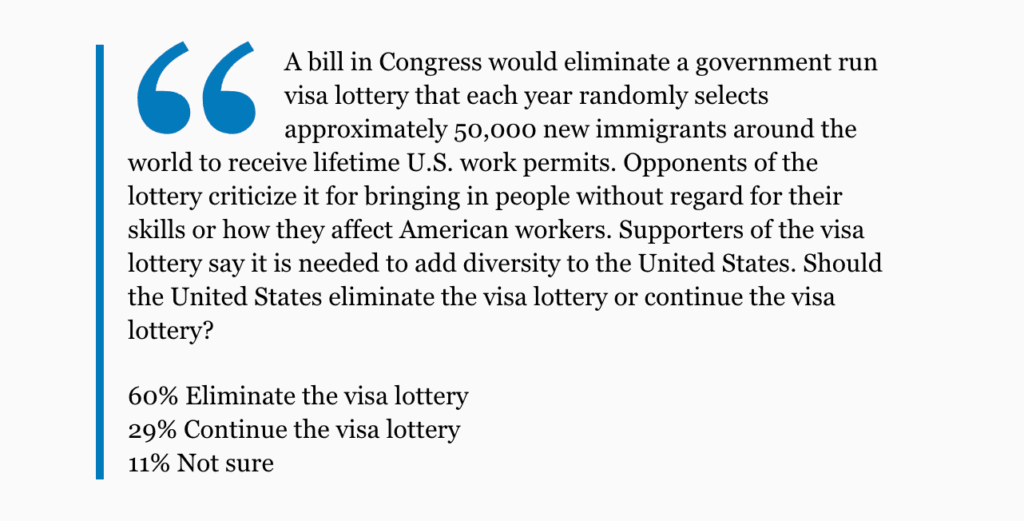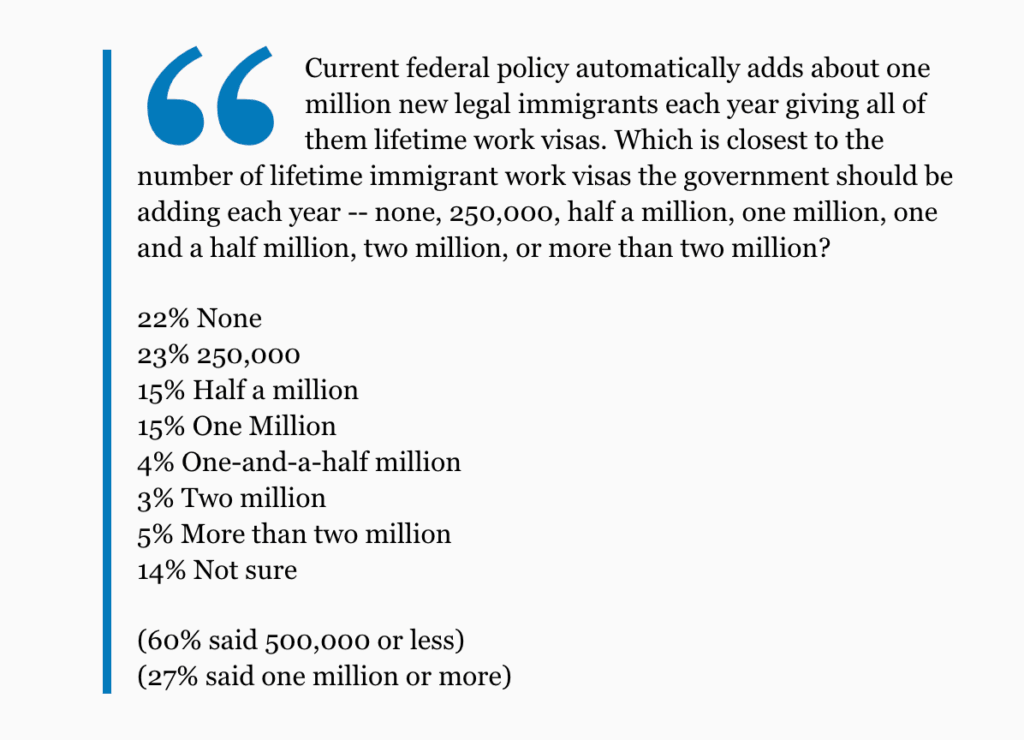 Meanwhile, Graham's "Gang of Six" amnesty plan, that is being pushed with the help of Sen. Jeff Flake (R-AZ), Sen. Cory Gardner (R-CO), Sen. Dick Durbin (D-IL), Sen. Michael Bennet (D-CO), and Sen. Robert Menendez (D-NJ), ignores the wants of likely voters, as well as the Trump administration, despite the pro-open borders Senators repeatedly branding the legislation as "bipartisan."
As Breitbart News reported, the Graham-Flake-Durbin expansive amnesty plan would:
Give DACA and DACA-eligible illegal aliens a pathway to U.S. citizenship
Give amnesty to the parents of DACA illegal aliens
Make no cuts to legal immigration levels, whereby more than one million legal immigrants enter the U.S. every year
Transfers the 50,000 visas through the Diversity Visa Lottery into two other visa categories
Does not fund the estimated $18 billion U.S.-Mexico border wall
Does not mandate E-Verify to bar employers from hiring illegal aliens over American workers
Trump's administration, Cotton, Attorney General Jeff Sessions, and Department of Homeland Security (DHS) Secretary Kirstjen Nielsen have all said the Graham-Flake-Durbin amnesty plan is dead on arrival in Congress, as it does not have support outside of the Republican establishment and Democrat caucus.
DHS Sec. Nielsen: "I cannot agree to a deal that does not give the tools and resources to the men and women of Department of Homeland Security to do the job you've asked them to do." https://t.co/NzCUl2y63b

— John Binder 👽 (@JxhnBinder) January 19, 2018
The Republican establishment and Democrats are aligned in wanting to increase both illegal and legal immigration levels to drive down Americans' wages, provide for a new voter populous, and please their big business donors who prefer a cheap-labor economy driven by imported foreign workers rather than Americans.
Every year, the U.S. admits more than 1.5 foreign nationals, with the vast majority deriving from family-based chain migration. In 2016, the legal and illegal immigrant population reached a record high of 43.7 million. By 2023, the Center for Immigration Studies estimates that the legal and illegal immigrant population of the U.S. will make up nearly 15 percent of the entire U.S. population. Mass immigration to the U.S. has kept American wages stagnant, while depressing job prospects for poor, working, and middle-class communities.