The Washington Post has brought first lady Melania Trump's legal immigrant parents into the discourse on immigration, using their arrival as a defense of mass immigration to the United States.
In a piece by the Washington Post, Melania's parents' legal immigration status is noted to push the establishment media narrative that Trump's closest family and advisers have benefitted from the process of "chain migration."
Chain migration is the process whereby newly naturalized citizens can bring an unlimited number of foreign relatives to the U.S. As a result, about 9.3 million legal immigrants have arrived in the U.S. through chain migration since 2005.
Data: Chain migration has brought more than 9 million foreign nationals to the U.S. over the last 10 years. https://t.co/aAQ0zamgrn

— John Binder 👽 (@JxhnBinder) December 5, 2017
In that same time period, a total of 13.06 million foreign nationals have entered the U.S. through the legal immigration system, as every seven out of ten new arrivals come to the country for no other purpose than to reunify with foreign relatives.
This makes chain migration the largest driver of immigration to the U.S. — making up more than 70 percent — with every two new immigrants bringing seven foreign relatives with them.
The Washington Post notes that Melania's parents, Viktor and Amalija Knavs, are living in the U.S. as green card-holders from their native Slovenia and are going through the steps to become naturalized citizens.
In the same breath, the establishment media outlet tied back the Knavs' arrival and living in the U.S. as an example of potential chain migration within the Trump family.
Questions over the Knavses' immigration status have escalated since Trump campaigned for the White House on a hard-line anti-immigration agenda. Those questions grew sharper last month, when the president proposed ending the decades-long ability of U.S. citizens to sponsor their parents and siblings for legal residency in the United States.

Trump has repeatedly blasted the long-standing policy as "chain migration." In last month's State of the Union, the president called that process a threat to Americans' security and quality of life. Under his plan, he said, only spouses and minor children could be sponsored for legal residency.

But immigration experts said such a path would have been the most likely method his in-laws would have used to obtain residency that permits them to live in the United States.
Unmentioned by the Washington Post is Trump's endorsement of Sen. Tom Cotton's (R-AR) RAISE Act, which would end chain migration while creating a visa for the elderly parents of U.S. citizens for caretaking purposes. Such a category could apply to Melania's parents, both of which are in their 70's.
This same media narrative has been used against White House staffers and Trump's closest advisers, as Breitbart News reported.
For example, MSNBC commentator Joy Reid and genealogist Jennifer Mendelsohn attacked the White House plan to end chain migration, citing that senior advisers like Stephen Miller and Dan Scavino Jr. both had ancestors that legally immigrated to the U.S.
Though the establishment media has sought to make the case for continuing chain migration by interjecting Trump's family and his advisers' ancestry into the immigration debate, the White House's efforts to end chain migration have been centered on the lack of support the process has with the American public, the national security vulnerabilities intertwined in chain migration, and its negative, wage-crushing impact on working and middle-class American communities.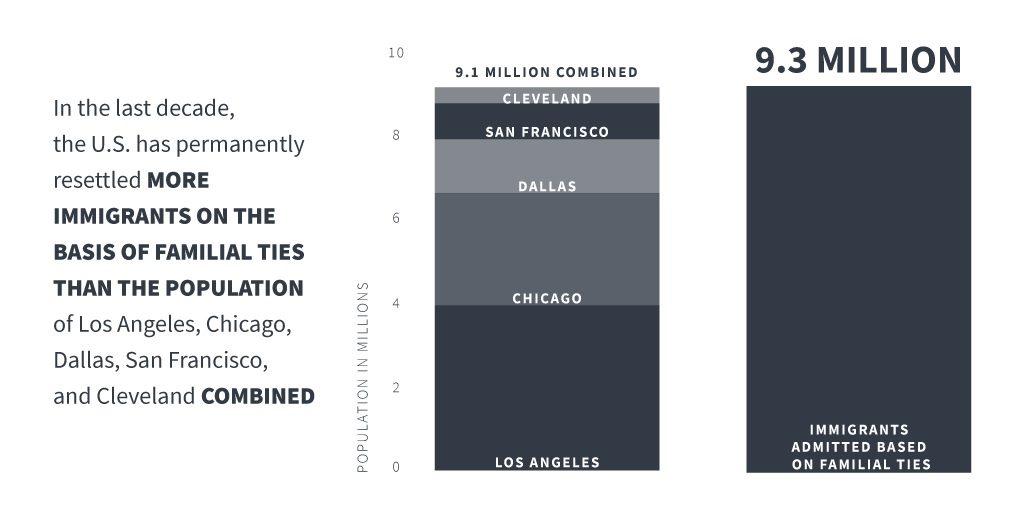 Also unmentioned by the Washington Post is that Trump's push to end chain migration, which would reduce legal immigration levels to raise the wages of American workers, was supported by Civil Rights icon and Democrat congresswoman Barbara Jordan.
In the last years of her life, in 1995, Jordan commissioned a congressional immigration study for then-President Bill Clinton which ultimately found that legal and illegal immigration to the U.S. needed to be greatly reduced, as it had large-scale negative impacts on working and middle-class Americans.
Jordan's recommendations included:
Reducing legal immigration levels from more than one million immigrants a year to about 500,000 a year
End chain migration, which allows naturalized citizens to bring in an unlimited number of extended family members
Reducing the importation of low-skilled foreign workers who compete for U.S. jobs with poor and working-class Americans
Meanwhile, opponents of ending chain migration not only include the establishment media, but also the billionaire GOP mega-donors the Koch brothers, the Democratic Party, the Republican establishment, the Bush dynasty, the big business lobby, and the open borders lobby.
John Binder is a reporter for Breitbart News. Follow him on Twitter at @JxhnBinder.