In June 2015, Breitbart News submerged, froze, and dragged the newly-introduced Glock 43. We then took it the range–without cleaning it–and shot it 105 times with only two misfeeds, both of which appeared to be due to the dirt and grit in the magazine chamber.
We took the gun out shooting again on August 31 and September 1, 2015 and fired another 350 rounds.
The gun still had not been cleaned, and we continued to use the same magazine that we froze with the gun those four times in June–the same magazine that was in the gun when we dragged it down the road.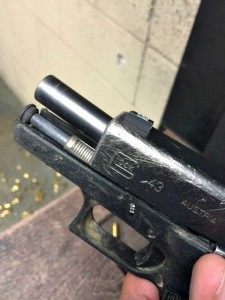 The result? We fired 350 rounds without one hiccup. To be fair, we thought we were going to have a hiccup on the second box of ammunition when we had one hard trigger pull–but even then the gun fired and continued to do so for the remaining 250 rounds with zero hiccups, misfeeds, or malfunctions.
Fastforward to April 2018, and our 43 still has not been cleaned, yet it continues to shoot round after round without complaint.
Did we drag it behind the Jeep until we seared the original sights off? Yes.
Did we get so much grit lodged in the gun that you could hear the sandy particles moving between the slide and frame when we worked the action? Yes.
Did that same grit make the trigger difficult to even pull at first? Yes.
Does our Glock 43 look like it is 20-years old? Yes.
But guess what? It shoots every time. We shot approximately 75 rounds through it on Tuesday morning and it never faltered.
AWR Hawkins is an award-winning Second Amendment columnist for Breitbart News, the host of the Breitbart podcast Bullets with AWR Hawkins, and the writer/curator of Down Range with AWR Hawkins, a weekly newsletter focused on all things Second Amendment, also for Breitbart News. He is the political analyst for Armed American Radio. Follow him on Twitter: @AWRHawkins. Reach him directly at awrhawkins@breitbart.com. Sign up to get Down Range at breitbart.com/downrange.