An Australian trade union organizer has been suspended amid claims he ran a fake Black Lives Matter Facebook page that siphoned off hundreds of thousands of dollars in donations.
The page garnered almost 700,000 followers — dwarfing the Black Lives Matter movement's official page — before it was suspended by Facebook. It is alleged some of the bank accounts where the money was transferred were in Australia and it was unclear how much was provided to genuine causes – if at all.
The scam site is claimed to have collected money through online fundraisers and solicited more than $US100,000 in donations, according to a CNN report.
Ian MacKay, the official in question, worked at the hard left National Union of Workers and has dozens of websites related to black rights registered under his name, including blackpowerfist.com. Mr. Mackay did not respond to questions from CNN but said, "My domain name buying and selling is a personal hobby."
On Twitter, a co-founder of the Black Lives Matter movement, Patrice Cullors, said she had complained many times to Facebook about numerous fake accounts.
"We told [Facebook] over and over again to shut that shit down. And it wouldn't. Glad it's down now," she wrote.
"It's so unfortunate folks were scammed by fake BLM accounts and people."
The discoveries come as Facebook boss Mark Zuckerberg prepares to give testimony before multiple judiciary committees in Washington this week.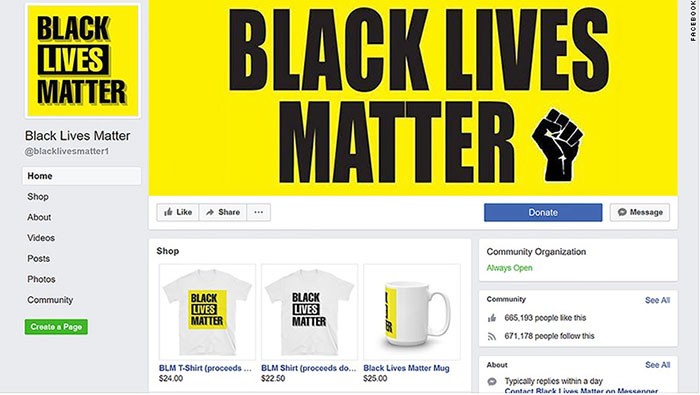 Mr. Zuckerberg is expected to appear before the Senate Judiciary Committee on Tuesday and the House Energy and Commerce Committee on Wednesday to testify about the company's user data scandal.
In a recent call with members of the media, he commented on the company's treatment of private data by saying that when building an "unprecedented" platform like Facebook, "there are going to be things that you mess up."
He will tell politicians his company "didn't take a broad enough view of our responsibility" and will lay out steps to make it right, after revelations about the abuse of users' personal information .
"As Facebook has grown, people everywhere have gotten a powerful new tool to stay connected to the people they love, make their voices heard, and build communities and businesses," Mr Zuckerberg will say, according to prepared testimony released by a House committee on Monday.
"But it's clear now that we didn't do enough to prevent these tools from being used for harm as well."
Follow Simon Kent on Twitter:

Follow @SunSimonKent

or e-mail to: skent@breitbart.com