A California professor at Fresno State University gleefully jumped to social media to attack recently deceased First Lady Barbara Bush calling her a "racist" and a "witch" before laughing at critics of her posts and saying she will never be fired because she is a tenured professor.
Fresno State Professor Randa Jarrar first took to Twitter on the day of the announcement that the former first lady passed away to attack Bush saying: "Barbara Bush was a generous and smart and amazing racist who, along with her husband, raised a war criminal. F**k outta here with your nice words."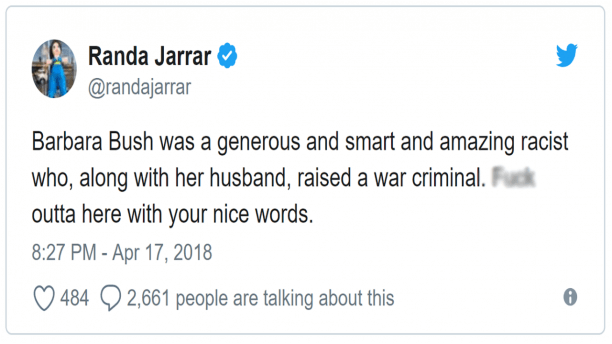 Her tweet garnered more than 2,000 replies in only a few hours with many calling for the college to fire her for her hate-filled attack on Barbara Bush.
Jarrar, an author and professor in the English department who calls herself an Arab-American and a Muslim-American woman, posted another message laughing at her critics and saying her job is safe because she is a tenured professor who makes $100,000 a year.
"I will never be fired," Jarrar taunted furious commenters.
Next Jarrar tried to pull a pity card and wrote: "If you'd like to know what it's like to be an Arab American Muslim American woman with some clout online expressing an opinion, look at the racists going crazy in my mentions right now."
In still another message, Jarrar encouraged attackers to call the college but insisted that it won't matter because her speech is protected and added at Fresno "I always feel protected and at home."
Jarrar also called Barbara Bush a "witch":
PSA: either you are against these pieces of shit and their genocidal ways or you're part of the problem. that's actually how simple this is. I'm happy the witch is dead. can't wait for the rest of her family to fall to their demise the way 1.5 million igrais have. byyyeeeeeeee.
However, despite the bravado, Jarrar reset her Twitter to "private" by 10:30 on Tuesday evening preventing most Twitter users from seeing her posts. Despite her attempt to hide her perfidy, screenshots of her posts were published by the Fresno Bee.
The college also put out a statement on the incident saying that the school shares the "concerns" expressed over the professor's obscene posts.
The statement reads in part:
On behalf of Fresno State, I extend my deepest condolences to the Bush family on the loss of our former First Lady, Barbara Bush. We share the deep concerns expressed by others over the personal comments made today by professor Randa Jarrar, a professor in the English Department at Fresno State.

Her statements were made as a private citizen, not as a representative at Fresno State.

Professor Jarrar's expressed personal views and commentary are obviously contrary to the core values of our University, which include respect and empathy for individuals with divergent points of view, and a sincere commitment to mutual understanding and progress.
Statement by @Fresno_State President @JosephICastro regarding tweets made today by a faculty member: pic.twitter.com/h3ZbQyMmxd

— Fresno State (@Fresno_State) April 18, 2018
Finally, according to the Bee, at one point during her rants Jarrar posted the phone number of a suicide crisis line. But the organization was not amused and tweeted telling Jarrar to stop using their serious service for a joke.
One doctor slammed Jarrar saying, "Your freedom of speech does not entitle you to have all these people spam an actual mental health crisis line. Please stop,"
Your freedom of speech does not entitle you to have all these people spam an actual mental health crisis line. Please stop.

— Eugene Gu, MD (@eugenegu) April 18, 2018
Follow Warner Todd Huston on Twitter @warnerthuston.