HUNTINGTON, West Virginia—West Virginia Attorney General Patrick Morrisey and Sen. Rand Paul (R-KY), at the Richwood manufacturing plant on Thursday, defined the state's Senate Republican primary as the conservative insurgent Morrisey against the establishment Rep. Evan Jenkins (R-WV).
Judd Roseberry, president, and CEO of Richwood, opened up the rally for Sen. Paul and Morrisey. Roseberry noted that his small business has experienced their most significant sales spike ever, thanks to President Donald Trump.
"All of us at Richwood call it the 'Trump effect,' Roseberry said at the rally, garnering a massive round of applause.
The Richwood chief executive noted that Trump has served as a "breath of fresh air." Roseberry said that due to the Trump tax cuts, his business could "invest more and grow business instead of paying high taxes; and expand our company instead of complying with burdensome regulations."
Sen. Paul started his speech at the rally, proclaiming, "I am happy to endorse the only constitutional conservative here."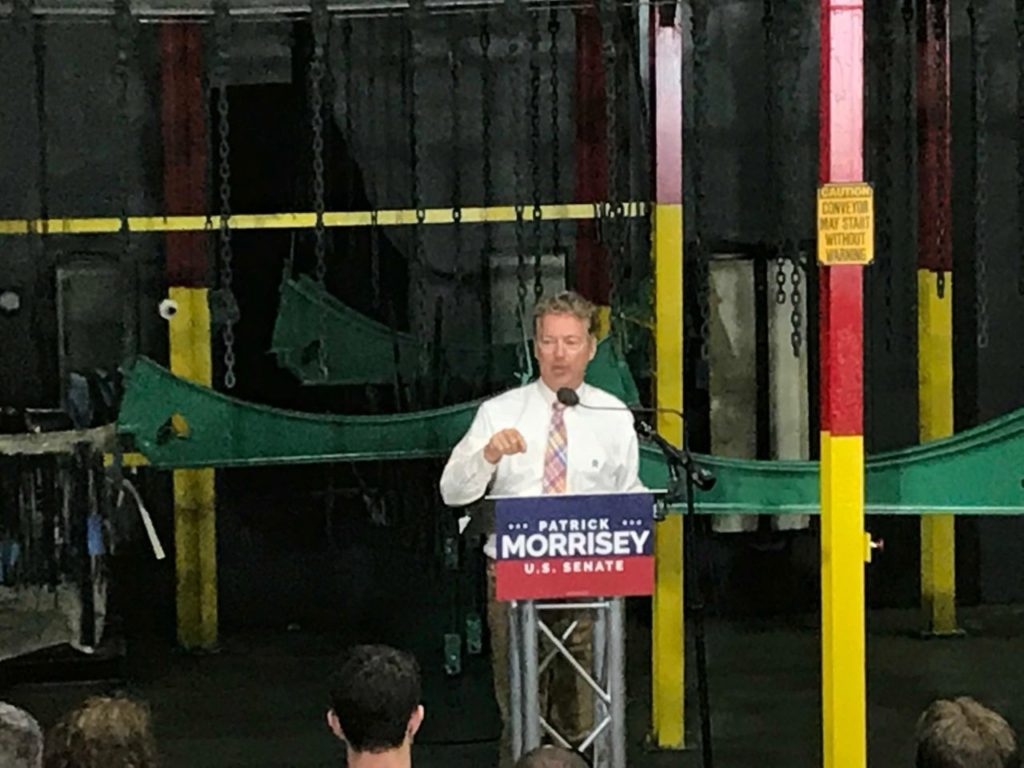 The crowd roared when Paul asked, "How many have the ability and energy to go to war and beat the war on coal?"
The Huntington rally also cheered after Paul mentioned that Sen. Ted Cruz (R-TX) endorsed Morrisey for the U.S. Senate.
Sen. Paul chastised Rep. Jenkins for voting for the $1.3 trillion omnibus spending bill. "That, that's not conservative," Paul said.
During the rally, Sen. Paul told Breitbart News in an exclusive interview that Morrisey is the only Republican candidate that can beat Sen. Joe Manchin (D-WV) in the 2018 midterm election.
Sen. Paul told Breitbart News, "Yeah I think it takes conservative principles and a consistent philosophic message. You have to show, to be able to contrast between the candidates, and I'm afraid that Evan Jenkins wouldn't be too much of a difference between him and Joe Manchin."
Sen. Paul continued, arguing that Rep. Jenkins has distorted the truth regarding his campaign ad that featured a photoshopped picture between Morrisey and Hillary Clinton.
"I think ultimately people do want some honesty and that's one of the things they hate about politics. I ran against a guy who made up stuff and actually accused me of not having a religion," Paul said. "People, I think that if enough people get knowledge of the fact that he took a handshake with President Trump and photoshopped in Hillary Clinton, if that becomes known to enough people in West Virginia they're going to say, 'Oh my goodness, do I really want to vote for a guy who's that dishonest?'"
Paul concluded, arguing that only a conservative Republican, such as Morrisey, can beat Sen. Machin in the 2018 midterm election.
Sen. Paul said, "I think it's always more important to be a conservative than the Republican party label. Even in West Virginia there are conservative Democrats. In my home state I cannot win without conservative Democrats. Manchin may go home and say one thing, but the problem is that he votes for Chuck Schumer on day one and he votes for an agenda that's so liberal that the Democrat party has strayed so far away from the Democrats in West Virginia. I think Patrick can get the conservative Democrats in West Virginia, people that go to church, who have families and care about their families, will vote for Patrick given the choice."
Lorrie Spence, the senior manager of corporate identity for Richwood, also talked to Breitbart News regarding her support Morrisey in the Republican primary.
Spence said, "We are free-market believers and that conservatism will invigorate the economy. I think that he is the true conservative in the race."
"To have him [Rand Paul] support Morrisey shows that we know we could use another Rand Paul in there [the Senate]. As West Virginians, we appreciate what he did with the regulations with coal," Spence added.
Morrisey spoke with Breitbart News in an exclusive interview after the rally.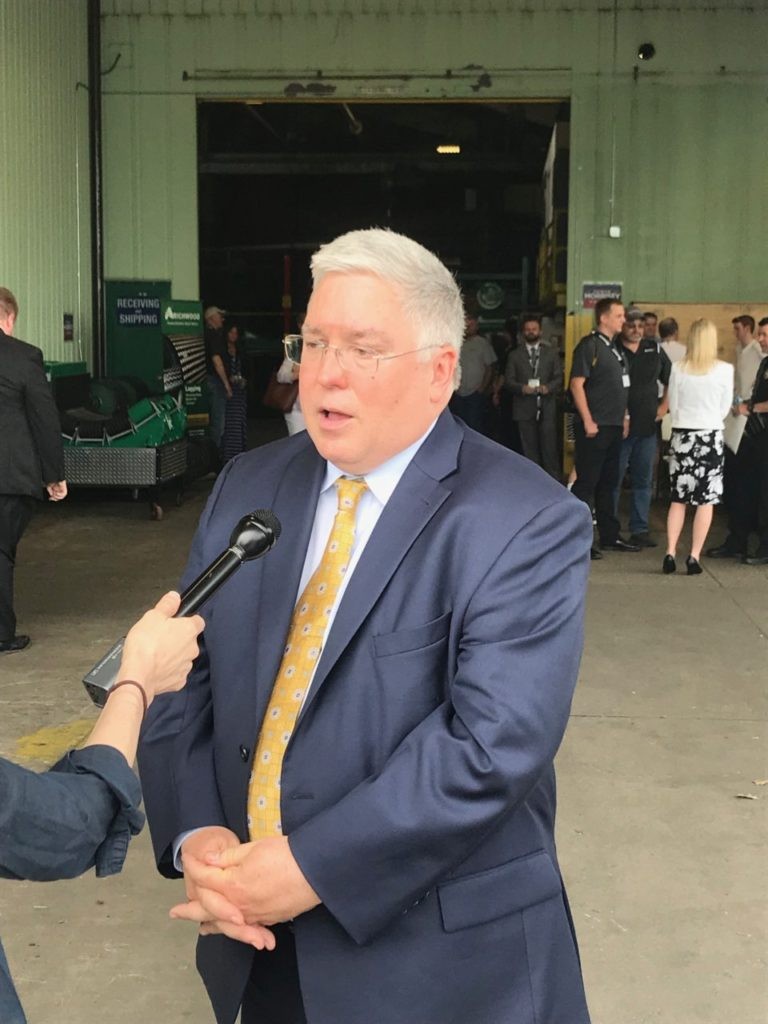 Morrisey chastised Rep. Jenkins regarding the photoshopped picture of him and Hillary Clinton.
Morrisey told Breitbart News, "I think it's despicable. It's lying in its worst form. Jenkin's spokesperson says that it's 'creative license,' 'lying,' that's what we should call it. That's been his whole campaign. It's been one of deceit and I've been really disappointed in Evan Jenkins throughout this whole campaign."
AG Morrisey added, "I think it's a pattern and practice for Evan Jenkins. He knew in this race that he had a very liberal record. It was indefensible. I think he had to lie about his past and others in order to win this race. It's not working. I think people that know that they deserve and we've been straightforward and honest."
Attorney General Morrisey explained that his staunch conservatism will help him defeat Sen. Manchin.
Morrisey said, "I think it's going to take a contrast. I think Joe Manchin has had a very different position than Joe Machin, Joe Machin has let us down. He has been in public service a very long time."
"He's been wrong on a lot of the major questions of the day. Not just Hillary and Obama, but also the Trump tax cut, that's a big difference between him and me," Morrisey said, "He is all over the map on Planned Parenthood. I'm staunchly pro-life, endorsed by West Virginians for life. On the Second Amendment, he would give away our rights, he doesn't believe in due process. I'm different and I have the record to prove it."
"We already worked with him [the president] on sanctuary cities, we have worked with him on illegal amnesty and we're working with the president to deregulate the economy," Morrisey added.
During a press conference after the rally with Morrisey, Sen. Paul explained that the West Virginia Attorney General serves as the anti-establishment candidate in the race. Paul said, "I support Patrick Morrisey because he's willing to challenge the establishment. The establishment was President Obama on the war on coal and Obamacare, he stood up and challenged them. I think the definition of an outsider is someone if elected will challenge the establishment. When the race is defined as conservative vs. liberal, or conservative vs. the establishment, I think Patrick Morrisey wins hands down. I think the race is ultimately defined as conservative vs. establishment.
Morrisey concluded in his interview with Breitbart News, "I think … you want that contrast – a conservative vs. a liberal who's part of the swamp in Washington, and I can get those results."