The vast majority of Americans say that cheap foreign labor displacing U.S. jobs contributed to the collapse of the American manufacturing industry that occurred decades ago.
The latest Morning Consult Poll reveals where Americans lay the blame for the U.S. manufacturing industry's collapse nearly two decades ago. About 71 percent of voters say cheap overseas labor displacing U.S. jobs has played a "significant role" or "somewhat of a role" in the steep decline in manufacturing employment years ago.
After the North American Free Trade Agreement (NAFTA) was implemented, American manufacturing employment plummetted with 5 million manufacturing jobs being eliminated between 2000 and 2014.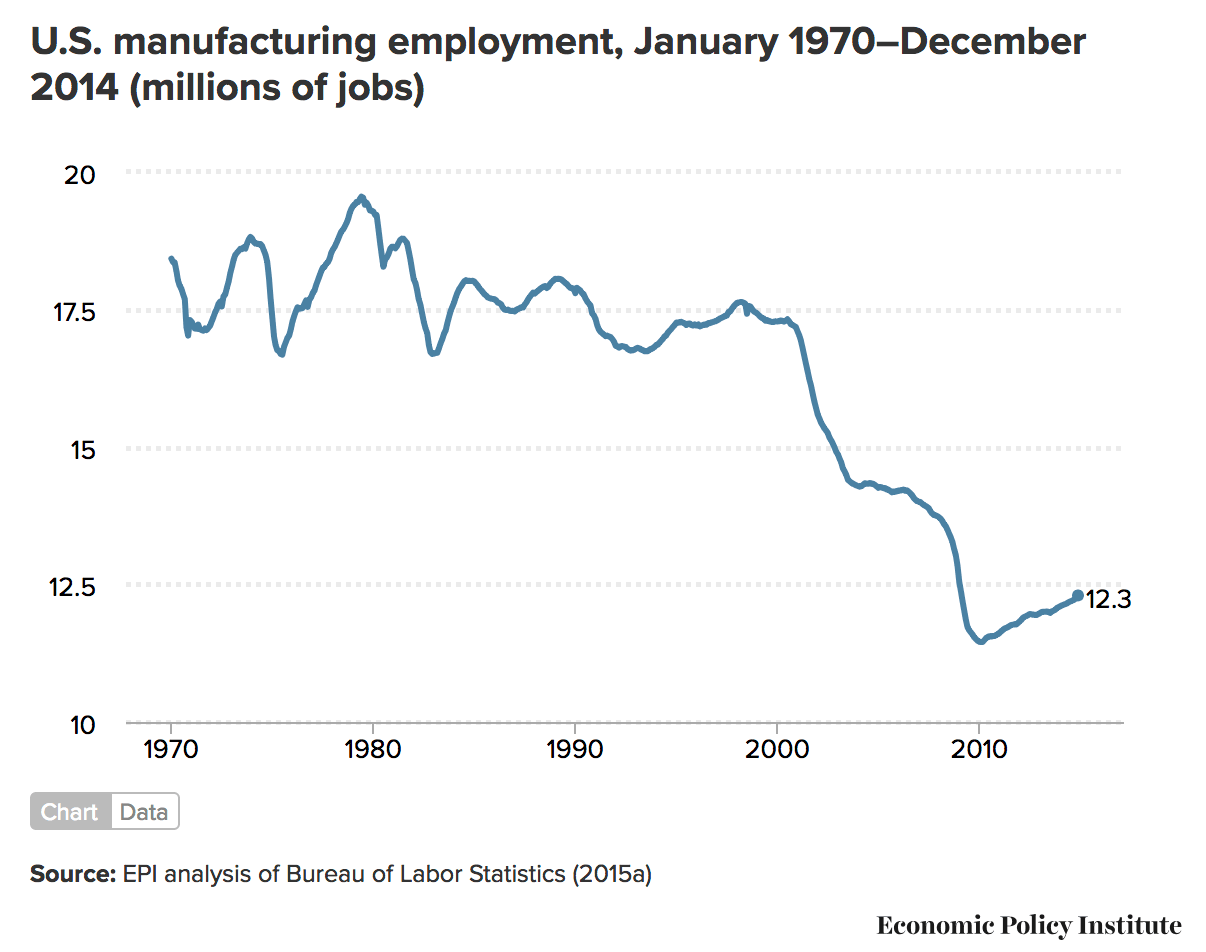 Starting in 2000 — as the U.S. racked up billions in trade deficits and free trade negotiations allowed multinational corporations to readily outsource American jobs to underdeveloped nations — the U.S. manufacturing base steadily declined every year until 2014.
Most recently, as Breitbart News reported, President Trump's "America First" economy in which the populist president has sought to level trade deals and reduce trade deficits, manufacturing employment has hit a ten year high.
Trump's 'America First' Economy Secures 10-Year Employment High for Manufacturing Workershttps://t.co/lqMvSQpxDq

— John Binder 👽 (@JxhnBinder) July 11, 2018
About 63 percent of Republican voters say cheap labor overseas displacing U.S. jobs played a major role in that slow collapse of U.S. manufacturing that Trump has sought to build back up. Even more conservatives, 66 percent, say the same.
The poll reveals how politicians in the Republican Party pushing endless multinational free trade remain out-of-touch with their constituency, which increasingly views tariffs on imported goods as a necessity to protect U.S. industry and American jobs.
Conservatives and Republican voters, when asked about the expansion of free trade across national borders, were the most hostile to that agenda. More than a quarter of conservatives said they opposed free trade, while nearly a quarter of Republican men said they too opposed free trade.
The majority of conservatives and Republican men say the U.S. has benefitted less than other countries from multinational free trade deals. The plurality of Americans, 32 percent, said the same.
Free trade, like immigration, is an issue that has come at the expense of American workers. With free trade, foreign markets have been readily opened to multinational corporations, allowing them to offshore American jobs while easily exporting their products back into the U.S.
The Rust Belt has been one of the hardest regions hit because of U.S. free trade with Mexico. In total, about 700,000 U.S. workers have been displaced, including:
14,500 American workers displaced in Wisconsin
43,600 American workers displaced in Michigan
2,600 American workers displaced in West Virginia
26,300 American workers displaced in Pennsylvania
34,900 American workers displaced in Ohio
34,300 American workers displaced in New York
6,500 American workers displaced in Iowa
24,400 American workers displaced in Indiana
34,700 American workers displaced in Illinois
One former steel town in West Virginia lost 94 percent of its steel jobs because of NAFTA, with nearly 10,000 workers in the town being displaced from the steel industry.